This Healthy Homemade Vanilla Frappuccino is life changing! It's naturally sweetened with dates and a banana and has the best vanilla-pecan-espresso flavor!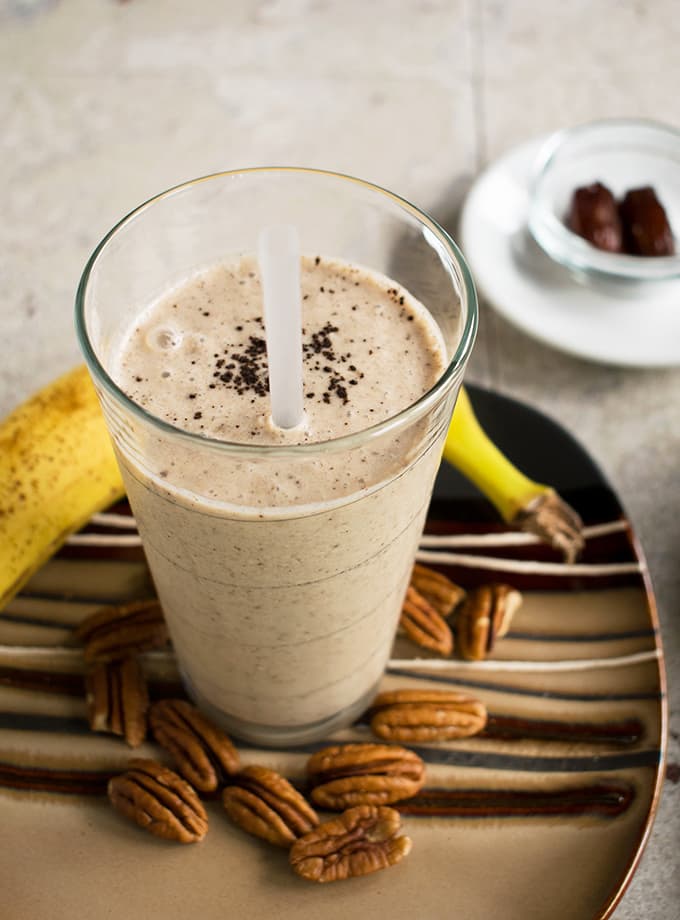 Coffee is my life. I mean, I wouldn't be a functioning human without it. I drink three cups a day.
But when the weather is humid, or I'm sweaty from a workout, a hot beverage is the last thing I crave. And, I've never been an iced coffee person (probably because I've had to drink way too many cold cups of joe while juggling work and motherhood).
I needed to figure out a refreshing way to get my caffeine fix.
My latest invention is this healthy homemade vanilla Frappuccino. It's thick, creamy, frothy, icy and has the best vanilla-pecan-espresso flavor.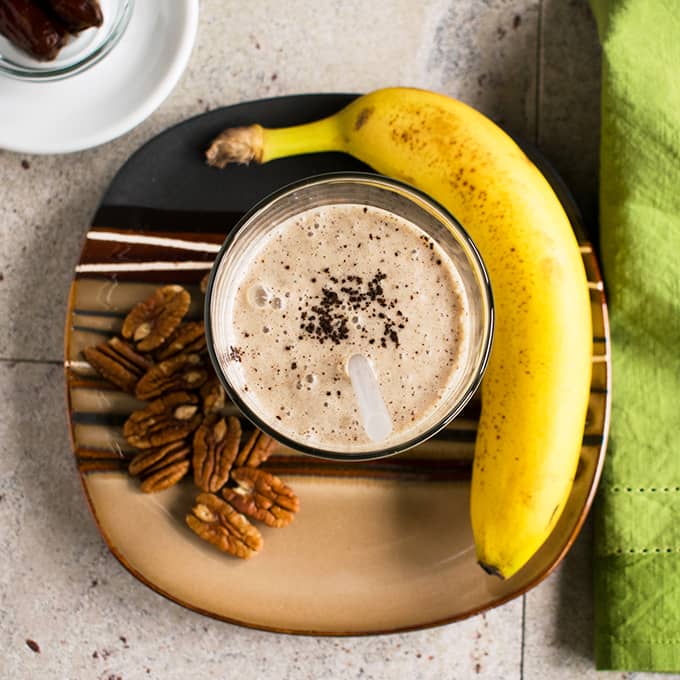 It tastes like a decadent treat — something you'd pay good money for at Starbucks and then regret the calories. Except, it's totally guilt free!
This Frappuccino's essentially a vegan smoothie made with almond milk, a banana, pecans, ground espresso and vanilla extract. Oh, and it's sugar free, since it's naturally sweetened with dates.
What's not to love? It's the ultimate pick-me-up after exercise or just to get the day started.
I modeled it after my Espresso-Banana Morning Smoothie. That one contains oats and walnuts and is a bit more filling, but you can experiment with adding protein powder to this homemade Frappuccino, if you're looking for something that counts as breakfast.
If you love coffee, shakes and smoothies, you need to try this healthy homemade vanilla Frappuccino. Run, don't walk, to your blender!
More delicious smoothies to try
You also might like this Homemade Starbucks Green Tea Frappuccino or this Cinnamon Mocha Frappuccino.
And, if you love espresso, you have to try this Traditional Tiramisu Recipe!
Enjoy!
P.S. If you're in the market for a blender, I highly recommend a Vitamix (that's an Amazon affiliate link.) I use mine every day. It's worth the investment, but you can buy a refurbished one to bring the cost down.
(Recipe Source: Cooking with Mamma C. Healthy Homemade Vanilla Frappuccino originally published on Food Fanatic.)