This Black Cherry Amaretto Sour is a delicious, festive drink for the holidays or any time of year! Make this black cherry cocktail with frozen cherries and a homemade sour mix using common ingredients.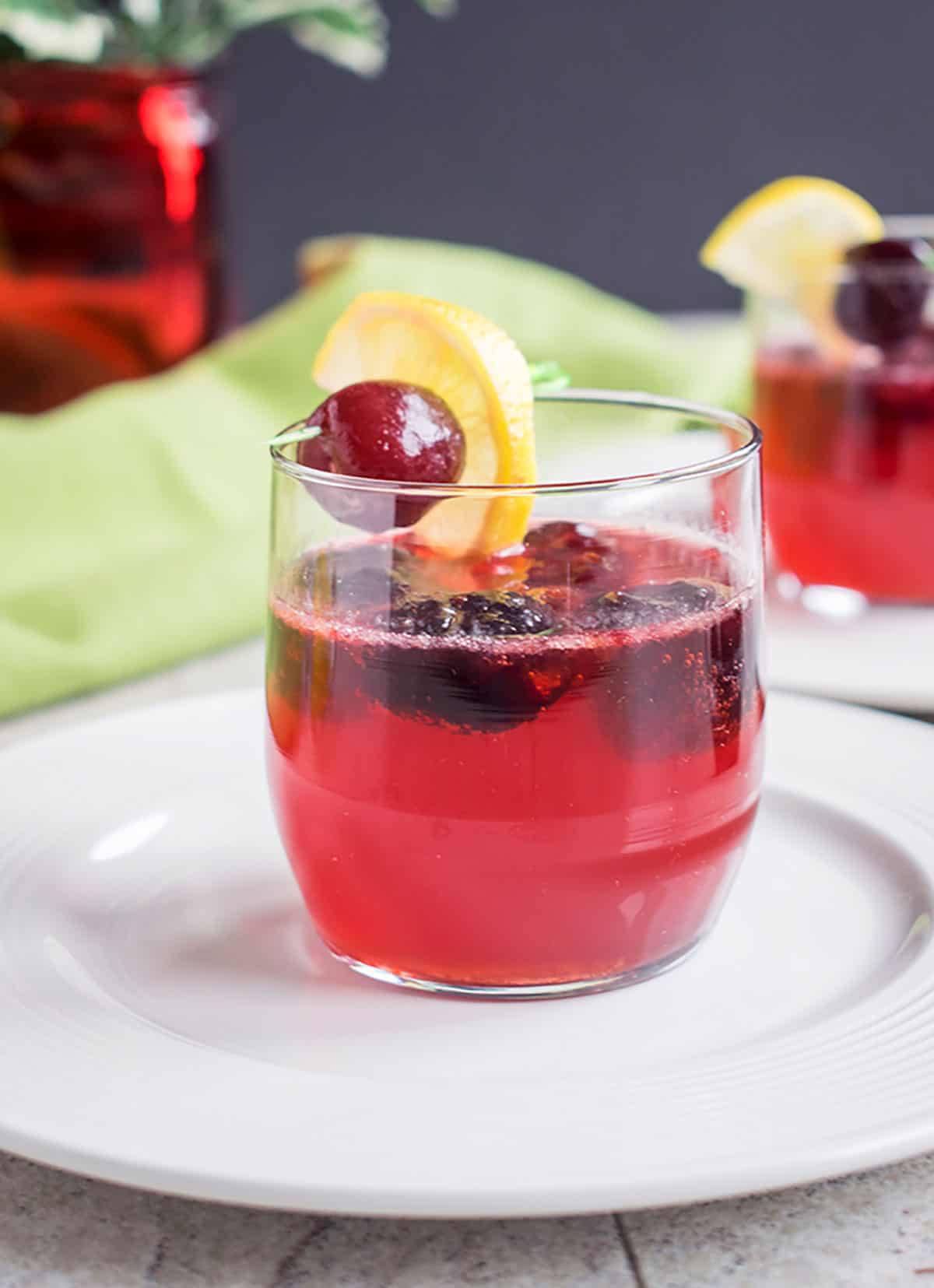 This cocktail recipe comes to you from Papa C. But it has my name written all over it.
I've always loved cherry-flavored drinks and adore this Chocolate Cherry-Almond Smoothie. And the almond-flavored amaretto sour is my favorite cocktail to order when we go out.
So naturally, I conjured up a dark cherry amaretto sour in my head. I conveyed my artistic vision to my hubby, and he came up with the most delicious amaretto-cherry drink!
And, it's better for us than the typical sour cocktail. Say goodbye to the chemical you-know-what storm that comes with a premade sweet-and-sour mix!
This sour mix is made from scratch, using simple syrup (equal parts sugar and water) plus lemon juice.
Add some fizzy 7 UP or Sprite, and you've got a tasty, refreshing holiday drink with just the right balance of amaretto liqueur, lemon, cherry, and bubbly. Hello, Black Cherry Amaretto Sour!
Recipe ingredients
This fun cocktail recipe uses simple ingredients to make a fantastic amaretto mixed drink that will be the hit of your gathering!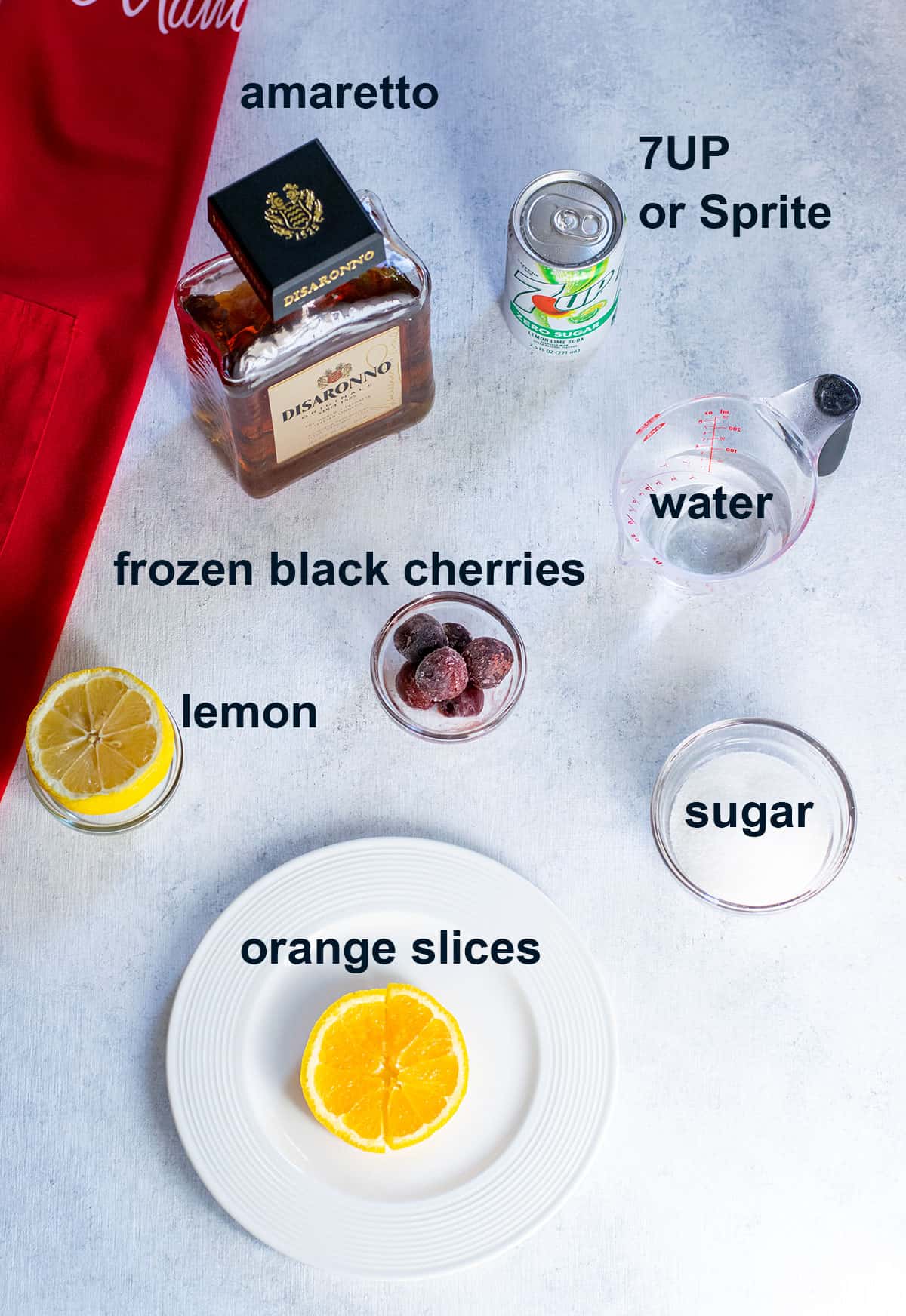 Black Cherries: We're using juicy, sweet Bing cherries. These are dark cherries, not the dyed, bright red Maraschino ones.
For convenience, buy frozen, pitted cherries. They're available year-round, so they're perfect for winter cocktails. If you want to buy fresh cherries in the summer, you'll have to remove the pits yourself.
Amaretto: We always buy the Disaronno brand of this almond-flavored Italian liqueur. Feel free to substitute another brand.
7UP or Sprite: This soda pop adds a nice, lemony fizz. You can use the sugar-free kind, if you prefer.
How to make a cherry amaretto sour
See the card at the end of this post for the full recipe, but here's an overview.
This recipe makes one cherry amaretto sour cocktail. However, the simple syrup mixture is enough for five drinks, so double up on ingredients as needed!
Make the simple syrup
Homemade simple syrup is easy! All you need is equal parts water and granulated sugar to give your cherry amaretto sour a lovely touch of sweetness.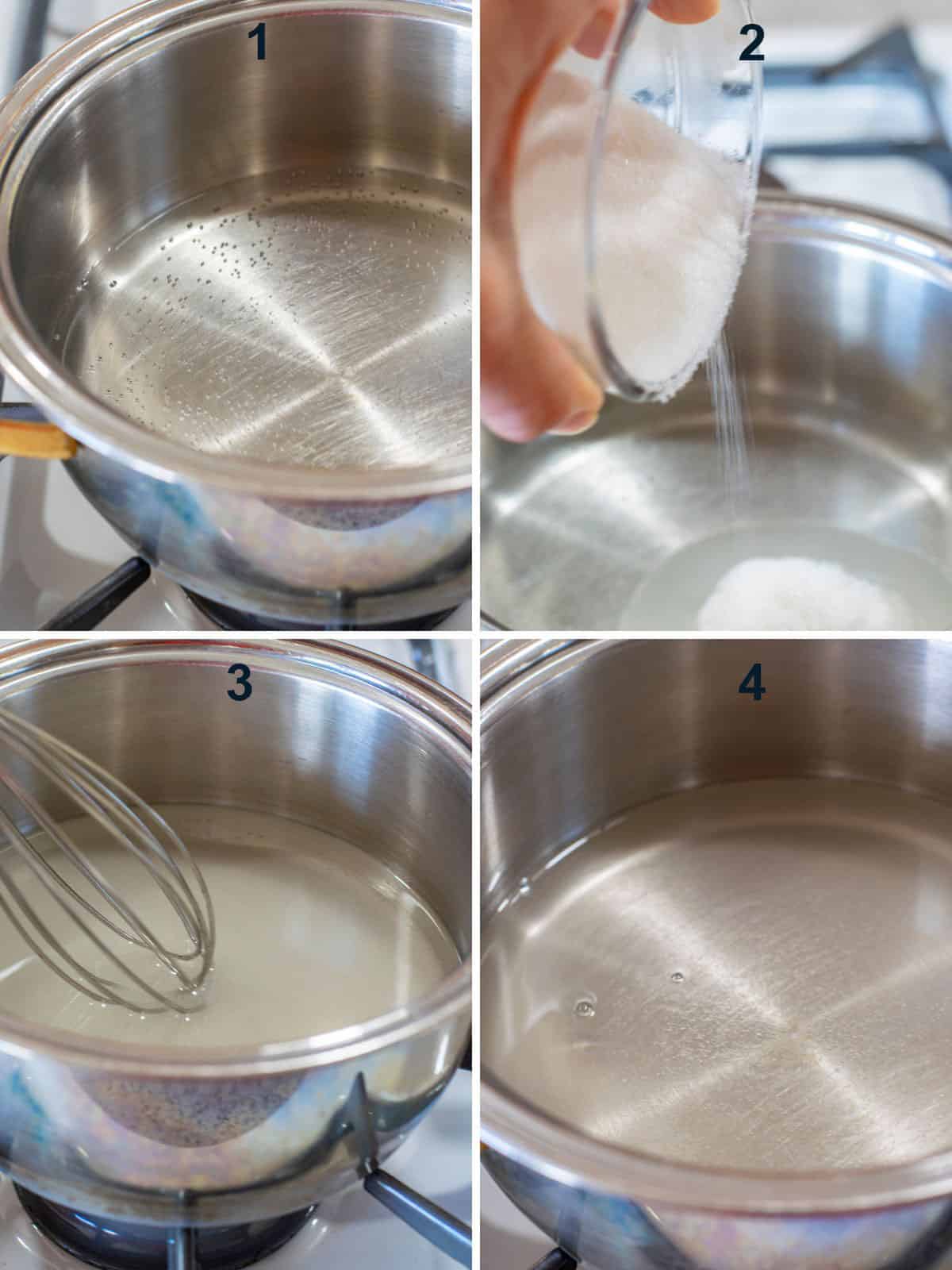 Heat water in a small pot until it's almost boiling.
Turn off the heat and add the sugar.
Whisk until the sugar is dissolved.
Let the simple syrup cool.
Assemble the amaretto cherry sour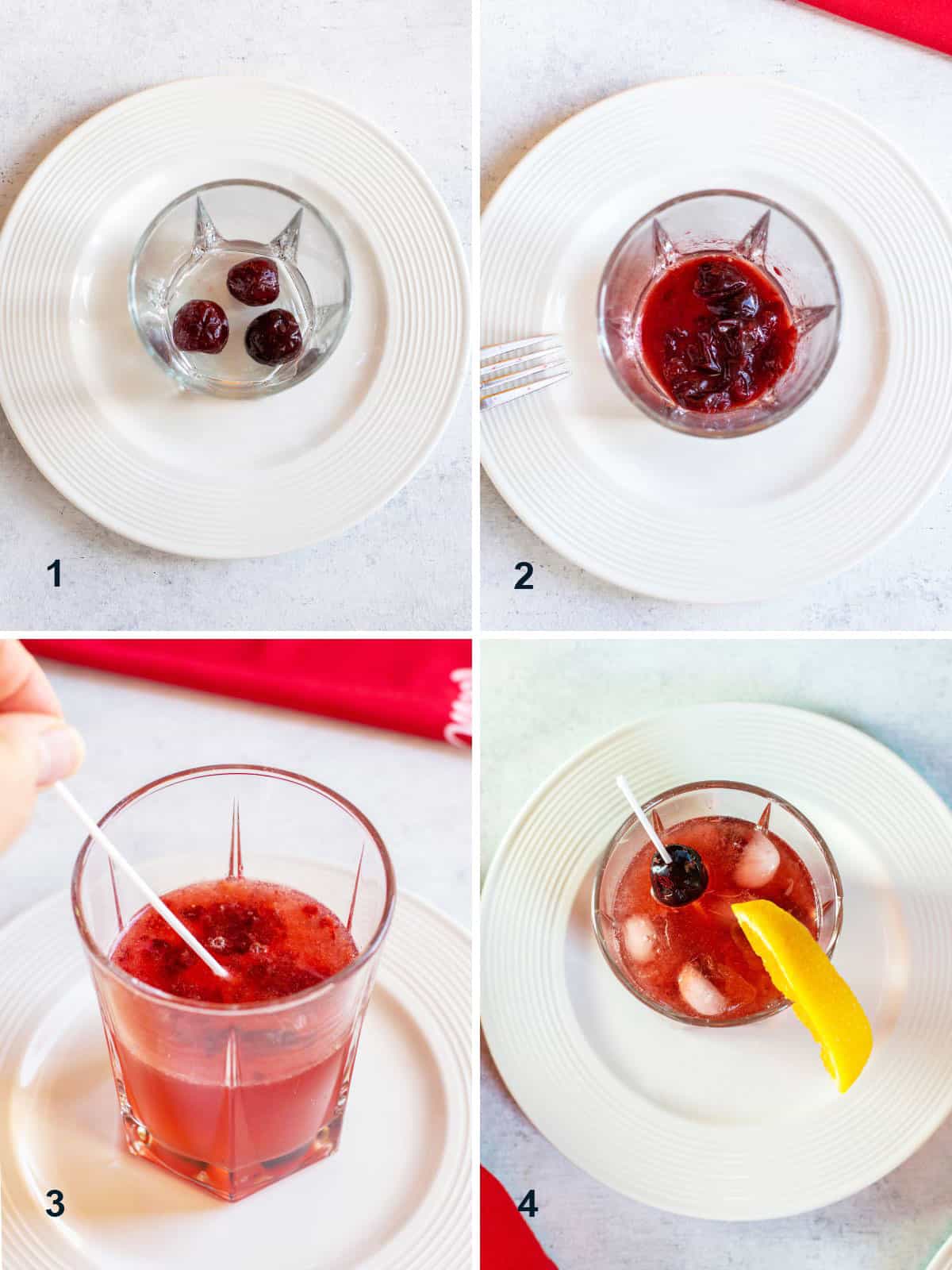 Place three black cherries in the bottom of a cocktail glass (affiliate link).
Use a fork to muddle the cherries (break them up).
Add amaretto, soda pop, simple syrup and lemon juice to the muddled cherries and stir.
Garnish with an extra black cherry and a slice of orange, which is traditional for an amaretto sour, or a slice of lemon. Add ice if desired.
Recipe tips
Smashing the frozen black cherries in each glass or pitcher (affiliate link) makes the drink's color go from a dull orange to a brilliant, ruby red! It also infuses the whole cocktail with a burst of cherry flavor that perfectly complements the amaretto and lemon.
If you want the Black Cherry Amaretto Sour to retain some fizziness, serve it as soon as possible. The longer the drink sits, the flatter the soda pop will become. But the drink will still taste delizioso!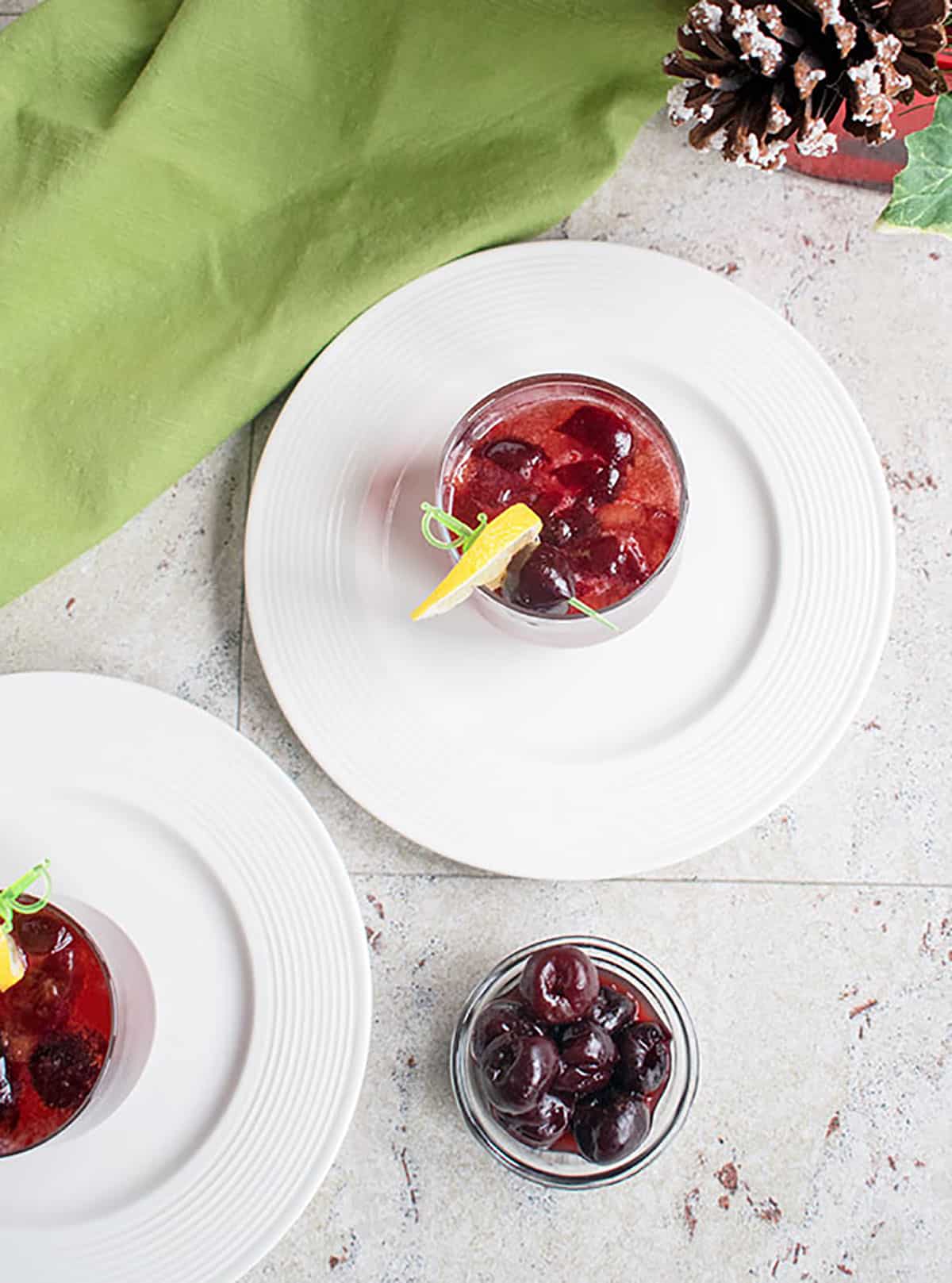 Frequently asked questions
What kind of alcohol is in amaretto?
Amaretto is an Italian, almond-flavored liqueur made from apricot pits. This classic drink also contains sweeter notes of brown sugar to balance out the bitterness of the apricot kernels.
How else can you use amaretto?
Amaretto isn't just a one-trick pony used for fruity cocktails! If you buy it to make Disaronno sours, you also can pair it with vodka, brandy, rum, or whiskey.

It's also a popular ingredient in many sweet desserts, such as my Torta Caprese, Amaretto Pear Cake and Fresh Strawberry Pie with Amaretto. And it's absolutely delicious in coffee!
More cocktail recipes
Salute!
If you try this Black Cherry Amaretto Sour recipe, be sure to leave a comment and a rating!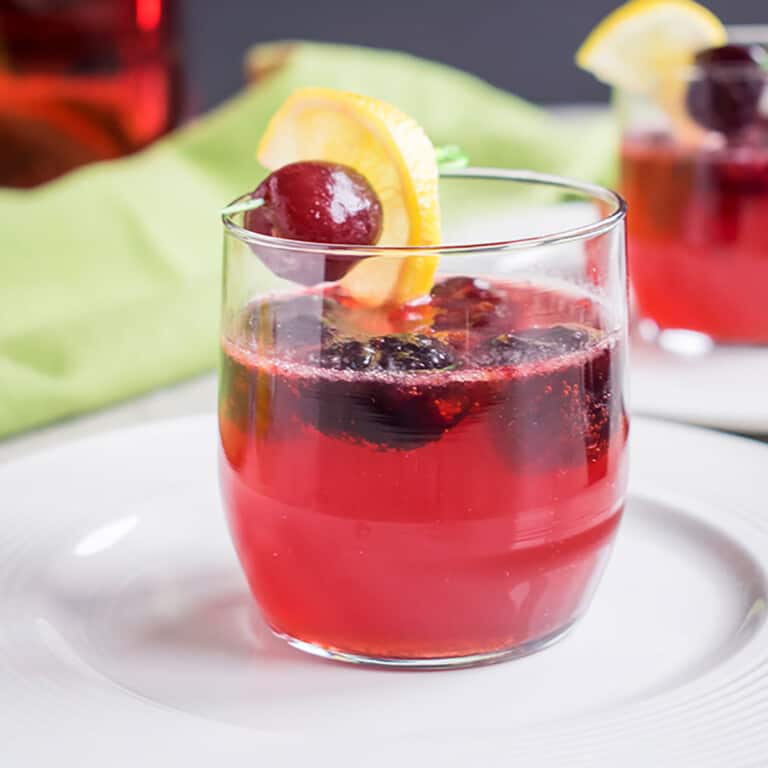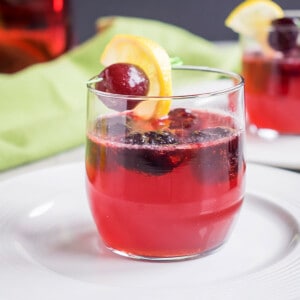 Ingredients
Simple Syrup (enough for 5; see notes)
½

cup

water

½

cup

granulated sugar
Black Cherry Amaretto Sour (one drink)
1 ½

ounces

Amaretto

3

ounces

7 UP or Sprite

(can use sugar-free)

¾

ounce

simple syrup

(cooled)

¾

ounce

lemon juice

3

frozen dark pitted cherries

(plus 1 for garnish)

slice

of lemon or orange for garnish

(optional)
Instructions
Make the simple syrup by heating the water in a small pot on the stove until it's almost boiling. Turn off the heat and stir in the granulated sugar until it's dissolved. Let the mixture cool.

For each cocktail, place 3 frozen cherries in the bottom of a glass. Mash them with a fork. This is important for flavor and to give the cocktail its red color.

Add the Amaretto, soda pop, cooled simple syrup and lemon juice. Stir to combine.

Garnish each drink with an orange or lemon slice and an additional cherry, if desired. Serve immediately, ideally before they lose their fizz. Refrigerate leftovers for up to three days.
Notes
Simple syrup is made with equal parts sugar and water. It's a good idea to make more than enough for one drink. You can store it in the refrigerator in a sealed container for up to a week and use some as you need it.
The drink will have fewer calories and sugar if you use sugar-free 7UP or Sprite.
Nutrition
Calories:
320
kcal
|
Carbohydrates:
63
g
|
Protein:
1
g
|
Fat:
1
g
|
Saturated Fat:
1
g
|
Polyunsaturated Fat:
0.1
g
|
Monounsaturated Fat:
0.02
g
|
Sodium:
31
mg
|
Potassium:
53
mg
|
Fiber:
1
g
|
Sugar:
141
g
|
Vitamin A:
17
IU
|
Vitamin C:
10
mg
|
Calcium:
14
mg
|
Iron:
1
mg
(Recipe Source: Cooking with Mamma C - Compliments of my hubby - Papa C! Originally published on November 17, 2017 and updated now with additional photos and information.)