Dark Cherry Amaretto Sour - A delicious, festive cocktail for the holidays or any time of year! With frozen dark cherries and a homemade sour mix, you can make this with common ingredients.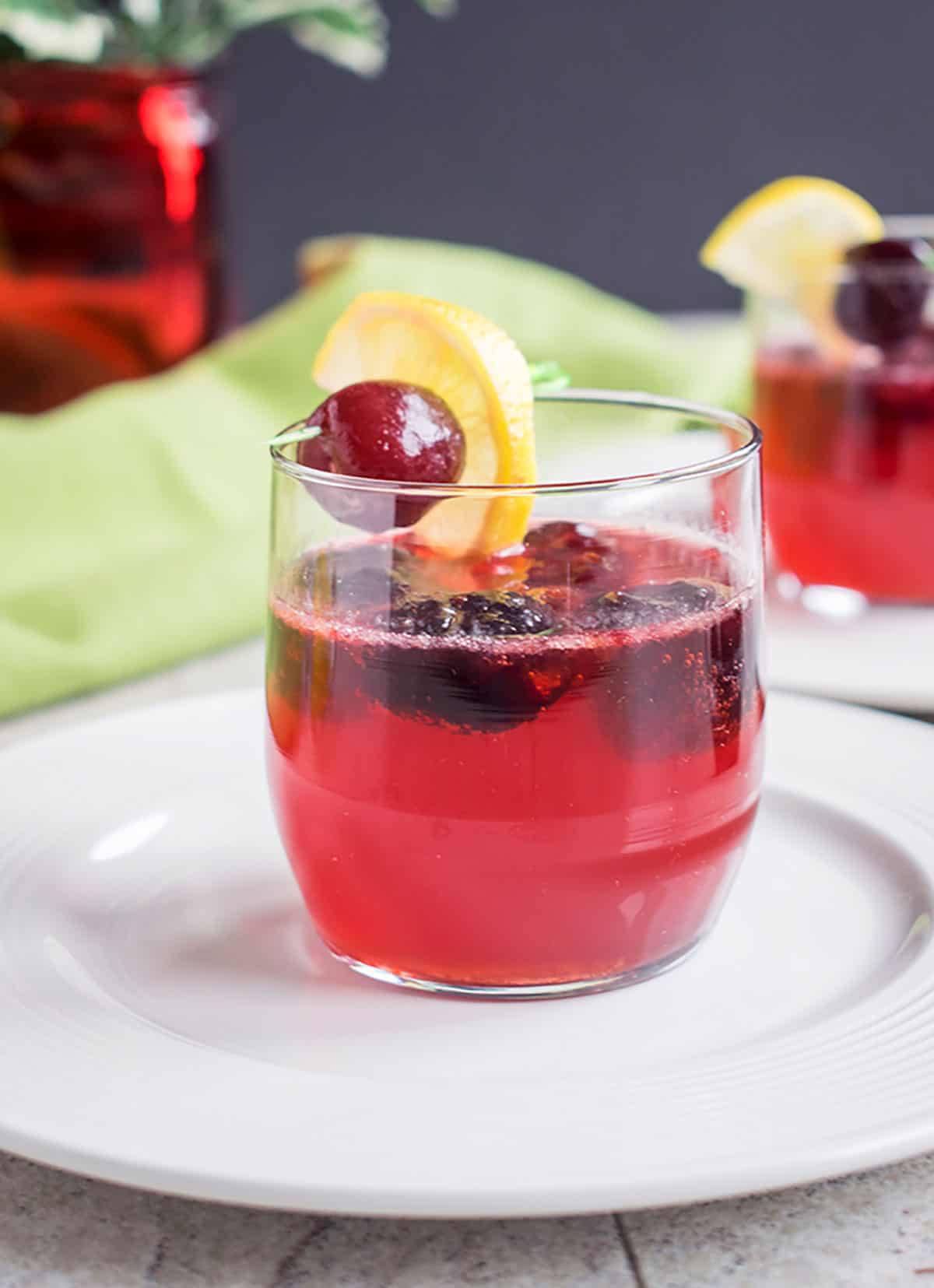 This cocktail recipe comes to you from Papa C. But it has my name written all over it.
Being the culinary artist I am (cough, cough), I conjured up a dark cherry amaretto sour in my head. You may recall my love for cherry-flavored anything, even cough drops. (See this Chocolate-Covered Cherry-Almond Smoothie post for reference.)
So, I conveyed my artistic vision to my hubby. And, I had every intention of playing around with this in the kitchen. After all, an amaretto sour is my favorite cocktail to order when we go out.
Okay...it's practically the only alcoholic drink I can finish. With other cocktails, my usual limit is half a glass. Even then, I somehow end up starring in my daughter's Snapchat stories.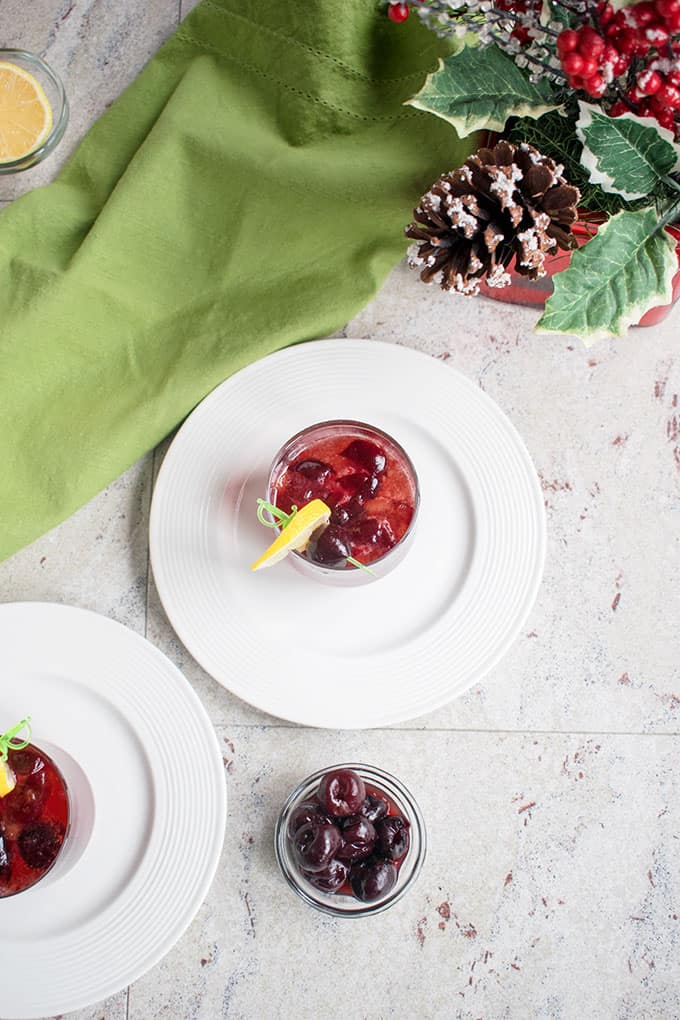 Being the concerned hubby he is, Papa C ran to the liquor store and carved out time in his busy schedule to take the lead on recipe development.
"How could you possibly handle testing these drinks?" he asked, with a slight smirk.
I tried to think of a defensive comeback. I had nothin.'
"Let me see that sour mix bottle," I retorted, already suspecting I wasn't going to like the ingredients.
"It's a chemical $#!*storm!" I confirmed after a glance.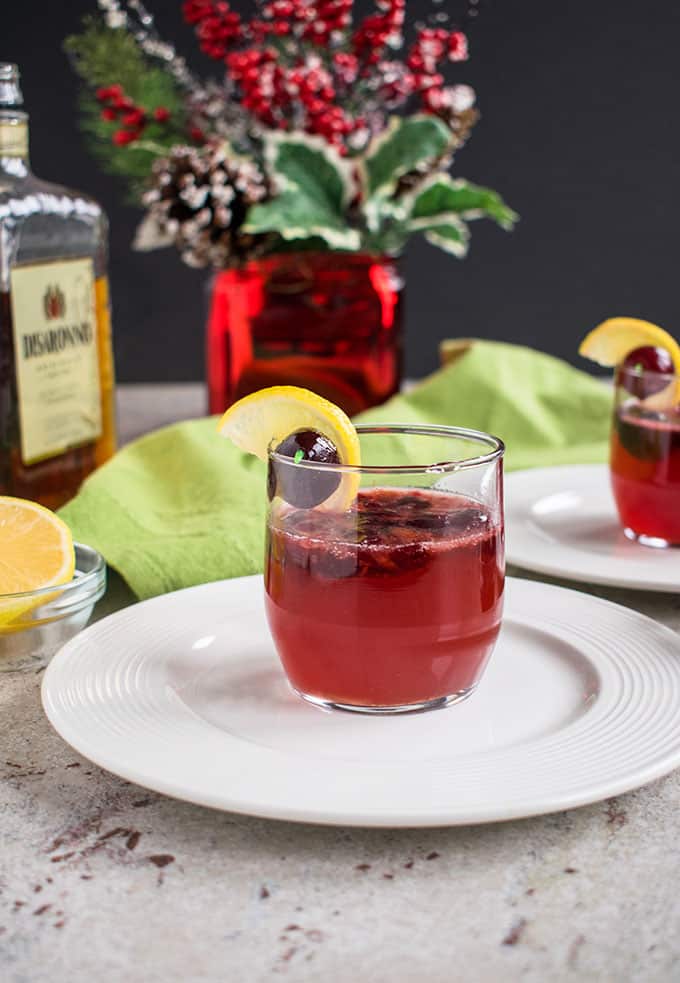 And the next thing I knew, my hubby, the drinks master, was tinkering in the kitchen. He figured he could make sour mix from scratch using simple syrup (equal parts sugar and water) and lemon. It worked.
Of course, he went and added 7 UP to the drink. But, it made this cherry amaretto sour taste fantastic, so I decided not to worry about the pop ingredients. (I'm from Ohio, and we say "pop," but my hubby, who's from Connecticut, says "soda.")
You can say it however you want, and even substitute Sprite for the 7 UP.
Just don't forget to smash up your frozen dark cherries in each glass or pitcher. (Those are affiliate links.)
It makes the color go from dull orange to a brilliant, ruby red. And it infuses the whole cocktail with a burst of cherry flavor that perfectly complements the amaretto and lemon.
Friends, this drink is delizioso.
Salute!
Be sure to check out Papa C's other drink creations like Apple Pie Moonshine and Ombré Red Wine Slushies.
(Recipe Source: Cooking with Mamma C - Compliments of my hubby - Papa C!)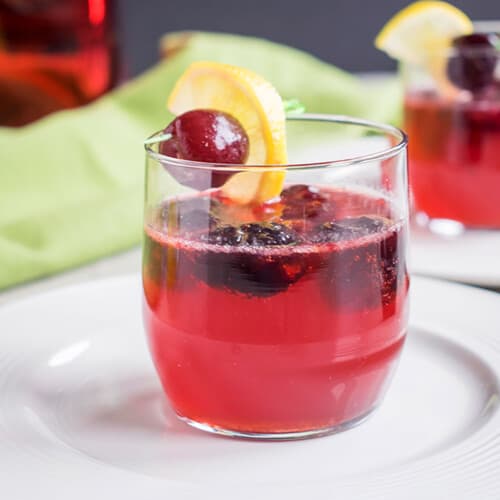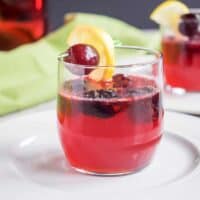 Ingredients
Simple Syrup (enough for 5; see notes)
½

cup

water

½

cup

granulated sugar
Dark Cherry Amaretto Sour (one drink)
1 ½

ounces

Amaretto

3

ounces

7 UP or Sprite

¾

ounce

simple syrup

(cooled)

¾

ounce

lemon juice

3

frozen dark pitted cherries

(plus 1 for garnish)

slice

of lemon for garnish

(optional)
Instructions
Make your simple syrup by heating the water in a small pot on the stove until it's almost boiling. Turn off the heat and stir in your sugar until it's dissolved. Let the mixture cool.

For each cocktail, place 3 frozen cherries in the bottom of a glass. Mash them with a fork. This is important for flavor and to give the cocktail its red color.

Add the Amaretto, soda pop, cooled simple syrup and lemon juice. Stir to combine.

Garnish each drink with a lemon slice and an additional cherry, if desired.
Notes
Simple syrup is made with equal parts sugar and water. It's a good idea to make more than enough for one drink. You can store it in the refrigerator and use some as you need it.
Nutrition
Calories:
320
kcal
|
Carbohydrates:
63
g
|
Protein:
1
g
|
Fat:
1
g
|
Saturated Fat:
1
g
|
Sodium:
31
mg
|
Potassium:
53
mg
|
Fiber:
1
g
|
Sugar:
141
g
|
Vitamin C:
10
mg
|
Iron:
1
mg