This Iced Tea and Rum Cocktail has just three ingredients and is so refreshing!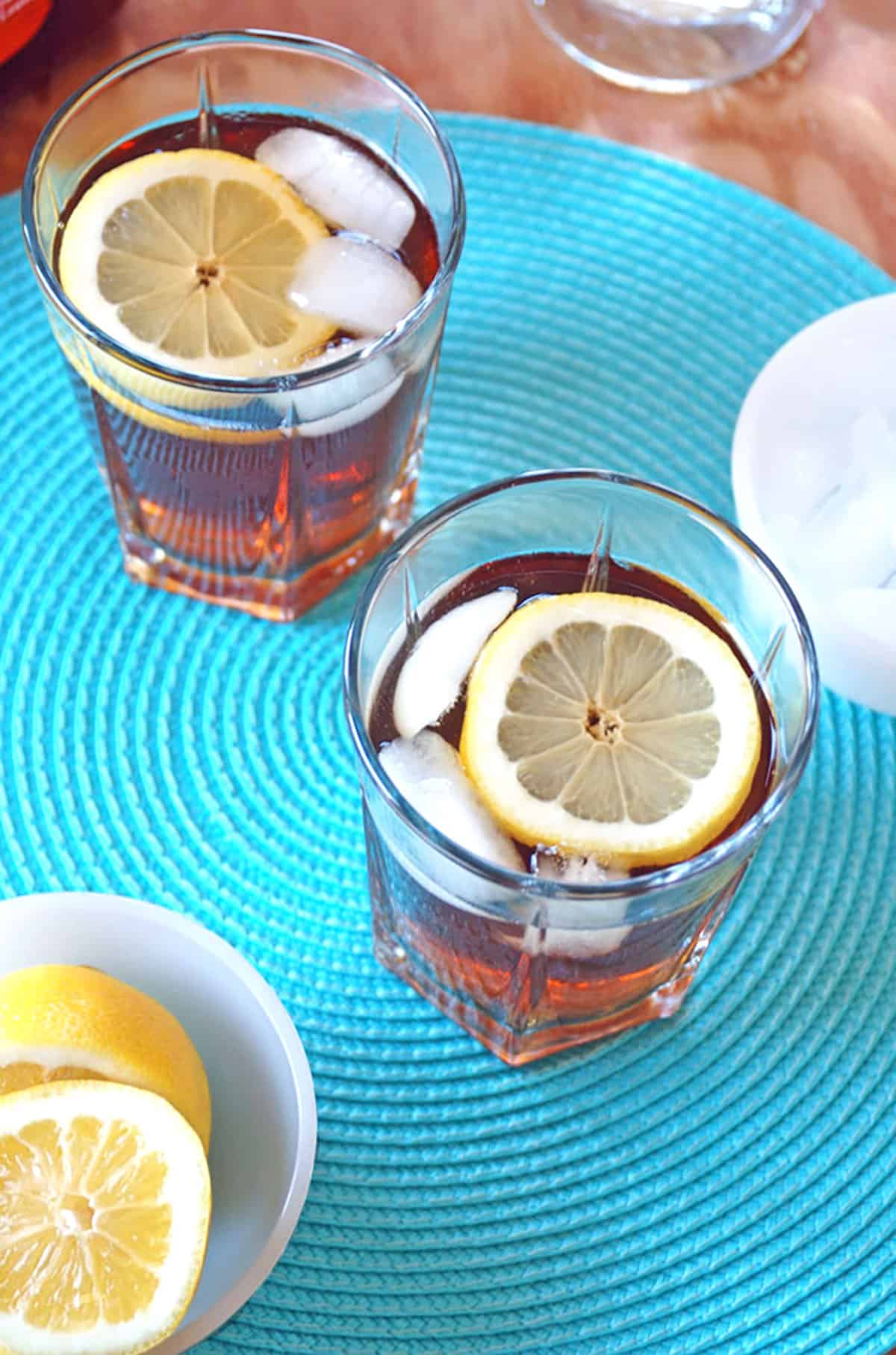 (This post is sponsored by Nestlé Waters North America. I will be compensated and have received gift certificates to purchase Tradewinds Slow-Brewed Iced Tea. I only promote products I love, and all opinions are mine.)
My hubby drinks as much iced tea as he does wine. Probably more, in fact.
So this Iced Tea and Rum Cocktail recipe is a joint effort as we plan our Labor Day menu. There was no way he was going to let me do this without him!
Besides, I'm a certified lightweight, so if I'm playing around with a drinks recipe, I'd better have backup.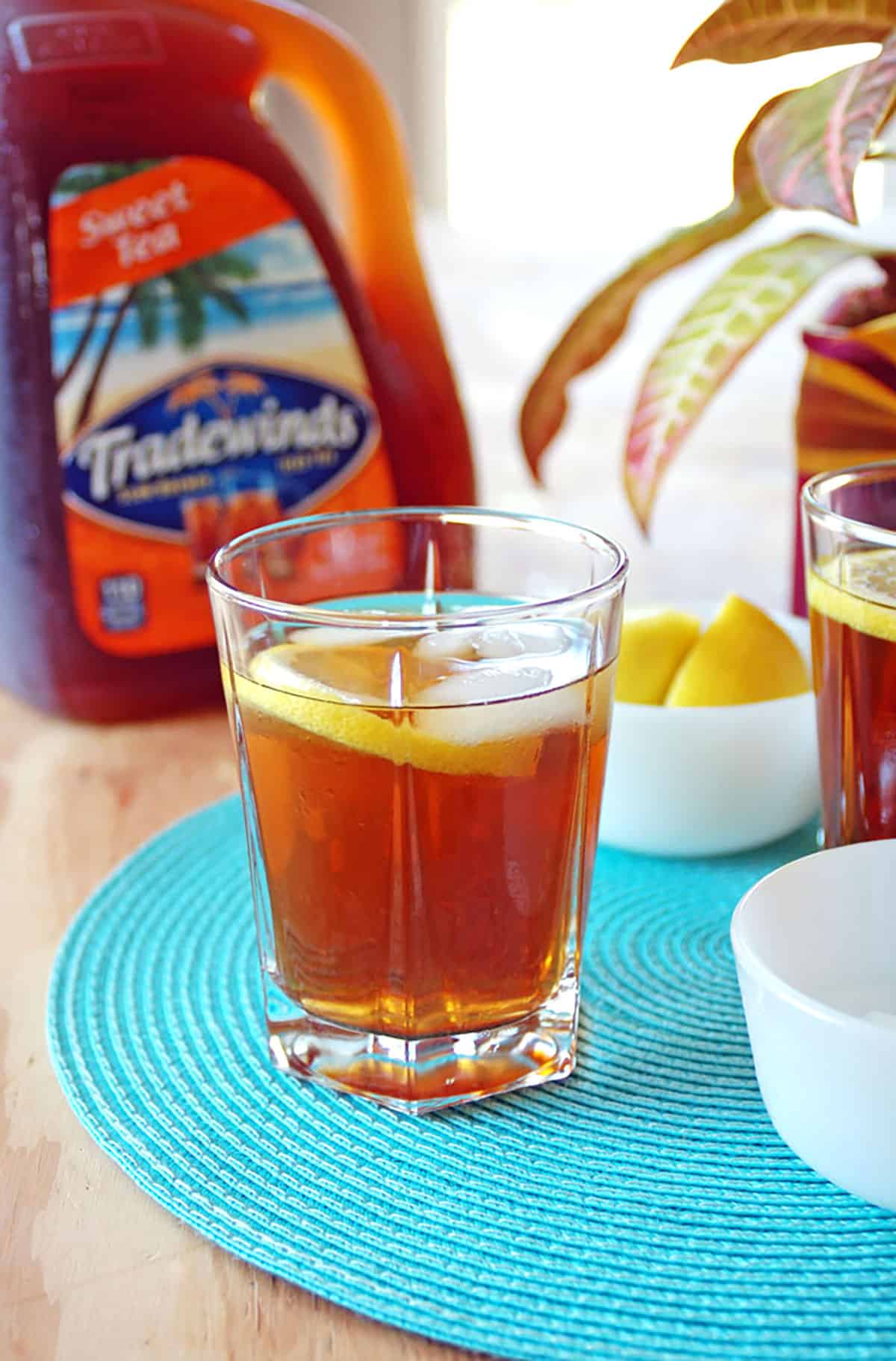 Before I tell you more about our refreshing cocktail, I have to fill you in on the back story. Despite all of my pantry purging over the past three years, my hubby was still getting his iced tea from a can of powdered mix.
I guess I didn't want to go there, if you know what I mean.
Then, we heard about Tradewinds Slow-Brewed Iced Tea, which is available by the gallon or in 18.5-ounce bottles.
My first reaction was, "Wait, you can buy slow-brewed, real iced tea, already made?"
I had no idea.
My second reaction was, "There must be a mile-long list of ingredients in that bottle." So, I went online and carefully checked the nutrition information for all the Tradewinds Slow-Brewed Iced Tea flavors.
And, I was impressed.
The Sweet Tea contains brewed black tea, sugar, citric acid and caramel color. The Unsweet Iced Tea is the same, but without sugar.
Definitely better than what we'd been stocking in our pantry.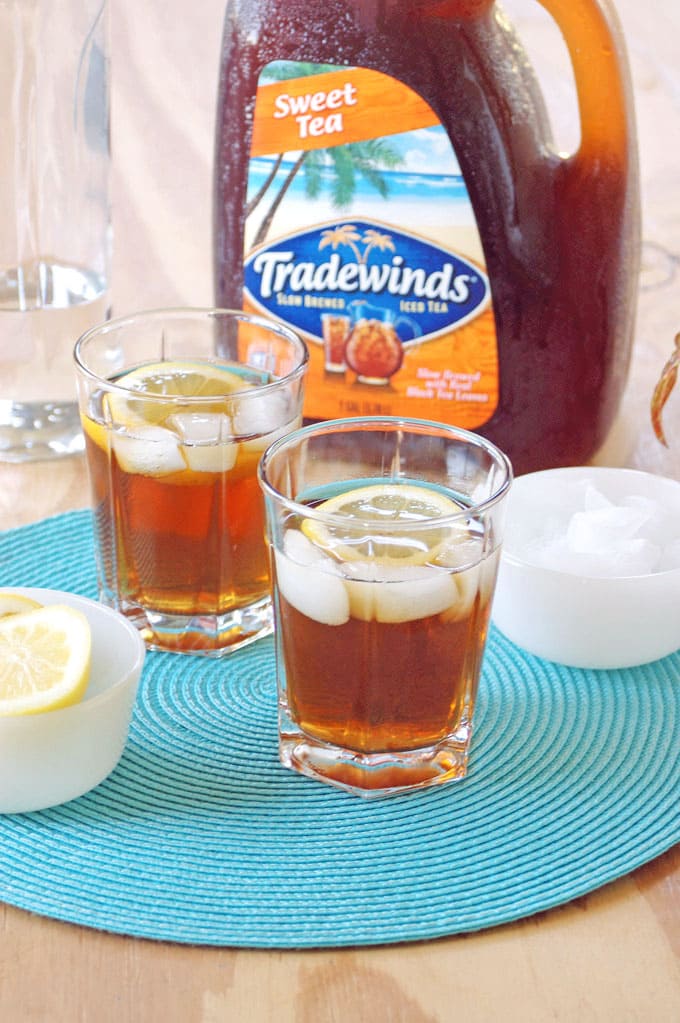 And, we really enjoy the tea.
The Sweet Tea has the right amount of sugar, and is perfect for sipping and using in cocktails. (My hubby even froze some of the Sweet Tea into ice cubes, so we can make alcohol slushies if we want.)
The Unsweet Iced Tea is nice, and I actually drink it straight. But it'd be good with a bit of honey or the sweetener of your choice.
Those are the two flavors we've found so far here in Northeast Ohio, but I'd love to try the other Tradewinds Slow-Brewed Iced Tea varieties, including: Green Tea with Honey; Raspberry; and Unsweet with a Hint of Lemon.
Back to our Iced Tea and Rum Cocktail.
Originally, I wanted to do a Long Island iced tea recipe, since that was my favorite drink in my '20s. But get this — there is no iced tea in Long Island Iced Tea.
What?!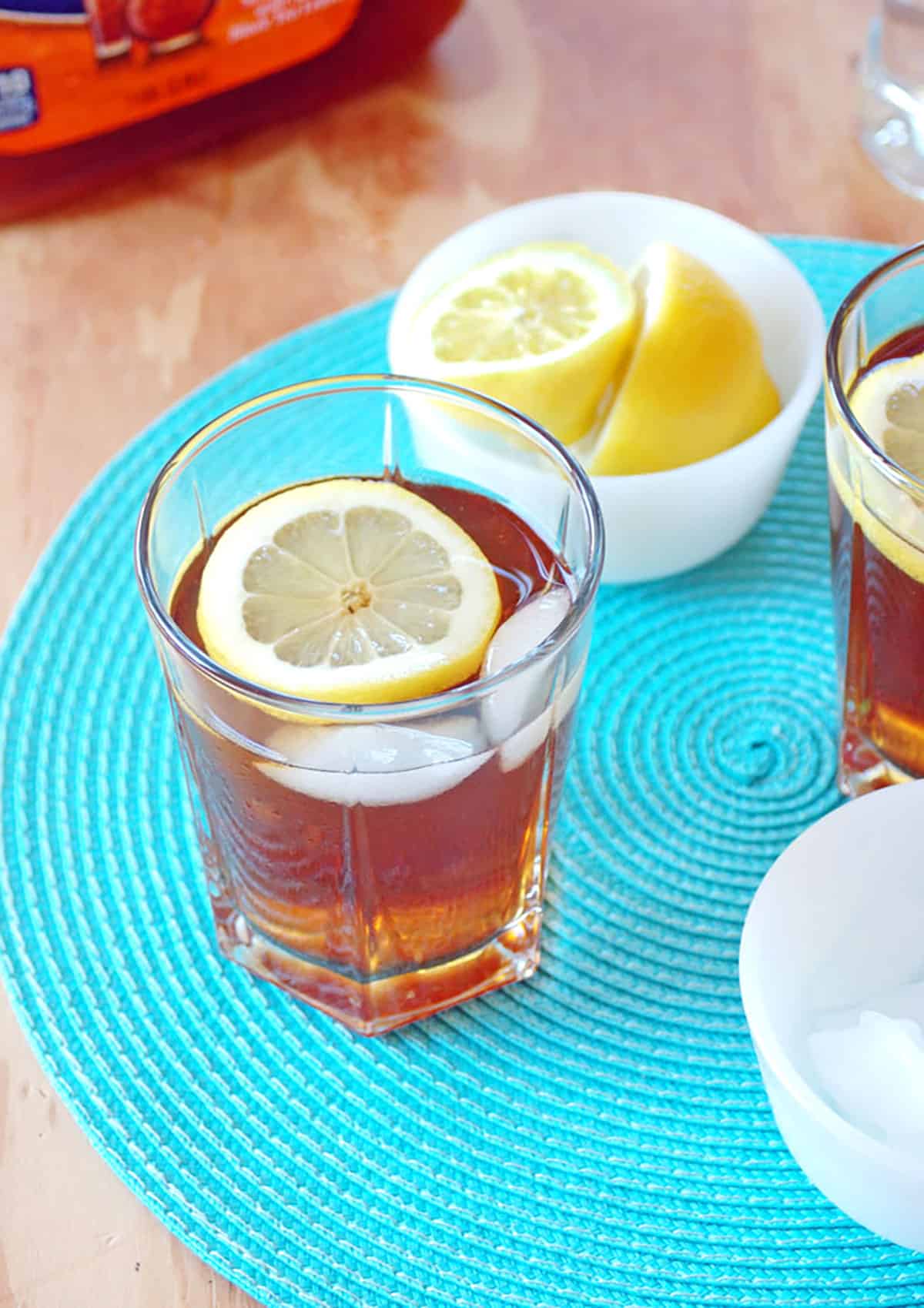 Who knew?
Besides, we wanted something refreshing, tasty and simple. Long Island Iced Tea contains five types of alcohol.
Again, who knew? It's not very practical.
So, we went with three ingredients — Sweet Tea, rum and lemon juice, and it hits the spot. I've had this cocktail two days in a row already, sipping it over the course of an hour.
I even tried one with a couple sprinkles of cinnamon stirred in, and really enjoyed that warm, spicy, Fall twist.
My hubby was appalled.
Don't worry, Honey. On Labor Day, we'll stick to our original recipe and savor the last holiday of summer with family and friends.
For now…
Enjoy!
P.S. Don't miss this refreshing Lemonade Moonshine and how to make apple pie moonshine!
(Recipe Source: Cooking with Mamma C as part of a #MomentsToSavor #ad)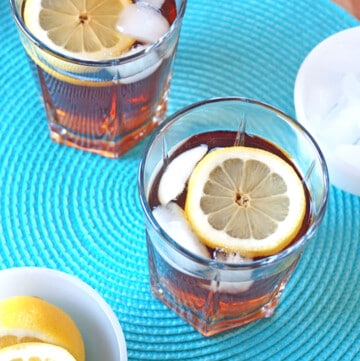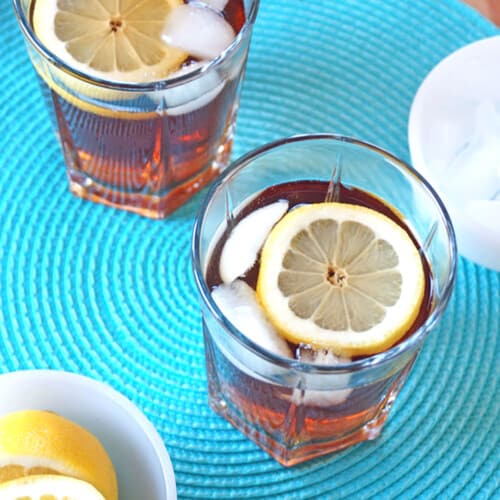 Iced Tea and Rum Cocktail
This Iced Tea and Rum Cocktail has just three ingredients and is so refreshing! An easy summer drink to enjoy with friends.
Print
Pin
Rate
Ingredients
12

ounces

Tradewinds Slow-Brewed Sweet Tea

3

ounces

white rum

1

Tablespoon

fresh lemon juice

ice as needed

lemon slices for garnish

(optional)
Instructions
Place the iced tea in a liquid measuring cup. Add in the rum.

Squeeze in the lemon juice and stir.

To serve, pour into two cocktail glasses (with ice, if needed) and garnish with lemon slices.
Nutrition
Calories:
152
kcal
|
Carbohydrates:
17
g
|
Sodium:
7
mg
|
Sugar:
14
g
|
Vitamin C:
2.9
mg
|
Calcium:
5
mg