Red Wine Slushies require just four ingredients for icy, boozy, slightly sweet perfection! Wow your guests with these stunning, refreshing drinks or enjoy them yourself!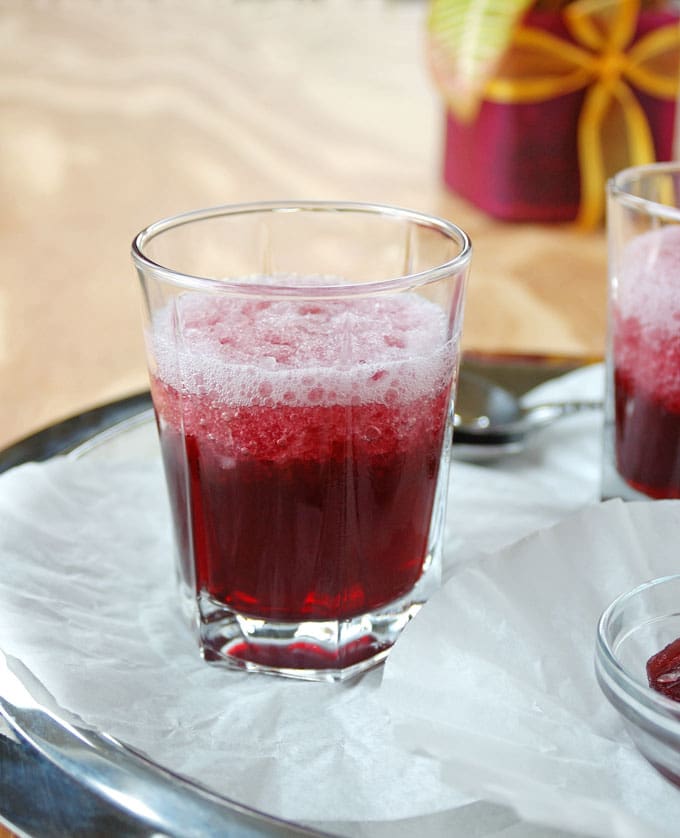 You can thank my hubby for these ombré red wine slushies. But I'll take credit for noticing what he was up to in our kitchen and immediately realizing it was blog-worthy.
I mean, hello, wine slushies!

Some of you know my hubby makes wine. His real job is architecture, but wine's his hobby.
He grew up making vino with my father-in-law and decided several years ago to carry on the tradition in our home. It's quite the basement operation.
He produces 200-350 bottles each year and stores them in our refrigerated wine cellar, set at 55 degrees F. He doesn't have a license to sell his wine, so we just enjoy it and give it away to friends and family, who know they must return the empty bottles.
Besides churning out gallons of reds, whites and rosés, my hubby occasionally dabbles in other wine concoctions. His ice wine will knock your socks off, his strawberry wine is delicious and his jalapeño wine is great for cooking Mexican dishes.
But, I wasn't thrilled with his recent wine gelatin cubes, sort of like Gummy Bears. (Sorry, Honey; they were slimy and weird.)
He'd made the gummies in ice cube trays, so when I saw him carrying more trays of wine cubes, I rolled my eyes.
"Ugh! There he goes again with those nasty gummy things," I thought to myself.
Then, I got back to planning my next Cooking with Mamma C recipe — ironically, an icy number that now will appear sometime in the future.
But then. Then!
I SAW MY HUBBY USE THE BLENDER AND FILL HIS TALL, CLEAR GLASS WITH A RED WINE SLUSHY. Whaaat?!!!!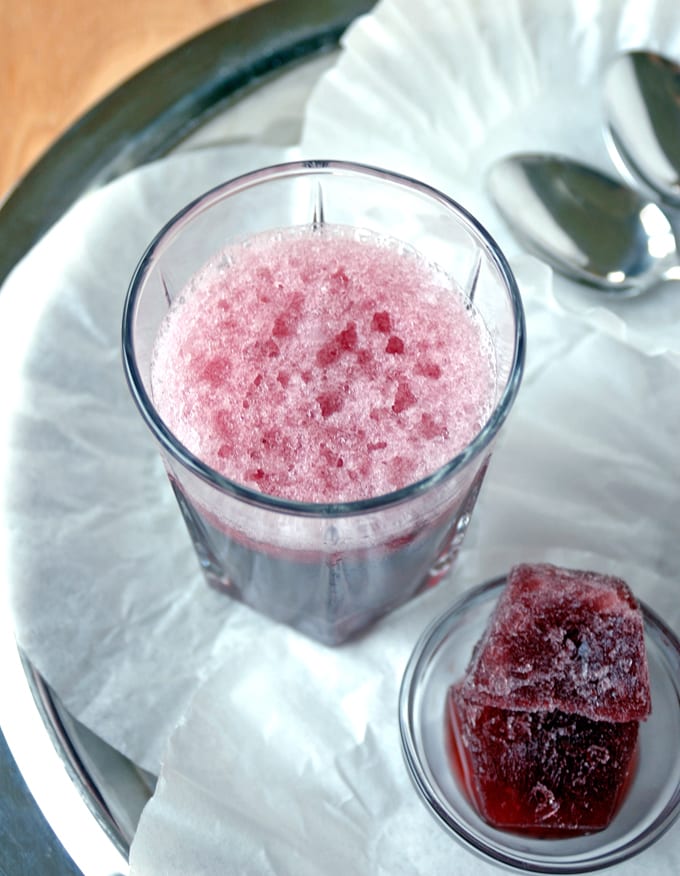 "I want some! I want some!" I may have blurted out like a three-year old.
And, I slurped down that slushy in two minutes flat. I felt like I was a kid again, enjoying snow cones at the baseball fields while attending my brother's games.
But, the instant buzz reminded me this was a grownup's treat. I'd better drink it more slowly next time.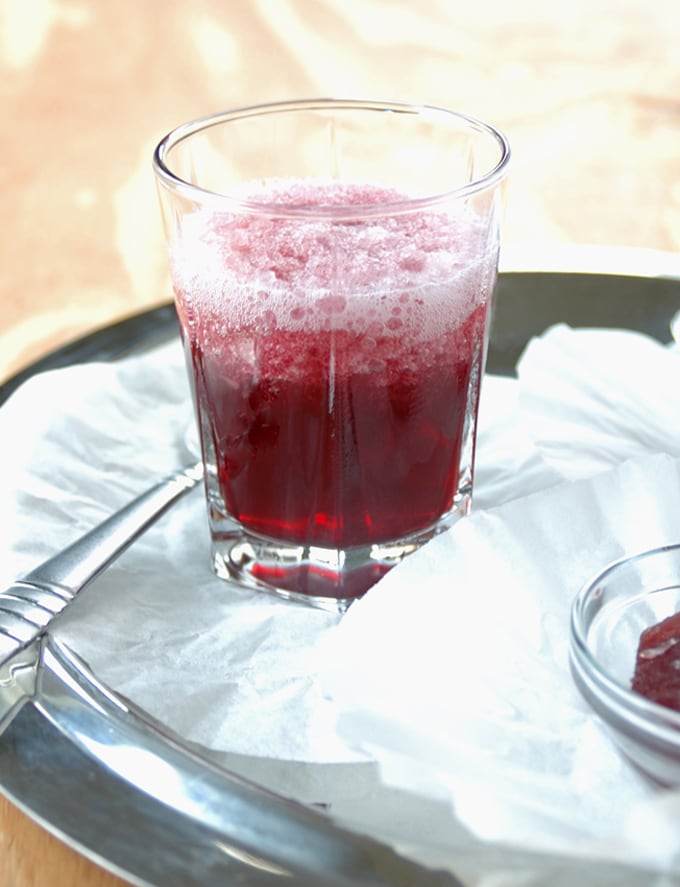 I'm such a lightweight! (Cue my hubby and kids laughing at me).
But, still. You've been warned.
This is a really simple, four-ingredient recipe. All you need is red wine, water, sugar and ice.
You'll need to freeze your wine into cubes, so allow four hours for that part. The rest is quick and easy.
Just don't drink too fast!
Enjoy!
(Recipe Source: My hubby [Papa C!], who consulted various online recipes, then came up with his own)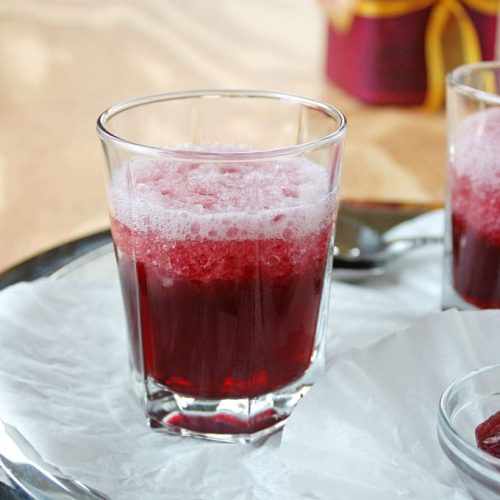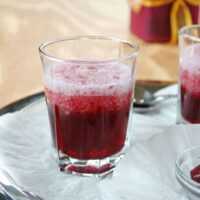 Red Wine Slushies
So easy, delicious and refreshing! Impress your guests with this stunning drink or enjoy it yourself! Note that you'll need to allow four hours to freeze your wine cubes, but then it takes just a few minutes to make the slushies.
Print
Pin
Rate
Save
Go to Collections
Ingredients
1

750 ml bottle of red wine

4

cups

cold water

(divided use)

¾

cup

sugar

(divided use)

4

cups

ice cubes

(divided use)
Instructions
Fill two ice cube trays with your red wine and freeze them for four hours. You can make eight slushies right away or make two at a time (see notes) and save the remaining frozen wine cubes for another time.

To make eight slushies, you'll need to make the recipe in two parts, since everything won't fit in the blender at once. Start with two cups of cold water in a measuring cup. Whisk in six tablespoons of sugar until completely dissolved. (Don't heat it, because you need the mixture to be cold.)

Add 12 frozen wine cubes to your blender. Pour the sugar/water mixture into the blender. Add two cups of plain ice cubes. Blend just until slushy. Pour the slushies into four glasses and repeat the process to make four more. (You will have four extra wine cubes that you can throw into the blender with this batch, or save for later use.)

Store any leftover slushies in the freezer.
Notes
To make two slushies, place six frozen wine cubes into your blender. In a measuring cup, whisk one cup of cold water with 3 tablespoons of sugar until it's dissolved completely. Pour the water mixture into the blender. Add one cup of plain ice cubes and blend until slushy.
Nutrition
Calories:
152
kcal
|
Carbohydrates:
21
g
|
Sodium:
10
mg
|
Potassium:
119
mg
|
Sugar:
19
g
|
Calcium:
11
mg
|
Iron:
0.4
mg