Since my last post featured a six-hour recipe (so special though) I felt it was only right to come back with one that's easy as 1-2-3. As in: 1) Dates 2) Cream cheese 3) Walnuts.
As in: 1) Partially slice into a pitted date. 2) Fill it with cream cheese. 3) Place a walnut half on top.
A beloved tradition in my husband's family, these gluten-free, Date-Nut Cream Cheese Bites are perfect as an appetizer, dessert, or snack. (Try them with sunflower seeds if anyone has a nut allergy.) My husband, kids and I love these, and since we always have the ingredients in the house anyway (dates are nature's candy!), these bites happen pretty frequently around here.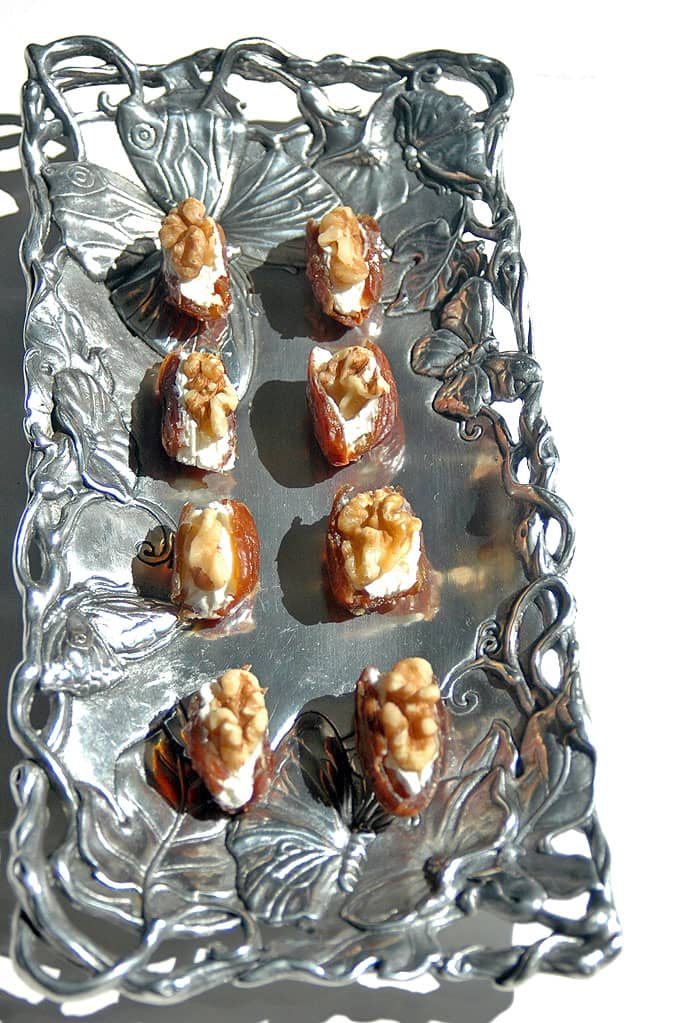 I love the story of how my husband's family started making these. You see, my husband is from Connecticut, about an hour from New York City. My mother-in-law says her Aunt Nancy used to work for a wealthy family in Greenwich. (For context, Greenwich is where celebrities like Ron Howard live.)
Apparently, Aunt Nancy witnessed many fancy parties in the home where she worked. Well, she came back and let my mother-in-law know that rich people eat dates stuffed with cream cheese and walnuts for dessert. So, of course, Mom C had to try them! And the rest is history. These elegant Date-Nut Cream Cheese Bites have been in the family for decades, served on the dessert tray for holidays.
Of course, behind the scenes, my husband and his brothers were the ones making the dates. You know…with every third one going into their mouths instead of on the tray. My mother-in-law says she always had to buy extra ingredients to make sure there was enough to serve to everyone else.
Things haven't changed much. In my house, if we're making these bites for company, it's a family affair. (Somehow, everyone's eager to volunteer for this job.) We all stand around the kitchen island, one person (usually me) slicing open the dates, while my husband and kids spread on the cream cheese, place a walnut on top…and proceed to pop one into their mouths every time I turn around. And my husband's the worst culprit. But it's okay, since I buy extra ingredients.
So, whether you serve these dates at fancy-pants parties, eating them with your pinky in the air, or stand around the kitchen in sweat pants stuffing them in your face, I hope you enjoy these. They're so fun to make and eat!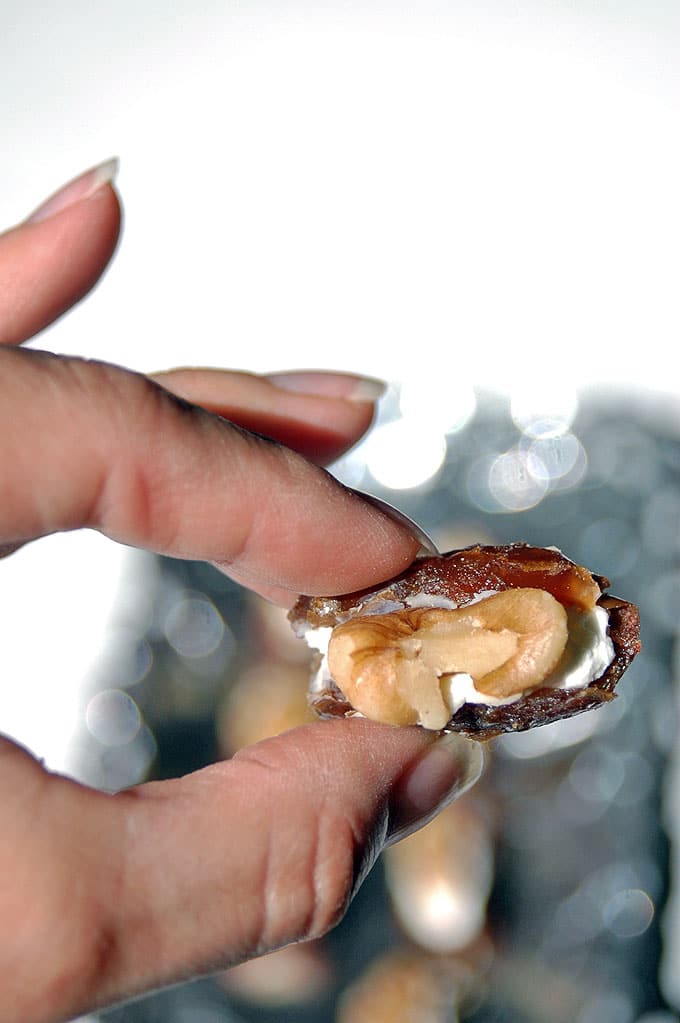 (Recipe Source: My mother-in-law, who got it from her Aunt Nancy, who saw rich people eating these for dessert)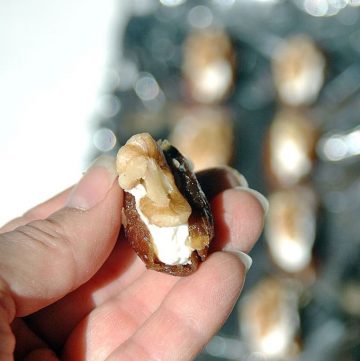 Date-Nut Cream Cheese Bites (Easy!)
Easy as 1-2-3. Perfect for an elegant appetizer or dessert, or just an informal snack. Gluten-free.
Print
Pin
Rate
Ingredients
1

9.5 ounces container of pitted dates

1

8 ounces block of cream cheese

(We use full-fat for parties & low-fat for snacking)

50

shelled walnut halves
Instructions
Using a small serrated knife (with teeth), make a slit into each date, creating an opening. Using a butter knife or spreader, fill the dates with about a teaspoon of cream cheese, smoothing the tops. Press a walnut half (curly side facing up) into the cream cheese on each date.

Serve immediately or store the dates in the refrigerator, covered in a plastic container until later. Note that the cream cheese will start to dry out after awhile, so fill the dates as close to serving time as possible for best results. Store any leftovers in the refrigerator.
Notes
For anyone with a nut allergy, you might want to try using sunflower seeds in place of the walnuts.
As for other nuts, I've tried pecans and cashews with the dates, but walnuts work best. Also, I prefer the texture of block cream cheese for this recipe, as opposed to whipped cream cheese.
Nutrition
Calories:
124
kcal
|
Carbohydrates:
15
g
|
Protein:
2
g
|
Fat:
6
g
|
Saturated Fat:
1
g
|
Cholesterol:
8
mg
|
Sodium:
71
mg
|
Potassium:
184
mg
|
Fiber:
1
g
|
Sugar:
12
g
|
Vitamin A:
85
IU
|
Vitamin C:
0.2
mg
|
Calcium:
36
mg
|
Iron:
0.4
mg