These baked Crispy Mushroom, Onion and Feta Rolls are made with egg-roll wraps! They're crunchy on the outside and savory on the inside. They taste great plain or dipped in balsamic glaze.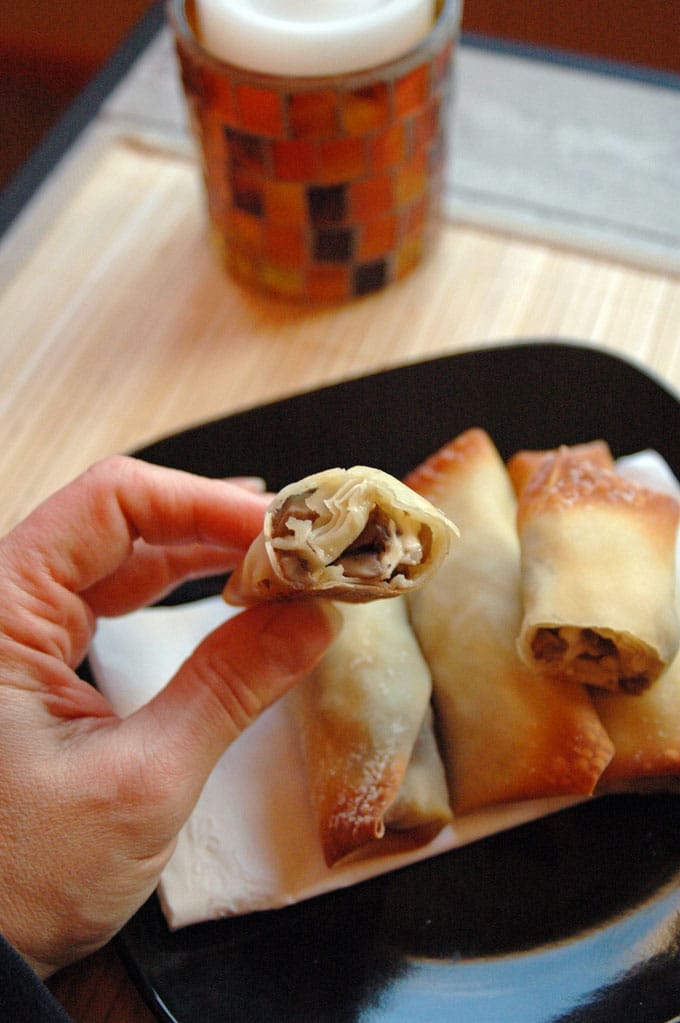 It won't be long before it's Superbowl Sunday, and if you're in search of a delicious appetizer to make, look no further. We're obsessed with these crispy mushroom, onion and feta rolls, and I hope you will be too.
They're crunchy on the outside and savory on the inside, loaded with fabulous flavor and melted-cheesy goodness. They taste great plain or dipped in balsamic glaze.
These munchies are baked, not fried (yes!) and made with store-bought egg roll wraps that are essentially thin sheets of pasta squares just waiting to be stuffed with your favorite filling.
And guess what?
The wraps meet my discerning criteria for packaged foods: no weird ingredients and no MSG. Woohoo!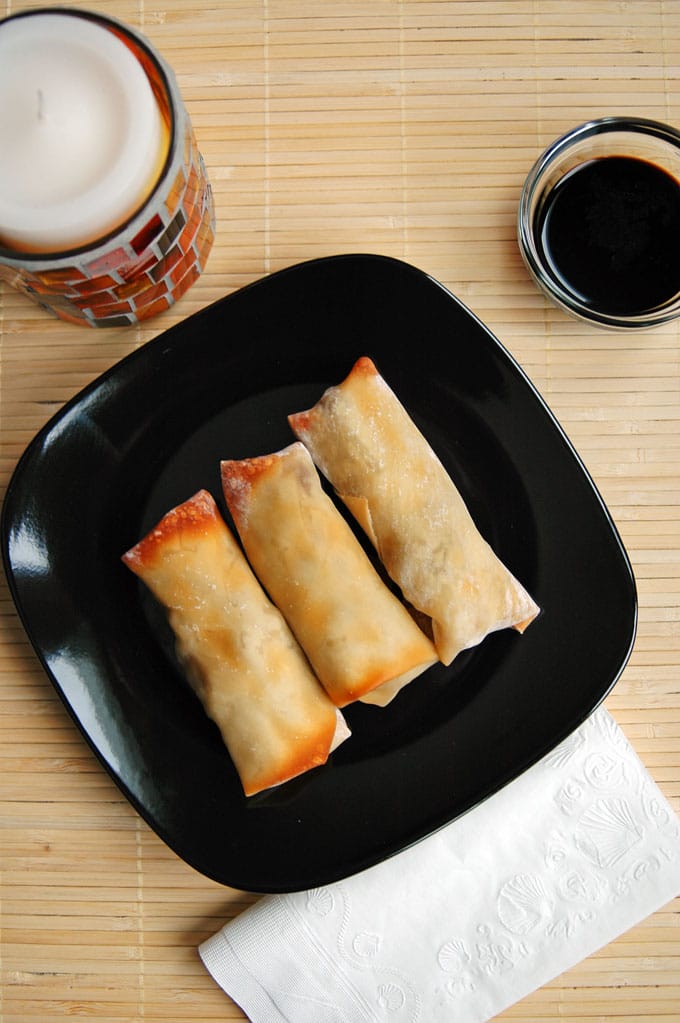 For these rolls, you sauté sliced white mushrooms with butter and onion and season them with salt, pepper, rosemary, and garlic powder. When the liquid is evaporated, the mushrooms are done.
Give them a quick chop, then toss in some feta for a nice flavor kick. You can make your filling the day before, if you wish.
Then comes the fun part.
Call me strange, but I have a thing for appetizers. Not just for eating them, but for making them.
I find the assembly process for these rolls exciting, especially since I swoon over the filling alone. I can't wait to get these in the oven and baked to crispy perfection.
I even have a hard time waiting for the rolls to cool off a bit after baking, so I don't burn myself with that first bite!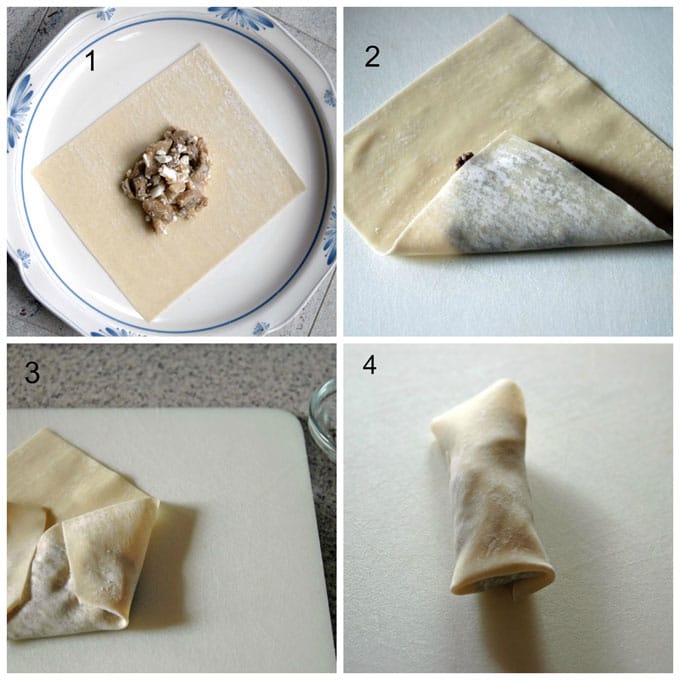 For each roll, you place two tablespoons of the veggie mixture in the middle of a pasta square. Then, starting from the bottom corner, you roll it halfway.
Fold in each side, like an envelope. Then, dip your finger in a bit of water to moisten the top corner of the dough before you complete the roll.
See, I told you it's fun!
Then, you'll line up your rolls on a greased sheet pan, brush them with olive oil, and bake at 350 for 20 minutes. (Ignore the package directions for baking at 400 for half the time, because the rolls won't turn out as crispy.)
And believe me, you'll want them crispy.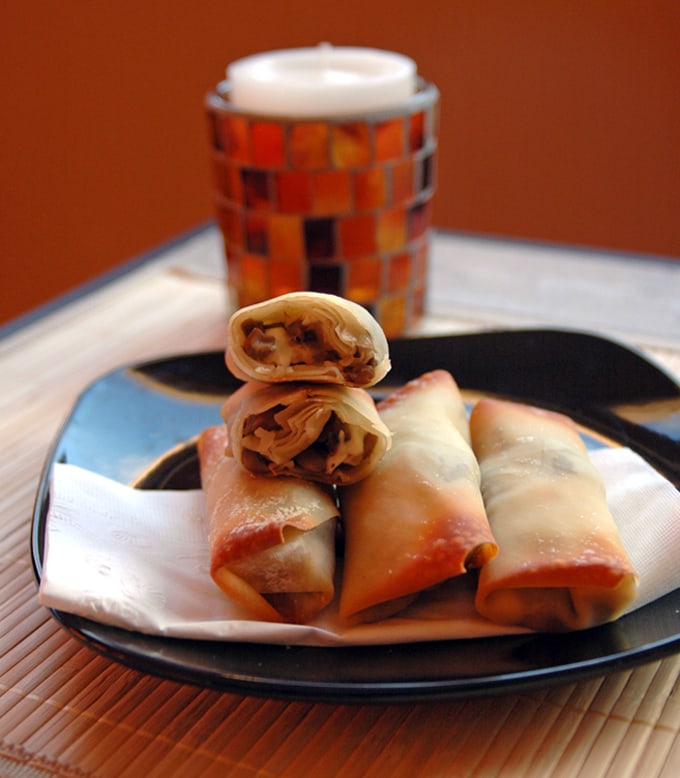 A note about the balsamic glaze. I made my own from scratch and was going to do an entire post about it.
It came out delicious, but took 45 minutes, and the vinegar gave off very strong fumes. My nostrils were burning, my head was pounding, and our neighbors probably were wondering why our windows were open in 20-degree weather.
I definitely took one for the team. Just buy the freakin' glaze.
More appetizers like this
More recipes using mushrooms

Enjoy!
(Recipe Source: Inspired by a recipe for spinach rolls I found in an online forum 14 years ago)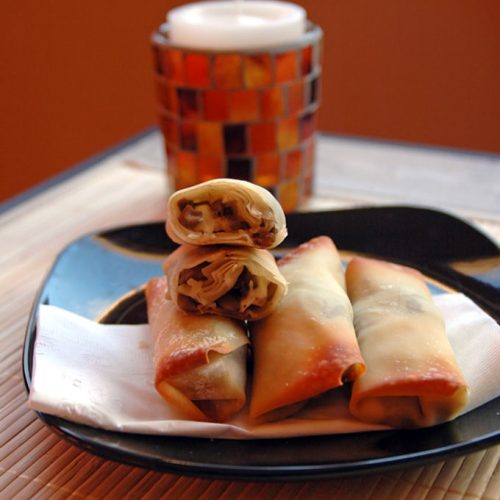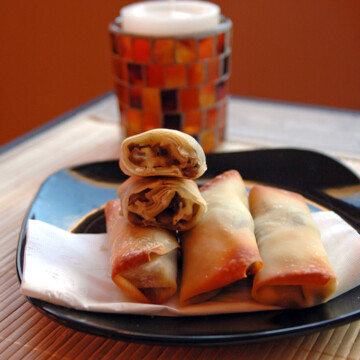 Crispy Mushroom, Onion and Feta Rolls
These rolls are baked, not fried. They make an addictive appetizer, snack or vegetarian meal.
Print
Pin
Rate
Save
Go to Collections
Servings:
12
as an appetizer (makes 20 rolls)
Ingredients
1

medium onion

(white, yellow or red)

20

ounces

white mushrooms

3

tablespoons

salted butter

salt

black pepper

garlic powder

2

pinches

dried rosemary

(or 1 teaspoon fresh)

7

ounces

crumbled feta

(low-fat is fine)

1

pound

egg roll wraps

(such as Nasoya)

water to seal each roll

olive oil to brush on each roll

Optional: balsamic glaze for serving

(or try balsamic vinaigrette)
Instructions
Peel and finely chop the onion. Set it aside.

Rinse the mushrooms under a light stream of cold water and use a vegetable brush or paper towel to remove the dirt. Pat each mushroom dry with paper towels. At this point, you can start to cook your onions before finishing the mushroom prep.

Melt the butter in a large skillet over medium high heat. Add the onions and give them a stir. While the onions are cooking for about three minutes, finish prepping the mushrooms. Trim off the hard edge of each stem and discard. Slice the mushrooms about ½-inch thick.

Stir the mushrooms into the pan and spread them out as much as you can so they cook faster. Increase the heat to high. Lightly salt the mushrooms. Add pepper, garlic powder and rosemary. The mushrooms will release their liquid. Cook them, occasionally stirring, until all the liquid has evaporated. It should take at least 7 minutes, depending on your pan.

While the mushrooms are cooking, preheat the oven to 350 degrees F. Grease two baking sheets with cooking spray.

When the mushrooms are done, turn off the heat and let them cool for a couple minutes. Then transfer them to a cutting board and roughly chop them. Place the chopped mushrooms in a bowl, dab them with a paper towel to absorb any excess moisture, and stir in the feta.

To make the rolls, set up an assembly line with your filling, a work surface for each roll, a tiny bowl of water to dip your finger, and a baking sheet. Place an egg roll square in front of you on the diagonal, with corners at the top and bottom. Place two tablespoons of the mushroom filling in the center. Fold the bottom corner up halfway to cover the filling. Fold in the right and left corners snugly over the filling, like an envelope. Dip your finger in the water and moisten the top corner of the square. Then roll the wrap up from the bottom and set it on the baking sheet.

Continue filling the rolls. (There should be about 20.) Lightly brush olive oil on them before placing them in the oven. Bake the rolls for 20 minutes, or until they are golden brown. Cool the rolls on a wire rack for a few minutes before tasting.

Serve plain or with balsamic glaze for dipping. Refrigerate leftovers for up to four days.
Notes
It's better to chop the mushrooms after they've been sliced and cooked. When I tried chopping them in my food processor before cooking them, the filling came out too mushy, and the rolls were soggy.
Also, the sautéed mushrooms and onions make a great side dish.
Nutrition
Calories:
193
kcal
|
Carbohydrates:
25
g
|
Protein:
7
g
|
Fat:
7
g
|
Saturated Fat:
4
g
|
Cholesterol:
25
mg
|
Sodium:
428
mg
|
Potassium:
204
mg
|
Fiber:
1
g
|
Sugar:
2
g
|
Vitamin A:
170
IU
|
Vitamin C:
1.7
mg
|
Calcium:
106
mg
|
Iron:
1.7
mg