This Easy Chicken Marsala with Mushrooms will knock your socks off! A company-worthy main dish ready in 30 minutes.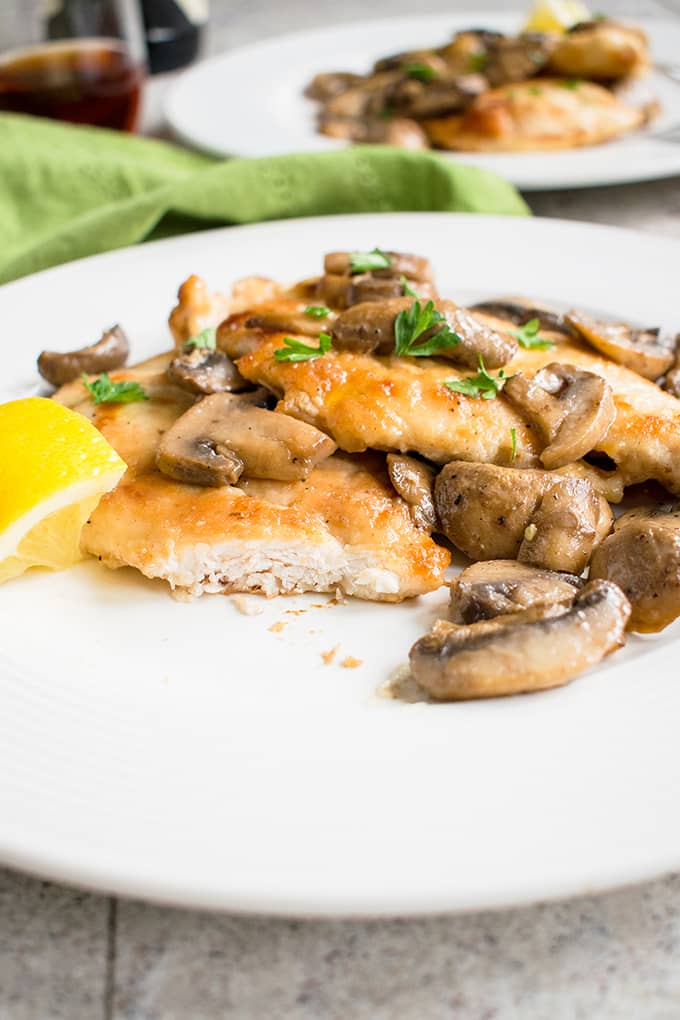 I've been eating a version of this Easy Chicken Marsala with Mushrooms my whole life. Except, I only knew it as Mom's "chicken with wine and lemon."
As kids, my brother and I would stand on one side of our kitchen peninsula (the counter came up to my neck) and watch Mom pound chicken breast cutlets, flour them and sauté them in her electric skillet. We'd anxiously await the moment when any stray bites of hot, tender chicken would be available for the taking, before she added the lemon and wine.
It was one of life's simple pleasures.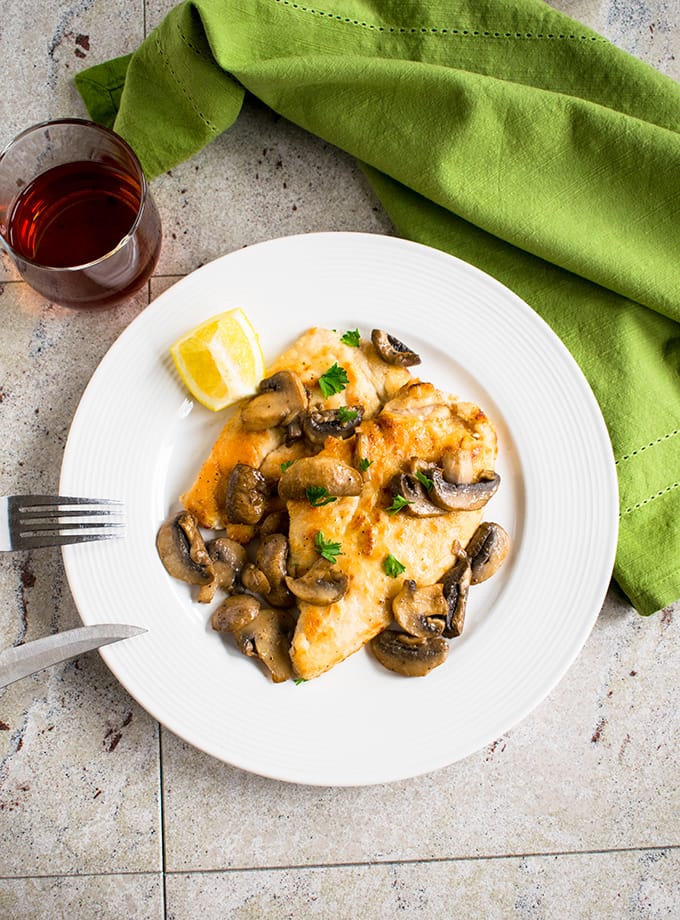 So, when I told Mom I wanted to publish a Chicken Marsala recipe and asked if she knew how to make it, she chuckled.
"What do you think the chicken with the wine is?" she laughed. "You can add mushrooms, if you want."
Oh. This is what happens when your Mom's from Italy. You grow up eating restaurant-quality meals like it's no big deal.
Mom always uses a sweet cooking wine instead of Marsala, and I've substituted whatever I had on hand a couple times. But I used the real thing for these photos.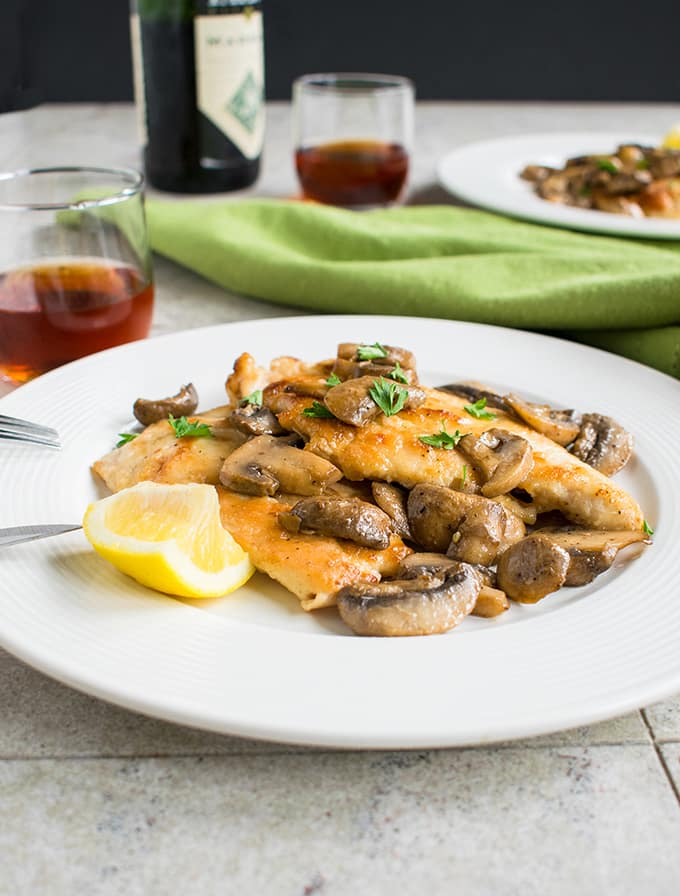 Marsala is brownish-red and tastes similar to Port, according to my wine-making hubby. It's often served with dessert. I went ahead and poured some Marsala in the glasses you see in the photos, so you can get a sense of what it looks like.
This dish is easy to make, especially if you buy thin, boneless, skinless chicken breasts and already-sliced mushrooms. (Just make sure you choose mushrooms without too much dirt.) Dinner will be ready in 30 minutes and requires only one pan.
Like Mom, I don't use any shallots or garlic in my Chicken Marsala. The wine, lemon, butter and oil provide plenty of delicious flavor. And, unlike American versions of this dish, there's no broth in this recipe.
This is company-worthy stuff, folks. You'll be amazed.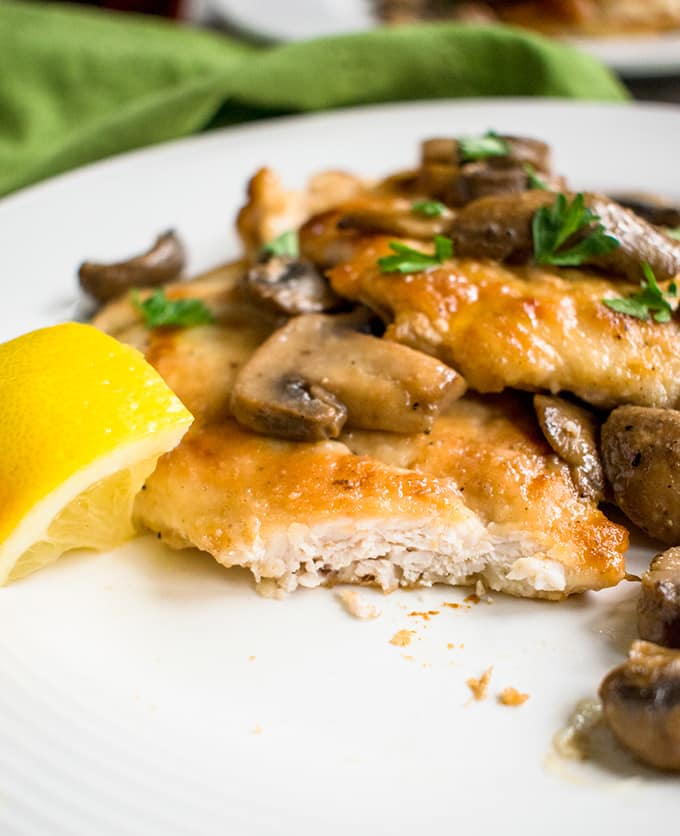 It goes great with rice, Parmesan Risotto, Oven-Roasted Potatoes or Creamy Parmesan Polenta. Oh, and it'd be fabulous with this Baked Risotto with Asparagus and Spinach.
For a low-carb option, serve it with Cauliflower Rice Caprese. And, if you really want a special meal, this Easy Chicken Marsala can follow a course of Homemade Manicotti. Wear your stretchy pants.
Enjoy!
P.S. If you like this recipe, don't miss my Pork Scallopini with Mushrooms and Apple Juice!
(Recipe Source: Cooking with Mamma C. Based on my Mom's version, but she never measures anything. Easy Chicken Marsala originally published on Food Fanatic.)