My Nonna's Chicken Meatball Soup is a very special recipe from my favorite lady. Enjoy this on Easter, holidays or for a special Sunday dinner!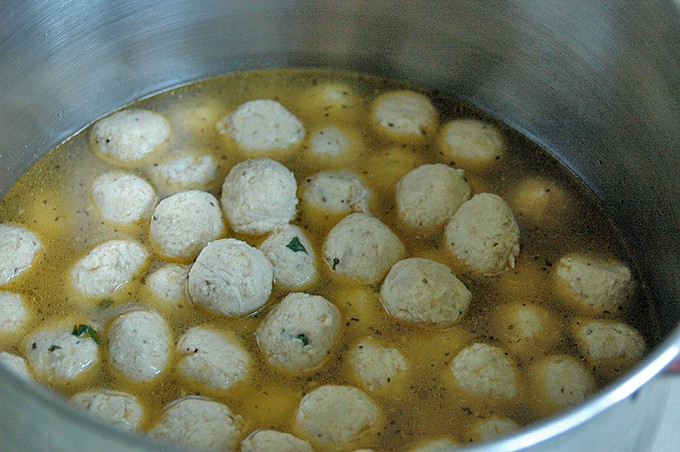 Without question, this is the most special recipe on my blog. This was Nonna's signature dish, the one I most wanted to learn to make.
It was the highlight of our Easter dinners, and sometimes more often, if we were lucky. It definitely takes longer than Chicken Pastina Soup, but it's worth setting aside the time when you want an unforgettable meal.
I hope I can do justice to Nonna's Chicken Meatball Soup — and her — as I write.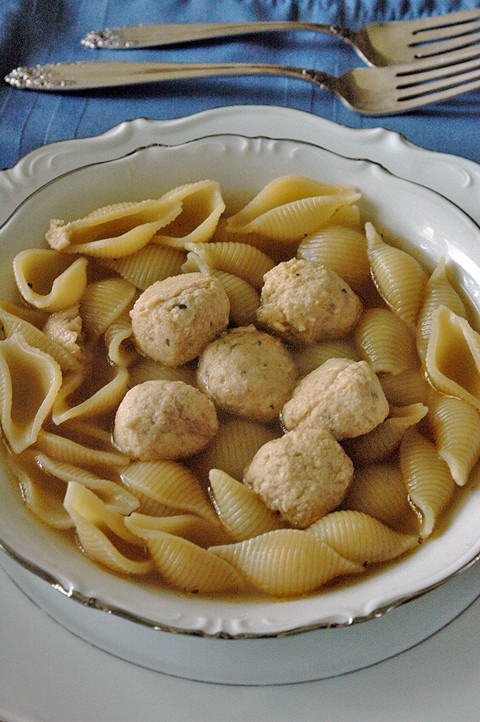 In case you're thinking of typical, slightly firm meatballs, I must point out that these are different. They're more like soft pillows of chicken and Italian cheeses, providing a burst of incredible flavor with each bite.
They're so delicate that they break easily, which means they're perfect for babies and toddlers to eat with pastina in the delicious soup, cooled with an ice cube. (Mom would make this at least once a month for my kids when they were little — which means us grownups benefited too. What a luxury!)
I have so many memories of Nonna making this soup with Mom when I was growing up. They always made a huge batch, starting with an enormous pot filled with a whole chicken, water, carrots, celery, onion, tomatoes, herbs, peppercorns, and salt. As the soup simmered on the stove for hours, the comforting aroma would fill our house, creating anticipation for what we knew would be one of the best meals of the year.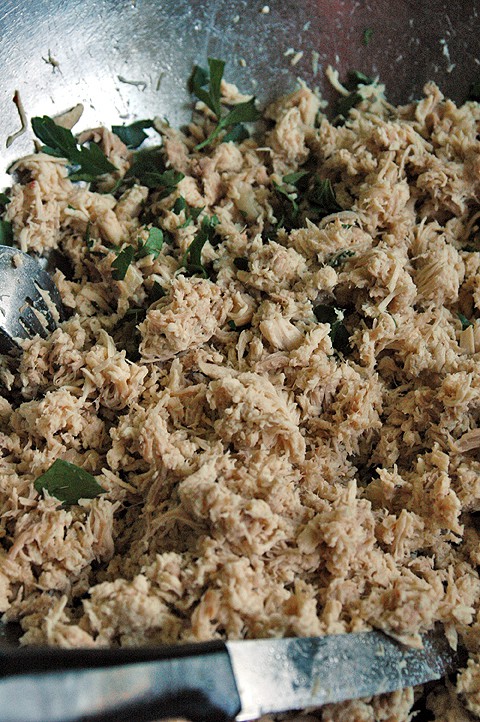 When the chicken was cooked, Nonna would place it on a platter to remove the skin and bones. She'd then put the meat in a large bowl and begin shredding it with a fork and knife.
Next, she'd add the Romano cheese, eggs, homemade bread crumbs mixed with Parmesan and garlic, parsley, and seasonings. She'd mix everything together with her hands and taste it to see if it needed more cheese, etc.
Then, it was time to roll. Nonna and Mom would shape meatball after meatball and line them up on baking sheets. Just before dinner, they'd put some soup on to boil with water in a smaller pot, and gently place the meatballs inside to cook in batches — separately from the pasta that would be cooked in an adjacent pot of soup.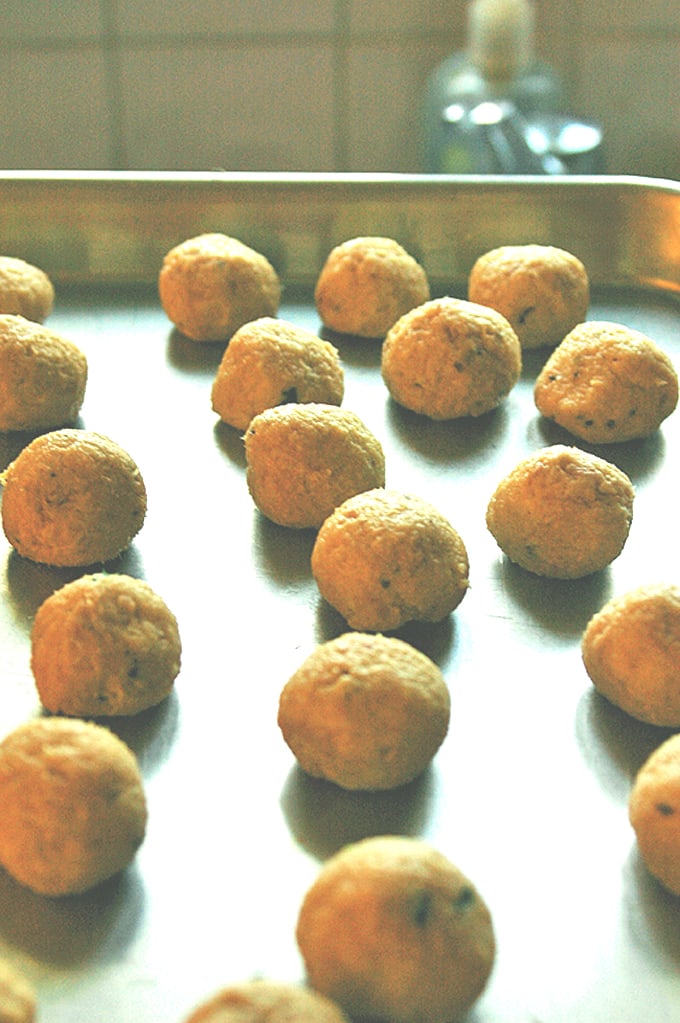 The soup and meatballs would be served in large bowls with small or medium pasta shells. We'd add spoonfuls of freshly grated Parmesan cheese at the table and wait to say grace before eating.
On Easter, Nonna would dip the palms from Palm Sunday in holy water and bless each of us with a couple of drops, her eyes filled with tears as she surveyed her grandchildren, daughters, and sons-in-law. This was her joy, to see her family together, enjoying the meal she'd so lovingly prepared.
After Nonna passed away, Mom continued to make this soup on Easter. This year, I finally learned to make Nonna's Chicken Meatball Soup too.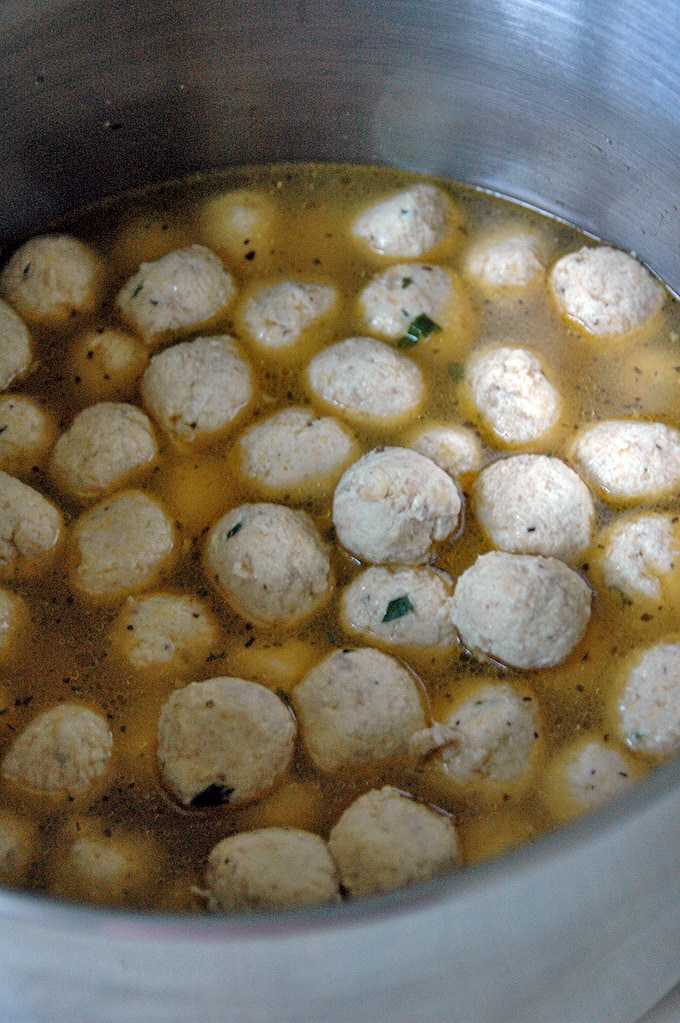 This time, it was Mom and I standing at the counter, rolling the meatballs, with the soup waiting on the stove. We talked about Nonna as we worked, and I could feel her presence, as I do now.
I know that Nonna would like her grandchildren, great grandchildren, and great-great grandchildren to have this recipe. Above all, I think she wants us to remember that the most important ingredient is love.
What to serve with Chicken Meatball Soup
Serve this soup with Sautéed Escarole with Raisins and Pine Nuts, The Best Italian Green Salad with Homemade Dressing and perhaps some Almond Pizzelle Cookies for dessert!
More recipes like this
More Italian soups to enjoy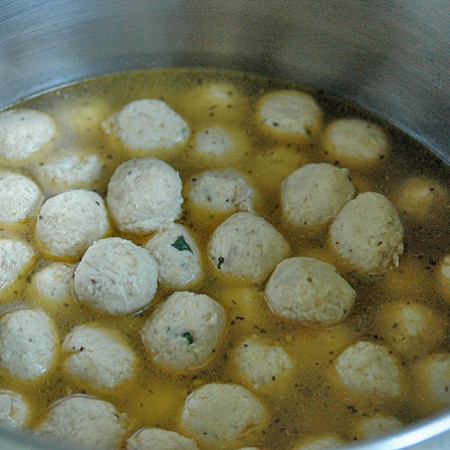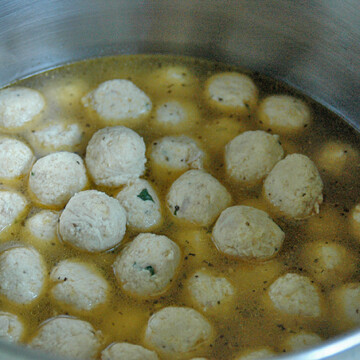 Nonna's Chicken Meatball Soup
My Nonna's signature dish is one of the best meals you will ever have. The delicate meatballs are like soft pillows of chicken and Italian cheeses that provide a burst of flavor with each bite. Set aside a day to make this special meal with love.
Print
Pin
Rate
Save
Go to Collections
Ingredients
Soup
5

pounds

chicken

(1 whole roasting or stewing chicken weighing 3-5 pounds, plus thighs if needed to make five pounds)

water

(enough to cover the chicken in the pot)

1 ½

pounds

carrots

(peeled & ends trimmed off)

⅔

bunch of celery

(rinsed to remove any dirt; wrap leftover celery in heavy-duty foil to keep well in the refrigerator)

1

large sweet yellow onion

(peeled and sliced)

½

of a small bunch of fresh parsley

(curly or flat-leaf; rinsed & stems removed)

3

sprigs fresh rosemary

3-4

large basil leaves

(rinsed clean; or 1 tablespoon dry basil)

¼

cup

peppercorns

1

heaping tablespoon salt

(plus more if needed)

2

whole peeled tomatoes from a can

(drained and broken up by hand)
Meatballs
shredded cooked chicken from the soup

(bones and skin removed)

2

tablespoons

finely chopped fresh parsley

(wash parsley and remove stems before chopping)

¾

cup

imported Pecorino Romano cheese

(grated; from Italian import store)

¾

cup

Italian bread crumbs/Parmesan blend

(see Cooking with Mamma C's Homemade Italian Bread Crumbs, or use ¾ cup Italian bread crumbs with a couple tablespoons of Parmesan mixed in to taste)

½

teaspoon

dried basil

6

shakes of garlic salt

(or to your taste)

black pepper to taste

4

eggs

(unbeaten)

1

ladle of soup broth

(½ cup)

¼

cup

fresh Parmesan cheese

(grated)

water for boiling the meatballs in batches
Pasta
2

pounds

small or medium shells

(if serving babies or toddlers, cook some pastina for them to have with the soup instead)
Instructions
Remove giblets from inside the chicken cavity and discard. Place the chicken in a 12-quart stock pot on the stove and fill the pot with enough water to cover the chicken. Cook on high heat, uncovered. As scum rises to the top, use a spoon to remove and discard it.

When the scum is gone, add the whole carrots, celery, sliced onion, parsley, rosemary, basil, peppercorns, a heaping tablespoon of salt, and tomatoes. Cook, covered, for four hours, starting on higher heat and lowering it after it comes to a boil. (Taste the soup after three hours and add more salt, if needed.)

After the soup has cooked, transfer the chicken to a platter. Strain the soup by pouring it through a large, fine-mesh strainer set over another pot. Discard the peppercorns and set aside the vegetables. (The veggies will be mushy but delicious with some salt. Eat or refrigerate for later; you won't need them for the soup.)

Remove the skin and bones from the chicken and discard them. Place the meat in a large bowl and shred it with a fork and knife. Add in remaining meatball ingredients and mix well with your hands or a fork. Taste a pinch to see if it needs more salt, pepper, or Parmesan.

Roll the meat mixture into 1-inch balls and place them in a single layer on sheet pans. The meatballs can stay at room temperature for up to two hours before they need to be cooked in the soup or refrigerated.

Set up your stovetop with a large pot filled with the hot soup (no heat under it), a pot with enough soup to cook your pasta (no heat until later), a shallow pan with sides to cook the meatballs, and a pot filled halfway with soup (no heat under it) to hold the meatballs after they are cooked.

In your wide, shallow pan with sides, boil two cups of soup broth and 2 cups of water. Add as many meatballs as will fit in a single layer. The meatballs will rise to the top when they are cooked, which will take 5-6 minutes. Remove the cooked meatballs with a slotted spoon and transfer them to your pot filled halfway with broth. Continue cooking the meatballs in batches, adding more water and soup to the pan as needed. It is fine to stack the cooked meatballs in the holding pot as you go.

When you are done cooking all of the meatballs, the pots can sit on the stove without heat for up to 1 ½ hours. When you are ready to cook your pasta, heat the pasta pot on high. Place low heat under the pots containing the meatballs and the soup. Add the pasta to the boiling soup and cook until al dente. Do not drain.

To serve: Fill each large soup dish with some pasta, six meatballs, and broth ladled on top. Provide extra Parmesan at the table.

Soup, pasta, and meatballs can be stored separately in the refrigerator for up to three days. Soup and meatballs can be frozen separately for up to three months.
Notes
For this soup, the chicken needs to cook longer than usual, so that it will be soft enough for the meatballs.
Five pounds of chicken will yield about 100-110 meatballs. They freeze beautifully after they are cooked. To freeze them, portion them out in a single layer in freezer bags and lay them flat in the freezer for up to three months. Add them to a pot of boiling soup (or simply use two parts chicken stock to one part water) and boil them just until heated through. Gently remove them with a slotted spoon.
If you wish, you can use half of the shredded chicken for meatballs (reduce the meatball ingredients by half) and freeze the remaining shredded chicken (portioned in freezer bags) to use in other dinners, such as enchiladas.
Nutrition
Calories:
644
kcal
|
Carbohydrates:
56
g
|
Protein:
41
g
|
Fat:
27
g
|
Saturated Fat:
8
g
|
Cholesterol:
163
mg
|
Sodium:
483
mg
|
Potassium:
672
mg
|
Fiber:
3
g
|
Sugar:
5
g
|
Vitamin A:
8100
IU
|
Vitamin C:
9.2
mg
|
Calcium:
143
mg
|
Iron:
3
mg
(Recipe Source: My Nonna, whom Mom says was a "tornado in the kitchen," doing the work of three people with lightning speed)