You're going to love this Italian Beef Soup that's based on my Nonna's recipe! It's worth the wait!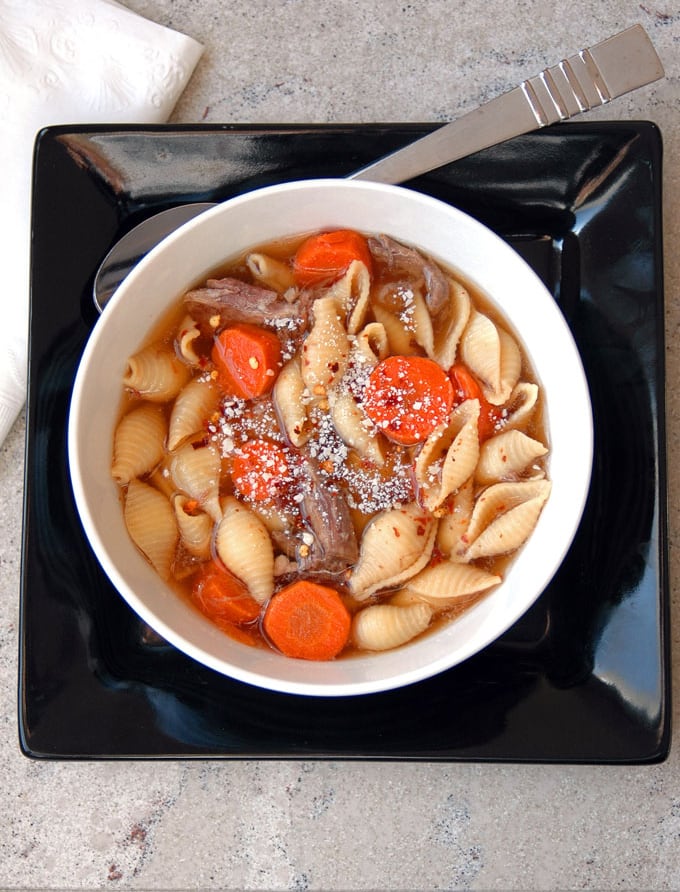 "Where's the beef?"
I'm pretty sure that's what Clara Peller from the old Wendy's commercial would say if she saw my blog. It's true; I haven't shared many beef recipes here.
Today, I'm remedying that with this delicious Italian beef soup with pasta shells.
I don't know about you, but after all the holiday cookies, cheesecake, nut roll and pie, I could go for some good, old-fashioned soup. This is the kind that starts with a chuck roast and cooks on low for four hours.
Your home will smell amazing.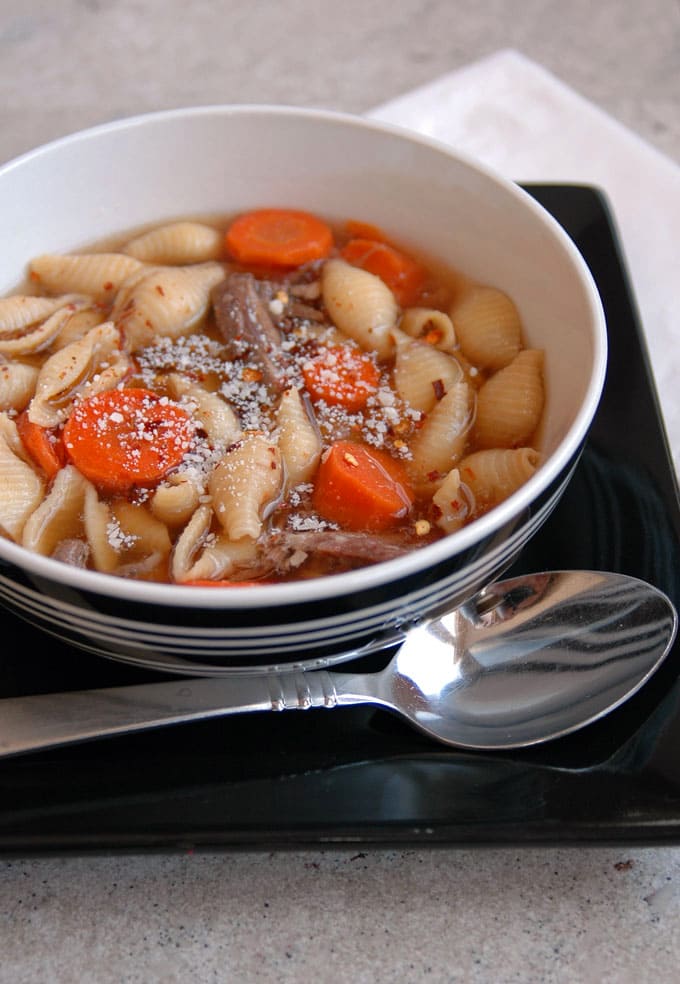 We enjoy this soup on Christmas Day, and it was a regular part of our dinner rotation while I was growing up. I adapted it a bit to intensify the beef flavor, but otherwise, it's like my Nonna's version.
And speaking of Christmas, I hope you enjoyed yours, if you celebrate. I'm so excited about my presents!
Mom and Dad got me a cast iron skillet, which I've been wanting for a while. It'll enable me to start meals on the stove and then finish them in the oven.
Hello, crispy, cheesy browned goodness. And ooh, I can bake a giant skillet cookie! The possibilities are endless.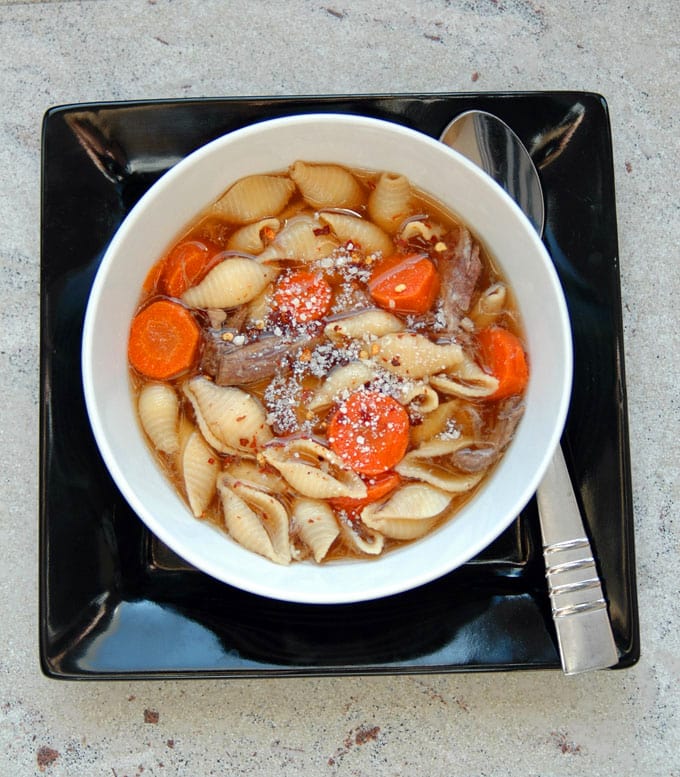 My daughter got us a gift certificate to one of my favorite restaurants, so my husband and I are looking forward to a night out.
My son surprised me with assorted plates, bowls, glasses and placemats that I can use in my Cooking with Mamma C photos (like today's). So thoughtful.
And...he got me a chef's hat, which you can see me wearing on Instagram. Too funny!
Last, but not least, my hubby got me my requested gym membership, which I really need to help counter all of these food-blogging calories. I'm aiming to increase my workouts to three days a week, instead of my usual two.
There, I put it in writing. Please hold me accountable.
Enjoy!
(Recipe Source: Adapted from my Nonna's method, via my Mom)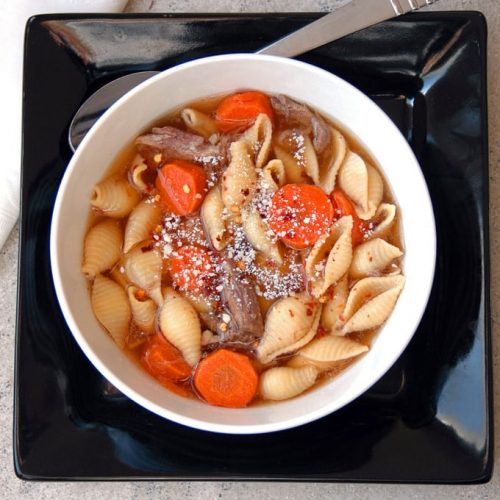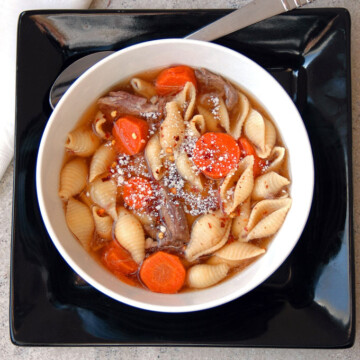 Ingredients
3

pound

beef chuck roast

1

quart

beef stock

4 ½

quarts

hot water

(but do not fill pot more than ¾ full)

1

large onion

(peeled & quartered)

3

celery stalks with leaves

(cut in 1-inch pieces)

1

pound

carrots

(peeled & cut in half the short way)

handful of fresh parsley leaves

2

medium garlic cloves

(peeled & smashed)

2

whole

(peeled tomatoes; canned is fine)

8

fresh basil leaves

(or use a teaspoon of dried)

½

teaspoon

thyme

2

teaspoons

salt

(plus more to taste)

1

tablespoon

black peppercorns

red pepper flakes to taste

1

pound

small pasta shells

Parmesan cheese for serving
Instructions
In a tall stock pot over medium high heat, add the beef chuck, stock, and hot water, making sure you don't fill your pot more than ¾ full. (When the liquid starts to boil, lower the heat to a simmer.) During the first 20 minutes of cooking, use a spoon to skim off the foam that comes to the surface and discard it.

While the beef is cooking, prepare your vegetables. Peel and quarter your onion. Wash the celery, trim off the ends, and cut into 1-inch pieces. Rinse the carrots and trim off the ends. Peel the carrots and cut them in half horizontally. Rinse the parsley and remove the stems (with scissors, if you have them). Peel and smash your garlic. Rinse your basil and remove the leaves.

After 20 minutes, add your onion, garlic, tomatoes, vegetables, herbs and seasonings to the pot and give it a quick stir. Cover the pot and keep the heat on low. Cook the soup for four hours, but remove about half of the carrots after 35 minutes. (You can refrigerate them after they cool and start bringing them to room temperature an hour before serving the soup.)

When the soup is done, remove the meat to a bowl to shred or cut into chunks. Strain the soup into another pot (place a strainer over the empty pot and pour your soup through the strainer to remove the vegetables.) Discard the peppercorns. The vegetables in the strainer will be mushy, but you can save them to eat with salt and pepper if you wish.

Taste the soup to see if it needs additional salt and pepper. Place the beef back into the strained soup.

For the pasta, place half of the soup broth in a pot and bring it to a boil over high heat. Slice up your reserved carrots and add them to the boiling broth with the pasta. Cook the pasta until it is al dente (check it about 3 minutes before the al dente time on the package.) Turn off the heat, but do not drain the pot.

To serve, scoop some pasta and carrots into each bowl and ladle the broth and meat over it. Top each serving with freshly grated Parmesan and have salt and red pepper flakes at the table for extra seasoning.

To store leftover pasta, remove it from the pot with a slotted spoon so there is no liquid in it to make it soggy. Store it separately from the soup in the refrigerator. The leftovers should be good for four days.
Nutrition
Calories:
573
kcal
|
Carbohydrates:
53
g
|
Protein:
43
g
|
Fat:
20
g
|
Saturated Fat:
8
g
|
Cholesterol:
117
mg
|
Sodium:
1037
mg
|
Potassium:
1240
mg
|
Fiber:
4
g
|
Sugar:
6
g
|
Vitamin A:
9845
IU
|
Vitamin C:
9.5
mg
|
Calcium:
104
mg
|
Iron:
5
mg
More soup recipes