This Tuscan White Bean Soup with Escarole and Potatoes is so comforting and full of flavor! It's vegetarian and gluten free. Enjoy the leftovers for lunch!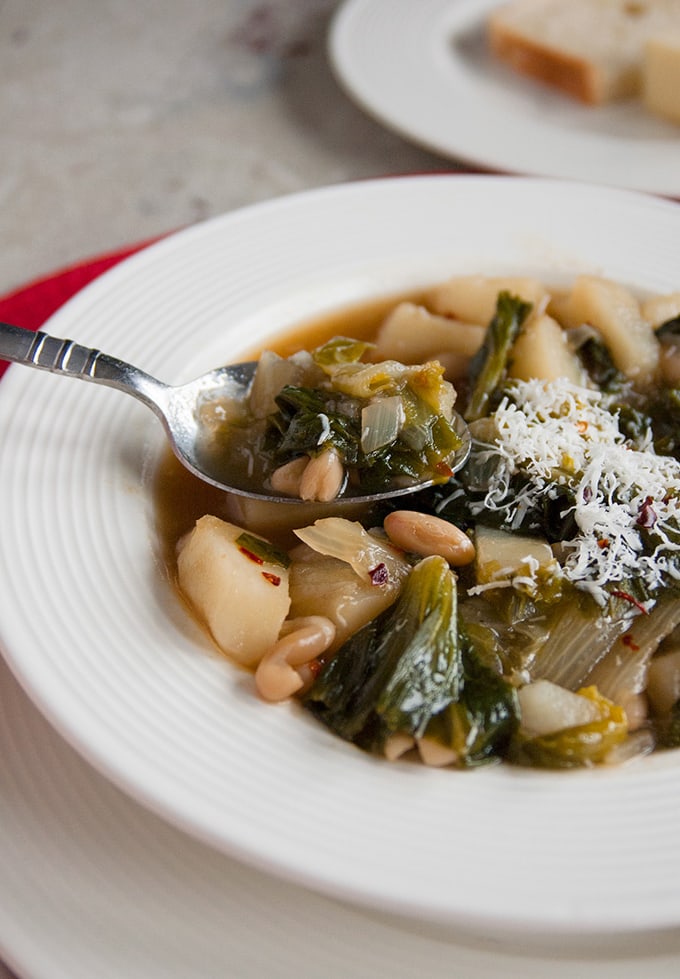 Are you a soup person? I am. I enjoy soup all year round. But when the wind is howling through the night, keeping me awake and wondering if our house will blow down, soup needs to be on the menu the next day.
For the record, our home survived, but the wind felled one of our trees. (It was dead anyway, so that turned out to be helpful.) But, still. I needed a bowl of comfort. I made Tuscan white bean soup with escarole and potatoes, and it's my new favorite.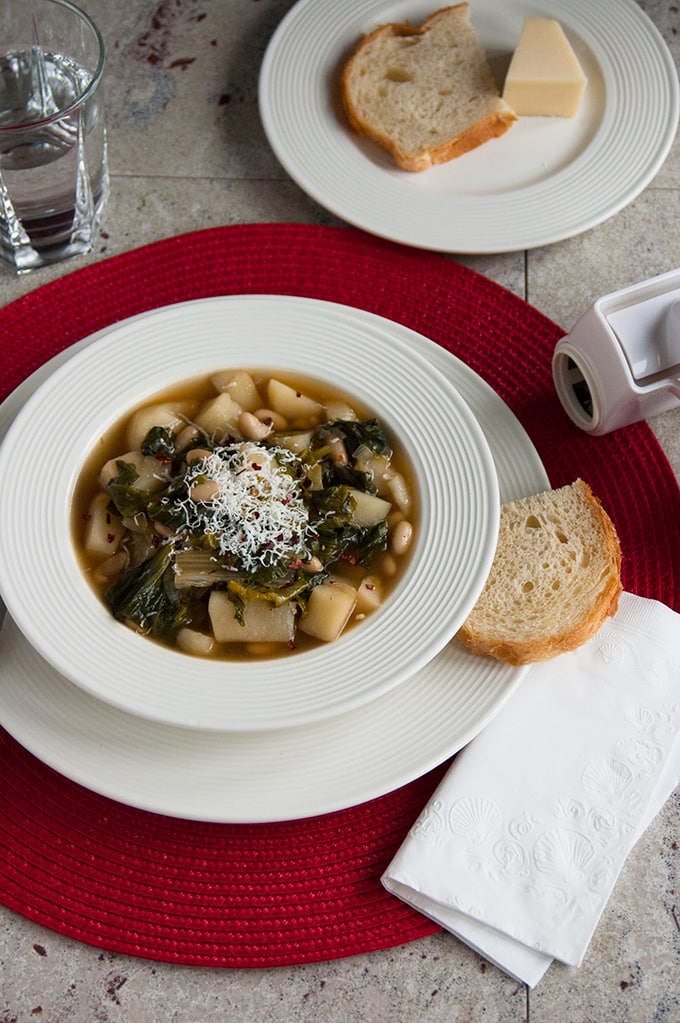 I wanted a vegetarian soup, so I used vegetable stock and built flavor by sautéeing an onion and garlic in a bit of olive oil before adding my potato cubes. Okay, my potatoes are more like uneven, rather-large chunks. I'm no Edward Scissorhands. Or Julia Child. Or anyone with knife skills.
But none of that matters, because this soup is so delicious! I pulled a little from my Pasta e Fagioli and Italian Minestrone Soup recipes, keeping the beans, onions, garlic and Romano rind (yes!), nixing the tomatoes and going with potatoes instead of pasta (a nice change that works really well here).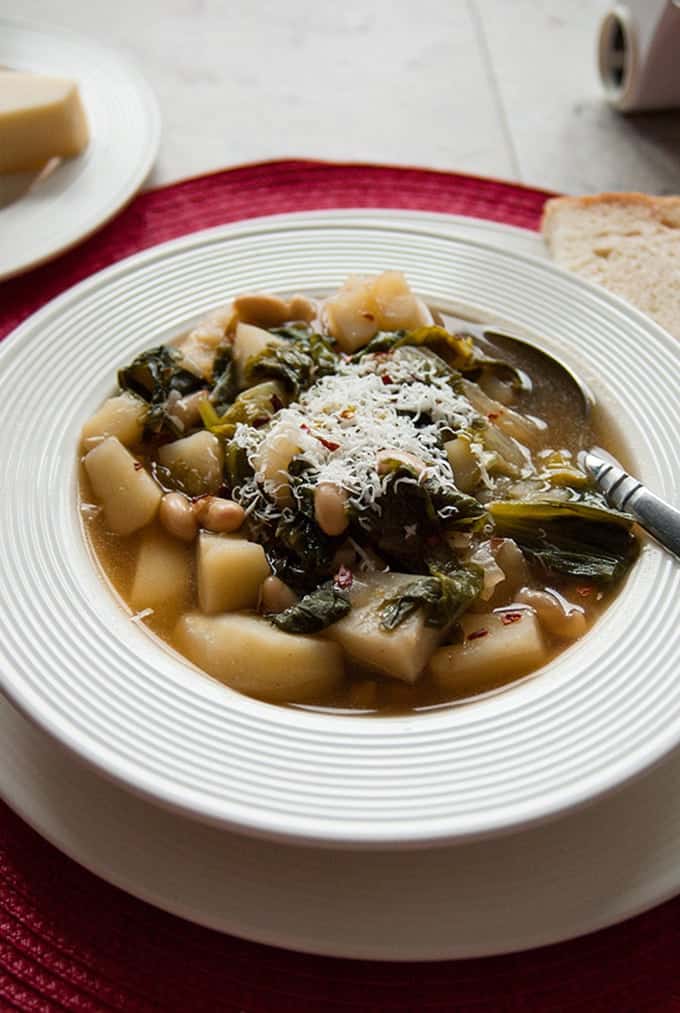 Then, there's the escarole, or scarola, in Italian. Escarole and white beans are fabulous together. I didn't even consider substituting kale.
Escarole comes in bunches and looks like dark lettuce. It's loaded with fiber, antioxidants and vitamins A and K. It's also loaded with dirt when you buy it, but don't worry. Here's what Mom taught me to do when I learned to make Sautéed Escarole.
Tip: To easily clean your escarole, fill your empty sink half-way with cold water. Cut off the root end of the escarole and place the bunch horizontally on your cutting board. Slice the escarole into three sections. Plunge the leaves into the water and swirl them around. The dirt will sink to the bottom. Place your escarole in a colander to drain and give it a rinse.
Done! It works like magic. I need to try that with leeks next time.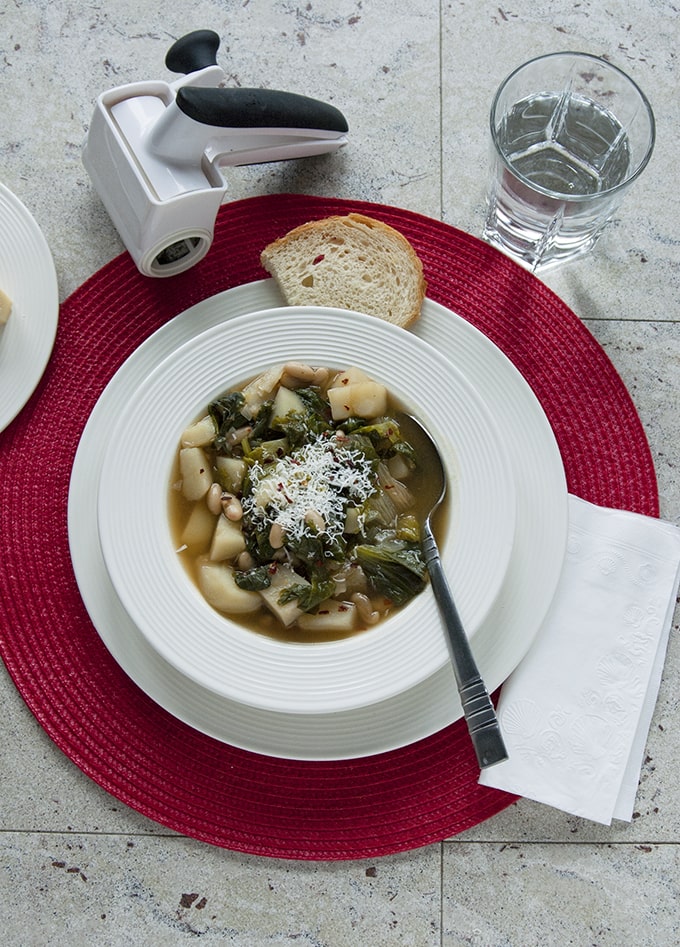 Anyway, I'm excited to share this recipe for Tuscan white bean soup with escarole and potatoes. To make a full meal of it, I eat a huge portion (it's healthy, right?) and enjoy it with bread on the side. But it also would be a great first course for a lovely Italian supper.
More soup recipes to enjoy
Enjoy!
P.S. If you love escarole, don't miss this Pizza di Scarola from Naples!
(Recipe Source: Cooking with Mamma C)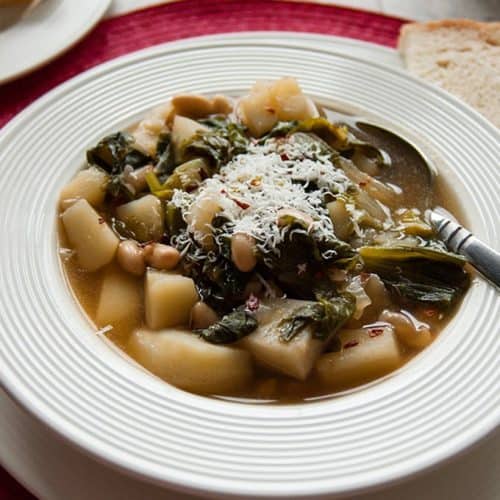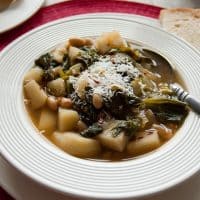 Ingredients
1

large bunch escarole

2

pounds

red-skinned potatoes

1

medium onion

(yellow or white)

3

tablespoons

olive oil

3

cloves

garlic

2

quarts

vegetable stock

1

bay leaf

rind of a Romano cheese triangle

(plus grated Romano for serving)

½

teaspoon

red pepper flakes

⅓

teaspoon

salt

⅓

teaspoon

black pepper

2

15-oz cans cannellini or Great Northern beans

(drained & rinsed)
Instructions
Start by preparing your escarole. Make sure your sink is clean and fill it halfway with cold water.

Before washing the escarole, place it horizontally on your cutting board. Cut off and discard the root end. Slice the remaining escarole bunch into three equal parts. To make smaller pieces, you can cut those in half horizontally.

Plunge your escarole into the water in the sink and swirl it around. The dirt will sink to the bottom. Transfer the escarole to a colander and give it a rinse. Let it drain while you continue with the recipe.

Rinse and peel your potatoes. Set them aside.

Peel and chop your onion. In a soup pot, heat your olive oil on medium high. Add the onions and stir them a bit. While the onions are cooking, press your garlic (discarding the skin). Cut up your potatoes into cubes or chunks.

When your onions are tender, add your garlic to the pot and stir it in. Lower the heat a bit and let the garlic cook for about 30 seconds before adding your potatoes and vegetable stock.

Add in the bay leaf, Romano rind and seasonings. Cover the pot, increase the heat to high, and let it come to a boil.

When the pot is boiling, stir in your escarole. Let the soup come to a boil again before lowering the heat to a simmer. Partially cover the pot by laying a wooden spoon on the edge of the pot and letting the lid rest on it. Set a timer for 10 minutes.

After 10 minutes, add your drained beans to the soup. Let the soup cook for another five minutes, then check to see if the potatoes are ready. The soup is done when the potatoes are fork tender.

Serve the soup with grated Romano (or Parmesan for a milder option). Store leftovers in the refrigerator for up to six days.
Nutrition
Calories:
231
kcal
|
Carbohydrates:
40
g
|
Protein:
9
g
|
Fat:
5
g
|
Sodium:
1307
mg
|
Potassium:
717
mg
|
Fiber:
9
g
|
Sugar:
4
g
|
Vitamin A:
1770
IU
|
Vitamin C:
14.8
mg
|
Calcium:
110
mg
|
Iron:
3.7
mg