You only need an hour to make this Parmesan Focaccia with Rosemary and Garlic! A cross between bread and pizza, it's crispy on the outside, chewy on the inside. Perfect for dinners and potlucks!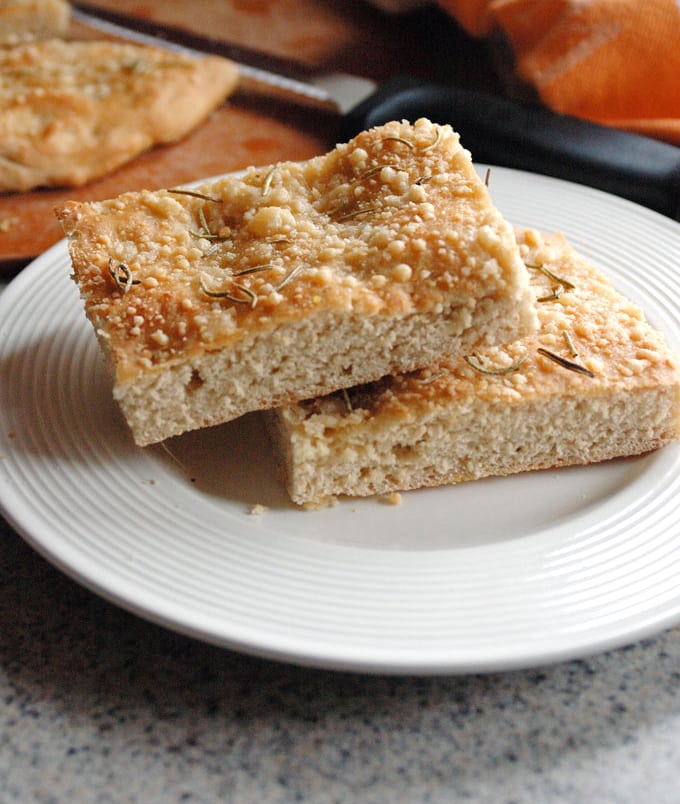 It'd been far too long since I baked bread, so I decided to make Parmesan focaccia with rosemary and garlic. The good news is it takes just one hour total.
The bad news is...it takes just one hour total. So I've made three batches in the past few days, eating all the carbs.
But! I used a 50-50 combination of white whole wheat flour and all-purpose flour in this recipe, so it's definitely on the healthier spectrum for bread.
I feel good serving it to my family, and we all enjoy it. (My kids pick off the rosemary, I must admit, but my hubby and I wouldn't dream of doing so. Yum!)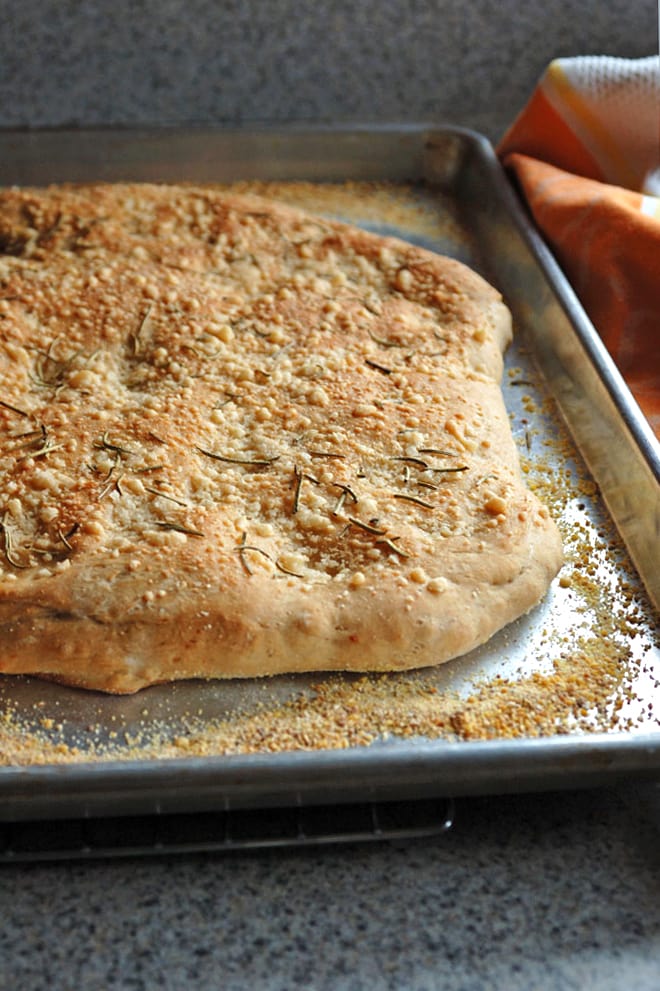 Before I get into the details about what makes this focaccia so delicious, I have to report that my Amish Brown Butter Mashed Potatoes were a big hit Sunday during our belated Mother's Day dinner. Mom and Dad loved them, and most newsworthy, my daughter, who has never been a fan of mashed potatoes, had seconds.
I'm doing a little end zone dance over here. You really need to try them!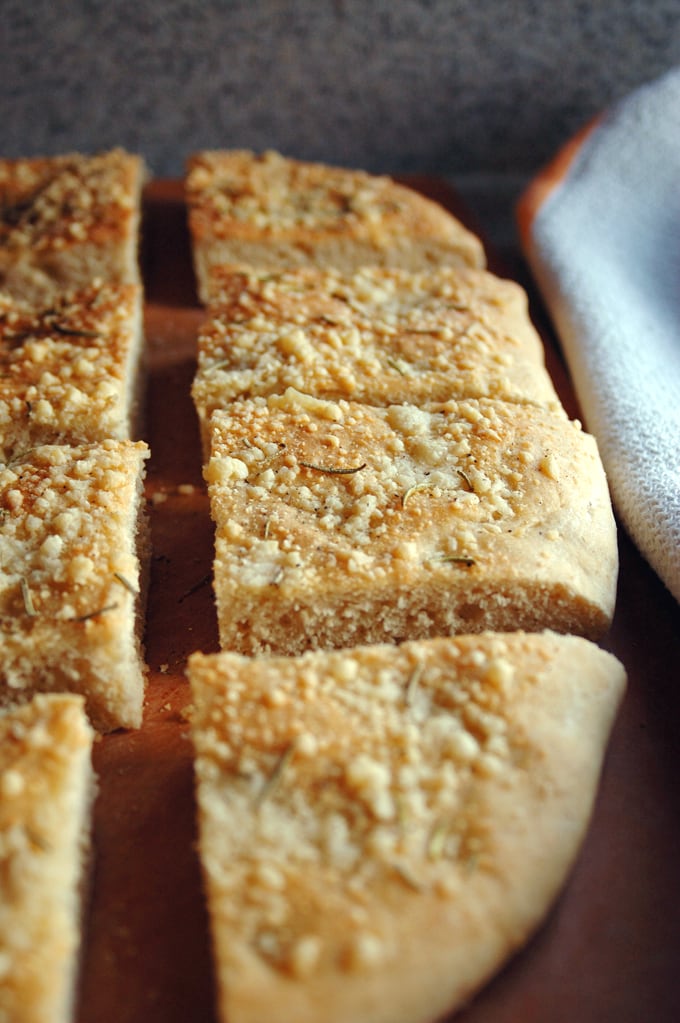 Anyway, back to the Parmesan focaccia with rosemary and garlic. What I love about this bread is that it's a bit crispy on the outside and chewy on the inside.
The whole wheat adds a nice earthiness, without making it too dense. You certainly could use all white flour, but I hope you'll give this version a go.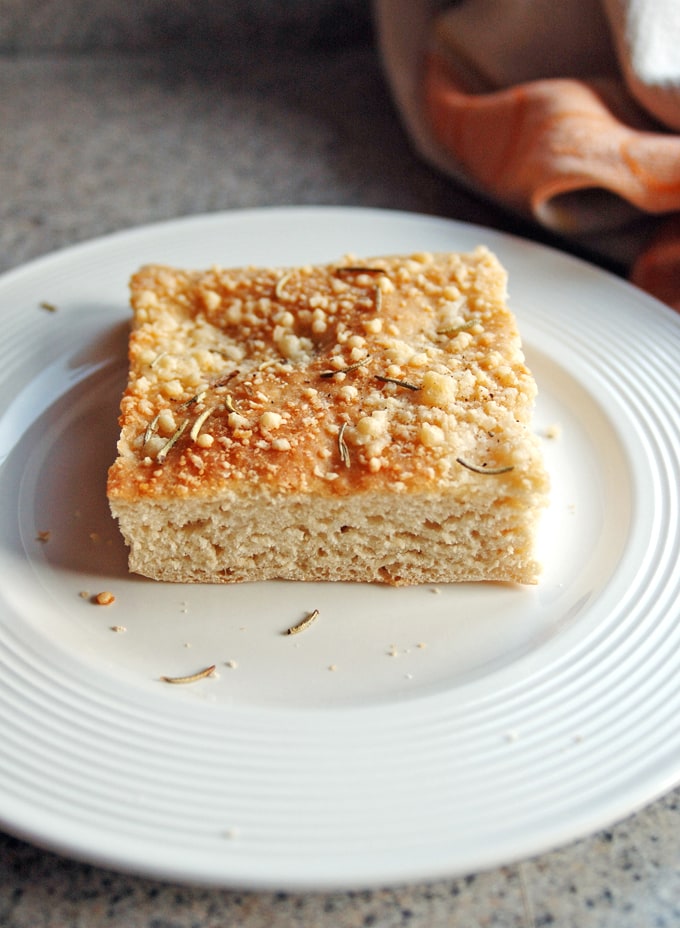 Here are the keys to success with this recipe:
Use fresh yeast. I buy the instant kind in a jar that I store in the fridge. However, once it's opened, it really needs to be pitched after four months, even if the expiration date is far off. Otherwise, the bread won't rise properly. When in doubt, pitch the old yeast and buy it new.
Use milk instead of water for a moister crumb. It makes a huge difference, especially when whole wheat flour is involved.
To prevent the focaccia from sticking to the pan, line the baking sheet with parchment paper or cornmeal. It'll work better than cooking spray (ask me how I know) and won't make the crust soggy.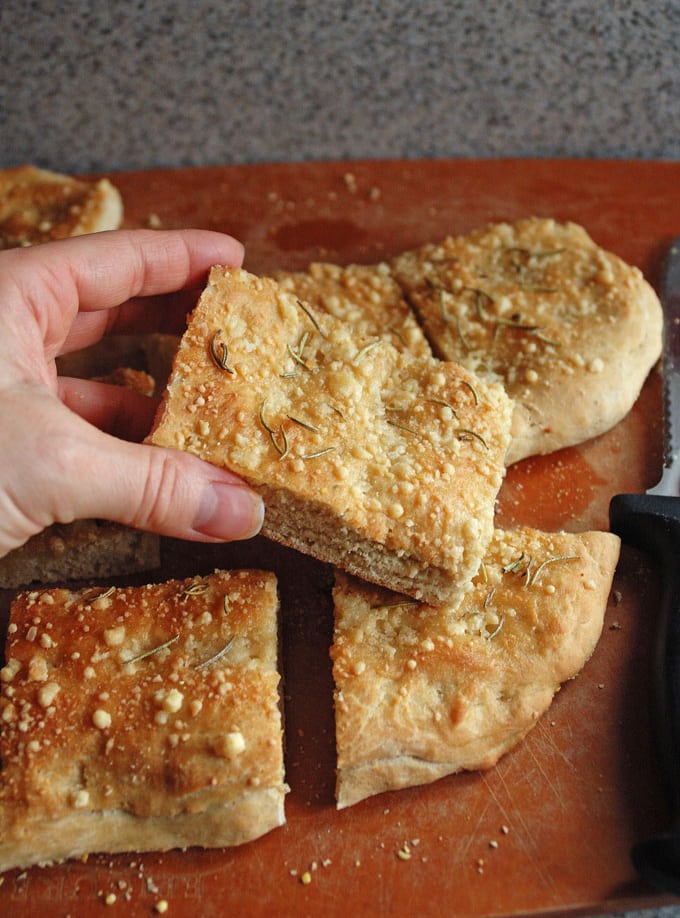 That's about all you need to know. This is so easy to make, especially if you have a stand mixer with dough hooks.
I knead mine for four minutes with my KitchenAid mixer (affiliate link) and it should just take a bit longer by hand. When the dough is smooth and no longer sticky, it's ready for its 30-minute rise.
Then, it gets punched down and patted into a 10x12 rectangle. You'll make indentations with your knuckles, brush on some olive oil, sprinkle on Parmesan and rosemary, and bake for 15 minutes. Another quick brush of olive oil, some pepper and then, mangia!
Enjoy!
P.S. The focaccia would be great served with Smoky Lentil Stew or Lightened Up Broccoli and Cheese Soup.
(Recipe Source: Inspired by this recipe on Allrecipes)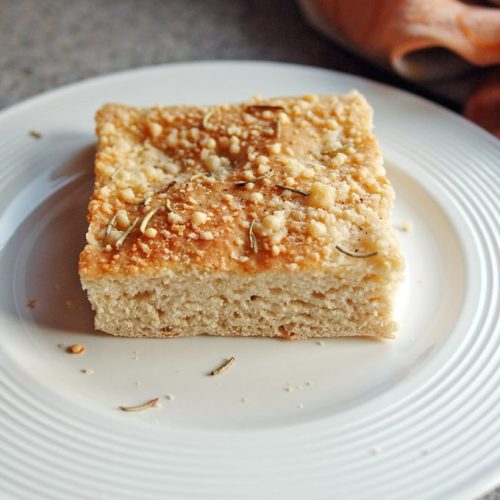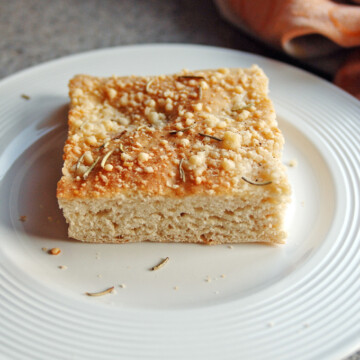 Parmesan Focaccia with Rosemary and Garlic
This delicious focaccia takes just an hour to make! The recipe calls for a 50-50 combination of all-purpose flour and white whole wheat flour, but you can use only all-purpose flour (3 cups), if you prefer.
Print
Pin
Rate
Save
Go to Collections
Ingredients
1 ½

cups

all-purpose flour

(plus extra as needed for the dough to come together; see notes)

1 ½

cups

white whole wheat flour

1

tablespoon

instant yeast

1

teaspoon

garlic powder

1

teaspoon

salt

1

teaspoon

sugar

1

cup

warm milk

(low-fat is fine)

2

tablespoons

olive oil

(divided use)

¼

cup

grated Parmesan cheese

1 ¼

teaspoons

dried rosemary

black pepper to taste
Instructions
In the bowl of your stand mixer or a large bowl, add your flour, yeast, garlic powder, salt, and sugar. Whisk to combine.

Warm up your milk in the microwave and add it to the bowl. Add in 1 tablespoon of olive oil.

If using a stand mixer with a dough hook, attach the hook and set the speed to 2. Set a timer for four minutes to let the machine mix and knead the dough. (If doing this by hand, stir your ingredients with a spoon and gather the dough into a ball. Knead the dough on a clean, floured surface for at least 6 minutes, or until the dough is smooth and not sticky.)

Grease your stand mixer bowl (or a clean, large mixing bowl) with cooking spray. Place the dough in the bowl, cover it with a towel, and let the dough rise for 30 minutes in a draft-free spot. (I place mine inside the microwave, which is turned off.)

When the dough has 10 minutes left to rise, preheat your oven to 425 degrees F and line a rimmed baking sheet with parchment paper or a layer of cornmeal. Grate your Parmesan if using fresh cheese.

When the dough has risen for 30 minutes, punch down the dough. Transfer the dough to your baking sheet and press the dough into a 10x12 rectangle, trying to keep the thickness even. Use your knuckles to make rows of indentations on the dough's surface.

Place 1 tablespoon of olive oil in a small bowl and brush the oil onto the dough. Sprinkle on your Parmesan and rosemary.

Bake the focaccia for 15 minutes, or just until the surface is golden. Do not overbake, or it will be dry. While the focaccia is baking, add your remaining tablespoon of olive oil to your small bowl.

Remove the focaccia from the oven and set the pan on your stovetop or wire rack. Brush on the remaining tablespoon of olive oil and sprinkle the focaccia with some pepper. To serve, transfer the focaccia to a cutting board and cut into 12 slices.
Notes
When making breads from scratch, the temperature and humidity of your kitchen will affect the dough. Start with the flour amounts listed here, and if your dough is not coming together into a ball as you knead it, add 1 or 2 extra tablespoons of flour until the dough comes together.
Nutrition
Calories:
177
kcal
|
Carbohydrates:
28
g
|
Protein:
6
g
|
Fat:
4
g
|
Saturated Fat:
1
g
|
Cholesterol:
3
mg
|
Sodium:
281
mg
|
Potassium:
82
mg
|
Fiber:
2
g
|
Sugar:
1
g
|
Vitamin A:
70
IU
|
Calcium:
72
mg
|
Iron:
1.3
mg