Make these Quick Hamburger Buns from scratch and elevate your burgers to a whole new level! No fancy equipment is required. Plus, you can use this recipe for all your sandwich bun needs.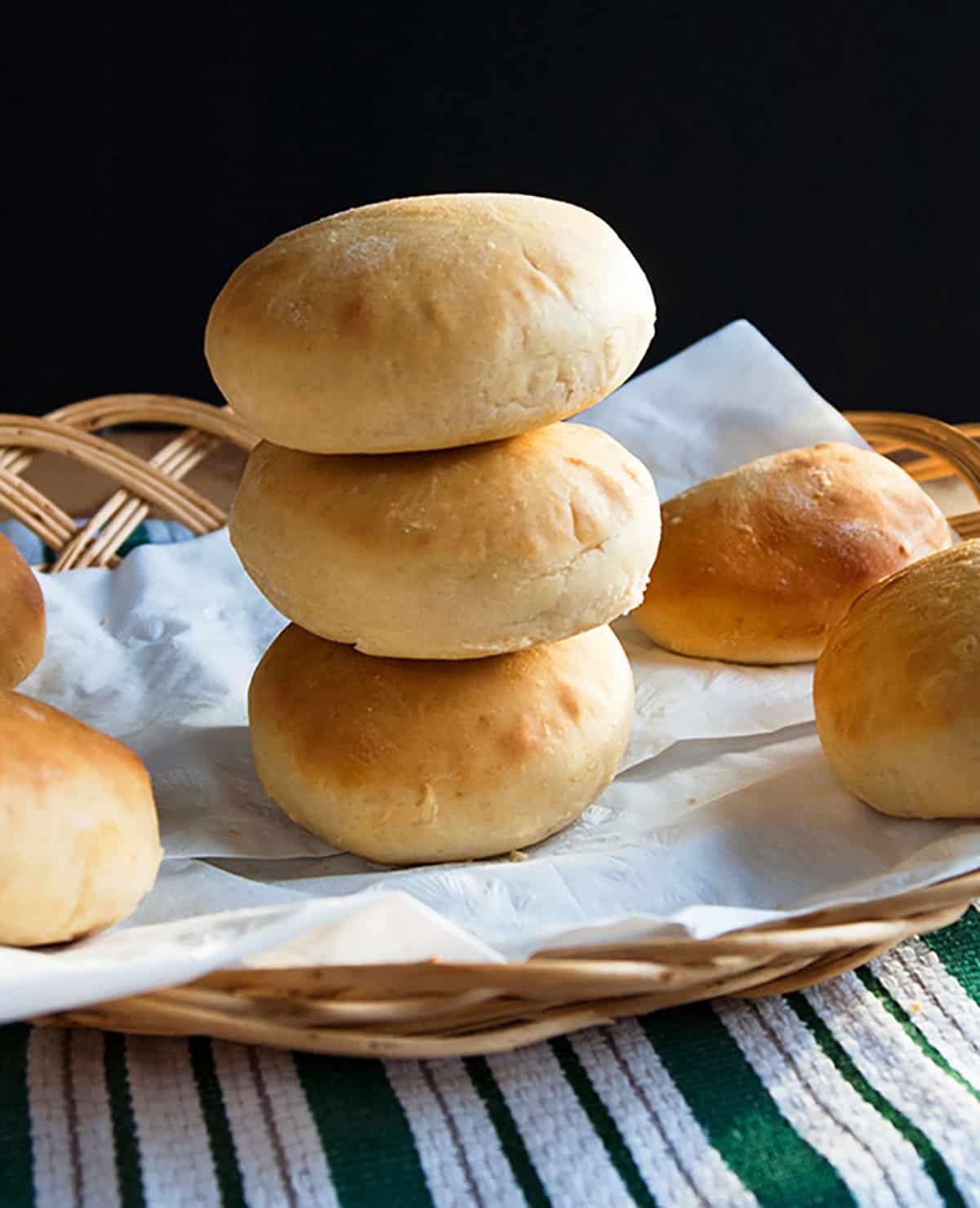 We're going to talk buns today...quick hamburger buns from scratch, that is. And, they don't require any fancy equipment.
I haven't bought hamburger buns in three years.
It's partly because I don't like the long list of ingredients on their package. It's partly because I can't stand their soft, squishy texture.
But, it's mainly because homemade hamburger buns (even these quick ones) blow them out of the water. Once you've had a hamburger with a homemade bun, it's really, really hard to go back.
Let's face it, homemade bread (try this crusty Italian loaf!) is so delicious!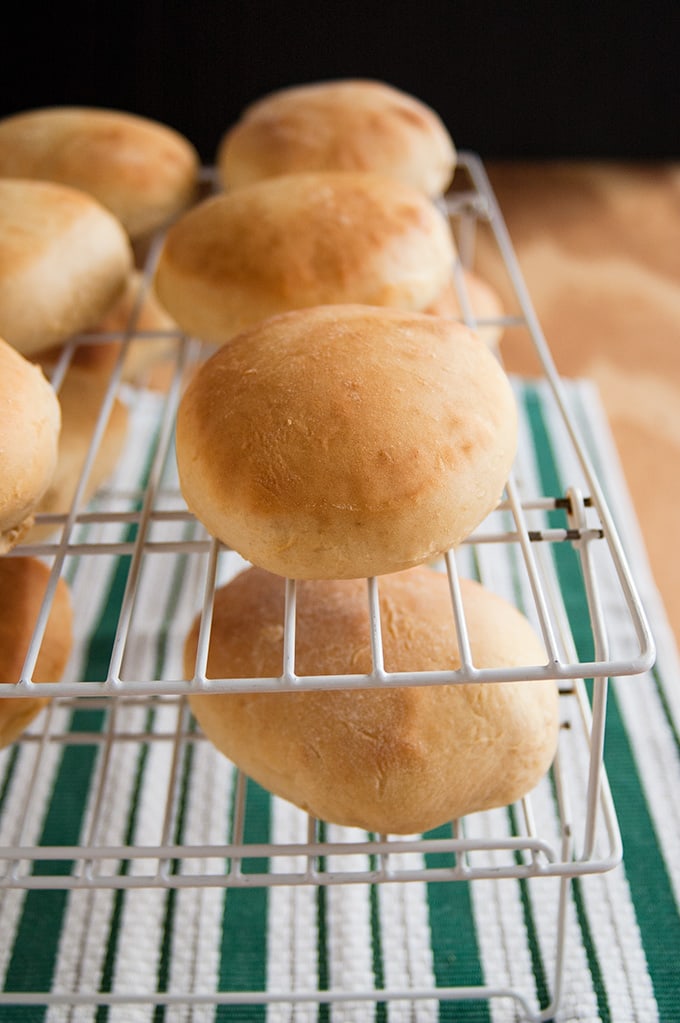 Now, when I call these "quick hamburger buns," I mean about 50 minutes from start to finish. And that's if you use one regular oven and bake a single pan at a time.
If you've got two ovens, you can bake one pan in each for 10 minutes and be done even sooner. (I find it works best to bake bread using one pan per oven, placed on the center rack.)
The 10-minute rising time for the dough is much faster than the typical one or two hours. Of course, this means the finished product isn't going to have the same texture as rolls that take longer to make.
But it's pretty decent, especially if you use only all-purpose flour.
I like to sneak in some whole wheat flour, so mine are a bit more dense. I've included all the info in the recipe card.
For me, homemade hamburger buns with a quick turnaround are a beautiful thing. This is the recipe I've relied on over and over when I decide (even at the last minute!) we're having hamburgers for dinner.
I found it online on someone's blog years ago but only saved my handwritten version, since I adjusted it for a single batch. Plus, I make nine large buns instead of 12 small ones. (We don't like our hamburger patties to be hanging out of the buns.)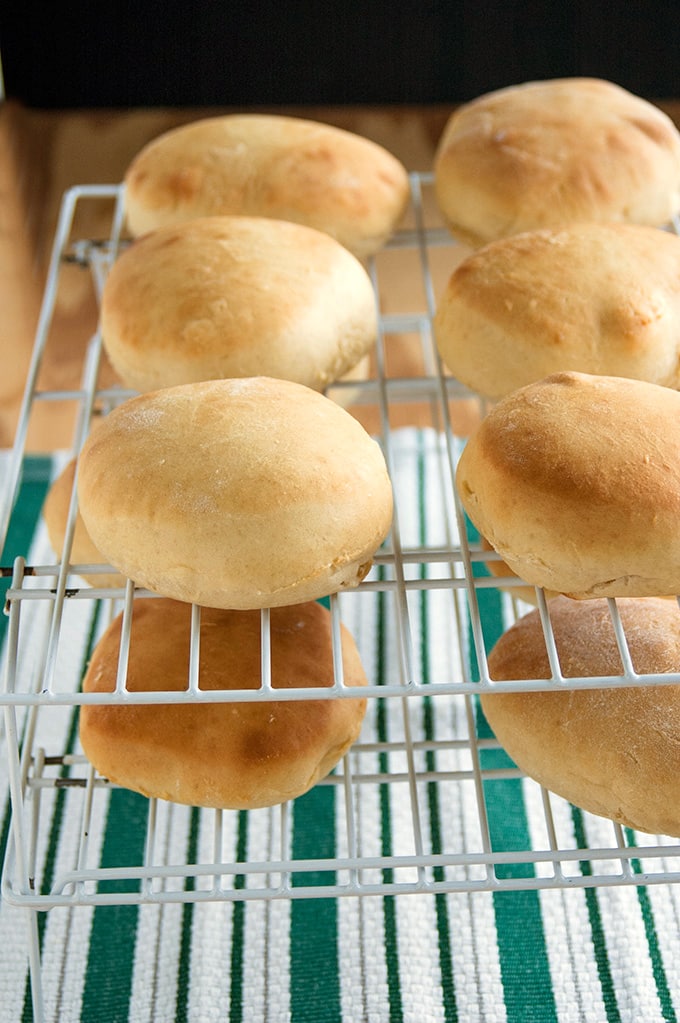 When I tried searching for the recipe source to credit, I found a Taste of Home recipe from 2000 that matched up with my notes, so I'm guessing that's the original.
Two methods for shaping the buns
I usually roll the dough until it's ½-inch thick and then cut out 4 ½-inch circles, using the mouth of a quart-sized plastic container. The Taste of Home recipe calls for separating the dough into pieces and shaping them into balls.
I find the rolling and cutting method helps me keep the buns more uniform looking, but the texture is fluffier when just shaping the dough into balls. I'm going to share both methods in the instructions, so you can decide which you prefer.
Important tip
If you decide to roll the dough into balls, I have some important advice. Once you've separated the dough into pieces, you must not add any extra dough to the pieces before rolling them, or your hamburger buns will crack during baking.

Got it? Good!
Storing in the freezer
I always freeze leftover buns to keep them fresh. Place the cooled buns in a freezer bag, and they'll keep nicely for up to three months, although they won't ever go bad. Thaw the buns on the counter overnight, or individually in the microwave.
Not just for burgers
Besides hamburgers, these buns are great for sandwiches. Fill them with Slow Cooker Carolina Pulled Pork,  Breaded Italian Chicken Cutlets or  Homemade Turkey Lunch Meat. And, I can't wait to make an Italian sausage and peppers sandwich with them!
They'd be great with a side of Parmesan baked onion rings!
More recipes you might like
If you enjoy making bread and dough as much as I do, don't miss these recipes for homemade pizza dough, and Parmesan focaccia. And, if you don't have yeast, you need to try this easy 5-ingredient beer bread!
Enjoy!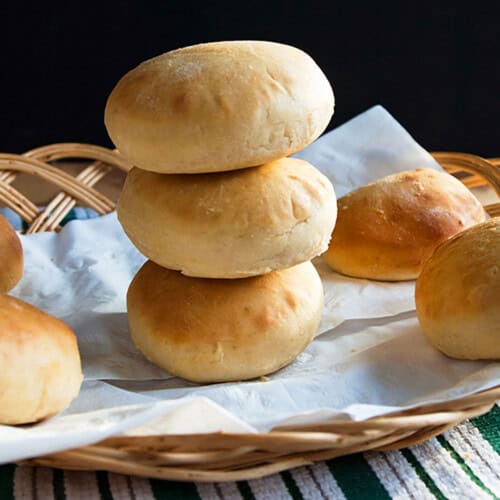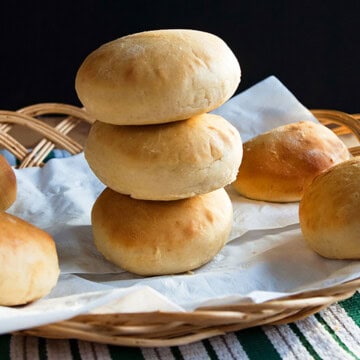 Quick Hamburger Buns
Make these Quick Hamburger Buns from scratch and elevate your burgers to a whole new level! No fancy equipment required. Plus, you can use this recipe for all your sandwich bun needs.
Print
Pin
Rate
Save
Go to Collections
Ingredients
1

egg

(beaten)

3 ½

cups

flour

(plus extra as needed, see notes)

¼

cup

granulated sugar

2

tablespoons

quick-rise yeast

1 ⅛

teaspoons

salt

1

cup

plus 2 tablespoons warm water

⅓

cup

vegetable or canola oil
Instructions
Line two rimmed baking sheets with parchment paper (cut them to fit) or just grease your pans.

In a medium or large mixing bowl, crack the egg and beat it with a fork.

Add all other ingredients to the bowl and stir with a wooden spoon to combine. If the dough is very sticky, wet, and not coming together, add a couple tablespoons of flour at a time until the dough comes together.

Sprinkle some flour on a clean counter or work surface and place your dough onto the surface. Knead the dough by hand for five minutes. It should be smooth and a little tacky, but not sticky. Choose either the Roll & Cut Method or the Dough Balls Method for shaping the buns.

Roll & Cut Method (for uniform results, but more dense texture)
On a floured surface, use a rolling pin to roll out the dough until it is ½-inch thick.


Cut out circles of dough using a glass or biscuit cutter, or for larger buns as pictured, use a plastic quart container with a 4 ½-inch-wide opening as a cutter. Place the circles of dough on your prepared pans, spacing them apart so the dough circles don't touch.


Once you've cut all the circles of dough you can fit from the first rolling, you'll need to gather the dough in a ball again, flatten it and roll it ½-inch thick. Then, proceed to cut out more circles of dough. Gather the scraps of dough into a ball and roll again as needed. I get 9 buns cut 4 ½-inches wide. Proceed to the Cover, Rest & Bake instructions further down.

Dough Balls Method (for fluffier texture, but the buns won't all look the same)
Please read this section carefully before starting. Use a bench scraper or straight-edged knife to separate the dough into nine, approximately even pieces. (Cut the dough into three equal parts, then cut each of those parts into three equal pieces.) IT IS IMPORTANT NOT TO ADD DOUGH TO ANY OF THE PIECES OR YOU'LL GET CRACKS WHEN THE BUNS BAKE.


Roll each piece of dough into a smooth ball. I roll it on the counter, rather than in my hands. Place the dough balls on your baking pans, spaced apart so they don't touch. Gently press down each ball with the palm of your hand to make the shape a little flatter.

Cover, Rest & Bake
Loosely cover the pans of shaped hamburger bun dough. (Use clean, lint-free kitchen towels or greased plastic wrap to cover them.) Preheat your oven to 425 degrees F.

Let the covered dough rest for 10 minutes.

Bake, one pan per oven, on the center rack, for 10 minutes or until the buns are golden on top.

Let the hamburger buns cool on a wire rack before slicing them in half to serve. Freeze leftover buns in a freezer bag and thaw them before use.
Notes
Using only all-purpose flour will give you a fluffier bun. I use one cup of white whole wheat flour, and 2 ½ cups of all-purpose flour, and the result is a bit more dense.
If it is humid and your dough is sticky and not coming together, you will need to add more flour. Add a couple tablespoons at a time, until the dough comes together.
Recipe is adapted from Taste of Home.
Nutrition
Calories:
277
kcal
|
Carbohydrates:
43
g
|
Protein:
5
g
|
Fat:
9
g
|
Saturated Fat:
6
g
|
Cholesterol:
18
mg
|
Sodium:
268
mg
|
Potassium:
67
mg
|
Fiber:
1
g
|
Sugar:
5
g
|
Vitamin A:
25
IU
|
Calcium:
10
mg
|
Iron:
2.3
mg
(Recipe Source: Adapted from Taste of Home. Instructions updated on May 2, 2019.)