Homemade Turkey Lunch Meat is so easy! In just over 30 minutes, you'll have delicious, juicy sandwich meat that's healthier than what you can buy at the deli!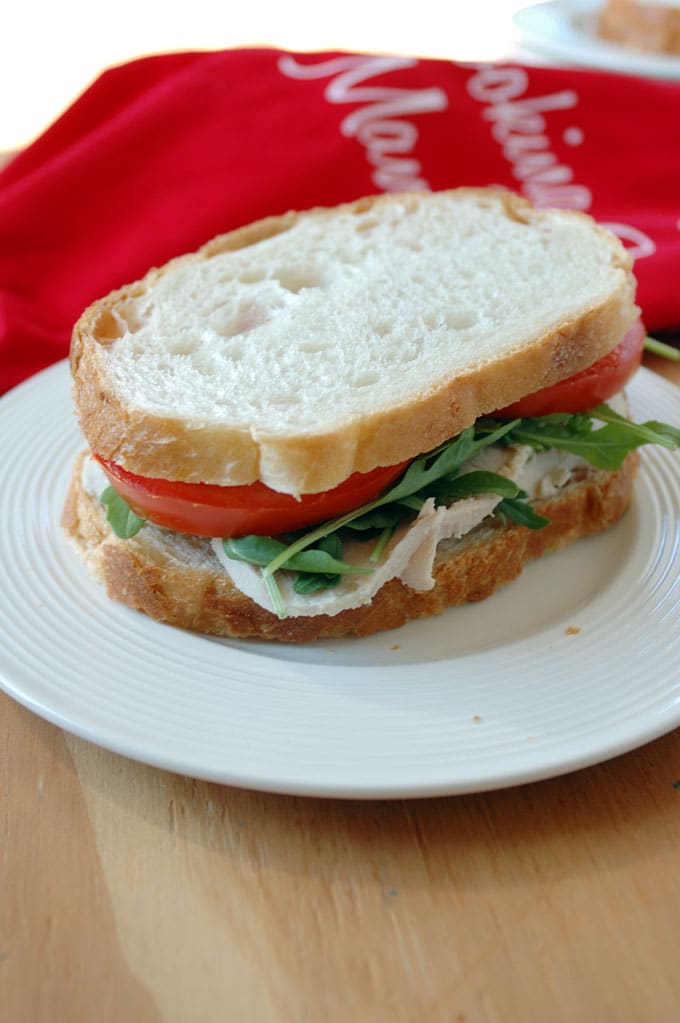 Can you believe homemade turkey lunch meat takes just a minute of prep and needs only 30 minutes in the oven?
I had no clue.
Some of you might be yawning, but this is an exciting discovery for me! It's life-changing, I tell you.
This method is so easy, I don't plan on buying any more sodium-nitrate-filled, sugar-laden deli turkey for my guys' sandwiches.
If you've been reading this blog from the beginning, you know I gave up lunch meat almost three years ago and stopped buying it for everyone in my household. (See my Recipe to Lose Weight Without Dieting.)
My family didn't seem to miss it, but this summer, the guys pushed back.
"Can we please have some cold cuts to make a sandwich?"
Oh.
With doctor's orders to watch sodium and processed foods, I tried buying low-sodium deli meat, which still has lots of salt and costs as much as seafood. I even bought sodium-free turkey once...and I might as well have made sandwiches with shoe leather, it was so dry.
Ugh!
So, I decided to look up homemade lunch meat recipes. The turkey ones called for various cooking times and temperatures, but I found one that called for 30 minutes at 400 degrees F.
Bingo! (I wish I could find the source again so I could give credit, but I'm not seeing it. At any rate, I changed the ingredients and kept the method.)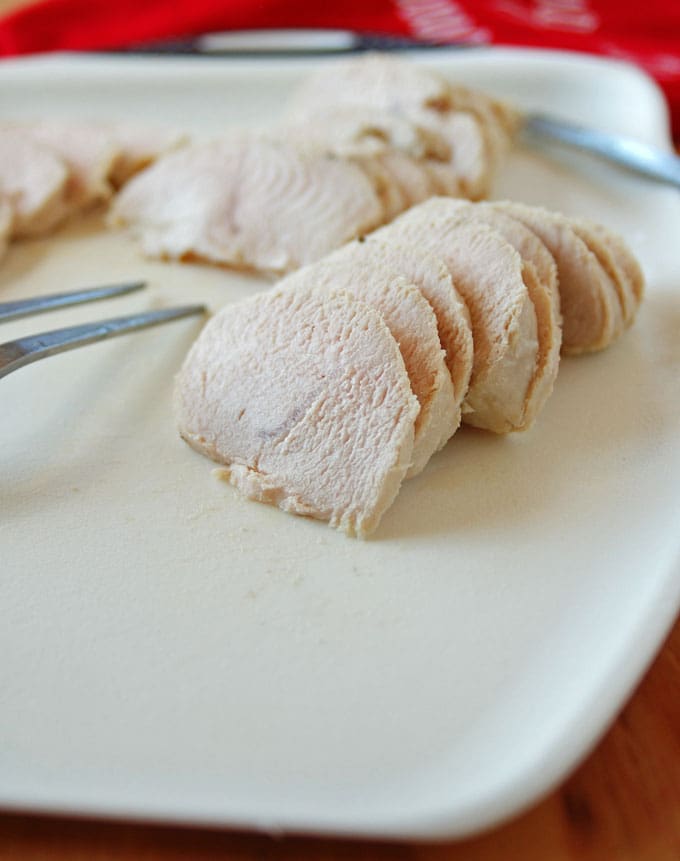 The recipe I'm thinking of called for a three-pound turkey breast...but I ended up using fresh turkey breast tenderloins.
Why?
Because when the grocery's butcher walked me over to frozen foods and showed me what he had in stock there, I began reading the labels and became irritated. (Don't worry, I waited until he walked away before I started cussing.)
I mean, if I wanted turkey jacked up with sodium and sugar, I might as well have gone back to the deli counter. Ugh!
So, I walked over to the meat case with the plain-Jane (yes!) turkey breast tenderloins sold in a package of two, weighing in at just under two pounds total. I actually bought nearly four pounds (I know you're shocked) and roasted turkey breast tenderloins for dinner, then thinly sliced up the leftovers for sandwiches.
It worked beautifully, and I even froze some for later.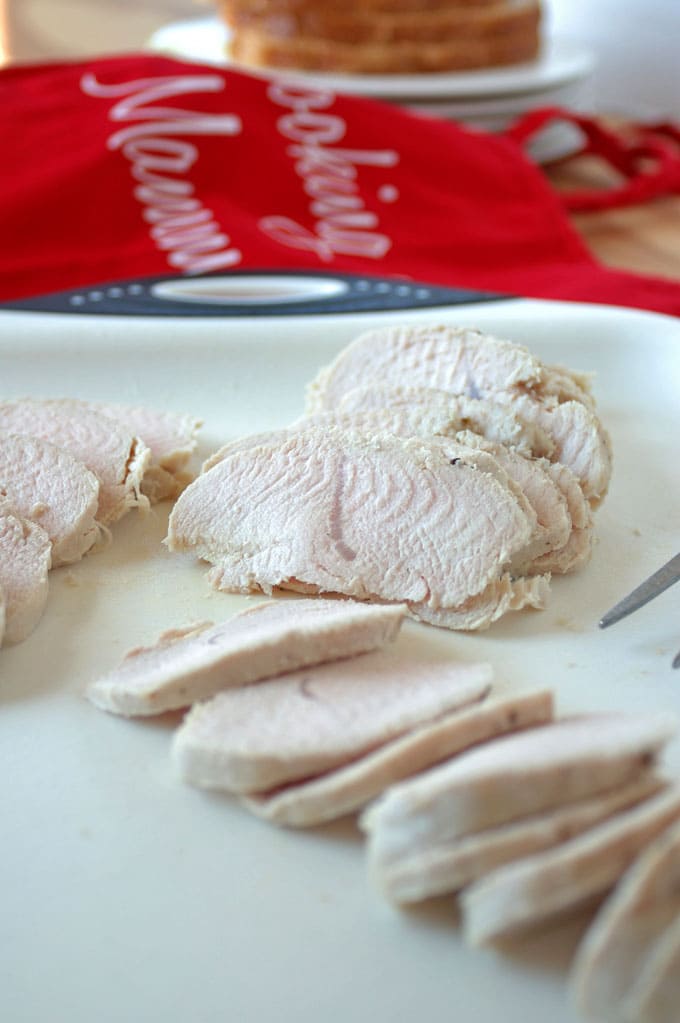 All I did was line a rimmed baking sheet with foil, rub a bit of olive oil on each tenderloin, then sprinkle Seasonello (affiliate link) on top. You can use a combo of sea salt, pepper, garlic powder and rosemary instead, if you wish.
I've no affiliation with Seasonello, but use it all the time, for dishes such as Seasonello Roasted Potatoes. You can buy the seasoning at Italian import stores, or on Amazon.
Even though I added salt before cooking the turkey, I know it's less than what's in the processed lunch meat at the store. Ah, guilt-free turkey.
And, it came out juicy and tender! I used my electric knife (affiliate link) to slice it thinly, but you could use a carving knife instead.
Buh-bye, store-bought cold cuts!
Enjoy!
(Recipe Source: Adapted from a recipe I saw once. I used the method but changed the ingredients.)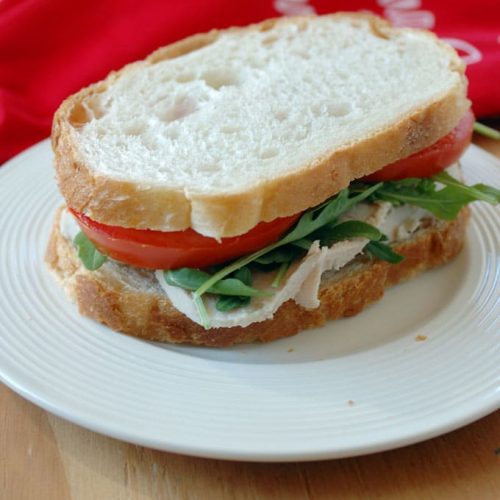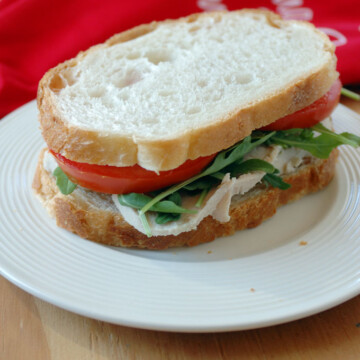 Homemade Turkey Lunch Meat
A quick and easy method! I like to make the turkey breast tenderloins for dinner (I buy extra) and then slice the rest thinly for sandwiches.
Print
Pin
Rate
Save
Go to Collections
Servings:
8
(yields almost 2 pounds)
Ingredients
2

turkey breast tenderloins

(almost 2 pounds total)

2

teaspoons

olive oil

Seasonello

(or use a combo of sea salt, pepper, garlic powder)
Instructions
Preheat your oven to 400 degrees F. Line a rimmed baking sheet with foil.

Place your turkey on the foil and top each tenderloin with a teaspoon of oil. Rub the oil all over the turkey, on both sides. Wash your hands well.

Sprinkle some Seasonello or your own seasonings on the turkey. Bake for 25-30 minutes, or until the turkey is no longer pink inside. (If your tenderloins are thin, they'll cook faster, so start checking after 20 minutes.)

Loosely cover the turkey with foil and let the turkey rest for 10 minutes before slicing. Slice thinly for luncheon meat, or make thicker slices for dinner.

Store leftovers in the refrigerator for 3-4 days or freeze the sliced turkey. (When I freeze the leftovers, I portion mine in sandwich bags, then place those in a freezer bag.)
Nutrition
Calories:
130
kcal
|
Protein:
26
g
|
Fat:
2
g
|
Cholesterol:
50
mg
|
Sodium:
75
mg