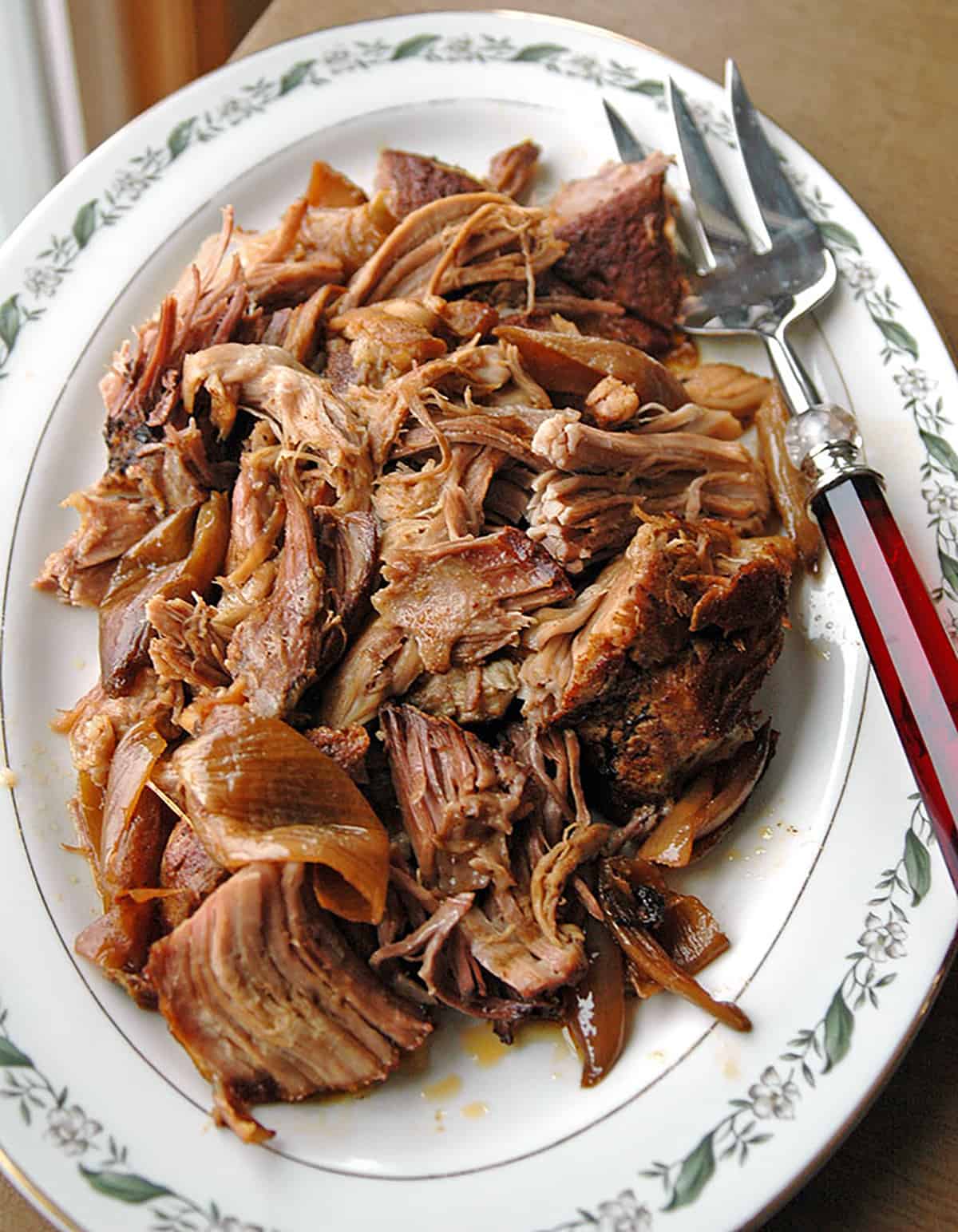 This one's for anyone who's gone all day at work, school or sporting events and wants to come home to a delicious meal. It's also for anyone who just wants a tasty, no-fuss dinner without spending more than 15 minutes prepping it. Are you ready for Slow Cooker Carolina Pulled Pork?
Good, because I'm going to tell you all about it. It involves tender, juicy meat with a nice vinegar kick. It's got some sweet heat too.
But first, let's have a little talk about slow cooker meals, or Crock Pot dinners, or whatever you want to call them. I own two slow cookers and am proud of it. They're a busy cook's best friend, and every kitchen should have at least a large one.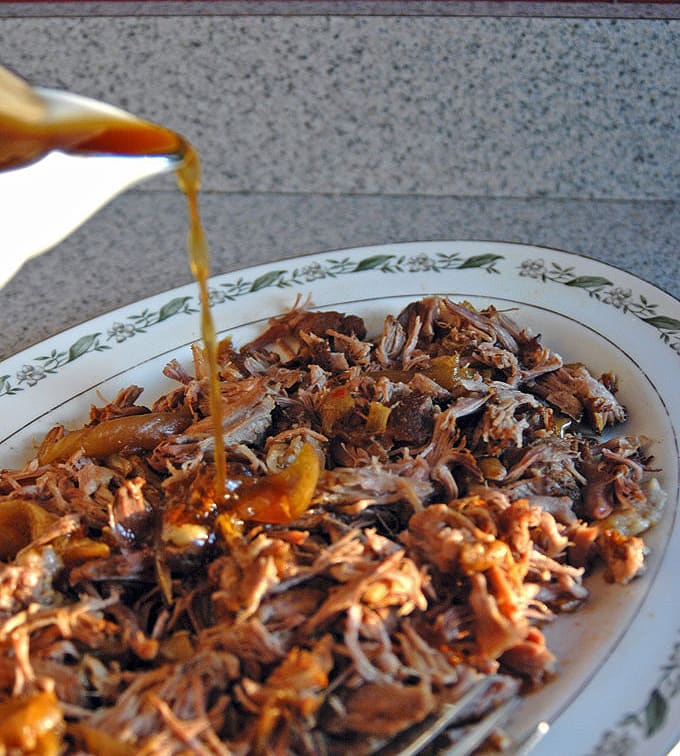 Second, I'm generally not interested in slow cooker recipes that require only four hours of cooking. (Hello, chicken breasts. I'll cook you for an hour or less in the oven or on the stove and don't want to stretch it out needlessly. And what if nobody's home to take you out of the slow cooker after just a few hours?)
No, I want to use my Crock Pot for food that can stand being cooked for 8-10 hours and then stay on warm for another hour. You see, when I worked full time outside the home, I was gone for 11 hours. I had to rely on large roasts, whole chickens, ribs and the pork shoulder used in this recipe to help me get a falling-off-the-bone meal on the table, instead of a dried-out disaster of a dinner.
And…I didn't want to bother with anything that had to be seared in a pan on the stove first. I was trying to get ready for work, you know? Can anyone else relate?
I thought so.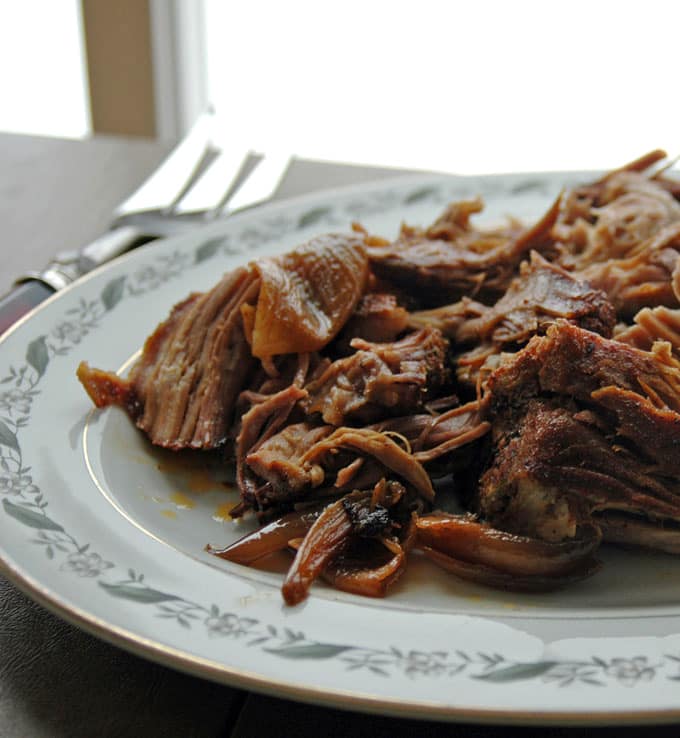 Back to today's recipe. I'd never heard of Carolina BBQ until I tried the most delicious pulled pork sandwich a few years ago at Michael Symon's B Spot. I'm telling you, it's my favorite thing on the menu there.
My first reaction when I saw the name was, "Che re, Carolina BBQ?"  (That's Neapolitan dialect for "What the heck is Carolina BBQ?")
To be honest, I was worried it was one of those household terms like "white bread," known to everyone in America except for children of immigrants. (You may recall that I thought that spongy loaf was "American bread" until I was in my 20s.)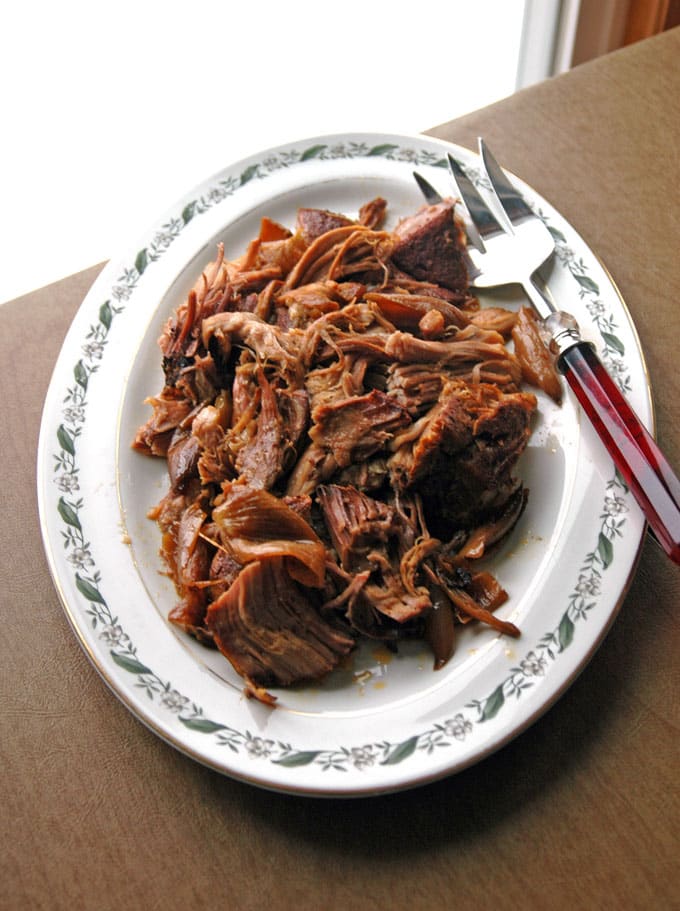 Anyway, I came home and looked it up on the Internet, determined that I had to try to replicate this meal. Instead of a tomato base, Carolina barbeque has a spicy-hot vinegar dressing.
In this version, the meat sits in the slow cooker atop quartered onions and gets covered with a brown sugar-and-seasoning rub and Liquid Smoke, followed by part of the dressing (the rest is reserved for after the pork is cooked.) This meal's really got a lot going on for the taste buds to enjoy.
I usually serve this Slow Cooker Carolina Pulled Pork over brown rice on the first day (it helps to make a big pot of rice on the weekend), and then we eat the leftovers in sandwiches the second day. It's always a hit around here, and that makes this meal a winner in my book.
Enjoy! And, if you like Cooking with Mamma C, you can subscribe to receive new posts via email.
(Recipe Source: Adapted from The Domestic Front)

Cooking with Mamma C
Serves 8-12 depending on the size of the roast
Slow Cooker Carolina Pulled Pork
With just 15 minutes of prep, Slow Cooker Carolina Pulled Pork can be waiting for you after a long day. Adapted from The Domestic Front.
15 minPrep Time
8 hrCook Time
8 hr, 15 Total Time
5 based on 1 review(s)
Ingredients
Rub

2 tablespoons brown sugar
1 tablespoon paprika
2 teaspoons salt
1/2 teaspoon black pepper

Roast

2 onions (yellow, white or red), peeled & quartered
4-6 pounds bone-in pork shoulder roast (if there's a thick layer of fat, trim it off)
1 tablespoon Liquid Smoke

Carolina-Style Vinegar Dressing

1 cup cider vinegar
1/3 cup Worcestershire sauce (preferably Lea & Perrins)
2 teaspoons crushed red pepper flakes
2 teaspoons granulated sugar
1/2 teaspoon garlic powder
Directions
For the rub, in a tiny bowl stir together the brown sugar, paprika, salt and pepper. Set it aside.
Peel the onions and quarter them (cut each in half, then cut those pieces in half). Place the onions on the bottom of your slow cooker.
Place the pork on top of the onions. Rub the brown sugar mixture all over the pork, making sure to cover all sides. Wash your hands well afterward.
Pour Liquid Smoke on top of the roast. Prepare the vinegar dressing in a liquid measuring cup. Add the vinegar, the Worcestershire sauce, then the remaining ingredients, and whisk to blend. Pour half of this mixture over the meat and cover and refrigerate the rest for later.
Cook the meat on low for 8-10 hours. Transfer the pork, onions and juices to a platter, add some of the reserved vinegar mixture, and shred the pork with two forks. (The vinegar dressing is spicy, so add it according to your taste.) You can have the remaining dressing at the table for each person to add more if they wish.
Serve the pork in sandwiches, burritos, enchiladas or over rice. Refrigerate leftovers for up to four days.
7.6.8
238
https://cookingwithmammac.com/slow-cooker-carolina-pulled-pork/