You just need 15 minutes to prep Slow Cooker Carolina Pulled Pork in the morning, then let it cook all day! It's juicy and tender with sweet heat and a vinegar kick from the North Carolina barbecue sauce.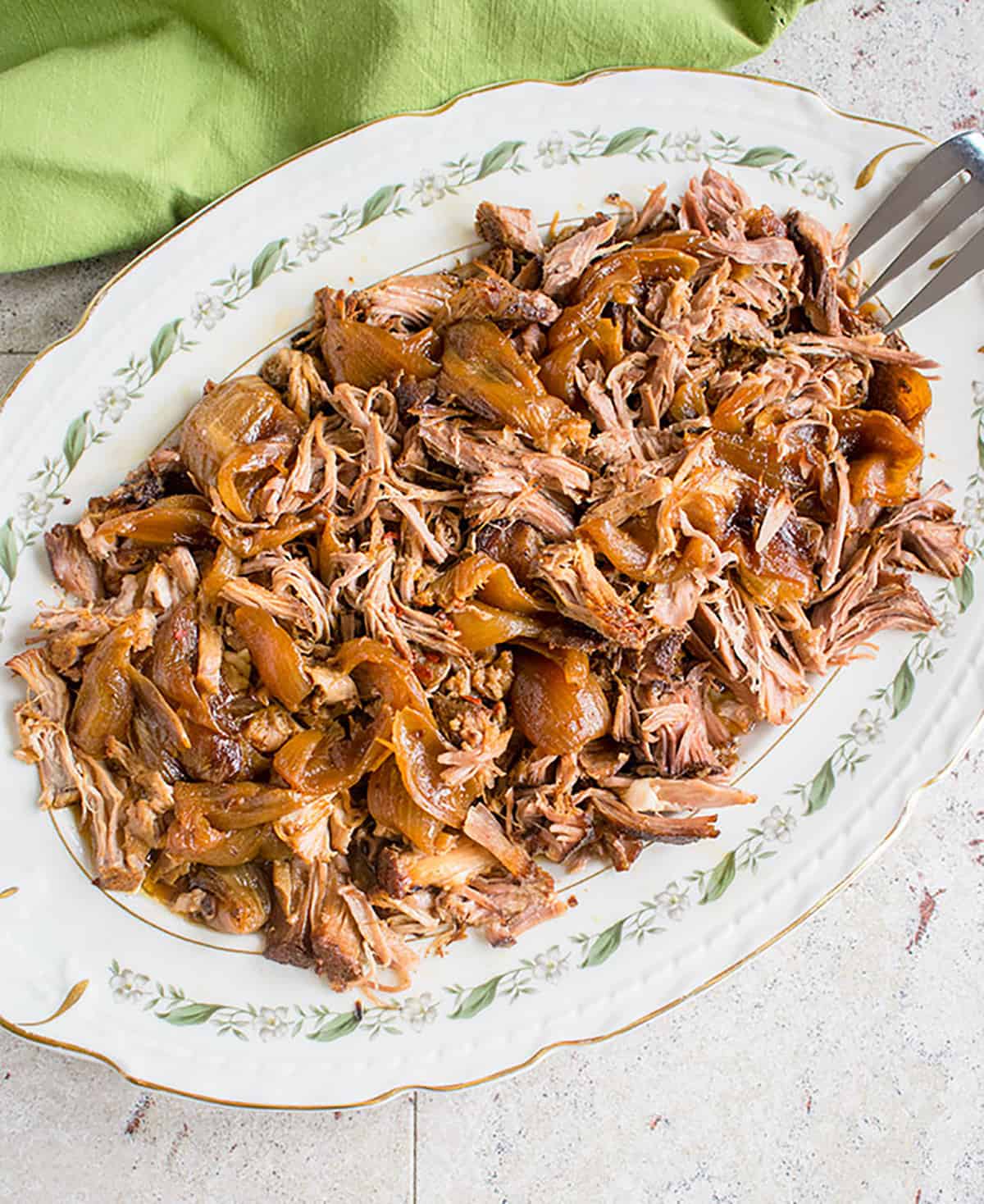 This Slow Cooker Carolina Pulled Pork seems miraculous.
You'll spend just 15 minutes getting it ready, and there's no need to sear the meat. You'll let it cook for eight hours in the Crock-Pot. Then you'll be greeted with one of the most delicious meals ever!
Think tender, juicy pulled pork with a vinegar kick, a little sweetness and spicy heat that you can adjust to your liking. Yum!
This is the best pulled pork recipe, and I've been making this at least once a month for years! My family loves it! Once you try it, I know you'll add it to your dinner rotation too.
And don't miss this Super Easy Slow Cooker BBQ Ribs recipe!
What is Carolina BBQ?
Instead of a tomato base, this Carolina barbeque recipe includes a spicy-hot vinegar sauce. It's actually an Eastern North Carolina BBQ sauce, which doesn't contain any ketchup.
With a sweet-and-savory dry rub for the pork, this will be one of the most flavorful meals of your life!
Recipe ingredients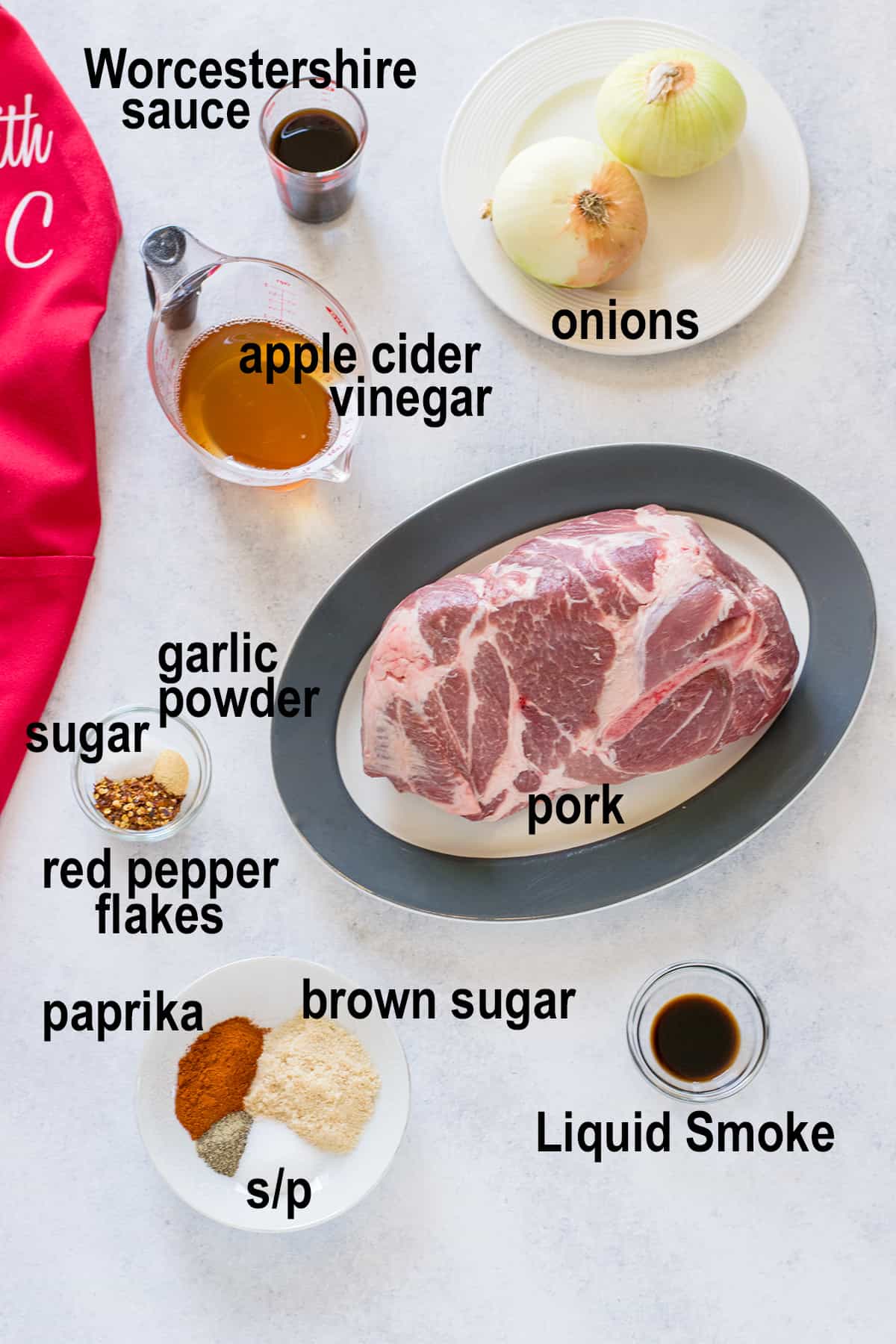 Pork: The best cut of meat for pulled pork is a fatty one, since it will cook all day. Use a bone-in pork shoulder roast or a Boston butt (half the shoulder). The meat will become tender after at least eight hours of cooking on low.
Don't try this with pork tenderloin, or it will be too dry, since the meat is very lean. I also don't recommend a pork loin roast here.
Onions: I prefer yellow onions here for their strong flavor, which works really well in a dish that cooks all day. But feel free to use white onions, which are milder, or red onions, which are sweeter.
Leave the onions quartered for more subtle flavor (and ease), or chop them up for deeper, richer flavor. I recently tried that and absolutely loved the result!
Brown Sugar: This adds a wonderful, sweet flavor to the pulled pork dry rub. Feel free to substitute golden monk fruit for a keto-friendly option. (You'd also need to substitute monk fruit for the granulated sugar in the vinegar BBQ sauce.)
Liquid Smoke: You don't need to smoke pulled pork to get a smoky flavor! A tablespoon of Liquid Smoke (affiliate link), works wonders here.
Worcestershire Sauce: This adds wonderful, umami flavor to the Crock-Pot pulled pork. Use the Lea & Perrins brand (affiliate link) for the best taste. It also happens to be gluten-free, unlike some other brands.
Red Pepper Flakes: These add a kick of heat to Carolina barbecue's signature vinegar sauce. Keep in mind, you'll just be adding half of the sauce to the slow cooker, then reserving the rest for optional use as needed when serving the shredded pork. This allows you to adjust the spicy heat according to each person's tastes.
Making slow cooker Carolina pulled pork
Add the onions to the bottom of the Crock-Pot (affiliate link).
Rub the dry seasoning mixture all over the pork.
Place the pork on top of the onions. Pour a bit of Liquid Smoke on top, then add half of the Carolina vinegar BBQ sauce.
Cook on low for 8 hours, then shred.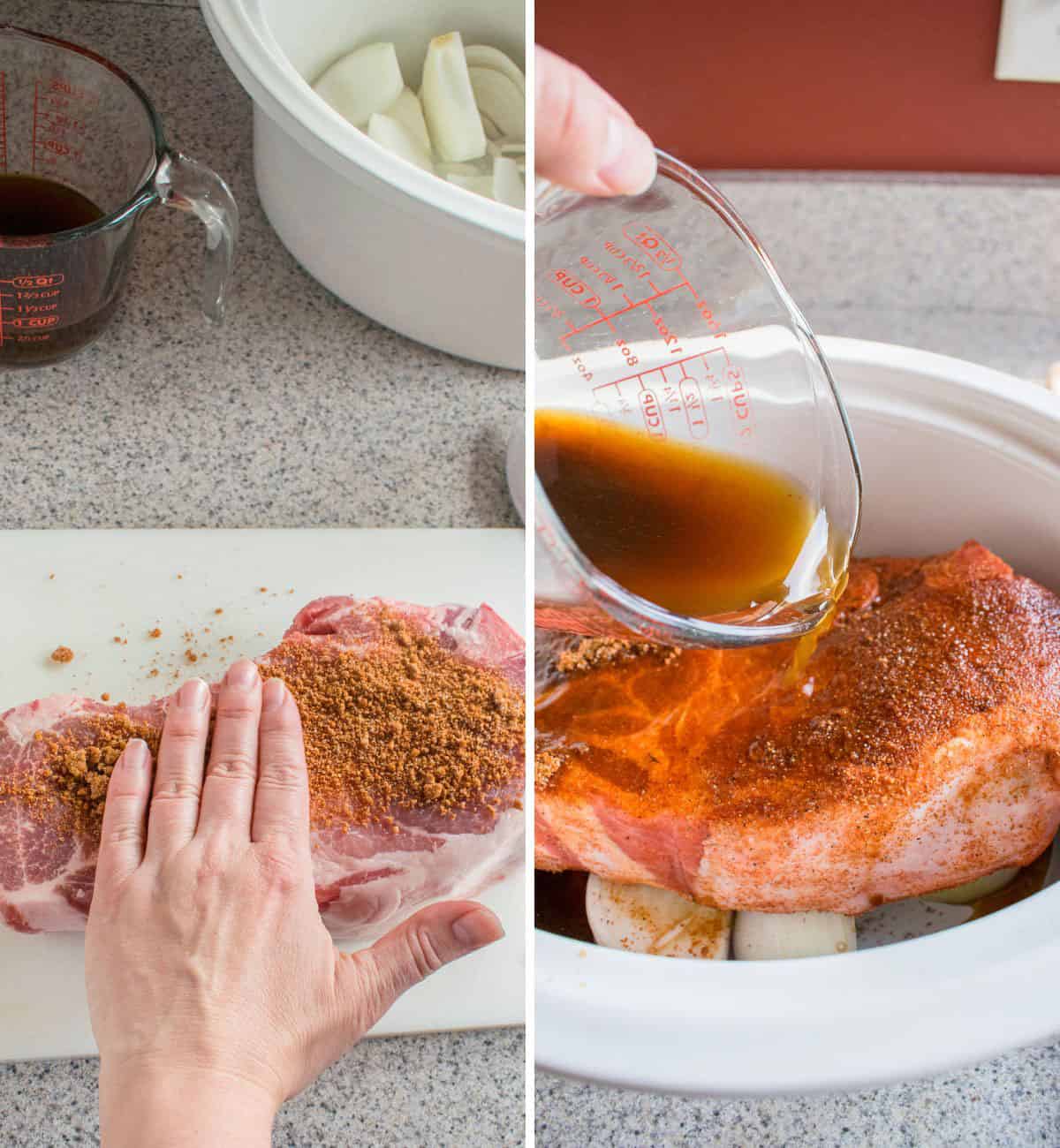 Add some reserved sauce as needed!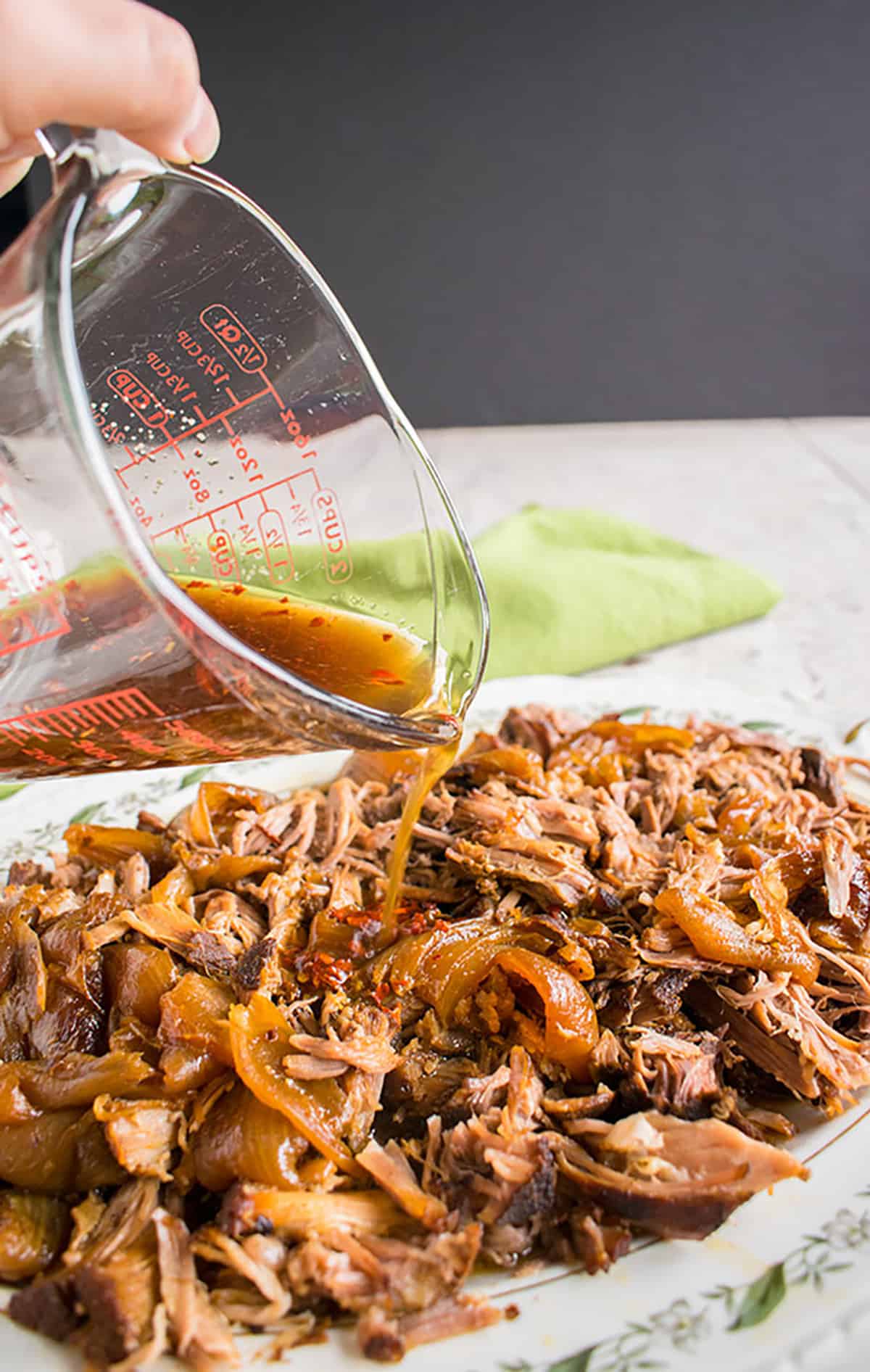 Recipe tips
It's best to cook this pulled pork in the Crock-Pot on low for 8-10 hours for tender, juicy results. If you want this to be ready sooner, you can cook it on high, but it will take at least six hours. Otherwise, the meat will be tough.
You can let this cook overnight, then refrigerate the pulled pork until dinner time.
You can reduce the fat in this meal by refrigerating the cooked pulled pork in its juices, then scooping out the solidified fat before you reheat the leftovers.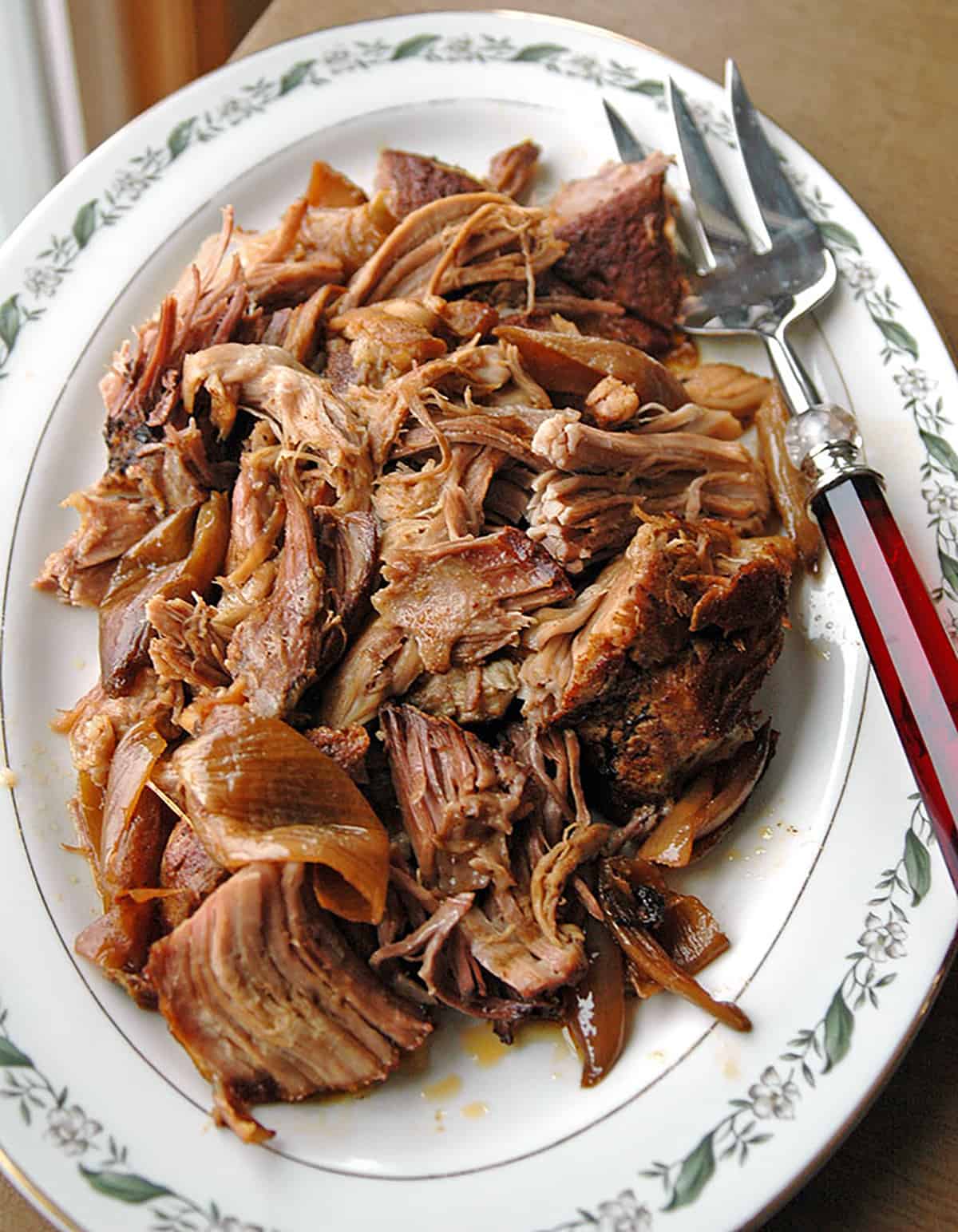 What to serve with it
I usually serve this easy slow cooker pulled pork over rice the first day, then we eat the leftovers in sandwiches or a wrap the second day. Try it on these Quick Hamburger Buns or in a grilled cheese sandwich — you'll swoon!
Of course, many people enjoy a Carolina pulled pork sandwich with vinegar coleslaw. I've also been meaning to try it with this creamy KFC coleslaw.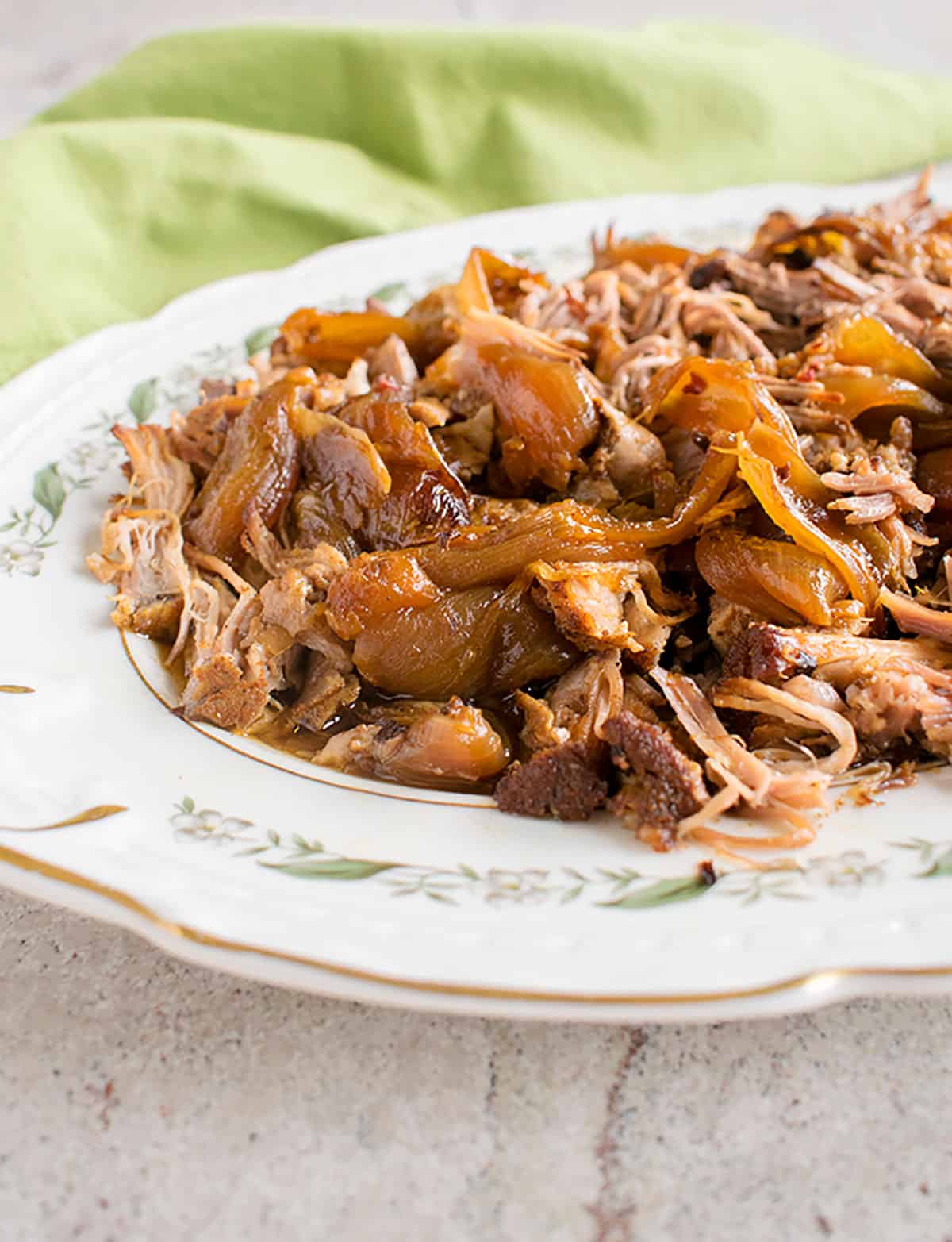 This pulled pork also is delicious over salad, and for a total comfort-food experience, try it atop Italian Mac and Cheese!
Great side dishes with pulled pork include Italian Bean Salad, The Best Corn on the Cob and Italian Potato Salad with Green Beans. Add all of these to your 4th of July menu!
Frequently asked questions
How do you reheat pulled pork?
We've had excellent results reheating this Carolina pulled pork in the microwave! The key is to scoop up some of the congealed juices you'll find when you pull out the container of leftovers from the refrigerator. Add some on top of each portion of shredded pork before reheating.
Can you freeze pulled pork?
Yes, you can freeze this pulled pork with good results. Make sure to stir in some of the juices and/or vinegar sauce to the meat before sealing it in a zip-top freezer bag.
More recipes like this
Enjoy!
If you try this Slow Cooker Carolina Pulled Pork, be sure to leave a comment and a rating!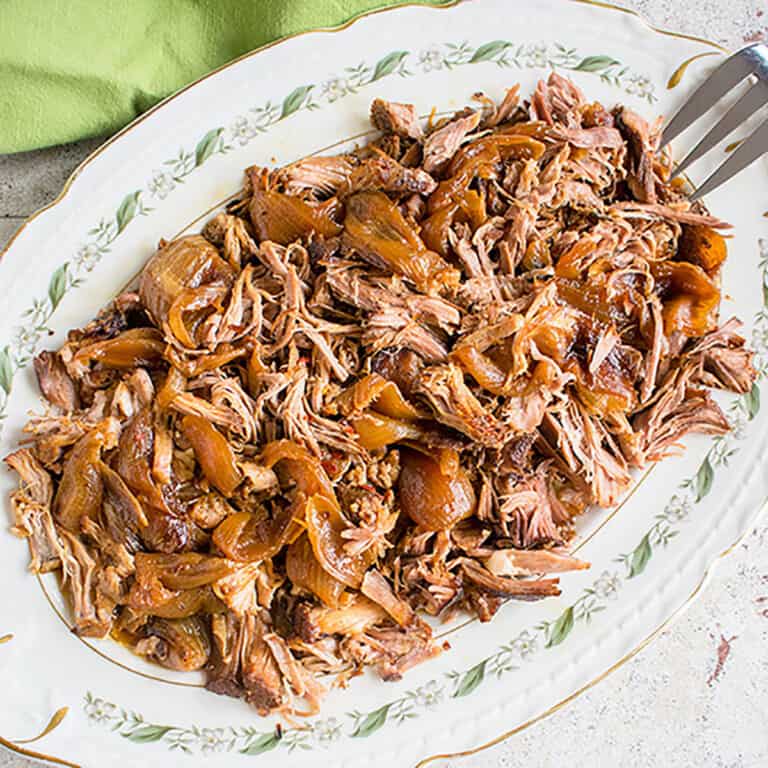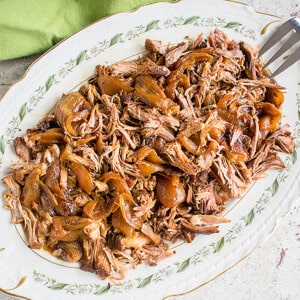 Slow Cooker Carolina Pulled Pork
You just 15 minutes of prep before letting Slow Cooker Carolina Pulled Pork cook all day! You'll love its sweet heat and delicious flavor from a dry rub and Carolina-style BBQ sauce made with vinegar.
Print
Pin
Rate
Save
Go to Collections
Servings:
8
-12 depending on the size of the roast
Ingredients
Instructions
For the rub, in a tiny bowl stir together the brown sugar, paprika, salt and pepper. Set it aside.

Peel the onions and quarter them (cut each in half, then cut those pieces in half). You can leave them in quarters for subtle flavor or chop them for bolder onion flavor. Place the onions on the bottom of your slow cooker.

Place the pork on top of the onions. Rub the brown sugar mixture all over the pork, making sure to cover all sides. Wash your hands well afterward.

Pour Liquid Smoke on top of the roast. Prepare the vinegar dressing in a liquid measuring cup. Add the vinegar, the Worcestershire sauce, then the remaining ingredients, and whisk to blend. Pour half of this mixture over the meat and cover and refrigerate the rest for later.

Cook the meat on low for 8-10 hours. Transfer the pork, onions and juices to a platter, add some of the reserved vinegar mixture, and shred the pork with two forks. (The vinegar dressing is spicy, so add it according to your taste.) You can have the remaining dressing at the table for each person to add more if they wish.

Serve the pork in sandwiches, burritos, enchiladas or over rice. Refrigerate leftovers for up to four days. To reheat, scoop some of the congealed juices over the meat, cover with wax paper, and heat in the microwave. The pulled pork also can be frozen with the juices.
Notes
Best Cut of Meat for Pulled Pork
The best cut of meat for pulled pork is a fatty one, since it will cook all day. Use a bone-in pork shoulder roast or a Boston butt (half the shoulder). The meat will become tender after at least eight hours of cooking on low.
Don't use pork tenderloin or a pork loin roast here.
Cooking Time for High Setting
If you want to cook this on high in the slow cooker (instead of low), you'll need at least six hours for the pork to become tender. Check on it and see if you can easily pull it with two forks. If not, it needs more time to cook.
Nutrition
Calories:
251
kcal
|
Carbohydrates:
9
g
|
Protein:
27
g
|
Fat:
10
g
|
Saturated Fat:
3
g
|
Cholesterol:
92
mg
|
Sodium:
815
mg
|
Potassium:
655
mg
|
Sugar:
6
g
|
Vitamin A:
595
IU
|
Vitamin C:
4.6
mg
|
Calcium:
46
mg
|
Iron:
2.7
mg
(Recipe Source: Adapted from The Domestic Front. Originally published on January 31, 2015 and updated over the years with additional photos and information.)