I tested this Spaghetti Bolognese recipe over and over to get the best flavor! It's made with half sausage, half beef and just enough tomato, the way authentic Bolognese sauce should be!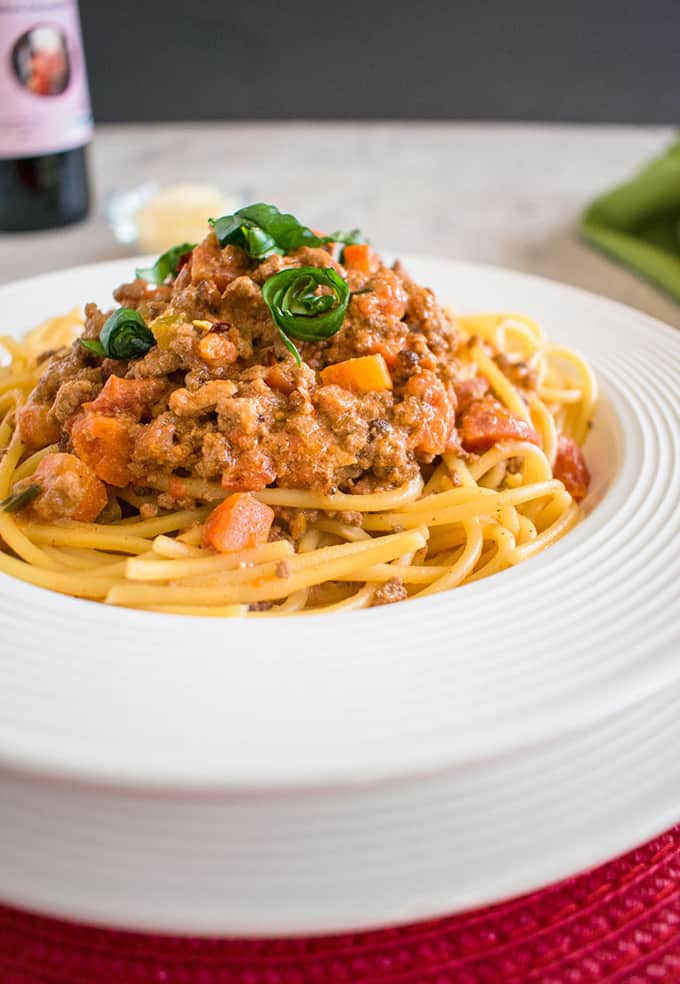 I'm pretty sure my blood type is B for Bolognese right now. (I'm actually type A, but that's another story.)
Anyhoo, I tested this Bolognese sauce 6,000...I mean, four or five times. It just seems as if we've been eating spaghetti Bolognese like it's our job.
And, technically, it is my job. Pretty cool, right?
Absolutely. I take my sauce recipes seriously!
This Bolognese recipe is worth the wait. And perhaps...the weight. But don't worry, you don't have to eat it every week (unless you want to)!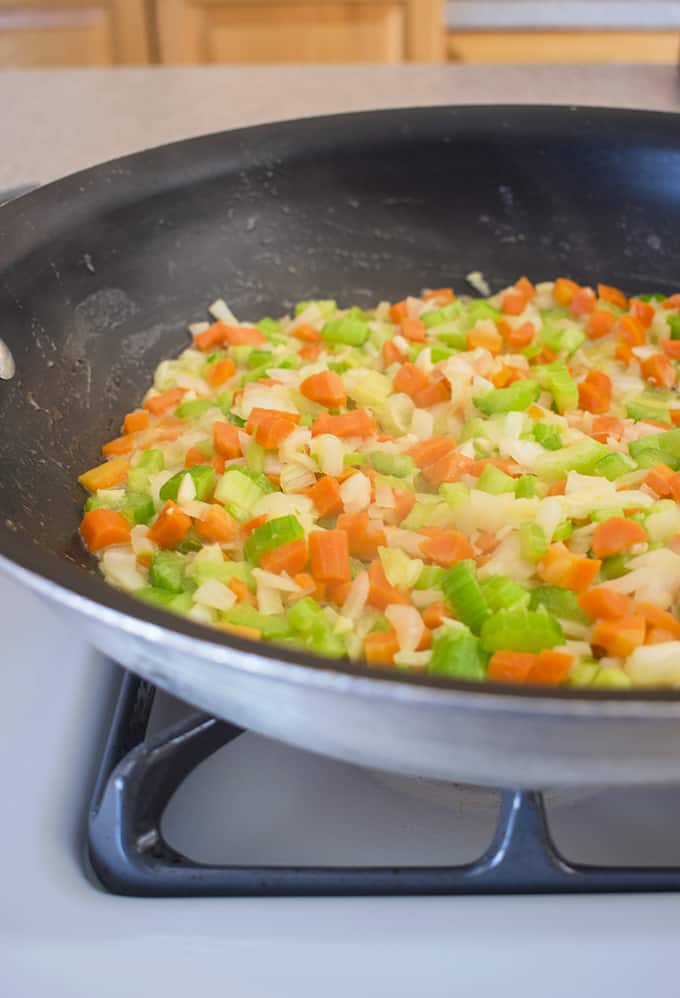 It's starts with soffritto — onions, carrots and celery sautéed in butter and olive oil — to provide a delicious base. (I included garlic, of course.)
Then, two kinds of meat are added — hot Italian sausage and lean ground beef.
Oh yes, my friends. You won't even need to add salt and pepper to the Bolognese, because that sausage is a game changer.
I say this with authority, after experimenting with beef-and-pancetta and beef-with-bacon combinations. No comparison.
And, here's the key to authentic Bolognese sauce: It's not a tomato sauce with ground meat. It's a meat sauce with a hint of tomato.
After trying several versions with peeled or crushed tomatoes, I called Mom for an hour-long philosophical discussion. She told me Ada Boni's Bolognese in Italian Regional Cooking (affiliate link) calls for tomato paste instead.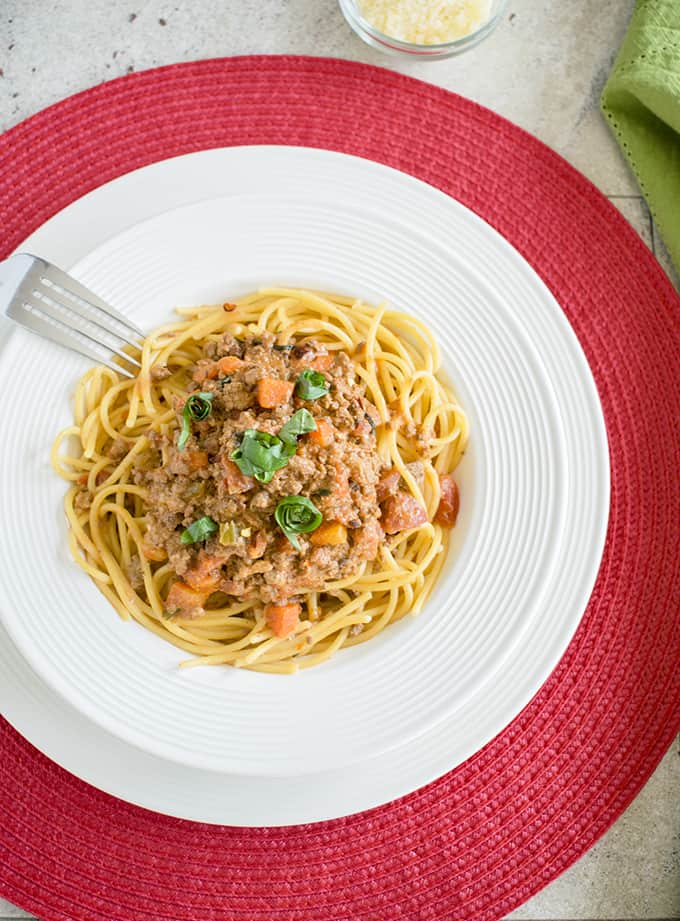 Hmmm. It sounded weird.
But, guess what? It worked beautifully!
And, confession time. The spaghetti Bolognese you see in these photos is not the final version of my recipe, although it looks the same.
This was the third or fourth iteration, and I thought it was pretty good. My son said it was better than my other ones, but not quite there yet.
It's a tough crowd over here. But, thank goodness.
That's when I brought in the sausage and tomato paste, used white wine instead of red, plus ditched the slow cooker Bolognese for a stovetop version. Oh, yeah — I forgot to mention the whole Crock-Pot thing.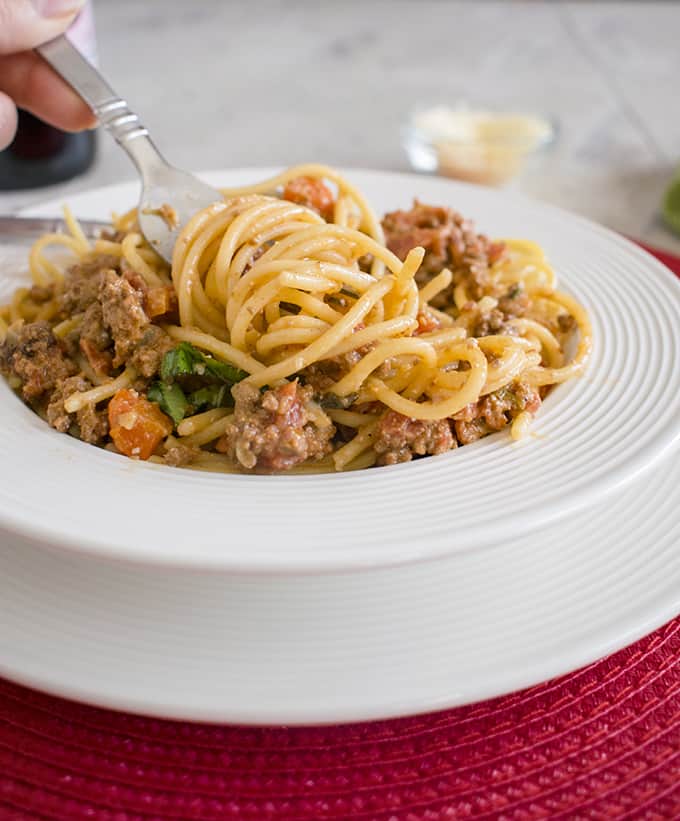 Here's the deal: You're better off making your Bolognese on the stove than in the slow cooker.
Both versions require initial cooking on the stove before simmering on low. Plus, the Crock-Pot produces too much liquid in the sauce. And...there's no need to cook Bolognese for four hours!
I made this shocking discovery while researching authentic Bolognese recipes and receiving Mom's helpful input. (Remember that philosophical discussion?)
So, once you've made your soffritto and browned your meat, get 'er done on the stove in just another hour. For real.
Enjoy!
P.S. If you love sausage, check out my Easy Sausage and Peppers, these Spaghetti Squash Lasagna Boats and this Italian Sausage and Egg Casserole. And don't miss these delicious, Authentic Italian Beef Meatballs or these Gluten-Free Turkey Meatballs in Sauce!
(Recipe Source: Cooking with Mamma C)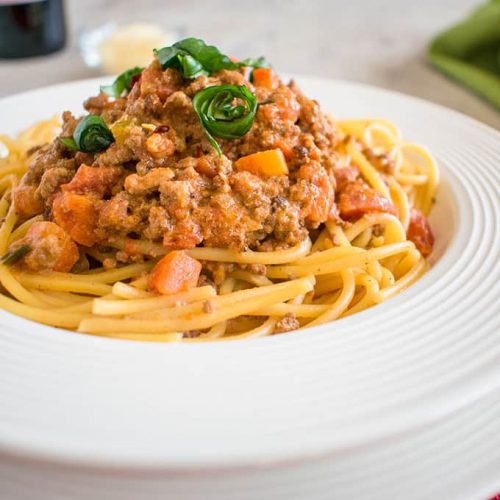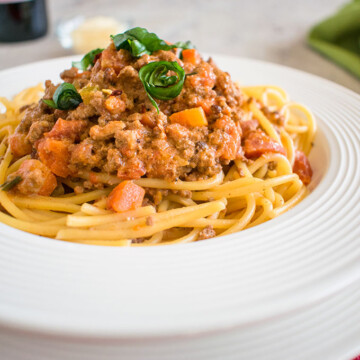 Ingredients
Bolognese Sauce
1

medium or large onion

(chopped)

4

medium carrots

(diced)

2

large celery stalks

(diced)

4

cloves

garlic

(chopped finely)

4

tablespoons

salted butter

2

tablespoons

olive oil

1

pound

ground hot Italian sausage

(or mild; see notes)

1

pound

lean ground beef

(90% works well)

1

cup

white wine

(Sauvignon Blanc works well, but red can be used)

1

6-ounce can tomato paste

1

cup

beef stock

¼

cup

half and half

(fat-free works)

4-8

fresh basil leaves
Spaghetti (use gluten free if needed)
1

1 pound spaghetti (or up to 1.5 pounds)

(boiled in salted water until al dente; see notes)

Freshly grated Parmesan cheese for serving
Instructions
Peel and chop your onion and set it aside.

Rinse your carrots, peel them, and trim off the ends. Dice the carrots. Rinse your celery, scrub off any dirt, and dice the celery.

Peel and chop your garlic finely.

Melt your butter with the oil in a 12-inch skillet over medium-high heat. Add the onion, carrots, celery and garlic and stir to combine. Cook this "soffritto" until tender.

Stir in your ground beef and sausage, breaking up the meat with a wooden spoon. Cook over medium heat, stirring occasionally, until the meat is no longer pink. (If you see lots of liquid, you can drain some. Leave some for flavor.)

Stir in your wine (use a clean spoon) and let it come to a boil. Reduce the heat and simmer for five minutes, until the wine is evaporated.

Stir in your tomato paste, beef stock and half and half. Heat until boiling, then reduce the heat to a simmer. Cover the pot, propping your lid open by leaving a wooden spoon resting on the edges of the pot.

Simmer 45 minutes, stirring occasionally. (Start preparing your pasta when there are about 15 minutes left.)

Tightly roll up a couple basil leaves at a time into a long cylinder. Use kitchen scissors or a small knife to cut them into thin ribbons. Stir the basil into your sauce when it's done (save some to garnish each serving, if you wish.) Taste your Bolognese to see if any salt and pepper are needed. See notes.)

Drain your pasta when it's al dente and return it to your pot. Stir in two or three ladles of Bolognese sauce, so the pasta isn't dry.

Serve the spaghetti topped with more Bolognese, along with grated Parmesan and basil ribbons, if desired.

Store leftover sauce and pasta separately in the refrigerator for up to four days. To reheat, warm up the sauce and pasta separately before combining them, so the Spaghetti Bolognese isn't dry.
Notes
The recipe as written doesn't have salt or pepper added, due to the seasonings in the hot Italian sausage. If you decide to skip the sausage altogether, you will have to add salt and pepper.
Hot Italian sausage makes this dish somewhat spicy hot. If you prefer, you can use sweet Italian sausage instead. You will need to add some black pepper to taste.
This makes enough sauce for at least 8 servings, but I usually cook one pound of pasta with it and save the extra sauce. You could cook up to 1.5 pounds of pasta for this amount of sauce.
For a low-carb option, serve the Bolognese over cooked spaghetti squash or zucchini noodles.
Nutrition
Calories:
425
kcal
|
Carbohydrates:
10
g
|
Protein:
22
g
|
Fat:
30
g
|
Saturated Fat:
11
g
|
Cholesterol:
93
mg
|
Sodium:
760
mg
|
Potassium:
770
mg
|
Fiber:
1
g
|
Sugar:
5
g
|
Vitamin A:
5605
IU
|
Vitamin C:
9.1
mg
|
Calcium:
53
mg
|
Iron:
3
mg