You can make this Beef Bolognese with Sausage in less than 90 minutes! It's made with a 50-50 combination of ground beef and Italian sausage plus just enough tomato, the way authentic Bolognese sauce should be! My updated recipe is better than ever after additional testing to produce the best flavor and texture!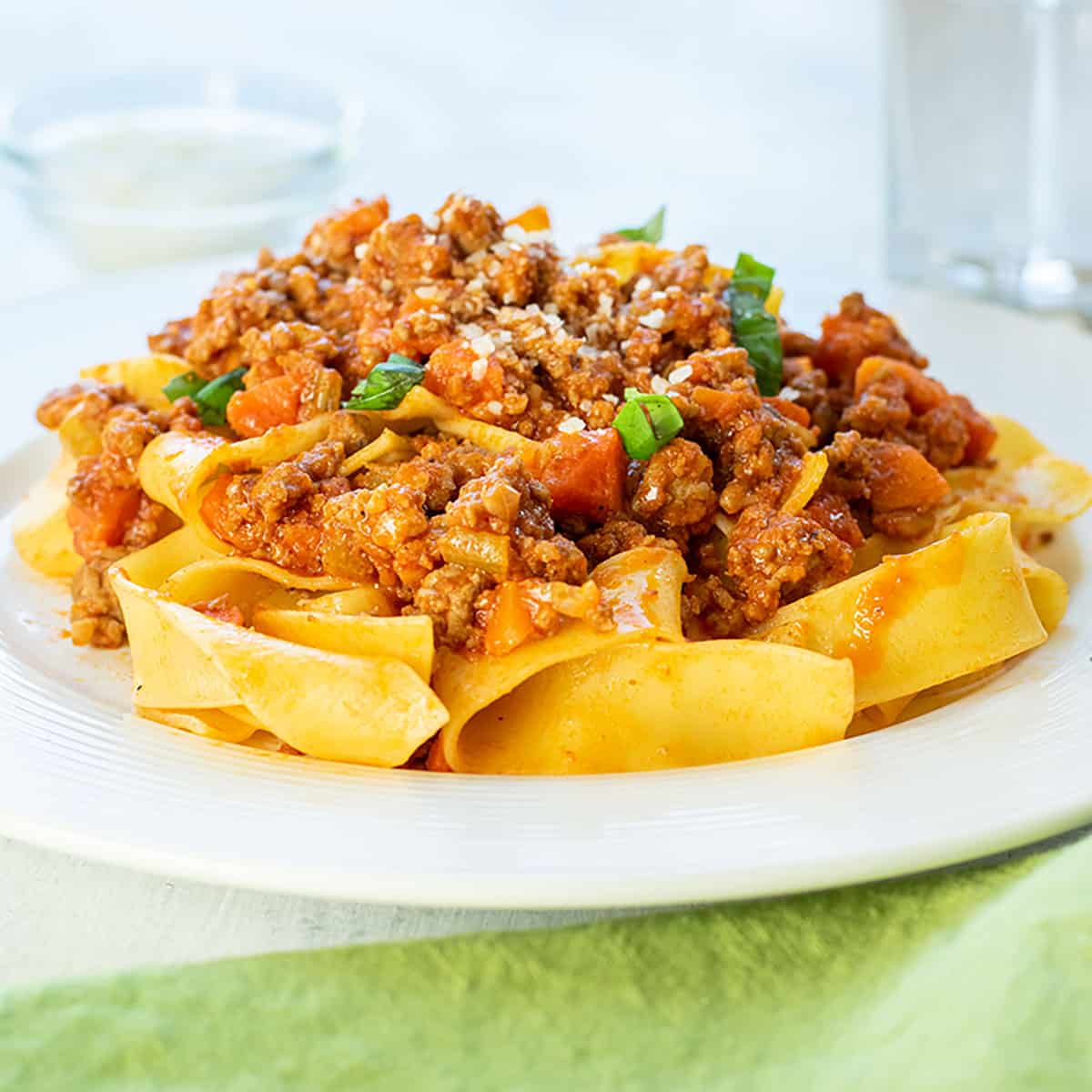 I've tested this Beef Bolognese recipe 6,000...I mean, six times, at least. After tweaking it again recently, I'm confident we've nailed the perfect Bolognese sauce, featuring:
robust, meaty flavor
ample liquid so it's not dry
just enough half-and-half for a velvety texture
the perfect amount of tomato flavor that doesn't overpower the sauce.
Because here's the key to authentic Bolognese sauce: It's not a tomato sauce with ground meat. It's a meat sauce with a hint of tomato.
Read on for all of the details. I take my sauce recipes seriously!
Recipe ingredients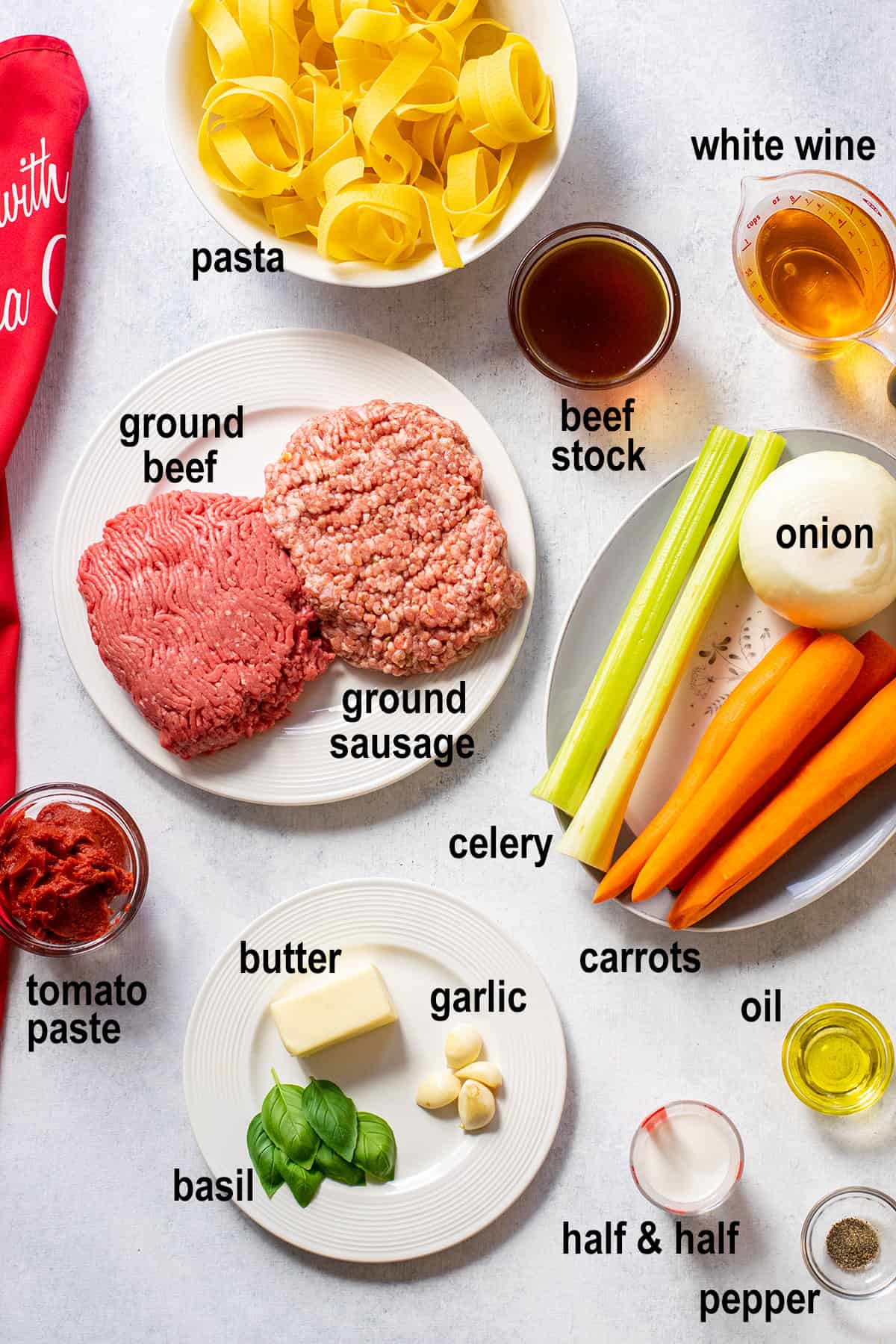 Onion, Carrots, Celery: Bolognese sauce starts with a delicious soffritto base — onions, carrots and celery sautéed in butter and olive oil. I added garlic, of course.
Ground Beef: Use 85% ground beef for extra flavor or go a bit leaner with 90%.
Ground Sausage: Ground Italian sausage is a game-changer here. I say this with authority, after experimenting with beef-and-pancetta and beef-with-bacon combinations. There's no comparison!
Use sweet Italian sausage for a dish that appeals to most palates, or hot Italian sausage for a spicy dish.
Tomato Paste: After trying several versions of Bolognese with peeled or crushed tomatoes, I knew something wasn't right. The tomatoes were taking over.
Then Mom told me that Ada Boni's Italian Regional Cooking (affiliate link), calls for tomato paste instead. I was skeptical at first, but it works beautifully!
Beef Stock: I always use stock instead of broth in my recipes for deeper flavor. Beef stock (affiliate link) tastes amazing here, but you could probably use chicken stock if needed.
White Wine: People often wonder if you can use white wine in Bolognese, and I'm here to say, "YES!" I love using Sauvignon Blanc here, but feel free to substitute Chardonnay or your favorite red wine.
If you need to omit the alcohol, add more beef stock to compensate.
Half-and-Half: Whenever I add a milk product to my sauces, I try to find the lightest option that works. Half-and-half does the job here. You could use cream instead, if you prefer a richer sauce.
Basil: We're not just adding garnish. Fresh basil leaves bring immense flavor. Roll and slice them into ribbons and taste the magic that happens!
How to make beef bolognese
See the card at the end of this post for the full recipe, but here's an overview.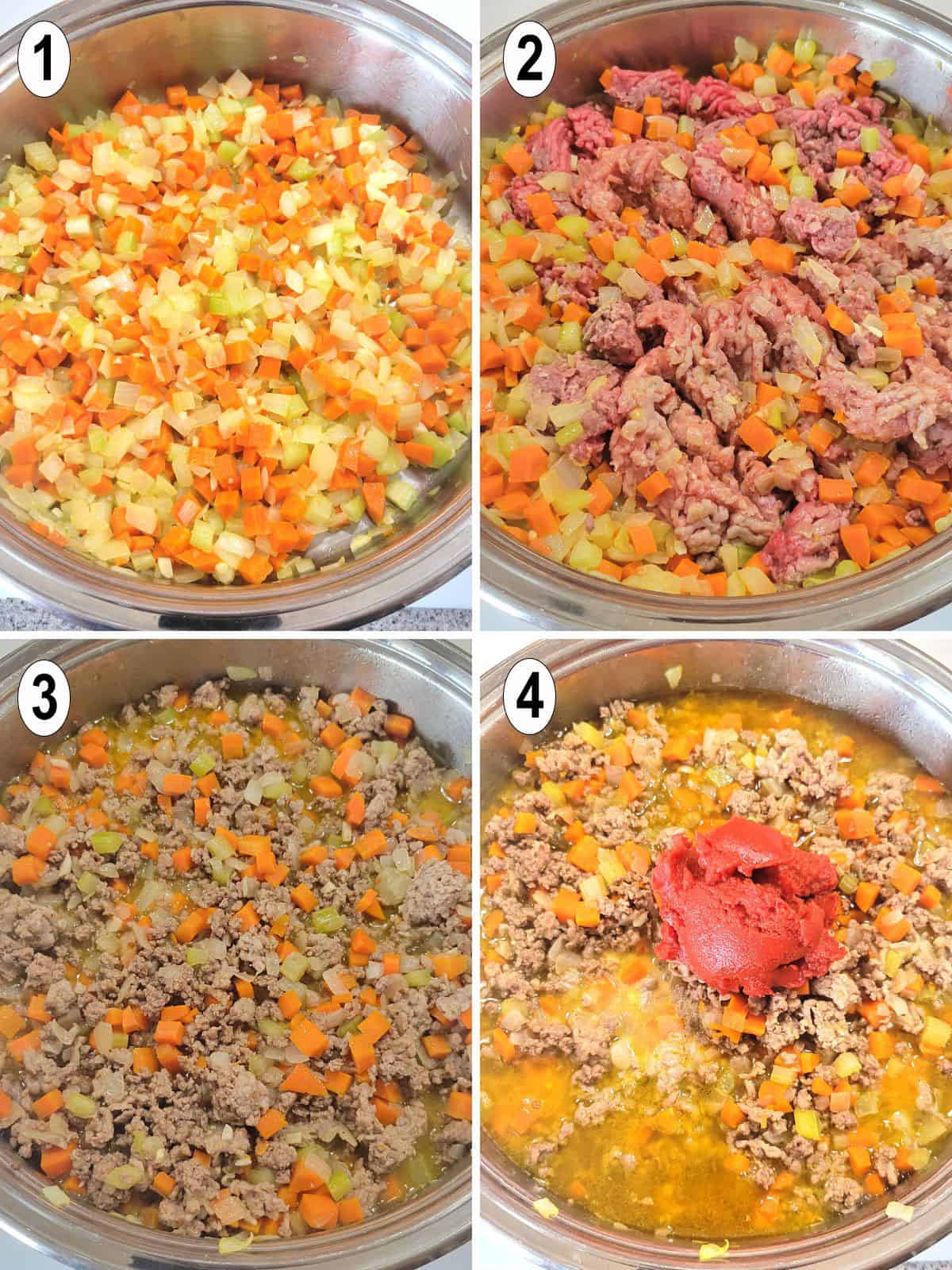 Sauté diced onions, carrots and celery in butter and olive oil until tender.
Add the ground beef and ground sausage and break it up with a wooden spoon.
Cook and stir as needed until the meat is browned. Add the wine and simmer the mixture for five minutes.
Stir in the tomato paste, beef stock, half-and-half and seasonings. After it comes to a boil, lower the heat and simmer for 45 minutes, stirring occasionally. Add fresh basil.
Traditional pasta for Bolognese
Traditionally, Bolognese goes with long, flat ribbons of pasta such as tagliatelle or pappardelle (pictured in this post).
But you could use fettuccine, spaghetti or linguine. Even a medium-cut pasta such as rigatoni or penne would work well.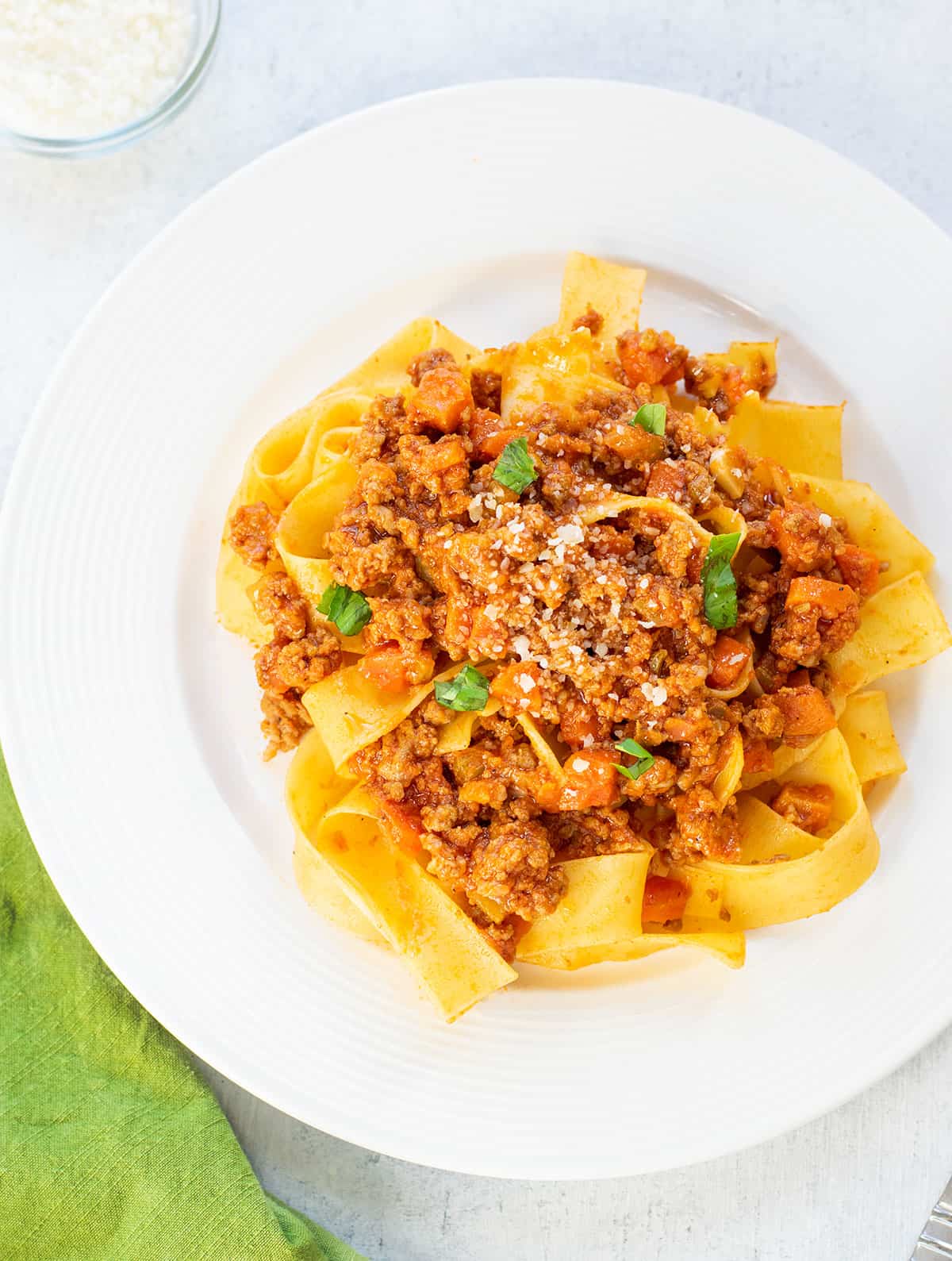 What to serve with Bolognese besides pasta
For a low-carb option, you can serve this with spaghetti squash boats or zucchini noodles instead of pasta.
Pair your Bolognese dish with a delicious Italian salad with homemade vinaigrette or grilled Romaine and add some fresh Italian bread for a fabulous meal!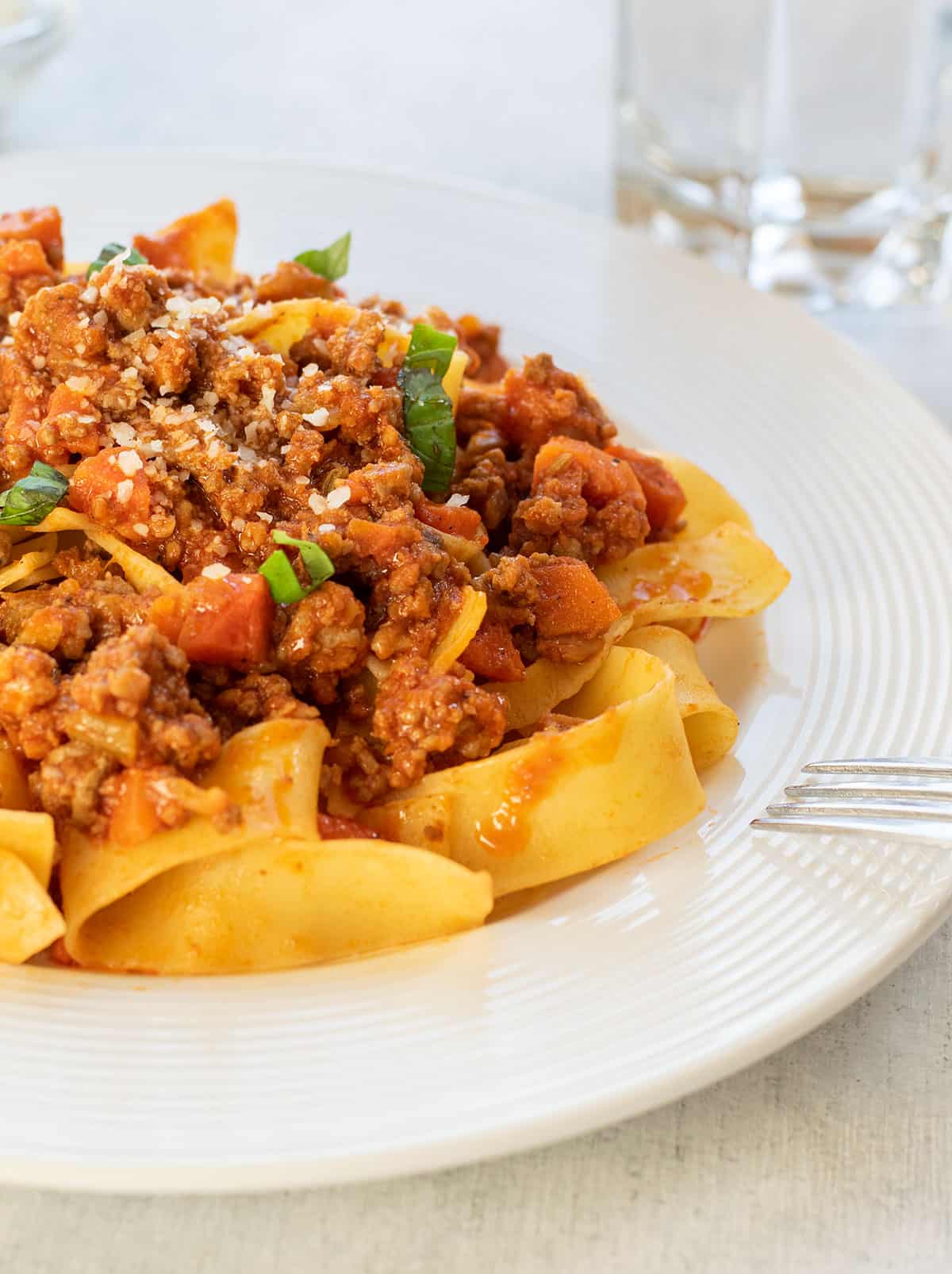 Frequently asked questions
What does Bolognese mean?
"Bolognese" means anything that relates to the city of Bologna in the Emilia-Romagna region of Italy.

Beef Bolognese is a meat-based sauce or "ragu" made with ground beef and pork (such as sausage,) tender onions, carrots and celery, wine, milk and tomato paste. It's different than Sunday sauce with pork.
What's the difference between Italian Bolognese and American Bolognese?
American versions of Bolognese often refer to a bright red tomato sauce with onions, carrots, celery and ground meat. Italian Bolognese recipes feature a higher ratio of beef to tomato, resulting in a thick, brownish-red sauce.
More Italian recipes like this
Enjoy!
If you try this Beef Bolognese with Sausage, please leave a comment and a rating!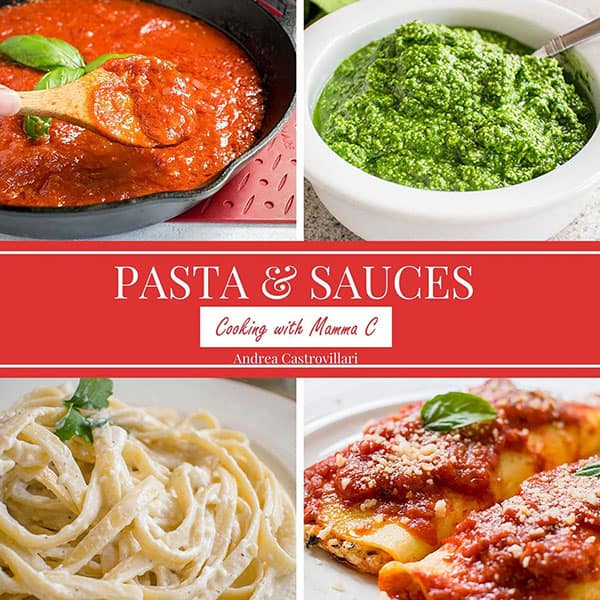 E-Cookbook!
With my Pasta & Sauces collection, even a beginner can cook like an Italian nonna!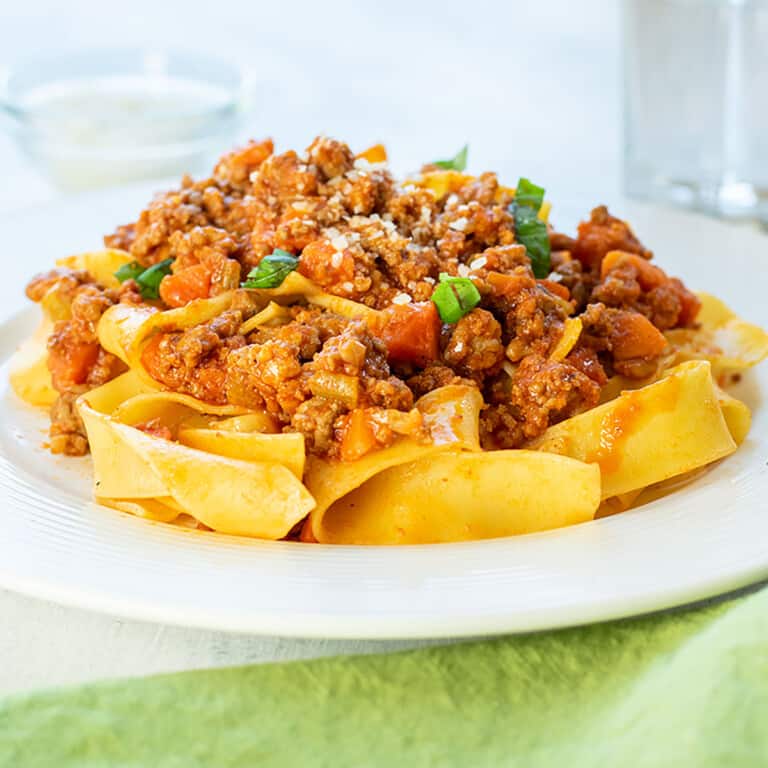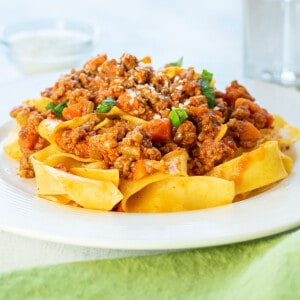 Beef Bolognese with Sausage
We tested this Beef Bolognese recipe over and over to get the best flavor! It's made with a high ratio of meat to tomatoes, the way an authentic Bolognese should be!
Print
Pin
Rate
Save
Go to Collections
Ingredients
1

medium or large onion

(chopped)

4

medium carrots

(diced)

2

large celery stalks

(diced)

4

cloves

garlic

(chopped finely)

4

tablespoons

salted butter

2

tablespoons

olive oil

1

pound

ground sweet Italian sausage

(can use hot sausage for a spicy dish)

1

pound

lean ground beef

(85% or 90% works well)

1

cup

white wine

(Sauvignon Blanc works well, but red can be used)

6

ounces

tomato paste

1 ½

cups

beef stock

½

cup

half and half

(can use fat-free if needed)

1

pinch

salt

⅛

teaspoon

black pepper

4-8

fresh basil leaves

Pasta for serving (optional)

(You can cook up to 1.5 pounds of pasta to go with this sauce, but make what you need and save the rest.)

Grated Parmesan cheese for serving
Instructions
Peel and chop the onion and set it aside.

Rinse the carrots, peel them, and trim off the ends. Dice the carrots. Rinse the celery, scrub off any dirt, and dice the celery.

Peel and chop the garlic finely.

Melt the butter with the oil in a 12-inch skillet over medium-high heat. Add the onion, carrots, celery and garlic and stir to combine. Cook this "soffritto" until tender.

Stir in the ground beef and sausage, breaking up the meat with a wooden spoon. Cook over medium heat, stirring occasionally, until the meat is no longer pink. (If you see lots of liquid, you can drain some. Leave some for flavor.)

Stir in the wine (use a clean spoon) and let it come to a boil. Reduce the heat and simmer for five minutes, until the wine is evaporated.

Stir in the tomato paste, beef stock, half-and-half, salt and pepper. Heat until boiling, then reduce the heat to a simmer. Cover the pot, propping the lid open by leaving a wooden spoon resting on the edges of the pot.

Simmer 45 minutes, stirring occasionally. (If serving with pasta, start preparing the pasta when there are about 15 minutes left.)

Tightly roll up a couple of basil leaves at a time into a long cylinder. Use kitchen scissors or a small knife to cut them into thin ribbons. Stir the basil into the sauce when it's done (save some to garnish each serving, if you wish.) Taste the Bolognese to see if additional salt and pepper are needed.

Serve the Bolognese sauce over long pasta such as tagliatelle, pappardelle or fettuccine, topped with grated Parmesan cheese and basil ribbons, if desired.

Store leftover sauce and pasta separately in the refrigerator for up to four days. To reheat, warm up the sauce and pasta separately before combining them, so the Beef Bolognese isn't dry.
Notes
We improved this recipe in November 2023 by increasing the amount of beef stock and half-and-half for better texture and flavor.
For a low-carb option, serve the Bolognese over cooked spaghetti squash or zucchini noodles.
Nutrition
Calories:
443
kcal
|
Carbohydrates:
11
g
|
Protein:
23
g
|
Fat:
32
g
|
Saturated Fat:
13
g
|
Polyunsaturated Fat:
3
g
|
Monounsaturated Fat:
14
g
|
Trans Fat:
0.4
g
|
Cholesterol:
99
mg
|
Sodium:
792
mg
|
Potassium:
809
mg
|
Fiber:
2
g
|
Sugar:
6
g
|
Vitamin A:
5664
IU
|
Vitamin C:
9
mg
|
Calcium:
64
mg
|
Iron:
3
mg
(Recipe Source: Cooking with Mamma C. Originally published on February 7, 2018 as "Spaghetti Bolognese" and updated now with an improved recipe, new photos and additional information.)