You can make this tangy, 4-Ingredient BBQ Chicken in less than an hour! It's easy to make a quick barbecue sauce with household ingredients.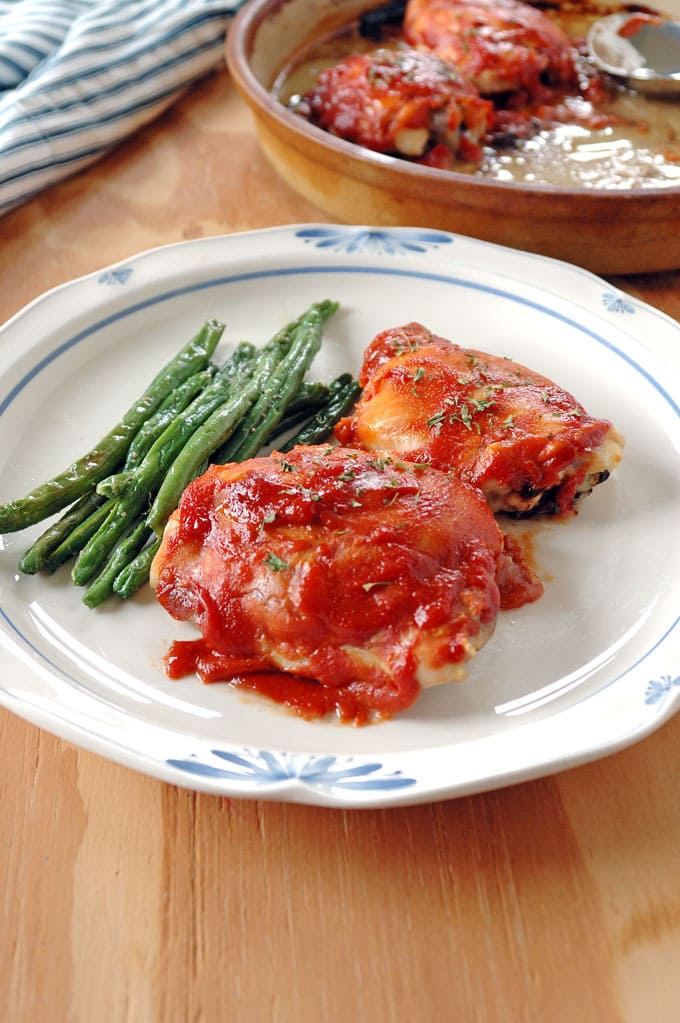 We don't know the origin of Nonna's 4-ingredient BBQ chicken. It's safe to say, however, that this is an American dish, one of maybe three in her repertoire. Otherwise, it was all Napoletana food, all the time.
Lucky us!
Before I was born, Nonna used to work as a cook at a local parish. (Lucky priests!)
We assume she served this chicken there, and maybe even learned from a co-worker how to prepare it. Whether she made it up herself or was taught the recipe, its simplicity and deliciousness were right up her alley.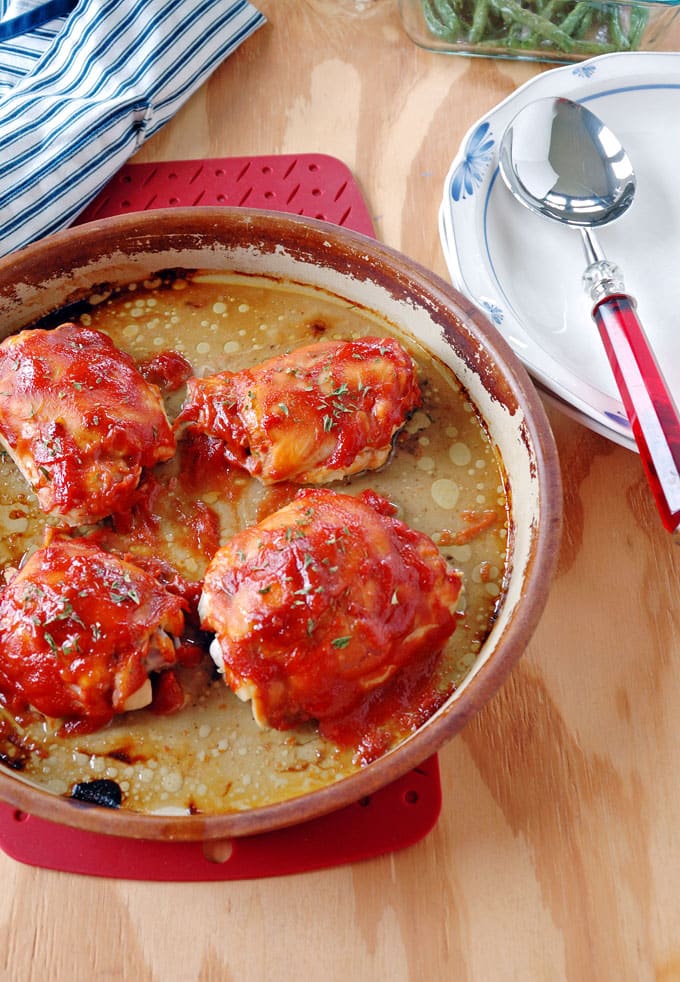 Chicken (that counts as one ingredient) is baked with a tangy BBQ sauce consisting of three household ingredients — ketchup, mustard and vinegar. It's an unassuming dish that's packed with flavor and reminds me of my childhood.
And although I can't stand raw mustard, a little bit cooked in a recipe like this adds a nice touch.
(By the way, if you want to use a recipe with bottled BBQ sauce, you might like these Cheesy Baked BBQ Chicken Breasts or these St. Louis ribs. And you also have to try this Carolina vinegar-based BBQ sauce!)
As with all of Nonna's food, though, no recipe was written down.
Even Mom can't recall the ratio of sauce ingredients Nonna used. She probably eyeballed everything (I never saw her use a measuring cup or spoon) and tasted as she went.
I made this a couple of times in the past, long before I had a blog, and didn't bother documenting anything. (Who has the patience for that?)
Anyway, I remember the first time I served Nonna's 4-Ingredient BBQ Chicken to my kids, on one of those evenings I didn't feel like cooking and had no idea what to make. Suddenly, I felt inspired to throw this dish together and hope for the best.
My kids loved it. I got such a kick out of their reaction, and sensed that Nonna's spirit was thrilled.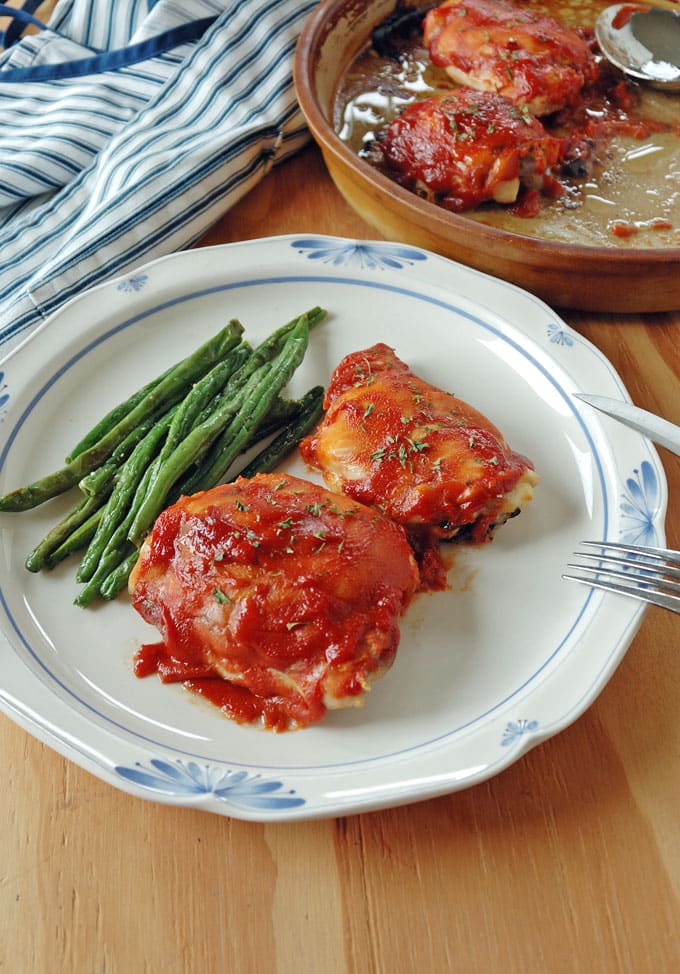 I like to think Nonna was in the kitchen with me over the past few weeks as I made this dish a handful of times, until I was able to replicate that familiar taste from long ago. Mmmm.
I'm so glad I did.
More chicken recipes to love
Enjoy!
(Recipe Source: I did my best to replicate Nonna's chicken through trial and error.)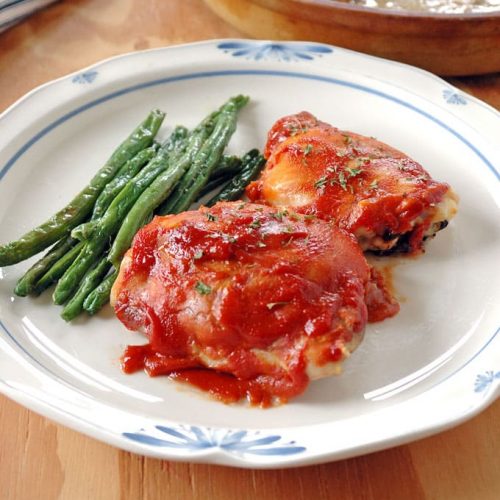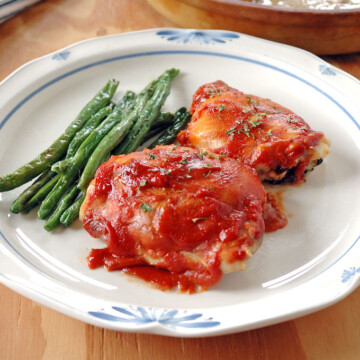 Ingredients
8

chicken thighs

⅓

cup

ketchup

(I use Simply Heinz)

¼

cup

apple cider vinegar

2

tablespoons

Dijon mustard

salt

(to taste)
Instructions
Preheat your oven to 375 degrees F. Remove the skin from the chicken (it helps to grasp it with a paper towel and tug it off.) Discard the skin.

Place your chicken in a roasting pan or a sheet pan lined with greased foil for easy cleanup. Lightly salt the chicken.

In a medium bowl, whisk the ketchup, vinegar and mustard until blended. Pour all the sauce over the chicken and brush it over the pieces to cover them completely.

Bake, uncovered, for 45 minutes, or until the chicken is no longer pink inside. Then, broil the chicken in the pan on the center rack of the oven for 2 minutes to 2 ½ minutes to caramelize the sauce a bit. Watch it carefully so it doesn't burn. Store leftovers in the refrigerator for up to four days.
Notes
You can easily cut this recipe in half and bake your chicken in a cast iron skillet or stone baking dish. Also, I added dried parsley as garnish for the photos, although it's usually not part of this recipe. It's a nice touch for company, though!
Nutrition
Calories:
570
kcal
|
Carbohydrates:
16
g
|
Protein:
37
g
|
Fat:
37
g
|
Saturated Fat:
10
g
|
Cholesterol:
221
mg
|
Sodium:
804
mg
|
Potassium:
673
mg
|
Sugar:
13
g
|
Vitamin A:
485
IU
|
Vitamin C:
2.5
mg
|
Calcium:
32
mg
|
Iron:
1.9
mg