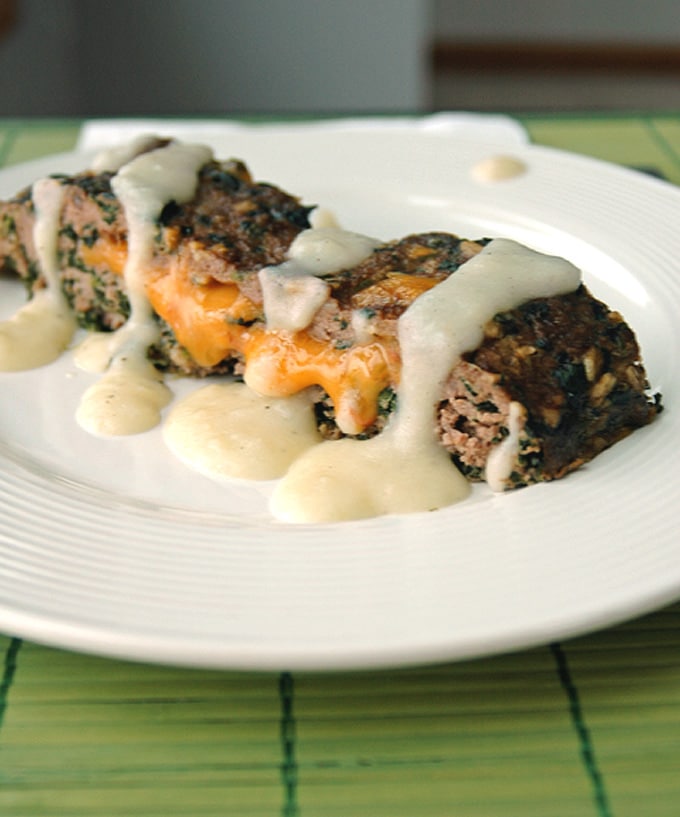 Cheddar-Stuffed Florentine Meatloaf with Creamy Potato Gravy. That sure is a mouthful!
I wondered aloud at the dinner table if I should call this meal "Company-Worthy Meatloaf" or "Man-Pleasing Meatloaf." They're both accurate, but vague.
My husband and son looked at me like I had three heads and said, "Why don't you just call it 'meatloaf?'"
So yes, I'm going to leave the taste testing and photo judging to them, but I'll stick to the headline writing for now. Unless I want a blog with 20 recipes named "Pasta."
Anyway, this meal is most definitely company worthy and man pleasing, almost comically so. I mean, every single time I've served this to dinner guests, they love it and usually request the recipe.
But the guys…they go nuts.
Invariably they look at me and say, with reverence, "That's the best meatloaf I've ever had!"
It must be the oozing cheddar and the flavorful gravy.
It's like a cheeseburger gone upscale. (The spinach is all mixed in and doesn't cause any problems for veggie haters.)
Honestly, this is the only meatloaf I've ever served. I've been making this, with slight variations, since my now 20-year-old son was a toddler.
It all started when I read an article in Parents Magazine about what chefs serve to their children. Wolfgang Puck served something like this to his kids.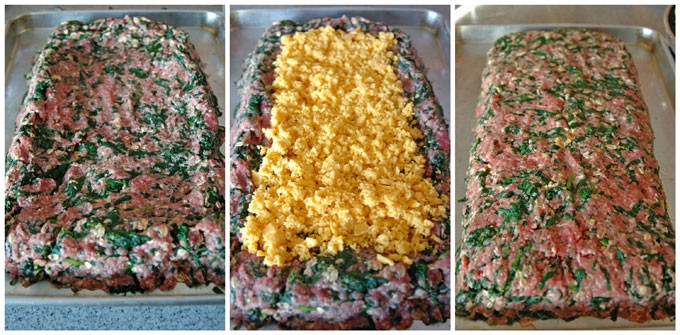 I must have inadvertently recycled the magazine, because I could never find it, and it's not online. So, while I usually like to follow some type of written recipe or at least my notes on them, I've been winging this meatloaf for years, making various changes along the way.
No matter what though, it's one of my family's favorite meals, and my husband sometimes requests this for his birthday. (See the man-pleasing paragraph above.)
With my latest tweaks, I finally feel ready to publish this Cheddar-Stuffed Florentine Meatloaf with Creamy Potato Gravy. I've ditched the breadcrumbs in favor of oats, which I always have on hand and like using in my meatballs.
I've added chopped garlic cloves in place of the garlic powder, and for the biggest and best change of all, I've added the creamy potato gravy.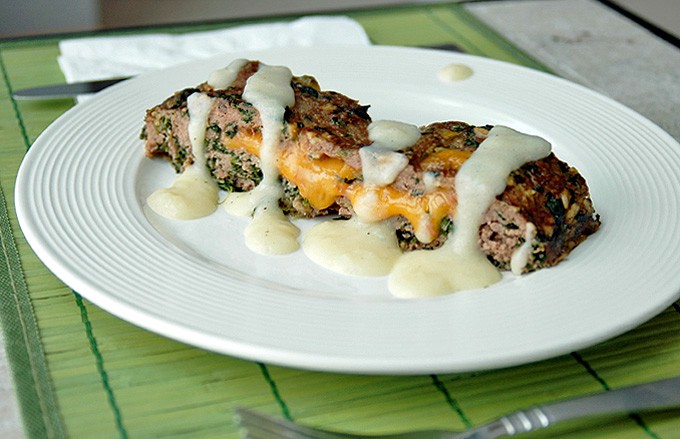 The original recipe used canned cream of sodium — I mean mushroom — soup as the gravy. I started making mine from scratch, which was delicious too.
But then, instead of serving mashed potatoes on the side, I decided to just incorporate the potatoes in the gravy so it's a complete dinner. So, the gravy here is actually cream of potato soup, where you cook your cubed spuds in the microwave and throw them in the blender with some chicken stock before adding that to your milk-based cream sauce.
Yum, yum and yum. And I'm not even a guy.
Enjoy!
P.S. For another twist on meatloaf, don't miss my chicken meatloaf with marinara!
(Recipe Source: Inspired by a Wolfgang Puck recipe I saw in Parents Magazine many years ago. Creamy Potato Gravy adapted from cream of vegetable soup in Better Homes and Gardens New Cook Book, 1989)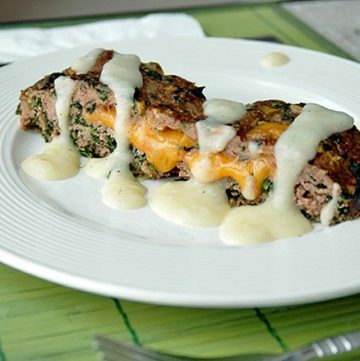 Cheddar-Stuffed Florentine Meatloaf with Creamy Potato Gravy
Like an upscale cheeseburger!
Print
Pin
Rate
Ingredients
Meatloaf
2

10-ounce packages frozen chopped spinach

(thawed)

3

large garlic cloves

(peeled & finely chopped)

12

ounces

sharp cheddar

(shredded or grated)

3/4

cup

rolled oats

3

eggs

1

tablespoon

Worcestershire sauce

2

teaspoons

salt

3/4

teaspoon

black pepper

1/2

teaspoon

onion powder

1/4

teaspoon

ground mustard

3

pounds

ground beef

(85% lean works well)
Creamy Potato Gravy
3

medium potatoes

(peeled and cubed)

1 1/2

cups

chicken stock

(divided)

1

tablespoon

salted butter

1

tablespoon

all-purpose flour

1

cup

milk

(2% or whole)

1/2

teaspoon

onion powder

1/4

teaspoon

salt

1/4

teaspoon

black pepper
Instructions
Preheat the oven to 350 degrees F. Set out a rimmed baking sheet (no need to grease it).

Place the frozen spinach in a microwave-safe bowl and thaw it on high. Do not drain the spinach, as it will help add moisture to the meatloaf. While the spinach is thawing, peel and finely chop your garlic.

Shred or grate your cheddar if starting with a block. Use a blender or food processor if you have one. Set aside the cheese to be used later.

Add the spinach, garlic, oats, eggs, Worcestershire, seasonings and ground meat to a large mixing bowl. Use clean hands to gently mix everything together until the spinach, oats, eggs and seasonings are distributed evenly.

Transfer the meatloaf mixture to your rimmed baking sheet. Shape the meat into a large rectangle. It should nearly reach the top and bottom edges of the pan. Use your hands to make a rectangular well or indentation in the meat, starting from a couple inches inside the edges. Place your cheddar inside the borders of the well.

Starting at the outside edges, gently push the meat toward the center, covering the cheese and enclosing it completely. Pat the meatloaf into a level rectangle, so it will cook evenly. Wash your hands well.

Bake at 350 degrees F for one hour, or until the meat is no longer pink.

While the meatloaf is baking, make the potato gravy. Peel your potatoes and cut them into cubes. Cook them in the microwave, in a microwave-safe bowl, on high for about 8 minutes, stirring halfway. Potatoes are done when you can easily insert a fork in them. Place the cooked potatoes and 3/4 cup chicken stock in your blender and mix until smooth.

In a saucepan, melt the butter over medium-high heat and whisk in the flour, stirring for a minute. Add the milk, salt, pepper and onion powder and whisk constantly, until the mixture starts to thicken and get bubbly. Cook for another minute and then add the potato mixture, stirring to combine. Add the remaining 3/4 cup of chicken stock. Continue stirring until the gravy is mixed and heated. Turn off the heat. You can reheat the gravy for a few minutes when the meatloaf comes out of the oven.

When the meatloaf is done, let it rest at room temperature for 5-10 minutes before slicing, to give the cheese a chance to set a bit. (Otherwise, it will run out as soon as you slice.) You can reheat your gravy at this time, if needed.

To serve, spoon some potato gravy onto each slice of meatloaf. Store leftover meatloaf and gravy separately in the refrigerator for up to four days.
Notes
This recipe can easily be cut in half, but I like to make enough for leftovers.
Nutrition
Calories:
708
kcal
|
Carbohydrates:
23
g
|
Protein:
52
g
|
Fat:
44
g
|
Saturated Fat:
21
g
|
Cholesterol:
229
mg
|
Sodium:
1226
mg
|
Potassium:
1278
mg
|
Fiber:
4
g
|
Sugar:
3
g
|
Vitamin A:
8900
IU
|
Vitamin C:
13.6
mg
|
Calcium:
502
mg
|
Iron:
8.6
mg