Steak Pinwheels with Bacon, Spinach and Parmesan are always a hit! They've been a family favorite for many years. They're great with balsamic glaze! Note, you'll need toothpicks or skewers to hold the pinwheels together.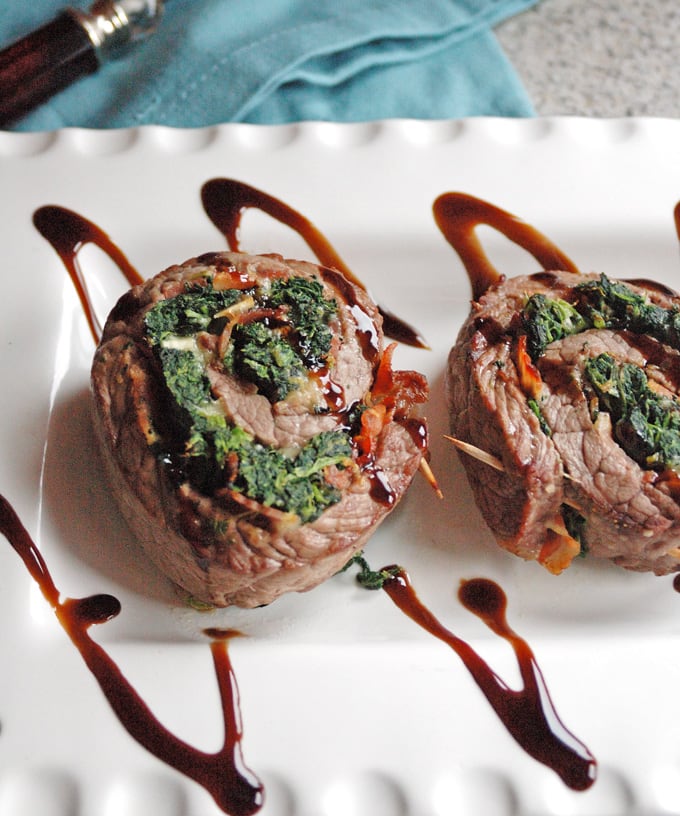 My guys were excited when I told them I was making steak pinwheels with bacon, spinach and Parmesan for dinner so I could share the recipe with you. This is an old family favorite that my son used to request for his birthday.
It's been a long time since it's appeared on our table, though, because I've really cut back on serving red meat. But, I figured it was time to get wild and crazy by adding a fourth beef recipe to the blog. Speaking of which, don't miss this Cheese-Stuffed Meatloaf with Spinach!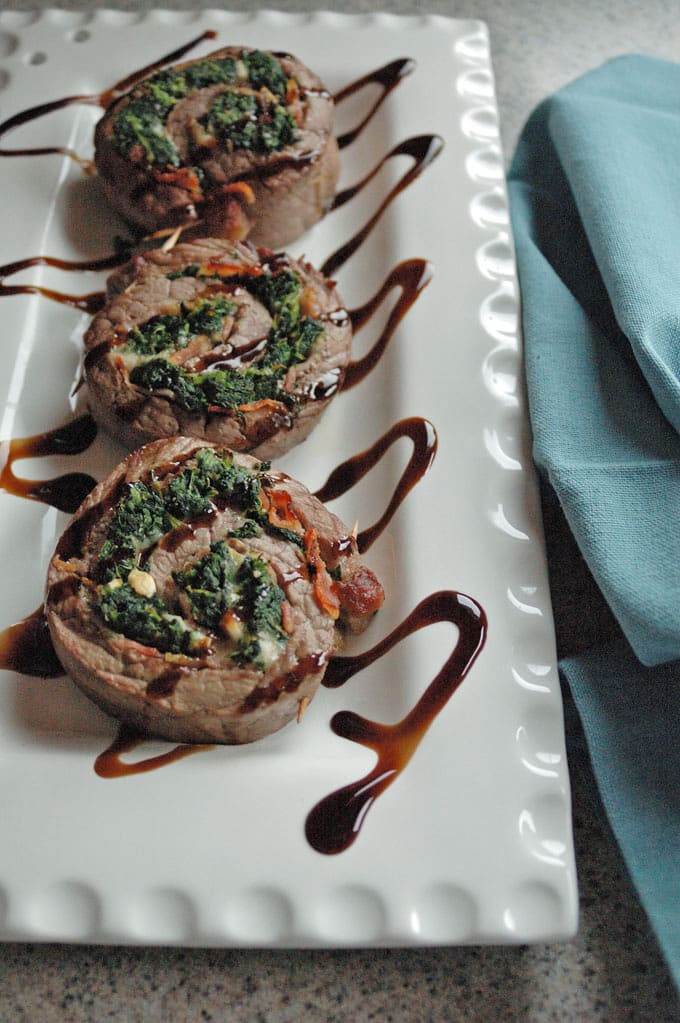 If you ever want to prepare a special dinner to celebrate or impress dinner guests, these steak pinwheels are a good choice. You take a top round steak, tenderize it by making diamond cuts in it, and then pound it into a rectangular shape.
Season the beef and top it with strips of bacon, spinach, garlic and fresh Parmesan. Then roll it up, secure it closed with toothpicks an inch apart, and slice the meat into rounds.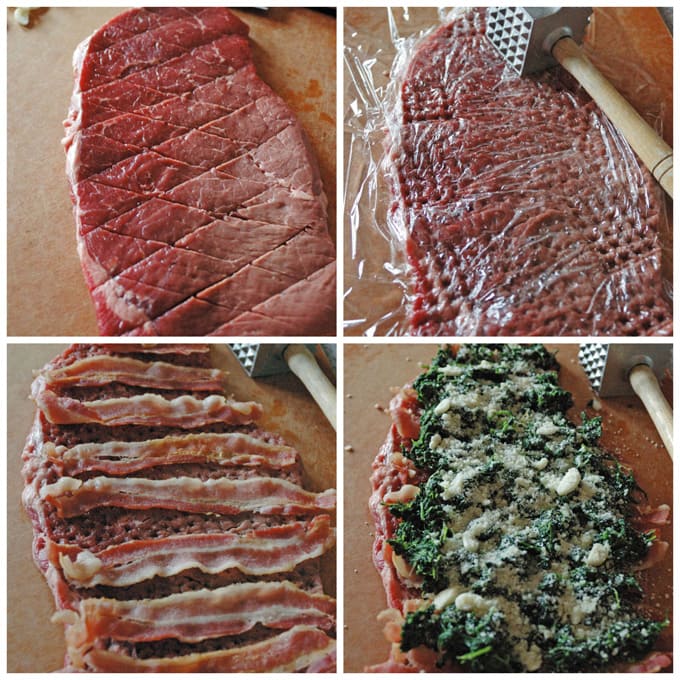 The pinwheels cook in a flash under the broiler (watch them carefully) but you could grill them instead. Drizzle on some balsamic glaze before serving, and voilà.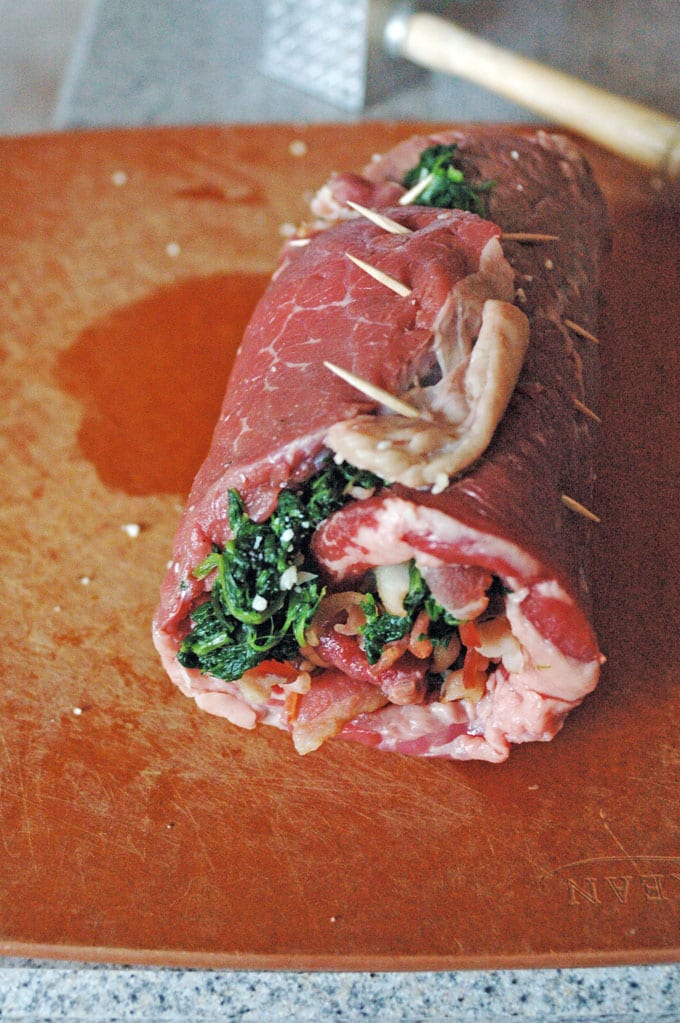 What to serve with it
These steak rolls go great with vegetable sides such as:
They're also excellent with Parmesan Risotto, Oven-Roasted Potatoes or Creamy Parmesan Polenta.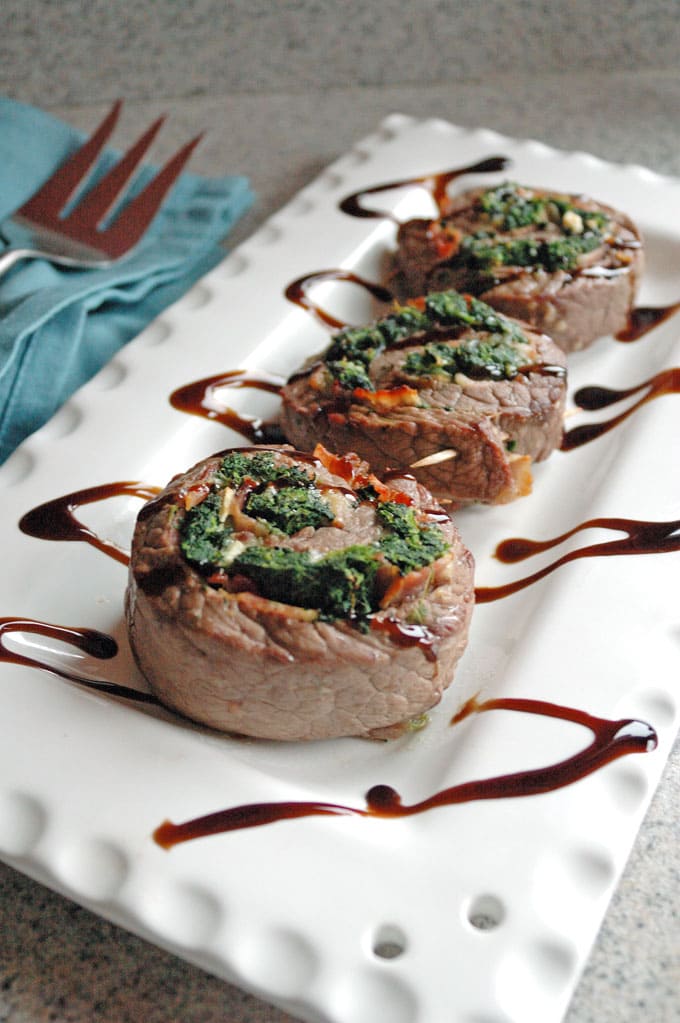 Enjoy!
(Recipe Source: Adapted from Better Homes and Gardens New Cook Book, 1989 p. 218)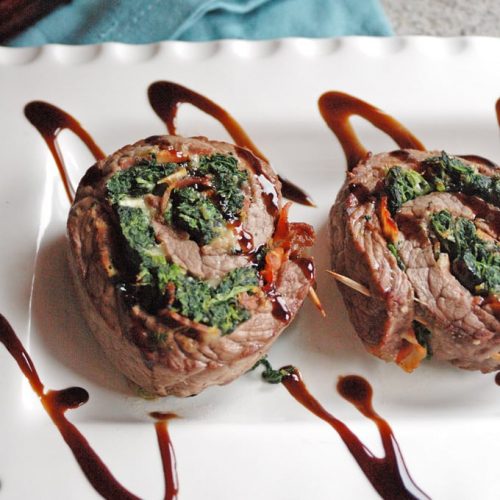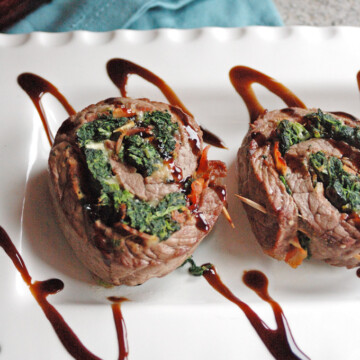 Steak Pinwheels with Bacon, Spinach and Parmesan
A tasty and company-worthy dish that's been a family favorite for many years. Note that you will need toothpicks or skewers to hold the pinwheels together.
Print
Pin
Rate
Save
Go to Collections
Ingredients
10

ounce

package frozen chopped spinach

3

cloves

garlic

(peeled and sliced)

1

teaspoon

olive oil

8

slices

bacon

¼

cup

grated Parmesan cheese

1 ¼

pound

to 1 ½ pound beef top round steak

salt to taste

pepper to taste

balsamic glaze for serving
Instructions
Make sure you have an oven rack placed in the top position. Preheat your broiler.

Remove the spinach from the package and place it in a microwave-safe bowl, covered with wax paper or plastic. Heat the spinach on high for 3 minutes, or until it is completely thawed.

While the spinach is in the microwave, peel your garlic and slice it. In a small pan, heat your olive oil on the stove on medium high and add the garlic. Cook just until it softens a bit, for 2-3 minutes. Be careful not to let it burn. Using a slotted spoon, remove the garlic to a small dish and set it aside.

Take your spinach out of the microwave and drain it in a fine-mesh strainer in the sink. Press the back of a fork into the spinach to squeeze out the liquid. Let the spinach sit while you move on to the next steps.

Line a dinner plate with paper towels and add your bacon strips on top, side by side in a single layer. Cover them with more paper towels and cook in the microwave, just until the bacon is no longer raw. Do not make it crispy. Mine took about 3 minutes and 40 seconds, but it will depend on your microwave. (If you prefer, you could cook your bacon in a pan on the stove.) Wash your hands if you touched the raw bacon. Let the cooked bacon drain on paper towels.

While your bacon is in the microwave, you can grate your Parmesan, if needed. (I grate mine in my blender.)

Place the beef on a large cutting board. To tenderize it, use a knife to score the meat, making shallow, diagonal cuts one inch apart. Then make cuts in the opposite direction, making a diamond pattern. (See photo in post.) Flip the steak over and repeat the shallow diamond cuts on the other side. Wash your hands.

Loosely cover the meat with plastic wrap (to prevent splashing) and pound the steak with a mallet or the bottom of a pan, working from the center to the edges. Try to pound the steak into a 12x8-inch rectangle. Discard the plastic wrap and add salt and pepper to the steak.

To assemble your pinwheels, have several toothpicks or skewers set out. Start with the meat horizontally in front of you. Arrange the bacon slices vertically on top of the steak, in a single layer. Arrange your dried spinach over the bacon. Distribute the garlic slices over the spinach and sprinkle on the Parmesan.

Roll up the beef, starting at one of the short ends. Secure the meat closed with your toothpicks placed one inch apart, starting half an inch from one end. Slice the meat between the toothpicks to make your rounds.

Place the pinwheels on an ungreased broiler pan (or a rimmed baking sheet). Wash your hands again (just a reminder from a mom). Broil three inches from the heat for 4-5 minutes or until done to your liking. The steak cooks very quickly, so check on it after four minutes. It will get tough if you cook it too long.

Let the meat rest for a few minutes and serve with balsamic glaze drizzled on top. Store leftovers in the refrigerator for up to four days.
Notes
If you wish to make these on your outdoor grill, thread two pinwheels on each long skewer. Grill uncovered over medium heat, starting with five minutes on the first side and then flipping it over to finish cooking to your liking.
Adapted from Better Homes and Gardens New Cook Book
Nutrition
Calories:
426
kcal
|
Carbohydrates:
4
g
|
Protein:
43
g
|
Fat:
25
g
|
Saturated Fat:
8
g
|
Cholesterol:
121
mg
|
Sodium:
530
mg
|
Potassium:
870
mg
|
Fiber:
2
g
|
Vitamin A:
8380
IU
|
Vitamin C:
4.6
mg
|
Calcium:
196
mg
|
Iron:
4.4
mg