Tomato Bruschetta with Balsamic Glaze is such a delicious appetizer! Plus, it's vegan!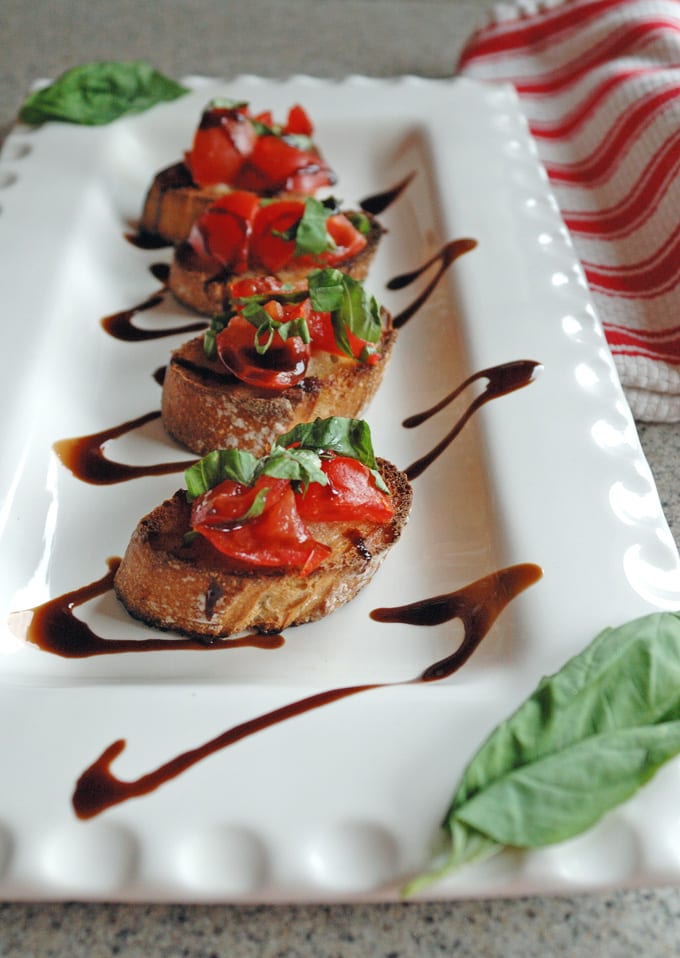 (This post is sponsored by Backyard Farms. All opinions are mine, and I only promote products I love.)

"Bruschetta" has to be the most mispronounced Italian word. Would you believe it's actually "brew-sket-tah?"
However you say it, we were dying over this tomato bruschetta with balsamic glaze. I'm pretty sure I ate almost a whole baguette myself.
It's partly because I have no self-control, but mostly because the tomatoes from Backyard Farms were out of this world. I'm not exaggerating. Best tomatoes I've ever tasted.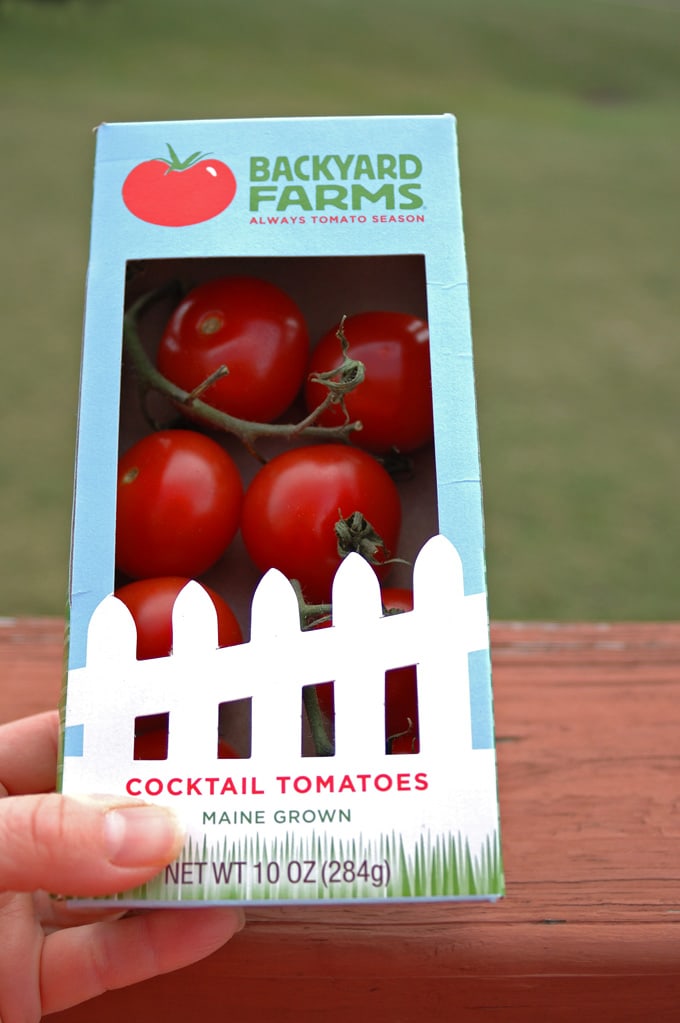 Backyard Farms grows its non-GMO tomatoes year-round in a 42-acre greenhouse in Maine. "Personal gardeners" on staff are responsible for their specific sections of the greenhouse, tending to the plants as if they were their own.
The tomatoes are picked when they're red and ripe, packed in the cutest boxes ever (made of 100% recycled material), and shipped to stores within a day's drive. New England peeps, be on the lookout for them!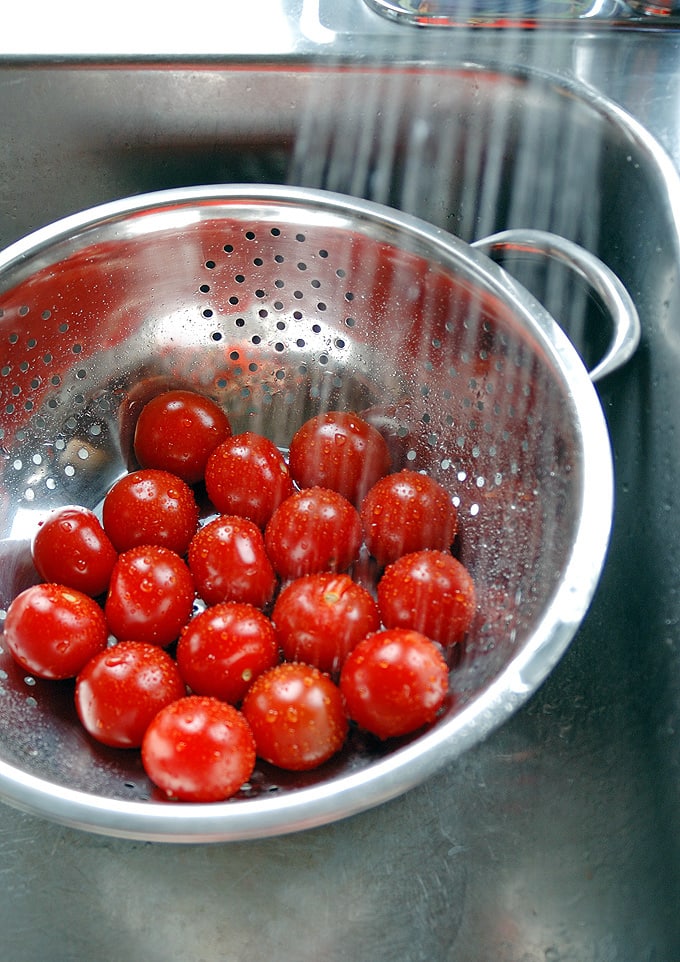 I was thrilled when Backyard Farms contacted me about trying its tomatoes and developing a recipe, if I enjoyed them. After tasting the cocktail tomatoes with my hubby, I considered recommending that people just stand at the counter and eat them like candy.
They're so sweet, in a way that makes one recall that yes, tomatoes really are fruit.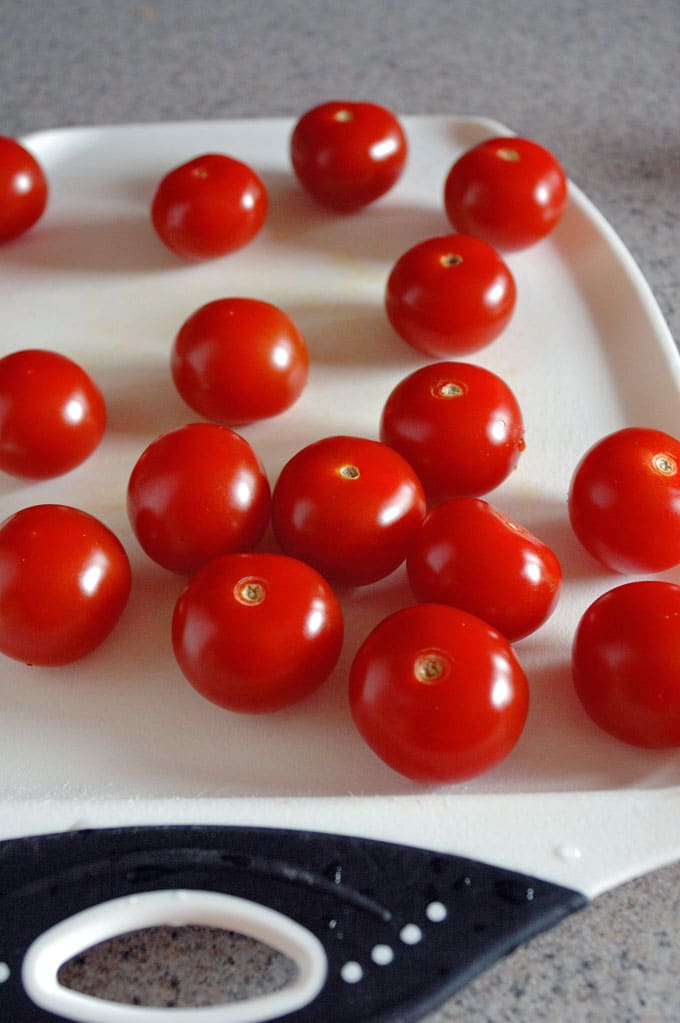 But, I figured Backyard Farms probably wanted a little more from me. So I made this tomato bruschetta with balsamic glaze.
I wanted to showcase the flavor of the fresh tomatoes that taste like they just came from the garden. I didn't want any raw garlic or onions to overpower them (or anyone standing within three feet of me), so I used garlic powder and onion powder to provide just the right accents.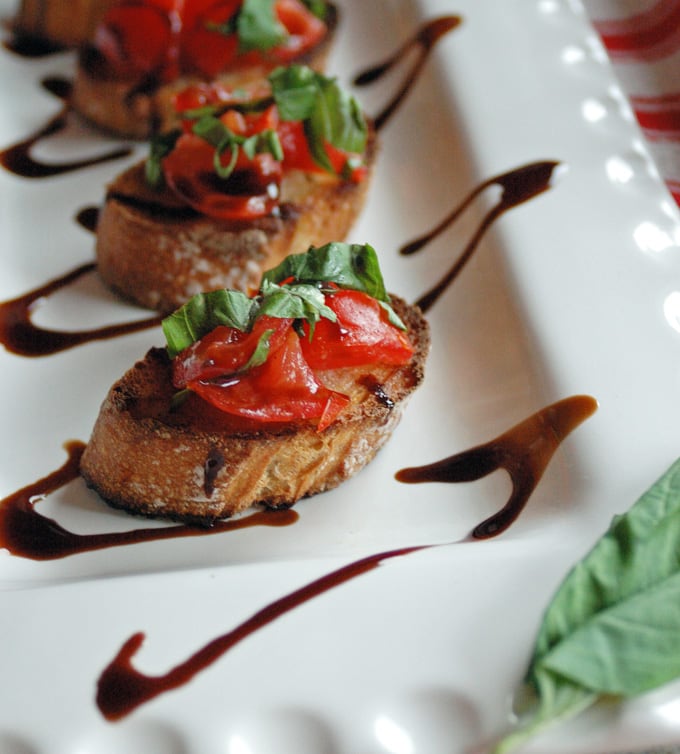 I sprinkled the tomatoes with salt and pepper, added a bit of olive oil, and tossed them with a spoon. I sliced up my baguette, broiled the bread to toasty goodness and brushed each piece with olive oil.
I topped each slice with the tomato salad, added ribbons of fresh basil, and drizzled on balsamic glaze for the finishing touch. The result was absolutely sumptuous.
The next time you get your hands on some fresh tomatoes, you must make this tomato bruschetta with balsamic glaze. Enjoy!
P.S. Here is a list of stores in New England that carry Backyard Farms tomatoes.
(Recipe Source: Cooking with Mamma C)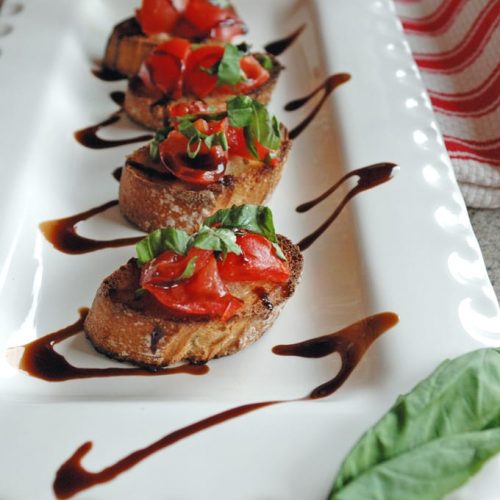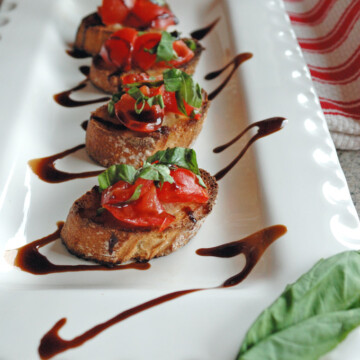 Ingredients
Tomato Salad
20

ounces

Backyard Farms cocktail tomatoes

1

teaspoon

olive oil

¼

teaspoon

salt

⅛

teaspoon

pepper

⅛

teaspoon

garlic powder

⅛

teaspoon

onion powder
Broiled Baguette Slices
1

long baguette

2

Tablespoons

olive oil
Topping
12

basil leaves

balsamic glaze for drizzling
Instructions
Preheat your broiler. Rinse your cocktail tomatoes and pat them dry. Cut the tomatoes in half and remove each core. Cut the tomatoes in half again and scrape out the seeds. Cut the tomato quarters into 1-inch pieces and add them to a medium bowl.

Add a teaspoon of olive oil and the seasonings to your tomato salad. Toss with a spoon to mix.

Prep your basil by rinsing the leaves and patting them dry. Stack a few leaves at a time, roll them up the long way, and slice them into ribbons. Set them aside.

Diagonally slice your baguette into ½-inch thick pieces. You will end up with about 24 slices. Place the bread slices on a baking sheet and broil them until the top is just getting browned. Flip over the bread and brown the other side. (Keep your oven light on and watch the bread as it broils, making sure it doesn't burn. You might just need a minute per side.)

Remove the bread from the oven and place two tablespoons of olive oil in a tiny bowl. Brush the bread slices with the oil.

Top the baguette slices with some tomato salad and garnish with basil ribbons. Place your bruschetta in a serving platter and drizzle balsamic glaze over the top. Serve at room temperature.
Nutrition
Calories:
88
kcal
|
Carbohydrates:
12
g
|
Protein:
2
g
|
Fat:
3
g
|
Sodium:
181
mg
|
Potassium:
125
mg
|
Sugar:
1
g
|
Vitamin A:
250
IU
|
Vitamin C:
10.8
mg
|
Calcium:
21
mg
|
Iron:
0.9
mg