Learn to make the best Homemade Spaghetti Sauce from Fresh Tomatoes! Don't miss this authentic Italian tomato sauce recipe from Naples!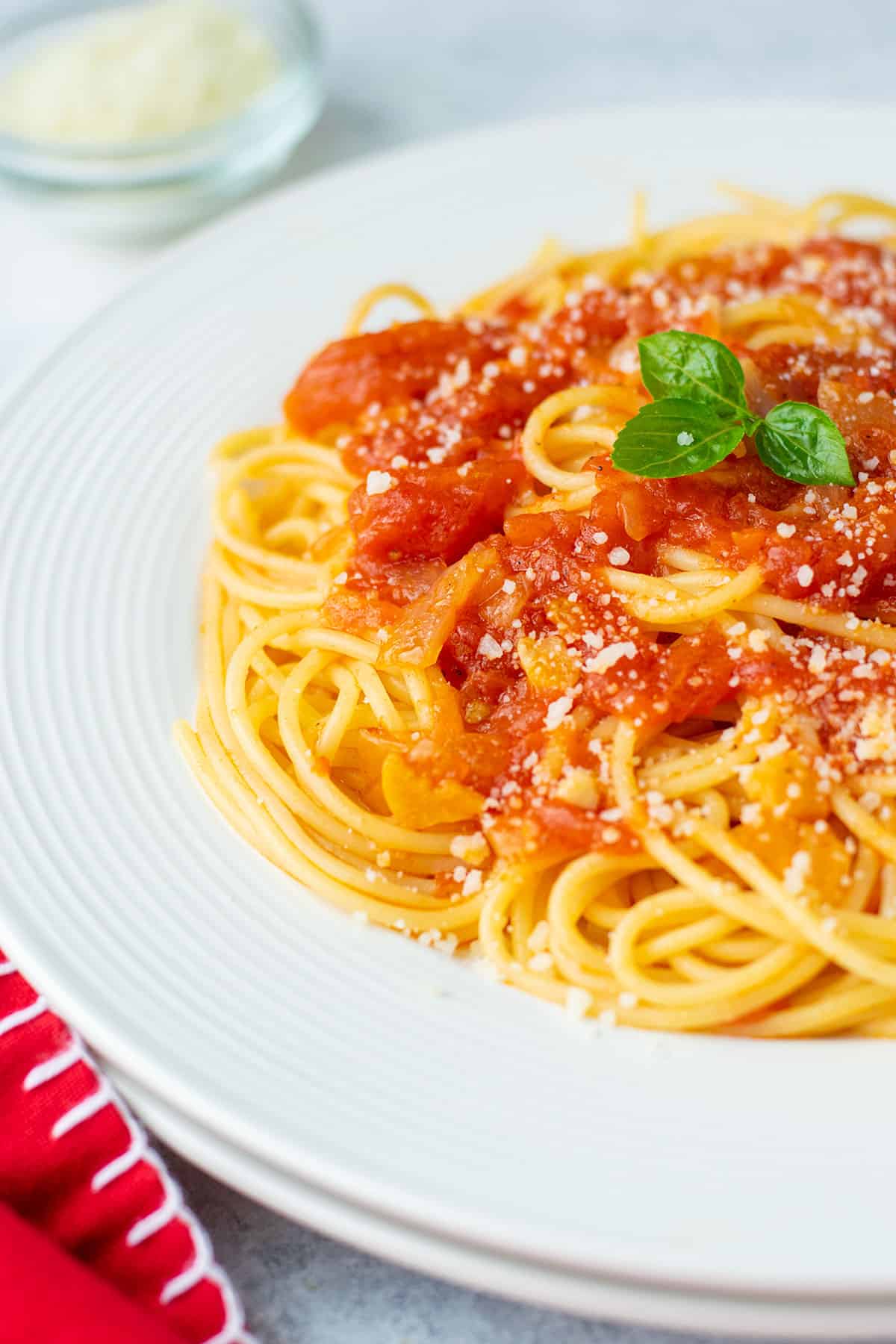 This might be my favorite, authentic Italian sauce recipe on Cooking with Mamma C.
And that says a lot, because you know I have some mouthwatering options like pork rib tomato sauce and Sunday sauce with meatballs.
But this light, fresh tomato sauce recipe from Naples ― provided with input from Mom ― is special. It reminds me of our Christmas Eve sauce, minus the fish.
It's not quick, but it's 100% worth the wait. You'll need an hour of hands-on prep, plus two hours to let the tomatoes cook down into a decadent, silky sauce flavored with plenty of olive oil, onions, garlic, fresh basil and a hint of peppery heat.
Mamma mia!
If you want something faster, don't miss my marinara sauce with canned tomatoes!
Recipe ingredients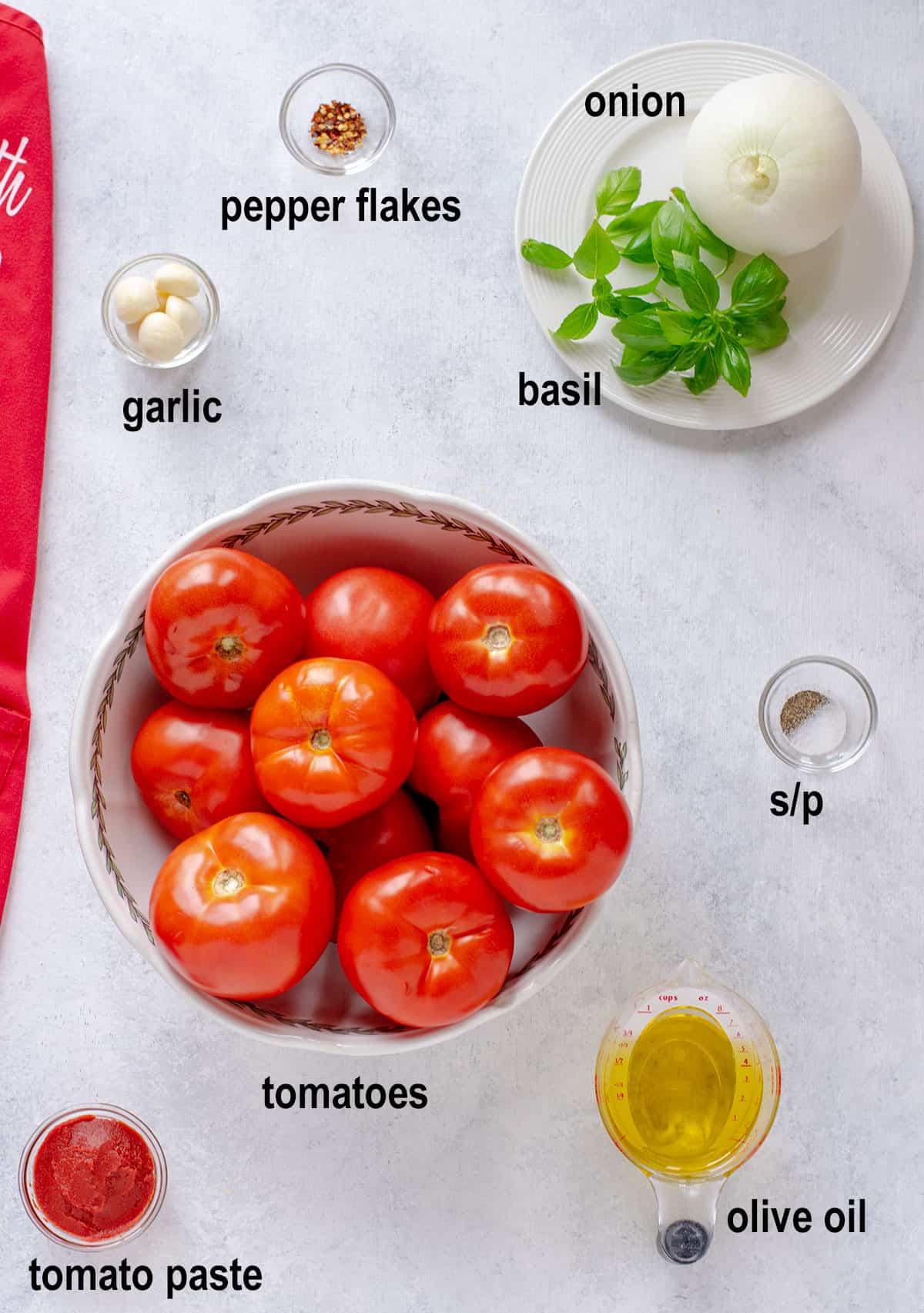 Tomatoes: After testing this recipe with Roma tomatoes, then cocktail ones, then big, juicy, soft, "outdoor" tomatoes, we can say we loved the latter best. Use garden tomatoes or buy locally grown ones at the grocery store or farmers market.
It's okay to use tomatoes that are starting to crack and feel slightly mushy, as long as there's no mold. The overripe tomatoes will be delicious.
By the way, you have to try this fresh tomato salad!
Olive Oil: Fresh tomato sauce requires more olive oil than sauce from canned tomatoes, or it will be bland. I use regular, mild-tasting olive oil (affiliate link), but you can use extra-virgin olive oil if you've found one you love.
Onions: A cup of chopped onions brings savory, sweet flavor to our pasta sauce with fresh tomatoes. I never add sugar! Use a sweet, yellow onion for best results, or go with a red onion.
Garlic: We're going to thinly slice six cloves of garlic so they can flavor the tomatoes and sauce. It's not overpowering, I promise!
Basil: Don't be shy with the fresh basil, folks! We'll need at least three sprigs with multiple leaves to stir in when the tomato sauce is done cooking. I keep a basil plant on my kitchen windowsill so I'm always ready to add fresh, herbal flavor to my food.
How to make sauce with fresh tomatoes
See the card at the end of this post for the full recipe, but here's an overview.
Prep the tomatoes
You can prepare the tomatoes a day ahead of time, if you wish.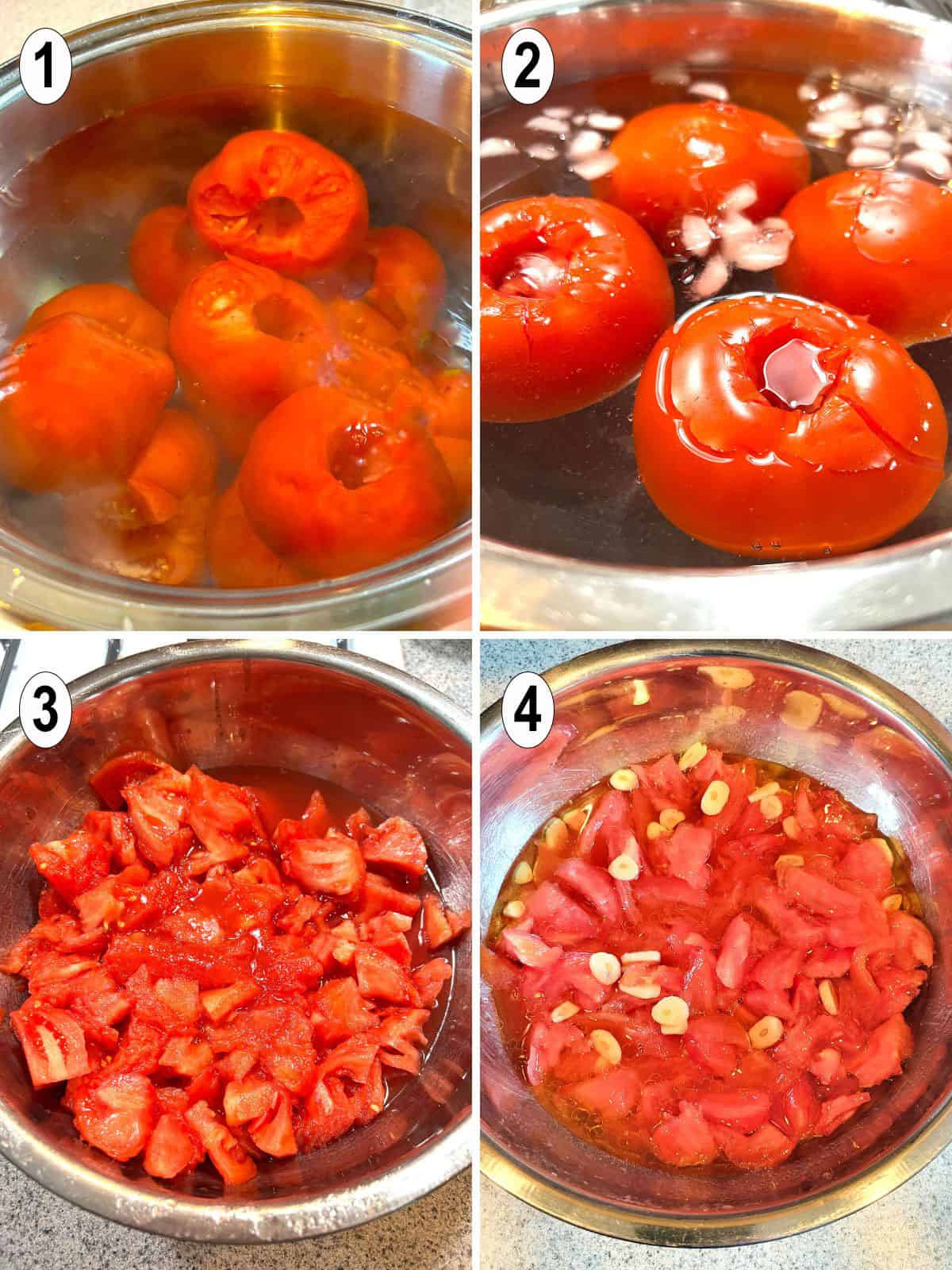 Blanch (briefly boil) cored tomatoes for about three minutes to loosen the skins.
Transfer the tomatoes to an ice bath for five minutes.
Pull off the skins, slice the tomatoes into wedges and remove the seeds.
Add sliced garlic and olive oil to the bowl of tomatoes. (If you're waiting more than two hours to start the sauce, cover and refrigerate the tomato mixture up to a day ahead.)
Cook the sauce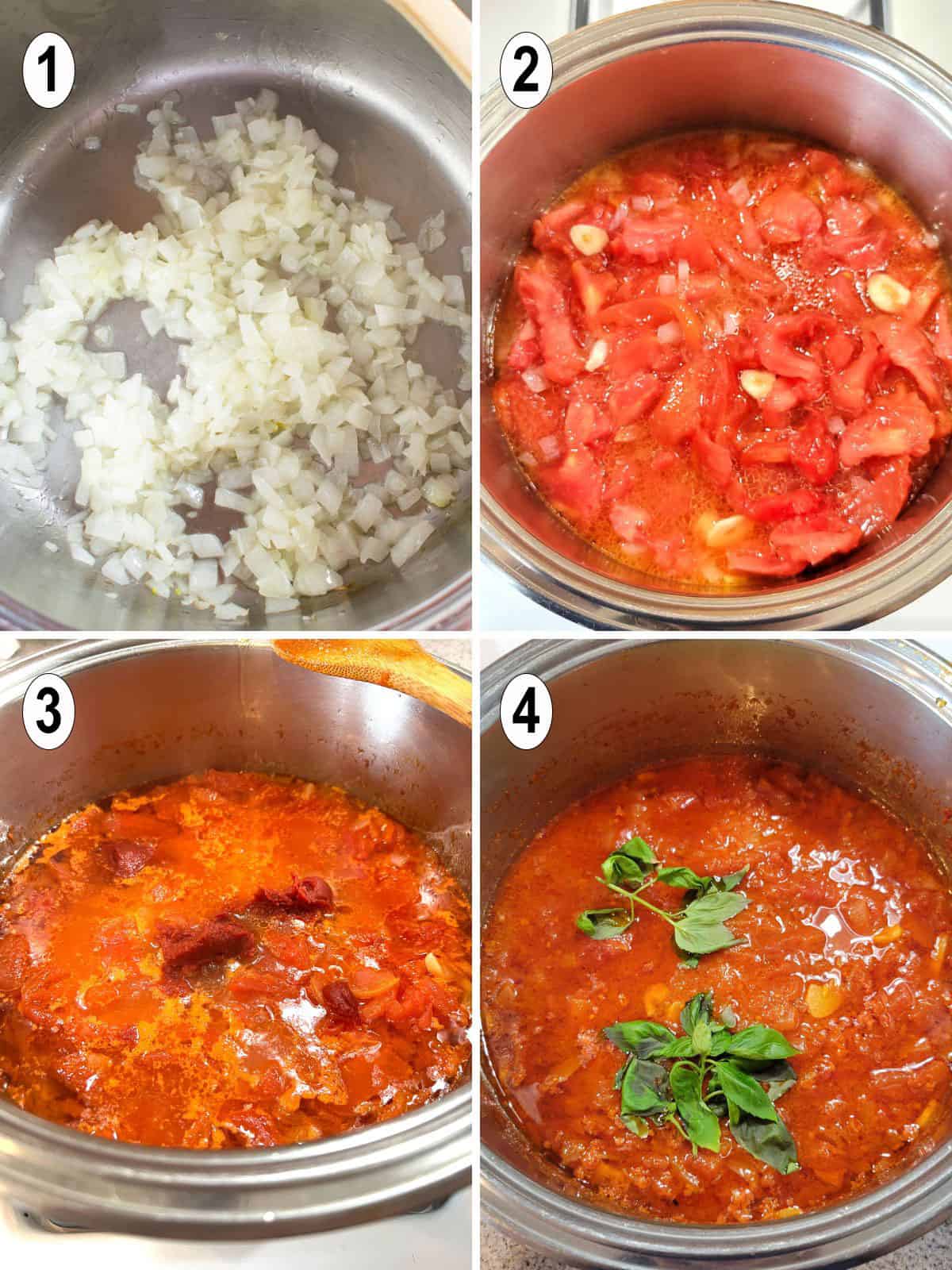 Sauté the onions in olive oil until they're soft.
Add the tomato, garlic and olive oil mixture to the pot and stir to combine.
Stir in some tomato paste to slightly thicken the sauce and bring more tomato flavor.
Cook the fresh tomato sauce for two hours and stir in fresh basil when it's done.
Recipe tips
Recruit someone to help you seed the tomatoes, if possible. Two people can do it in 15 minutes. My 82-year-old mom from Naples was happy to help!
If you plan ahead, you'll only need one pot for prepping the tomatoes and making the sauce. Either use a 12-quart pot (affiliate link) with enough room to parboil 10 whole tomatoes, or use an 8-quart pot (affiliate link) and parboil half of the tomatoes at a time, using a slotted spoon to scoop out the ones that are ready.
Letting the tomatoes sit in olive oil and garlic, as in Naples, will make them more flavorful.
What to serve with it
I highly recommend serving this homemade spaghetti sauce with...wait for it...spaghetti, or any long pasta such as linguine, fettuccine or angel hair. There's something about twirling the al dente spaghetti with your fork and anticipating the moment when that saucy pasta hits your taste buds with its savory Italian goodness.
Plus, you can use the leftovers to make Fried Spaghetti Frittata.
But feel free to use medium-cut pasta such as rigatoni or penne, smaller pasta such as ditalini, or serve this over ravioli, homemade manicotti or ricotta lasagna.
Use it on fried chicken cutlets, chicken Sorrentino or cook cod in it for this fish with tomatoes.
Most of all, don't forget the easy Italian bread to dip into the sauce!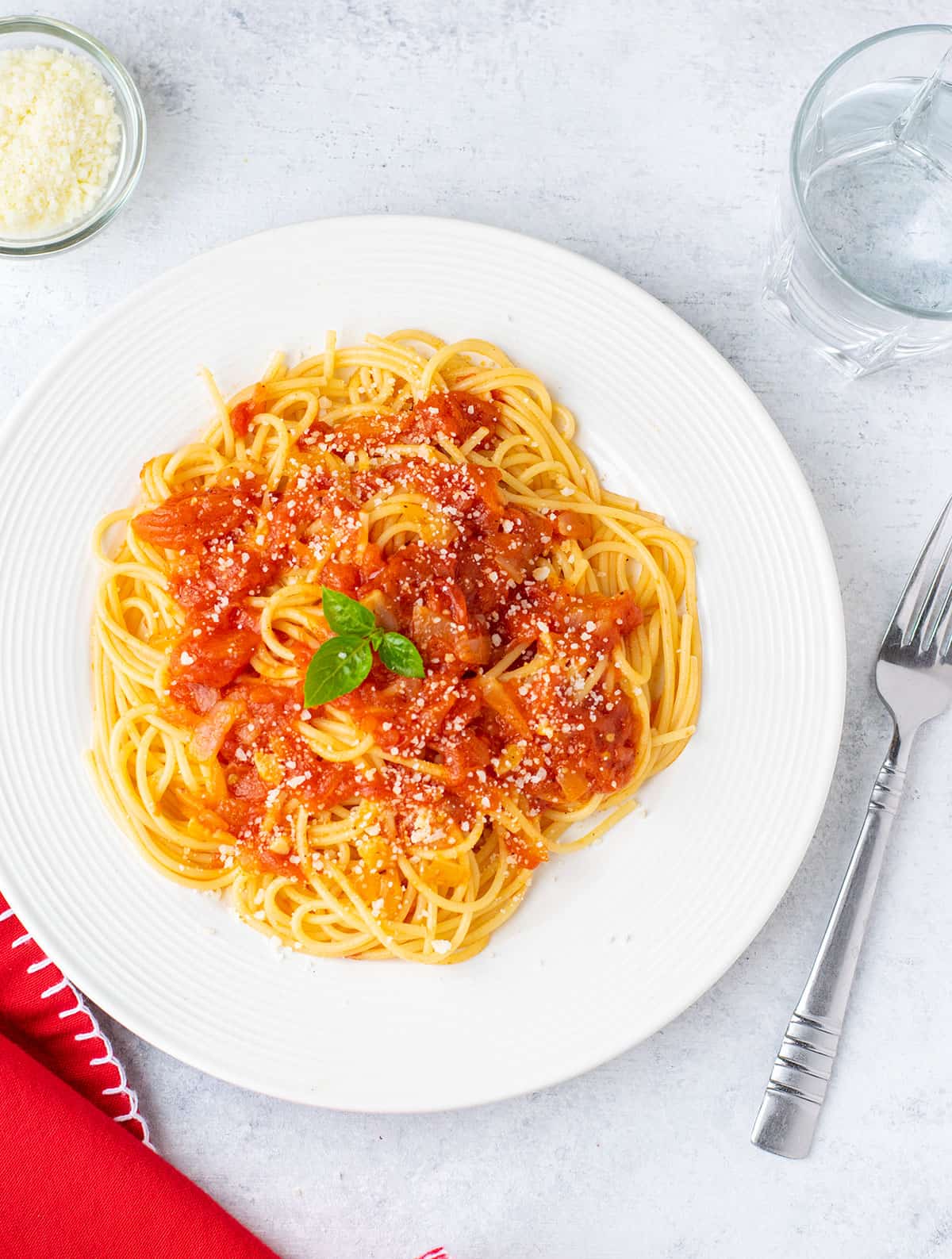 Frequently asked questions
Do you have to peel tomatoes for sauce?
It's best to peel tomatoes before making sauce with them. Otherwise, the skins will come off during cooking, and you'll end up with pieces of tomato skins scattered throughout the sauce.

Some people purée the tomatoes in the blender or food processor instead of peeling them, but that produces a thinner sauce with seeds. A chunkier tomato sauce with fresh tomatoes and no seeds tastes better.
Can you leave tomato seeds in pasta sauce?
Tomato seeds make pasta sauce bitter, so it's best to remove them. However, it's safe to eat tomato seeds.
Can you freeze spaghetti sauce from fresh tomatoes?
Yes, you can freeze tomato sauce made with fresh tomatoes. Transfer leftover, cooled sauce to quart-size containers (affiliate link). Leave at least 1 ½ inches of space inside each container to allow for the sauce to expand when it freezes.

Use the sauce within three months for the best quality. It won't spoil, however.
More Italian sauce recipes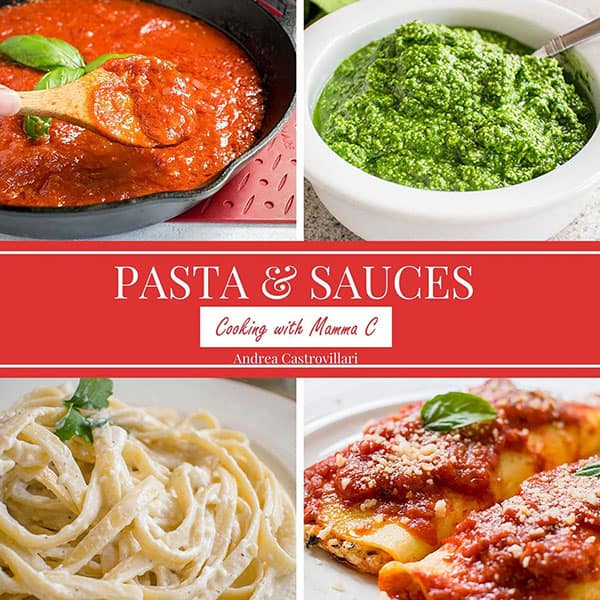 E-Cookbook!
With my Pasta & Sauces collection, even a beginner can cook like an Italian nonna!
If you try this Homemade Spaghetti Sauce from Fresh Tomatoes, please leave a comment and a rating!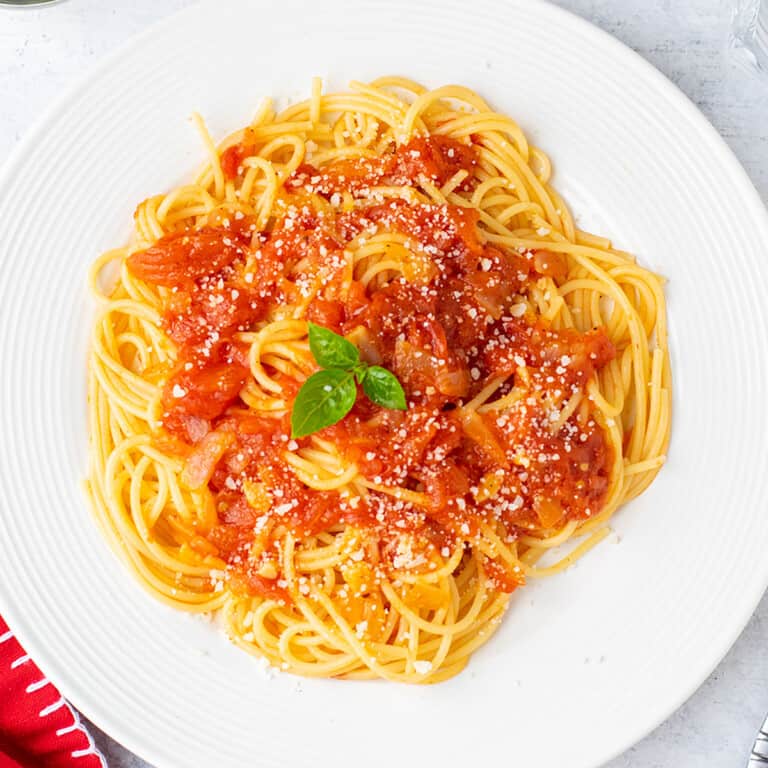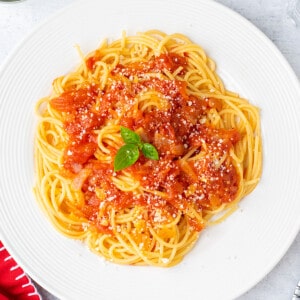 Fresh Tomato Sauce
Learn to make the best Homemade Spaghetti Sauce from Fresh Tomatoes! Don't miss this authentic Italian tomato sauce recipe from Naples!
Print
Pin
Rate
Save
Go to Collections
Ingredients
5 ½

pounds

large tomatoes

(10 tomatoes; see notes.)

1

cup

chopped sweet onion

(half of a large onion)

6

garlic cloves

¾

cup

olive oil

3

tablespoons

tomato paste

1 ¼

teaspoons

salt

½

teaspoon

black pepper

⅓

teaspoon

red pepper flakes

3

sprigs

fresh basil

(at least 18 medium leaves)
Instructions
Prep the tomatoes
Use a pot large enough to parboil 10 large tomatoes. (Ideally a 12-quart pot, but you can use a tall, 8-quart pot to parboil the tomatoes in two batches.) Fill the pot ⅔ full with hot water. Place it over high heat on the stove and cover it so it will come to a boil.

Rinse the tomatoes and use a small knife to cut out the cores. Prepare an ice bath by filling a large bowl with ice and water. Set the cored tomatoes and ice bath near the stove.

When the water is boiling, use a slotted spoon to add as many tomatoes as will fit into your pot. Let the water come to a boil again, and parboil the tomatoes uncovered, for three minutes or until their skins are loosened. Use the slotted spoon to transfer the blanched tomatoes to the ice bath. Parboil any remaining tomatoes if needed.

After the blanched tomatoes have rested in the ice bath for five minutes, it's time to peel them. Gently pull off the skin with your fingers and discard it. On a large cutting board, use a sharp knife to cut a tomato in half, then slice each half into wedges about 1 ½-inches thick. Scrape out the seeds from each wedge. (It helps to place the seeds in a fine-mesh strainer placed over a medium bowl to catch any tomato juice that can be used later.) Place the cleaned tomato wedges into a large mixing bowl.

Continue peeling, cutting and seeding the remaining tomatoes. Pour any extra tomato juice (from under the fine-mesh strainer of seeds) into the bowl of cleaned tomatoes. You also can use the back of a spoon to press the seeds down into the strainer to squeeze out any extra juice to use.

Pour ¾ cup of olive oil over the cleaned tomato wedges in your bowl. Peel the garlic cloves and thinly slice them. Add the garlic to the bowl of tomatoes and olive oil and stir to combine.

You can proceed to make the sauce within two hours or cover the bowl and refrigerate the tomatoes for up to a day before cooking the sauce. The tomatoes will become more flavorful as they sit in the garlic-infused oil. Let them come to room temperature before cooking them.
Make the fresh tomato sauce
Peel the onion and chop it until you have one cup of chopped onion.

Drain and dry the pot you used to parboil the tomatoes. Scoop out two or three tablespoons of oil from the bowl of tomatoes and add the oil to the pot. Heat on medium-high. Add the chopped onions and sauté them, stirring frequently, until they're soft, which should take around five minutes.

Pour the tomatoes, garlic and remaining olive oil into the pot with the onions. Stir in the salt, pepper and pepper flakes, noting the time. Heat on high, loosely covered with a spoon resting on the edge of the pot, until it comes to a boil. When the pot is boiling, lower the heat, uncover the pot and stir in the tomato paste. Simmer the sauce uncovered, for two hours past the time you first added the tomatoes. Stir occasionally to prevent sticking.

When the spaghetti sauce has cooked for at least two hours, rinse the sprigs of basil and pat them dry with a paper towel. Stir the basil into the pot. Turn off the heat and serve the sauce stirred into cooked pasta and ladled on top.

When the sauce is no longer hot, store leftovers in one or more sealed containers in the refrigerator. The sauce will keep in the refrigerator for up to five days. You also can freeze leftover tomato sauce for up to three months for best quality.
Notes
The sauce makes enough for 1.5 pounds of pasta.
The best tomatoes to use for fresh tomato sauce are big, soft, juicy ones from the garden. If you need to buy them, look for them at farmers markets or buy locally grown ones at the grocery store.
Nutrition
Calories:
252
kcal
|
Carbohydrates:
16
g
|
Protein:
3
g
|
Fat:
21
g
|
Saturated Fat:
3
g
|
Polyunsaturated Fat:
2
g
|
Monounsaturated Fat:
15
g
|
Sodium:
429
mg
|
Potassium:
844
mg
|
Fiber:
4
g
|
Sugar:
10
g
|
Vitamin A:
2755
IU
|
Vitamin C:
46
mg
|
Calcium:
45
mg
|
Iron:
1
mg
(Recipe Source: Cooking with Mamma C, with input from Mom, who is from Naples.)