You can make Pasta with Garlic and Oil (Aglio e Olio) in 20 minutes! You'll love this easy pasta recipe from Naples. Don't miss my tips and variations!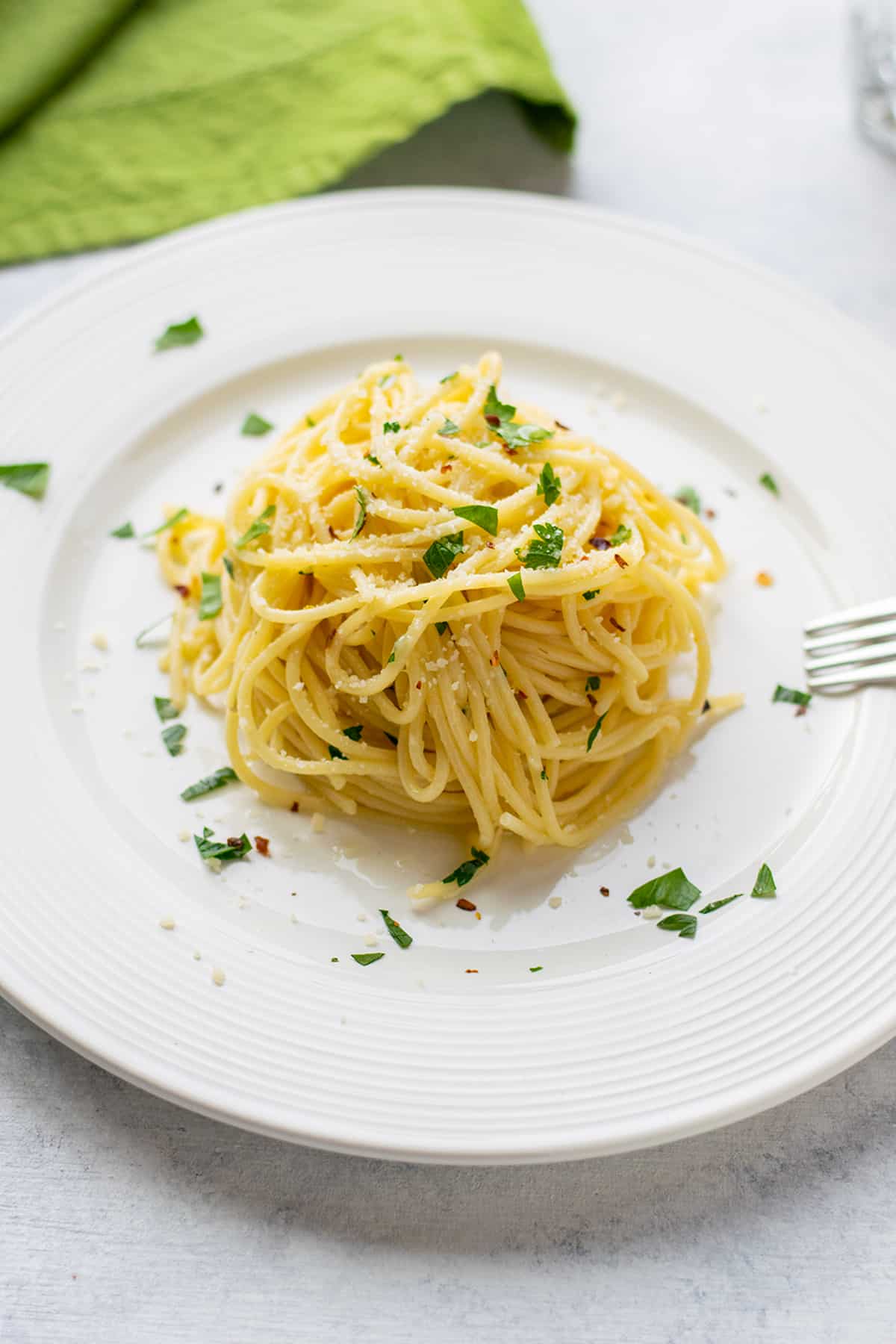 The best Italian recipes come from Naples, where my family is from. (I'm just saying!) This Pasta with Garlic and Oil is no exception.
"Aglio"means garlic and "olio" means oil in Italian. It's pronounced AHL-ee-oh eh OHL-ee-oh, in case you're wondering.
It's the simplest of pasta dishes but delivers spectacular results in 20 minutes.
It's the kind of meal you can make when you don't feel like cooking but can muster enough energy to put a pot of water on the stove to boil. Then, you'll peel and slice some garlic, and the aroma will cheer you on to the finish line!
You'll be rewarded with al dente pasta coated in spicy, garlicky oil and accented with Parmesan and parsley...mamma mia! Are you ready to get cooking?
Recipe ingredients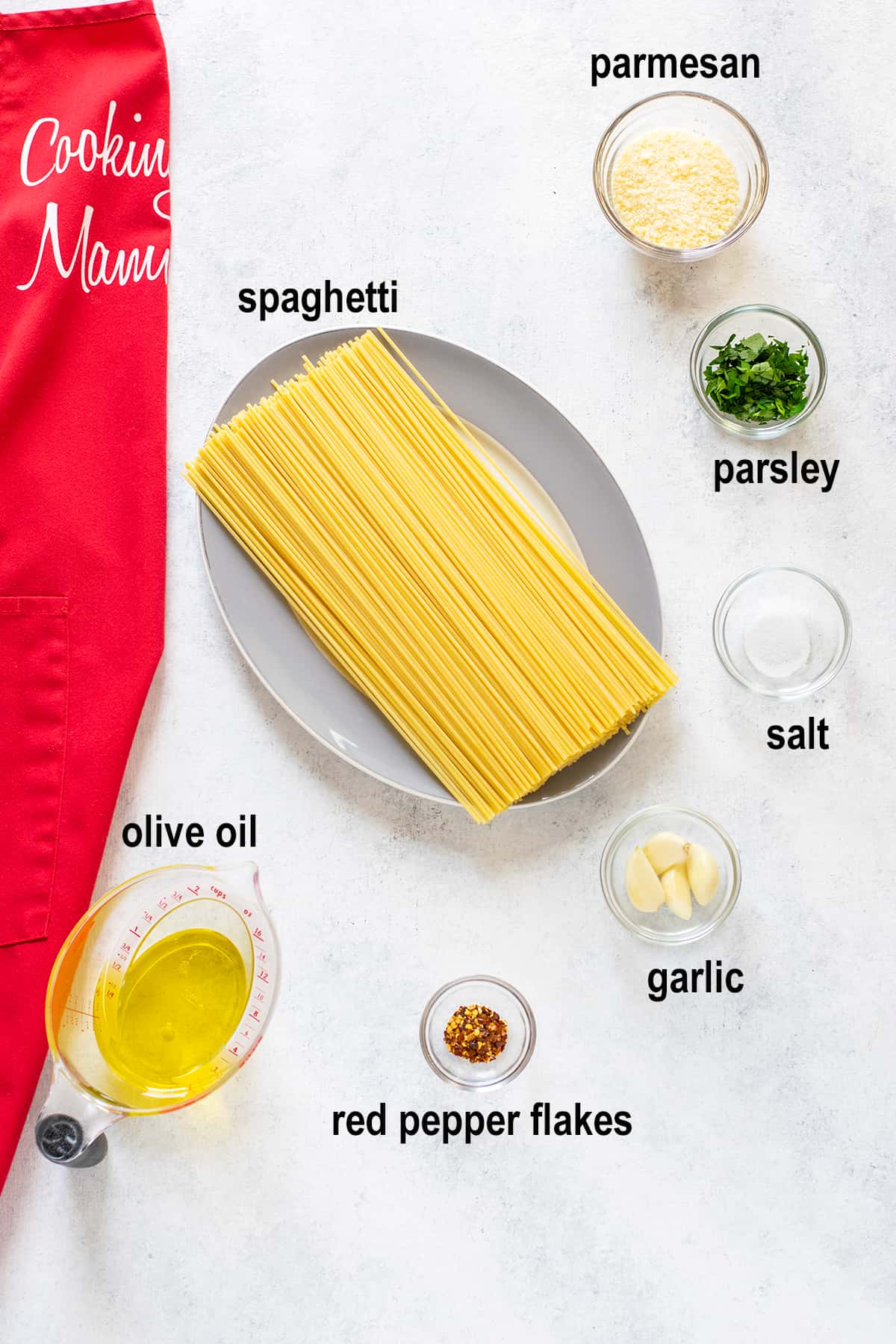 Pasta: Aglio olio works best with a long pasta such as spaghetti, linguine, bucatini or fettuccine. You want long strands you can swirl into that delicious garlic and olive oil sauce!
Olive Oil: Use the best-tasting olive oil you can, because it's a key ingredient in this recipe. You're going to need three-fourths of a cup.
I prefer a mildly flavored, regular olive oil, but look forward to trying it with extra-virgin olive oil from Italy. My daughter and son-in-law bought some on their honeymoon and are having it shipped here!
Garlic: You'll need six medium-to-large garlic cloves. Make sure they're firm, not soft. If you see any green shoots, pull them out, or they'll make the aglio e olio sauce bitter.
To easily remove the papery skin from garlic, I recommend rolling the cloves in a silicone tube (affiliate link).
Red Pepper Flakes: Authentic spaghetti aglio e olio calls for hot chili peppers, but we're using spicy red pepper flakes (affiliate link) instead. I like this dish with a little heat, but don't want it overbearing. My recipe calls for half a teaspoon of flakes, but feel free to adjust the amount to your liking.
Parmesan: If you've visited Cooking with Mamma C before, you already know what I'm going to say! Use freshly grated Parmesan cheese instead of the stuff in the can.
The cheese will have a better texture and blend in nicely, without being grainy. We'll be stirring it into the pasta, plus sprinkling some on each serving.
Parsley: Sometimes, parsley is merely garnish, but not this time. Chopped, fresh parsley adds a wonderful, aromatic flavor to this dish. There's a reason it's included in traditional aglio e olio recipes!
I tried substituting basil once, but was surprised to find I prefer parsley here. Of course, use what you have or even skip the fresh herbs until next time. You'll still have a delicious dish of pasta with garlic, olive oil and Parmesan!
How to make pasta with garlic and oil
See the card at the end of this post for the full recipe, but here's an overview.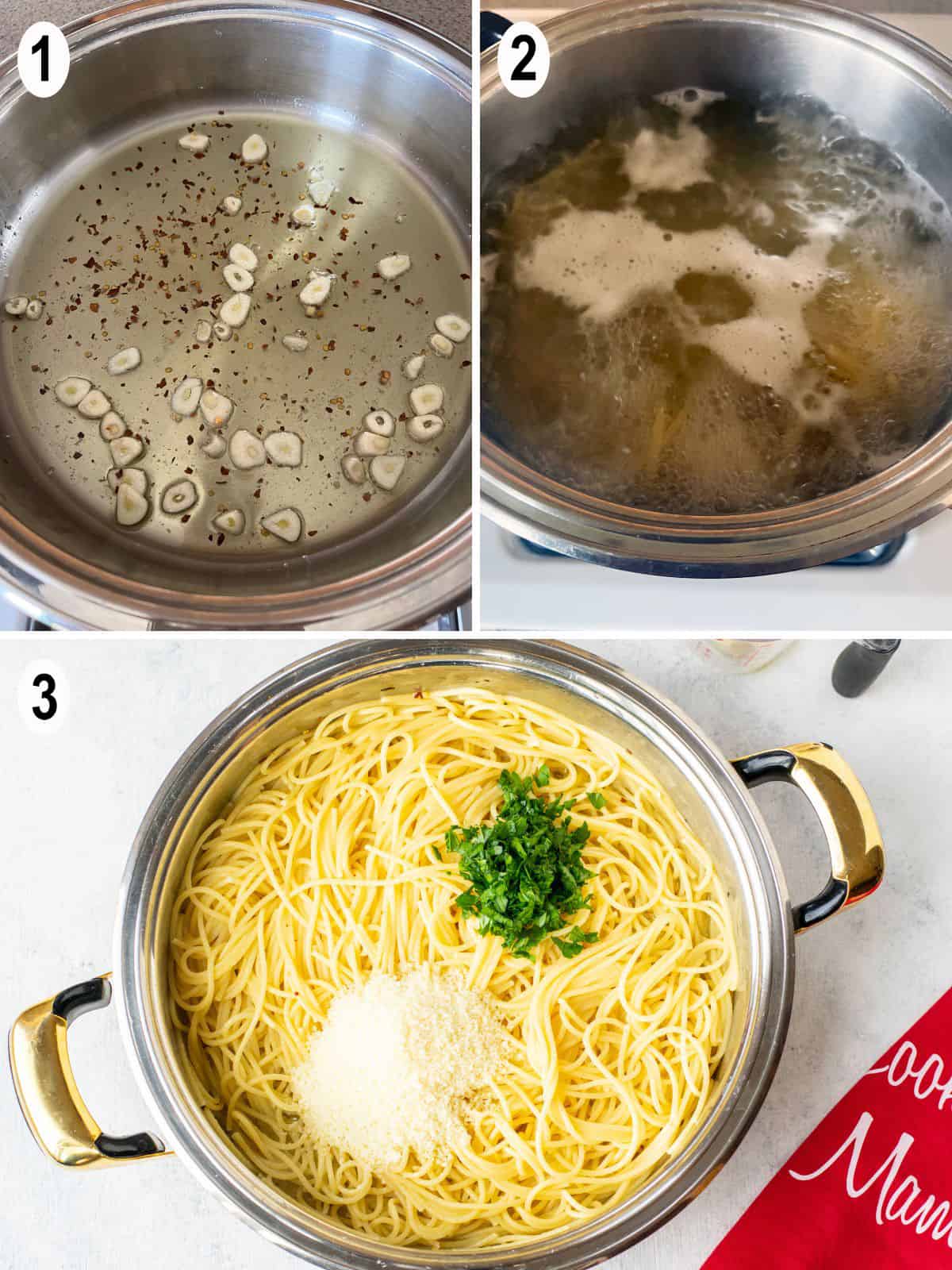 Heat the olive oil on low in a 12-inch skillet (affiliate link) with garlic slices and red pepper flakes.
Cook the pasta and scoop out a couple of ladles (affiliate link) of starchy cooking water to use later.
Stir drained, cooked pasta into the pan of oil and garlic. Stir in the reserved water, then Parmesan cheese and parsley.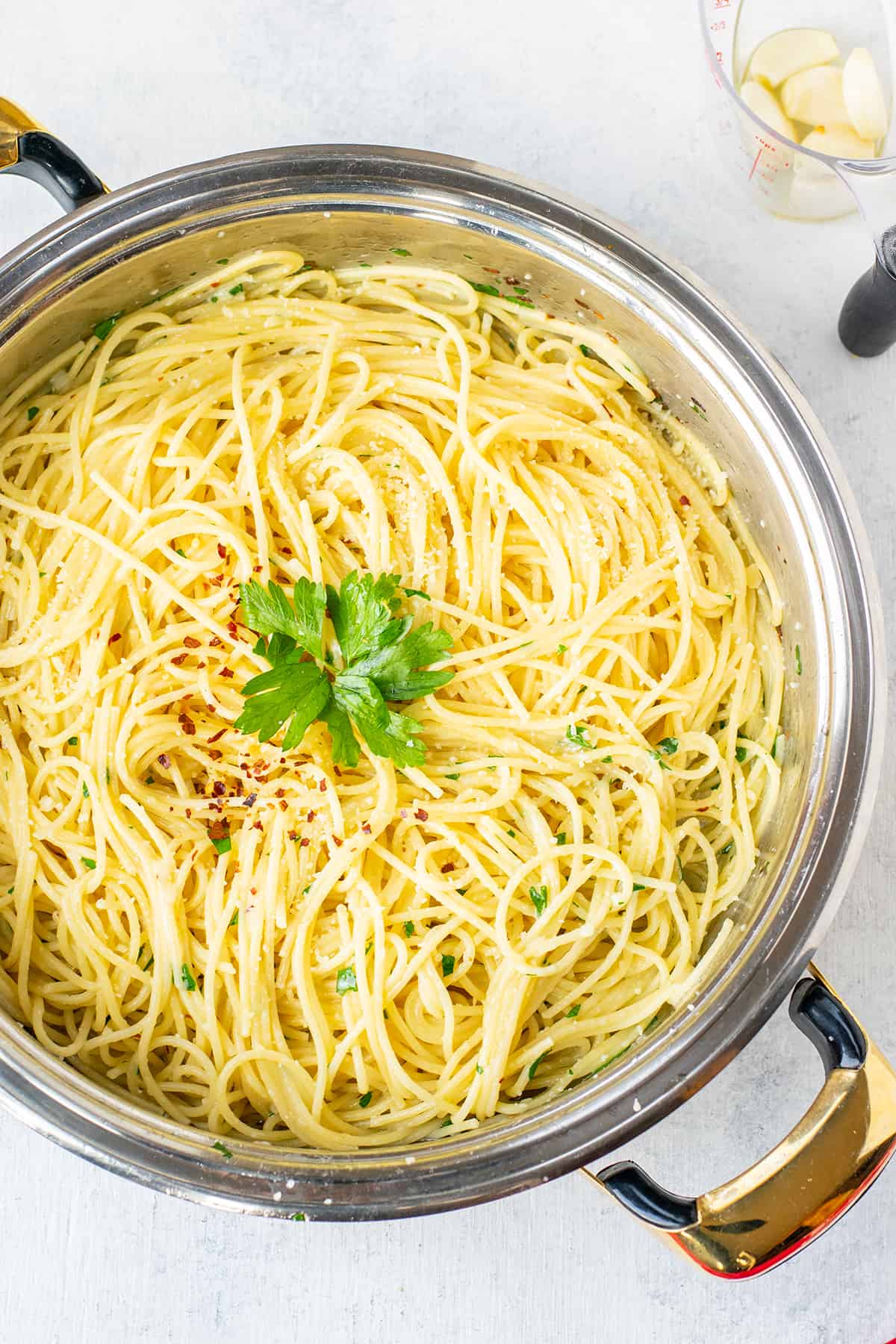 Recipe tips
For the perfect amount of garlic flavor, sauté sliced garlic in the oil on low for five minutes, then remove the garlic with a slotted spoon. This will give you delicious, garlic-infused oil that's not overwhelmingly strong.
Save the lightly cooked garlic slices for anyone who wants to add some to his or her serving. My hubby loves tossing them into his pasta, but I'd rather not!
Wait until the pasta is nearly done cooking before scooping out some water to reserve. You'll need that extra-starchy water to help emulsify the aglio e oligo sauce and coat the pasta beautifully.
How to prevent bland aglio e olio
There are two keys to making pasta aglio e olio more tasty. The first is salt.
You need to salt the cooking water for the pasta, plus add a little salt to the garlic and oil sauce. Adding some Parmesan cheese to the spaghetti also provides salty flavor.
Second, the oil needs to be infused with enough garlic flavor. Cooking sliced garlic in the oil for just five minutes on low works faster than using whole cloves.
When I tested this using whole cloves, I found the pasta tasted bland because I wasn't cooking the garlic long enough to provide adequate flavor. Smashing the garlic cloves before cooking them would be better than leaving them intact.
What to serve with aglio e olio
Folks, this is a delicious meal all by itself. But if you want to add some protein, you can make seafood aglio olio and take this dish to the next level!
I highly recommend adding breaded scallops. You can use the method from these easy bay scallops or these broiled scallops. Just add some onto each serving of Pasta with Garlic and Oil and serve with lemon wedges.
Of course, shrimp with garlic and lime would be delicious atop this spaghetti. And don't forget Chicken Marsala!
For side dishes, consider the best Italian salad or these marinated carrots. And...wait for it...you have to dip some crusty Italian bread into that garlic oil!
Keep in mind, if you have leftover pasta, you can make Fried Spaghetti Frittata!
More pasta recipes to love
Enjoy!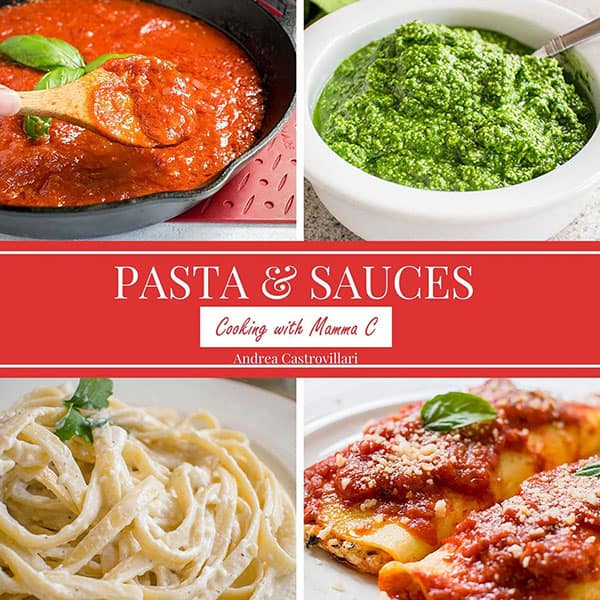 E-Cookbook!
With my Pasta & Sauces collection, even a beginner can cook like an Italian nonna!
If you try this Pasta with Garlic and Oil, please leave a comment and a rating!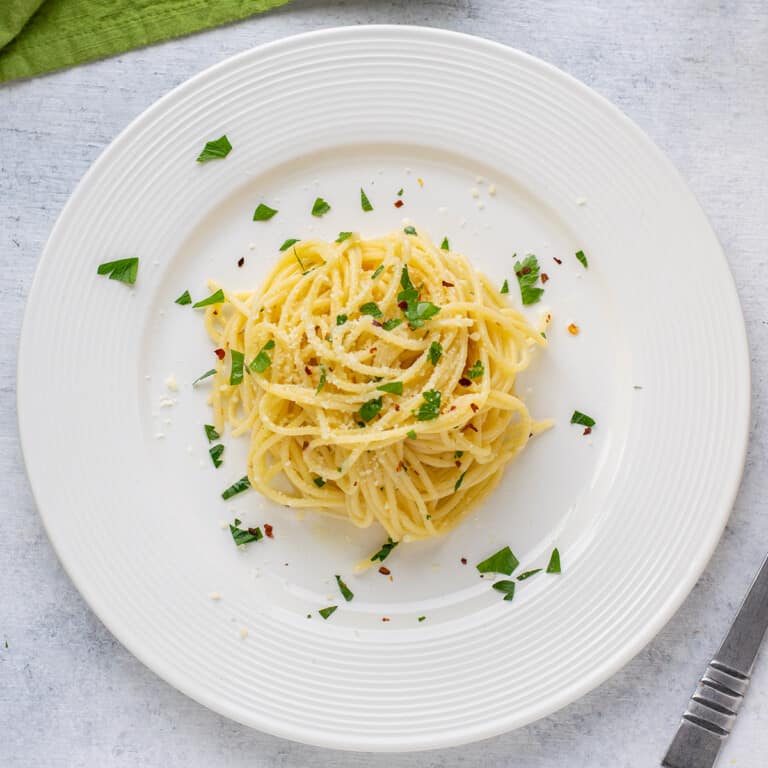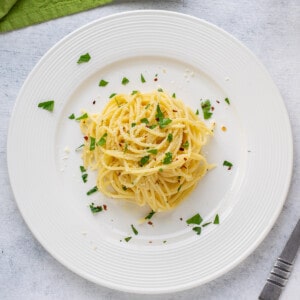 Pasta with Garlic and Oil (Aglio e Olio)
You can make spaghetti aglio e olio in 20 minutes! You'll love this easy pasta recipe from Naples.
Print
Pin
Rate
Save
Go to Collections
Ingredients
1

pound

spaghetti

(or linguine, bucatini, or fettuccine)

¾

cup

olive oil

6

cloves

garlic

(medium-to-large)

½

teaspoon

red pepper flakes

¼

teaspoon

salt

½

cup

starchy cooking water

(from the pasta pot)

⅓

cup

freshly grated Parmesan cheese

(plus extra for serving)

2

tablespoons

chopped fresh parsley
Instructions
Fill a pasta pot ⅔ full with hot water and place it on the stove. Add two teaspoons of salt. Cover the pot and heat it on high to let it come to a boil.

While the water is heating, peel the garlic and slice it about ¼-inch thick. Get rid of any green shoots so the garlic isn't bitter.

When the water is boiling, sitr in the pasta so it's fully submerged. Cook, uncovered, stirring occasionally, until al dente. When the pasta is almost fully cooked, scoop out 1 cup (2 standard ladles) of the starchy cooking water and place it in a bowl to use later.

While the pasta is cooking, in a 12-inch skillet, heat the olive oil on low. Stir in the red pepper flakes and ¼ teaspoon salt. Add the garlic slices and cook on low for five minutes, just until it starts sizzling. Turn off the heat and use a slotted spoon to remove the garlic to a little bowl to save for serving.

Rinse and pat dry a handful of parsely and chop the leaves until you have two tablespoons. Grate the Parmesan if needed. (I use my blender.)

When the pasta is cooked (and you've saved some of the starchy water) drain the spaghetti in a colander in the sink. Heat the pan of garlic-infused oil on low and carefully transfer the pasta to the pan of oil. Stir and toss the pasta to coat it with the oil. Turn off the heat. Stir in ½ cup (1 standard ladle) of the reserved starchy cooking water. (Save the rest of the water for any leftover pasta.)

Add the grated Parmesan and chopped parsley and stir to combine.

Serve with extra Parmesan. Anyone who wants extra garlic can add a few of the cooked garlic slices.

If there is pasta left over, stir in some of the reserved starchy water as needed, so the pasta won't be dry. Refrigerate leftover pasta in a sealed container for up to four days. Stir well before reheating.
Notes
Be sure to cook the garlic and oil over low heat, so the garlic doesn't burn. Removing the garlic slices after five minutes of cooking will provide you with a delicious, garlic-infused oil without it being overwhelmingly strong. 
Wait until the pasta is almost cooked to scoop out and reserve some of the starchy water. The extra-starchy water will help create a better emulsion when you add some of it to the cooked pasta in oil.
The displayed calories correspond to dividing this into four generous servings. If you divide the pasta into six smaller servings, there will be fewer calories in each.
Nutrition
Calories:
822
kcal
|
Carbohydrates:
87
g
|
Protein:
18
g
|
Fat:
45
g
|
Saturated Fat:
7
g
|
Polyunsaturated Fat:
5
g
|
Monounsaturated Fat:
30
g
|
Cholesterol:
7
mg
|
Sodium:
350
mg
|
Potassium:
303
mg
|
Fiber:
4
g
|
Sugar:
3
g
|
Vitamin A:
315
IU
|
Vitamin C:
4
mg
|
Calcium:
110
mg
|
Iron:
2
mg
(Recipe Source: Cooking with Mamma C)