Pasta with Pecorino and Pepper (Cacio e Pepe) hails from Rome and delivers big flavor in 25 minutes. A zesty, cheesy pasta dish with just five ingredients (including the cooking water used in the sauce)!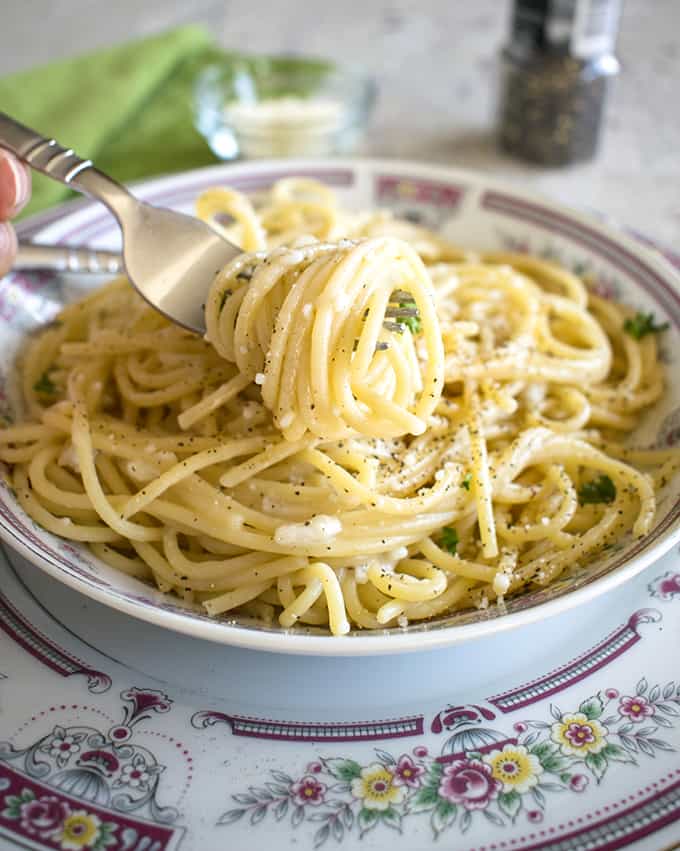 This is the pasta dish you didn't realize was missing from your life. And once you experience its delicious, brilliant simplicity, you'll know you'll be making it again and again.
For me, pasta with Pecorino and pepper is a combination of something old and something new.
I grew up eating pasta with butter and Parmesan cheese, and that's the first dish I taught my kids to cook, as soon as they were tall enough to use the stove. (My son was eight when he reached that milestone; my daughter was eleven.)
So, there's something familiar about Cacio e Pepe, which hails from Rome. But Pecorino Romano, made from sheep's milk, packs a more intense, zesty punch than Parmesan.
And the pepper here ("cacio" refers to the cheese, and "pepe" means pepper), only adds to that punch.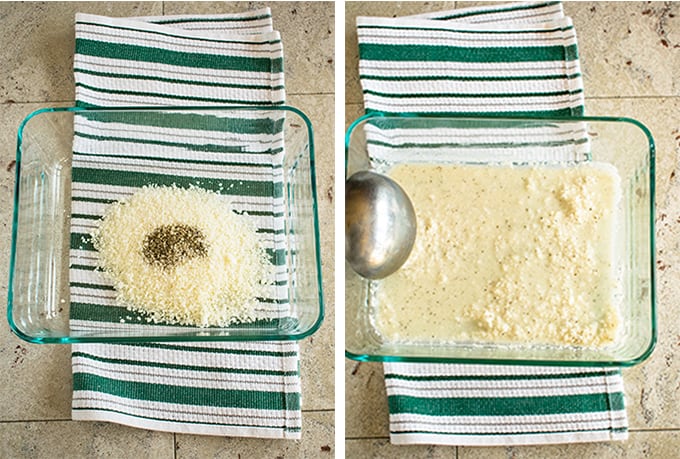 But I had to reduce the traditional tablespoon of pepper down to ⅔ of a teaspoon for a pound of pasta. (The ingredients shown above are for half a pound of spaghetti.)
The pepper provides just enough zing without making my eyes water. Heat seekers, like my hubby, can always add more to theirs.
The other (surprising) difference is...there's no butter in authentic Cacio e Pepe. A little of the starchy water from cooking the pasta is gradually stirred into a bowl of grated Pecorino and pepper, until a sauce forms.
Then, the pasta gets mixed into the bowl with the sauce.
That's it.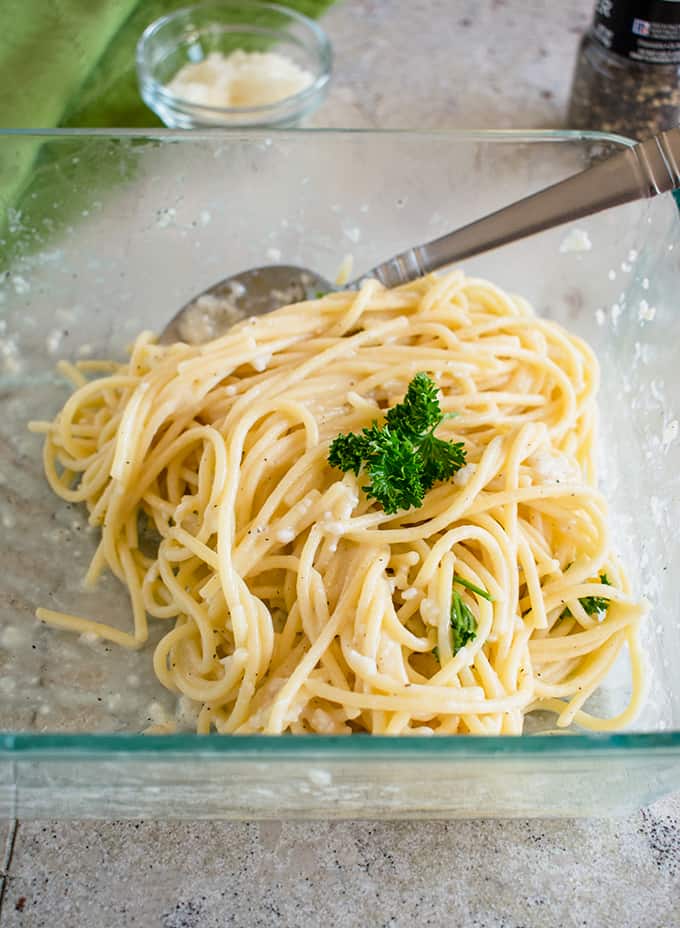 But don't be tempted to skip the bowl and mix everything in your pot on the stove. The heat will cause the Pecorino Romano to clump and harden into huge gobs instead of coating your pasta in a velvety sauce.
I learned that the hard way, during several rounds of testing. I also realized the amount of reserved pasta water you add can make or break this recipe.
I'm providing an exact measurement in the recipe to spare you watery results from being overzealous with your ladle.
But I do recommend saving extra pasta water to add a tiny bit more if there's any delay in eating. This is one dish best consumed immediately, before it gets dry.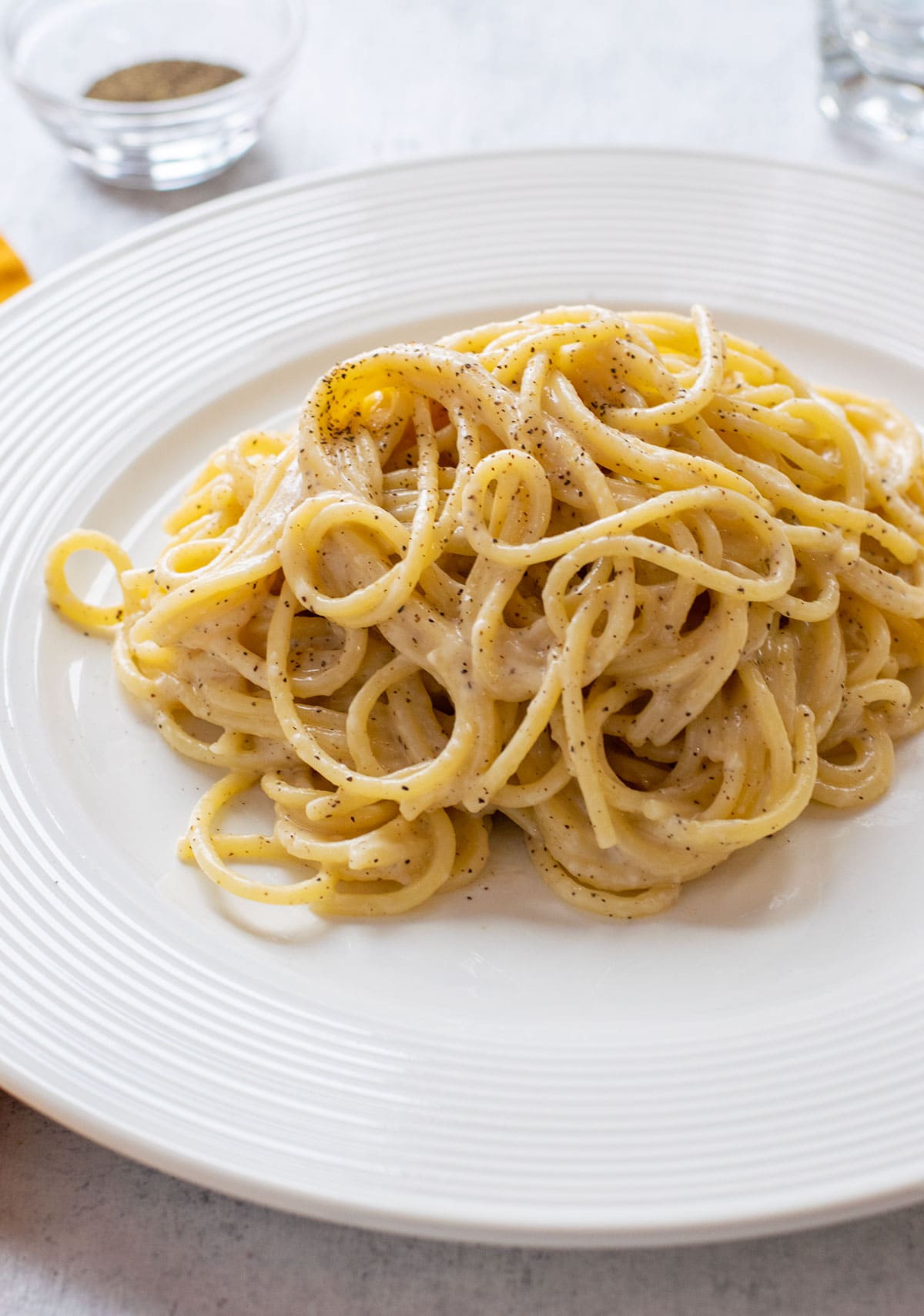 Now that you know the secrets to success, this recipe will be a cinch for you! Go, make some pasta with Pecorino and pepper.
It's great with spaghetti No. 4, (not to be confused with Chanel No. 5). But it works well with linguine or farfalle too.
I'll take the aroma of freshly cooked pasta over perfume any day.
More pasta recipes
If cheesy pasta is your jam, check out my Pasta with Peas, Fettuccine Carbonara with Pancetta, my Penne alla Vodka, or my Linguine with Creamy Walnut Sauce. And, don't miss this simple Spaghetti Aglio e Olio recipe.
Serve the pasta with The Best Italian Green Salad with Homemade Dressing, and you've got a quick, easy and delicious meal.
Enjoy!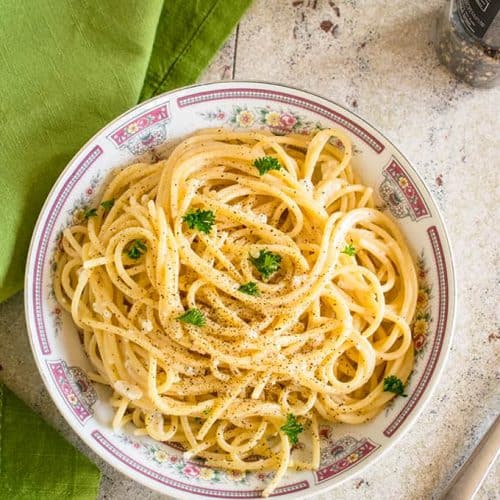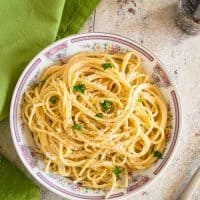 Ingredients
1 ½

cups

finely grated Pecorino Romano cheese

⅔

teaspoon

black pepper

(or more to taste)

¾

cup

reserved salted water from cooking your pasta

(plus 1 extra cup if needed)

1

pound

spaghetti

(or linguine or farfalle)

parsley for garnish

(optional)
Instructions
Fill a large pasta pot ⅔ full with hot water. Place the pot on your stove over high heat. Add 1 ½ teaspoons salt and cover the pot.

Grate your Pecorino, if needed. (I grate chunks of the cheese in my blender.)

Add your grated cheese and the black pepper to a stainess steel or glass bowl large enough to fit your cooked pasta. Stir the cheese and pepper to combine.

When the water comes to a boil, add your pasta to the pot, stirring it in. Stir your pasta every few minutes to prevent sticking.

After your pasta has been cooking for at least five minutes, scoop out ½ cup of the cooking water (a standard ladle) and slowly, gradually add it to your cheese mixture, while whisking to combine. This is important for the right consistency. Scoop ¼ cup more (half a ladle) and slowly add it to the cheese while stirring. You want the mixture to be creamy, not watery.

Place an extra cup of cooking water in a separate, small bowl just in case you need it a little later.

When your pasta is cooked (see the al dente directions on your package and taste the pasta a little before that to see if it's done), drain your pasta in a colander in the sink.

Transfer the cooked pasta to your large bowl with the Pecorino and pepper sauce. (This is important. Do not mix everything in your cooking pot, because the cheese will become clumpy.) Toss the pasta in the Cacio e Pepe sauce in the bowl until the spaghetti is coated well. If the pasta seems dry, add a bit more of the reserved water.

Serve the pasta immediately, garnished with parsley, if desired, and with extra pepper and cheese at the table.

If you have any leftovers, add extra reserved water to them to prevent them from being too dry. (See notes.) Store leftovers in the refrigerator for up to four days.
Notes
It's important to use a bowl to combine the pasta with the cheese sauce. Don't mix everything in your pot on the stove, because there will be too much heat, and it will cause the Pecorino Romano to clump and harden into huge gobs. Use a stainless steel or glass bowl, because it will retain some heat that's needed to help make a smoother sauce.

This dish is best eaten immediately, or it will start to get dry. If there is any delay in serving anyone, you can stir in a little extra reserved cooking water to that portion. The leftovers will be dry, so you can add some of the pasta water before storing them, but you still might need to add butter or oil when warming them up later.
Nutrition
Calories:
378
kcal
|
Carbohydrates:
58
g
|
Protein:
18
g
|
Fat:
8
g
|
Saturated Fat:
4
g
|
Polyunsaturated Fat:
1
g
|
Monounsaturated Fat:
2
g
|
Cholesterol:
26
mg
|
Sodium:
306
mg
|
Potassium:
193
mg
|
Fiber:
2
g
|
Sugar:
2
g
|
Vitamin A:
105
IU
|
Calcium:
284
mg
|
Iron:
1
mg
(Recipe Source: Adapted from La Cucina, The Regional Cooking of Italy [that's my affiliate link] - I doubled the cheese, reduced the pepper by more than two thirds and specified an amount of pasta water to mix in.)