Fettuccine Carbonara with Pancetta can be on your table in 25 minutes! Beaten eggs, pancetta (or bacon) Parmesan, Romano and shallots make a delicious carbonara sauce without cream. You have to try this!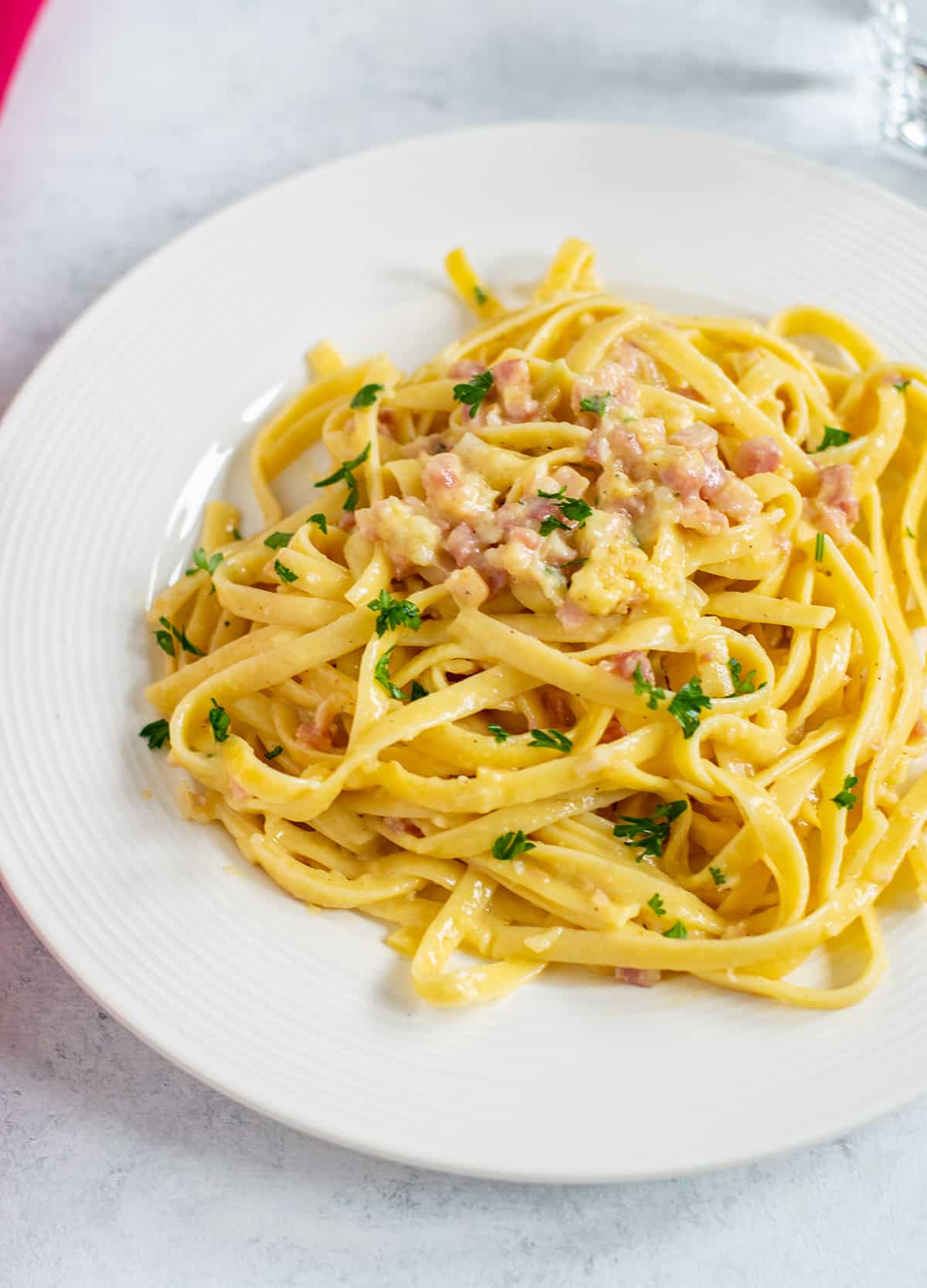 Get ready for one of the best pasta dishes of your life! My family could eat this Fettuccine Carbonara with Pancetta every day.
Good thing it takes less than 30 minutes to make!
What's carbonara?
Italian carbonara typically consists of pasta with beaten eggs, cured pork, Parmesan and Pecorino Romano cheeses, and black pepper. Unlike American versions, there is no cream.
Pasta alla carbonara usually is associated with Rome, although it has ties to Naples as well. (Of course!)
My version of this dish has a velvety texture thanks to the butter and eggs, a meaty, salty pork accent from the pancetta, plus savory goodness from shallots and grated cheese.
It'll make you throw caution to the wind and grab seconds. You know that's what I do!
Carbonara ingredients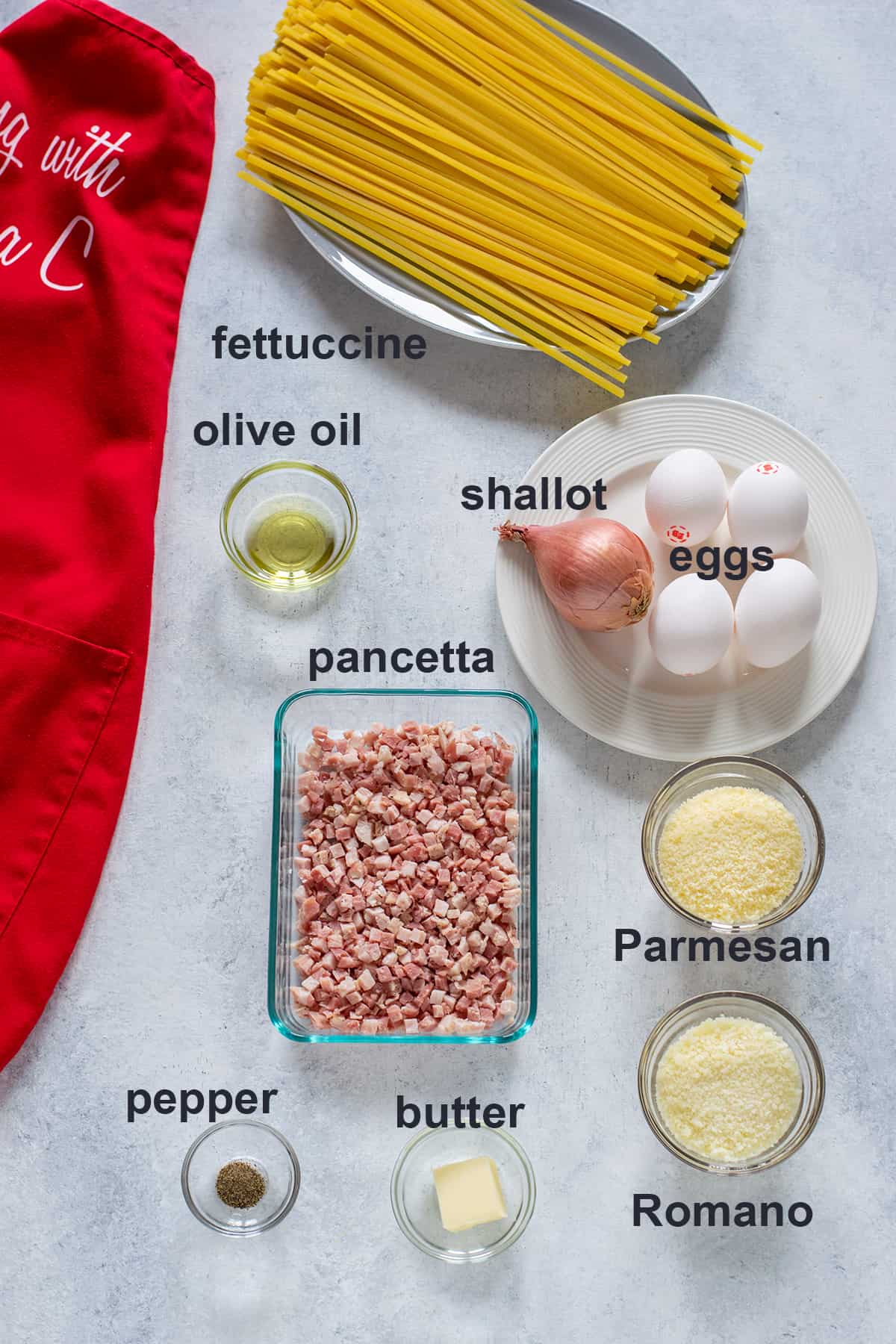 Fettuccine: This is the best pasta for carbonara in my opinion! I prefer it to spaghetti or linguine here, because it has a wider surface for the creamy carbonara sauce, and it still twirls nicely. Plus, it won't get soft if there are leftovers.
But you could use bucatini or a medium pasta like penne or rigatoni. You can even make tortellini carbonara.
Pancetta: Authentic pasta carbonara includes either guanciale or pancetta. Guanciale is cured meat from pork cheek and is difficult to find in America. Pancetta is salt-cured pork belly and is often called "Italian bacon."
Look for cubed pancetta (such as the Citterio brand) at the grocery store in the refrigerated section near the deli and imported cheeses. You also can purchase thick slices of pancetta from the deli and dice it yourself.
Bacon: You can use bacon instead of pancetta, and I've included directions for that in the recipe card below. Note that I don't care for the taste or texture of bacon grease in my food, so I recommend cooking the bacon in the microwave to avoid that.
If you want to make carbonara without bacon or any meat, you can try adding a bit of Liquid Smoke (affiliate link) to create a smoky flavor.
Shallots: If you've visited Cooking with Mamma C before, you know I love to use shallots in recipes like White Wine Clam Sauce for Pasta.
Shallots taste like a cross between onion and garlic and practically melt in your mouth when cooked down. They provide delicious, savory flavor without being too strong.
Cheeses: We're using equal parts of freshly grated Parmesan and Pecorino Romano here. Pecorino is made from sheep's milk and brings a salty accent. This is the same combination we use in Pasta e Piselli (Peas).
Don't use grated cheese from a can, or it will make the carbonara sauce grainy.
Eggs: This recipe calls for four extra-large eggs. Mom always makes carbonara with whole eggs, and so do I. There's no need to add extra yolks.
How to make fettuccine carbonara
See the card at the end of this post for the full recipe, but here's an overview.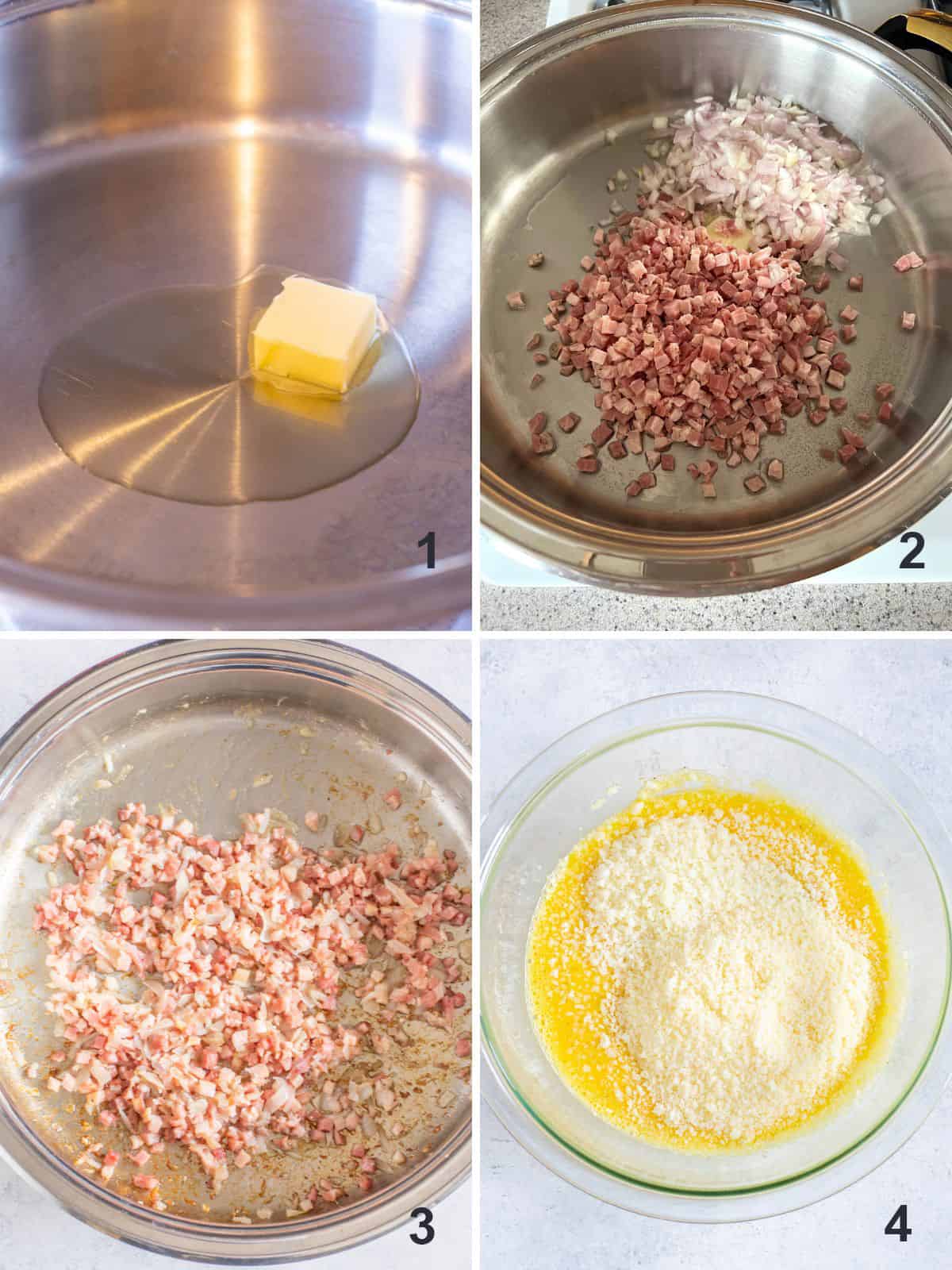 Heat the butter and olive oil in a 12-inch skillet (affiliate link).
Add the chopped shallots and cubed pancetta.
Cook, stirring occasionally for about six minutes.
Beat the eggs and whisk in pepper, Parmesan and Pecorino Romano.
Transfer cooked and drained fettuccine to the pan with the pancetta and shallots. Pour in the egg mixture and a little reserved pasta water and stir over low heat to combine.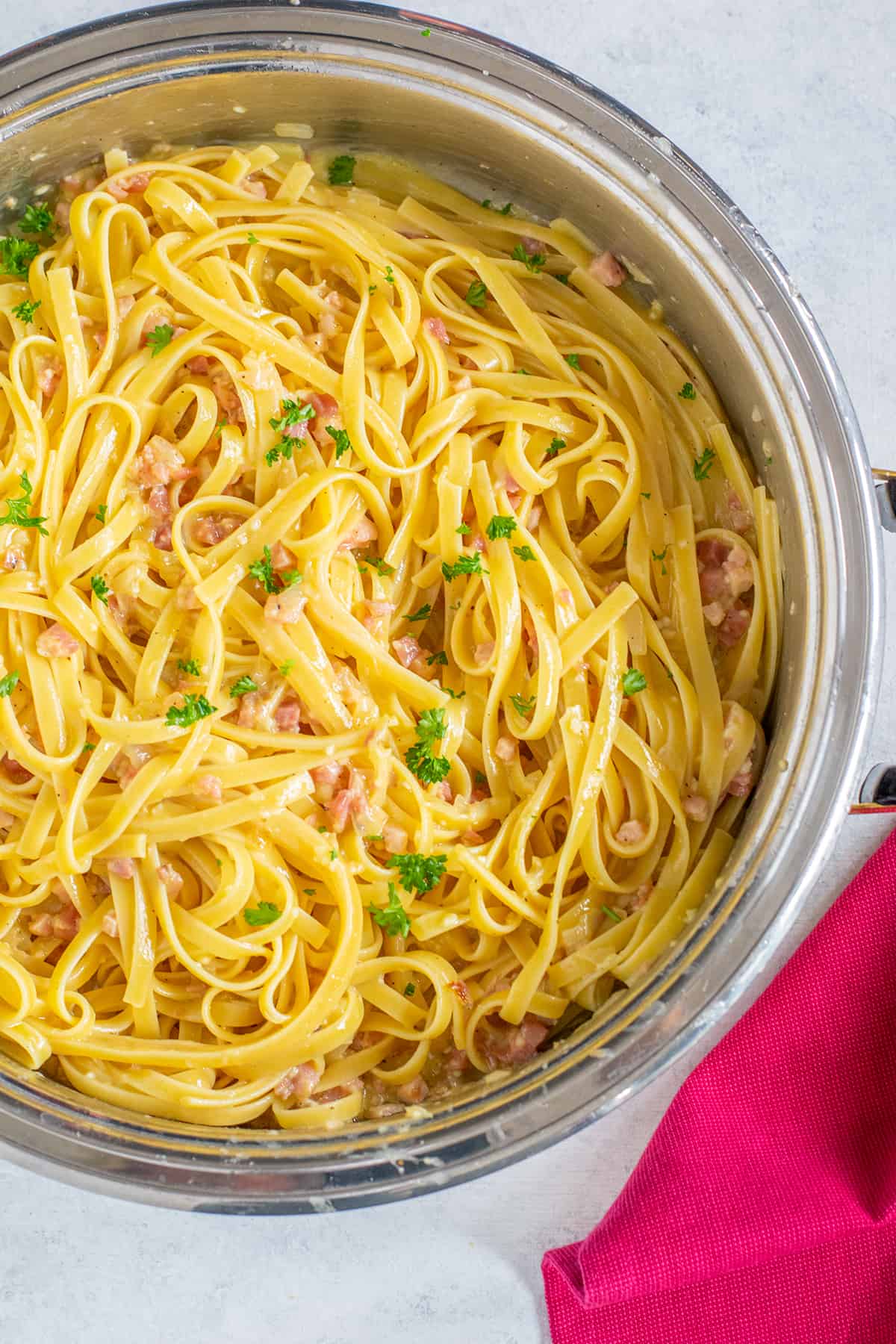 Recipe tips
Make sure to scoop out and reserve two ladles of cooking water after the pasta has been cooking for a few minutes. You'll add some of the starchy water to the fettuccine carbonara to help make the sauce more creamy and allow it to cling to the pasta better. You can pour the rest of the starchy water into any leftovers.
Fettuccine carbonara is delicious with peas! You can add eight ounces of frozen baby peas to the pan when you're cooking the pancetta and shallots.
What to serve with it
This is a quick dish, so I recommend keeping any sides simple and fast too. Pair it with The Best Italian Green Salad or wilted spinach and garlic for a fabulous meal.
What to do with extra pancetta
If you buy two, four-ounce containers of cubed pancetta for this recipe, you'll have two ounces left over. (I found it overpowering to use any more than six ounces of pancetta here.)
You can use the leftover pancetta in scrambled eggs, an omelette or Spaghetti Frittata. You also can use it for Sautéed Italian Peas or this Spinach Salad with Mandarin Oranges.
Frequently asked questions
Is carbonara safe?
Traditional pasta carbonara often involves stirring raw, beaten eggs into hot, cooked pasta without using heat from the stove. A study cited in Food Poisoning Bulletin showed this method doesn't kill all of the bacteria that could be present in eggs.

My recipe calls for a safer preparation of the eggs by heating the fettuccine carbonara on low for a couple of minutes or so while tossing the pasta with the egg mixture. This allows the eggs to thicken and reach a safe temperature while still coating the pasta with a creamy sauce.
How do you reheat Fettuccine Carbonara?
It's best to eat Carbonara pasta immediately, because it tends to dry out quickly. But leftovers are decent if you add some starchy cooking water to them before storing them in the refrigerator.

To reheat fettuccine carbonara, place it on a microwave-safe dish with a pat of butter. Cover loosely with wax paper and heat on high power for a minute or so, just until the pasta is heated and the butter melts.

To reheat pasta carbonara without a microwave, you can place a little butter or olive oil in a pan on the stove over medium-high heat. Add the pasta and stir to coat. Heat it for five minutes, stirring and tossing frequently.
More recipes like this
Enjoy!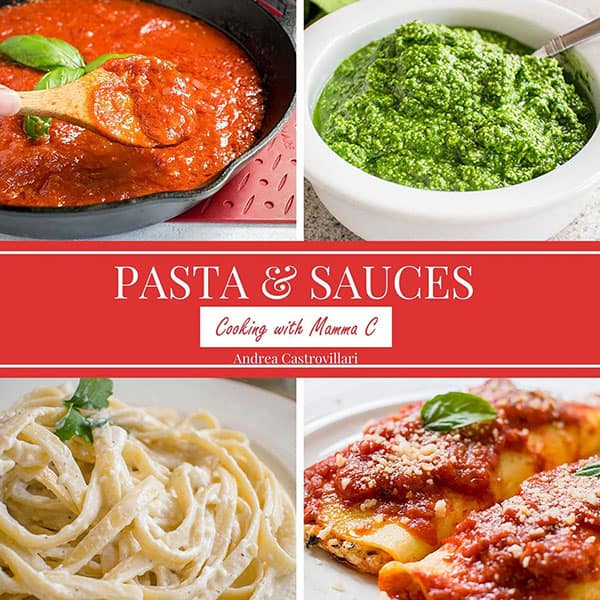 E-Cookbook!
With my Pasta & Sauces collection, even a beginner can cook like an Italian nonna!
If you try this Fettuccine Carbonara recipe, please leave a comment and a rating!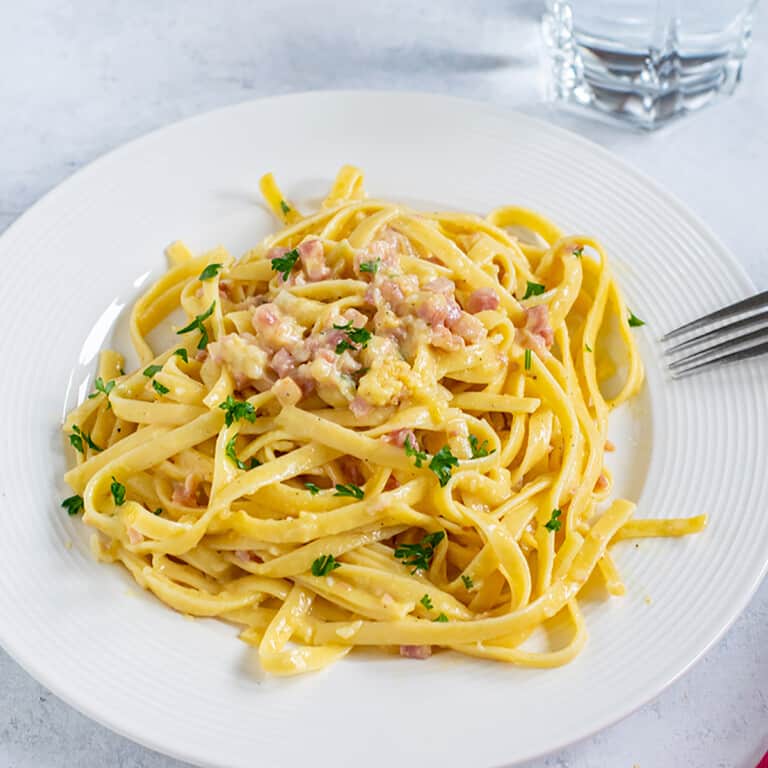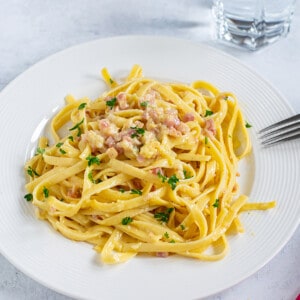 Fettuccine Carbonara with Pancetta
Fettuccine Carbonara with Pancetta can be on your table in under 25 minutes! You can use bacon instead of the pancetta, and you don't need any cream!
Print
Pin
Rate
Save
Go to Collections
Ingredients
1

tablespoon

salted butter

1

tablespoon

olive oil

1

large shallot

(See notes.)

6

ounces

cubed pancetta

(Or 6 strips of lean bacon. See notes.)

4

extra-large eggs

¼

teaspoon

black pepper

½

cup

grated Parmesan cheese

½

cup

grated Romano cheese

1

pound

fettuccine

(or spaghetti, bucatini, rigatoni, etc.)

1

cup

reserved water from cooking pasta
Instructions
Fill a large pasta pot ⅔ full with hot water. Add in 2 teaspoons of salt, cover the pot, and heat on high on your stove.

(See the notes if you are using bacon instead of pancetta.)

Peel and chop the entire shallot. In a 12-inch skillet, add the butter and olive oil and heat the pan on medium-high to melt the butter.

Add the shallots and cubed pancetta to the pan and lower the heat to medium. Stir the shallots and pancetta to coat them with the butter and oil, then let them cook for about six minutes, stirring occasionally, until the shallots are soft and the pancetta has started to brown. Turn off the heat.

When the water on the stove is boiling, add the pasta, stir it in, and lower the heat to medium-high. Leave the pot uncovered and stir it occasionally to prevent sticking. After a few minutes, scoop out a couple of ladles of pasta water into a bowl to use for later.

Grate the Parmesan and Romano if needed. (I use my blender.) In a small mixing bowl, crack the eggs and use a whisk to beat them. Whisk in the black pepper, then the grated Parmesan and Romano.

When the pasta seems like it needs another minute to be al dente, turn off the heat and drain the pasta in a colander in the sink.

Transfer the drained pasta to the pan of shallots and pancetta on the stove and stir and toss to combine. Turn the heat on low, then add the egg mixture and half a ladle (¼ cup) of reserved cooking water. Continue stirring and tossing the pasta to allow the egg mixture to come to a safe temperature. When the eggs start to thicken (after a couple of minutes or so), turn off the heat.

Serve immediately, with extra Parmesan if desired. If the pasta seems dry, you can add more reserved pasta water.

If there are leftovers, stir in extra pasta water to them and store the fettuccine carbonara in the refrigerator for up to four days. Add a little butter or olive oil to each serving when reheating in the microwave.
Notes
Shallots look like small, brown onions. When you peel one, you will usually find two purplish bulbs inside. Use both of them.
I buy Citterio cubed pancetta at the grocery store in the refrigerated section near the deli. If you can't find it, buy pancetta at the deli and dice it yourself.
Using Bacon Inestead of Pancetta
When you're starting the recipe, make the bacon first. I don't care for bacon grease in my food, so I recommend cooking the bacon in the microwave instead of a pan.

Line a dinner plate with two paper towels. Place six strips of bacon on the paper towels and cover them with another paper towel.

Microwave the bacon for a couple of minutes, or until it is cooked through but not crispy. Dab the bacon with the top paper towel to absorb the grease. Cut the bacon into pieces with kitchen scissors or a knife. 

Proceed to make the shallots and pasta as directed. Add the bacon pieces to the fettuccine carbonara when you stir in the egg mixture.
Nutrition
Calories:
558
kcal
|
Carbohydrates:
57
g
|
Protein:
23
g
|
Fat:
26
g
|
Saturated Fat:
10
g
|
Polyunsaturated Fat:
4
g
|
Monounsaturated Fat:
10
g
|
Trans Fat:
0.2
g
|
Cholesterol:
212
mg
|
Sodium:
509
mg
|
Potassium:
319
mg
|
Fiber:
3
g
|
Sugar:
2
g
|
Vitamin A:
381
IU
|
Vitamin C:
0.3
mg
|
Calcium:
210
mg
|
Iron:
2
mg
(Recipe Source: Cooking with Mamma C. Originally published on July 6, 2016 and updated now with new photos and additional information, including the use of pancetta.)