You'll love this easy Garlic Alfredo Sauce! It's got a creamy, velvety texture and huge flavor from Parmesan and Romano. Try this Alfredo recipe with pasta, chicken or zoodles! Gluten free.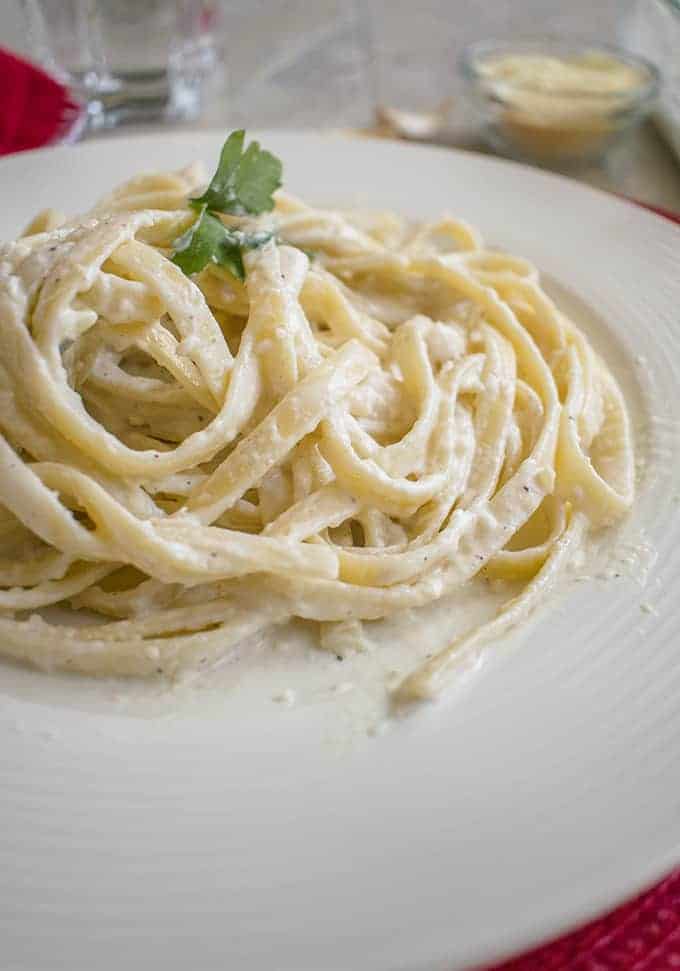 A few months ago, a reader asked if I have an Alfredo sauce recipe. I told her I didn't but would add it to my list.
It kind of fell to the back burner, though, as I got busy with the holidays, work and a ridiculous number of medical appointments (mostly for my back).
Then, my son recently told me he uses jarred Alfredo sauce.
GASP! It's processed! I lectured him about all the sodium and Lord-knows-what-else in there.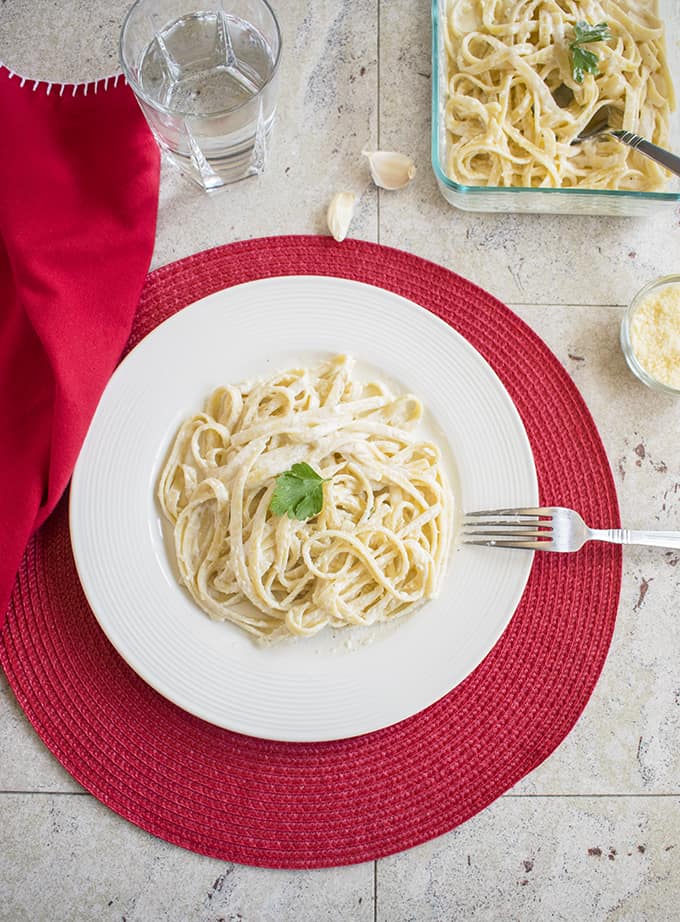 "Well, you don't have homemade Alfredo sauce on your blog!" he retorted.
That was all it took.
I might be a food blogger, editor, writer and 20 other things. But mothering is my first order of business.
When my kids need me, I'll drop everything. Especially since they don't live at home anymore. (Tito, get me a tissue!)
Well, look what Mamma's got now. I texted my son this Garlic Alfredo Sauce recipe as soon as I nailed it.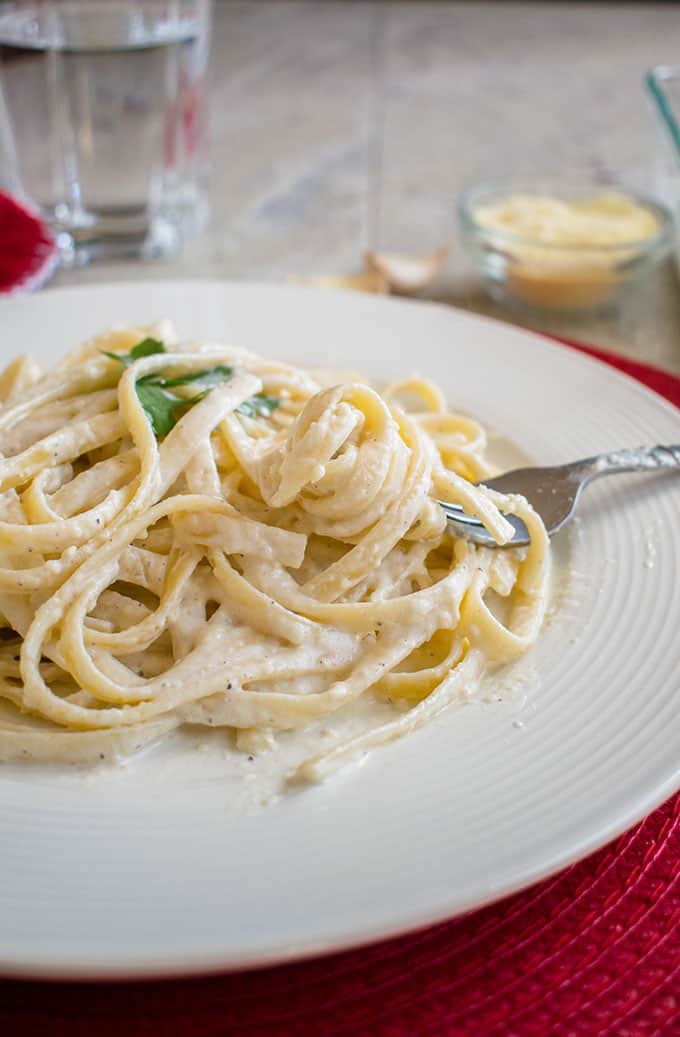 And today, I'm sharing that motherly love with you. My homemade Alfredo sauce is so much better than store-bought.
It's definitely rich, but there are just five simple ingredients, plus salt and pepper. I'm talking cream, a touch of butter, a little pressed garlic (affiliate link), and equal parts Parmesan and Romano cheeses for the best flavor and a creamy, velvety texture.
That texture.is.everything. And the sauce is gluten free.
I tried many times using half and half instead of cream in this recipe. The flavor was good, but the texture was lacking.
So, I finally bit the bullet and went for the cream. My hubby and I inhaled our fettuccine Alfredo.
Then, we ate diet food for the rest of the day. It was worth it!
What to serve with Garlic Alfredo Sauce
Pasta
Zucchini noodles (zoodles)
Chicken.
It's delicious with spinach mixed in too. And, I even made a pumpkin version! You have to try this Alfredo Pumpkin Pasta.
Enjoy!
P.S. If you love cheesy pasta dishes, check out my Linguine with Creamy Walnut Sauce, Italian Mac and Cheese, Cacio e Pepe or Penne alla Vodka with Bacon.
(Recipe Source: Cooking with Mamma C)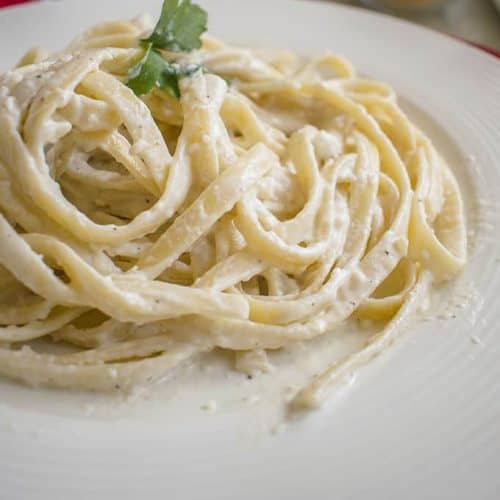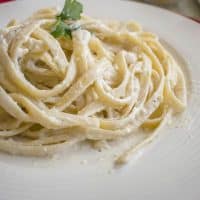 Ingredients
2

tablespoons

salted butter

2

large garlic cloves

2

cups

heavy whipping cream

½

teaspoon

black pepper

¼

teaspoon

salt

½

cup

freshly grated Parmesan cheese

plus extra for serving
Instructions
Melt your butter in a 2-quart sauce pan over medium-high heat. Press your garlic and add it to the melted butter, stirring a bit. Let it cook for 30 seconds, being careful not to let the garlic burn.

Lower the heat to medium and stir the cream into your garlic mixture. Add your salt and pepper and stir to combine.

Let the cream come to a low boil, while stirring frequently.

Then lower the heat and let the pot simmer, stirring frequently, for 8-10 minutes, or until the cream thickens. It should be thick enough to coat the back of a spoon.

Turn off the heat and move your Alfredo pot to a cool burner. Gradually stir in your fresh Parmesan and Romano.

Place the pot over low heat and stir until the sauce is thickened further. It is done when you push your spoon along the bottom of the pan and can see the bottom of the pan. It will take a few minutes.

The sauce will thicken even more as it sits.

Store leftovers in the refrigerator for up to four days.

Notes
It's important to use freshly grated Parmesan and Romano, so the cheese will melt smoothly. (Don't use the cheese sold in a can, or the sauce will be grainy.)
This sauce makes enough for one pound of pasta. You can easily cut the sauce recipe in half for 8 ounces of pasta. Note that your sauce will take less time to come to a boil and thicken.
To reheat leftover Alfredo pasta, drizzle on a little olive oil before microwaving it, so the pasta isn't dry.
Nutrition
Calories:
457
kcal
|
Carbohydrates:
3
g
|
Protein:
9
g
|
Fat:
45
g
|
Saturated Fat:
28
g
|
Cholesterol:
160
mg
|
Sodium:
498
mg
|
Potassium:
96
mg
|
Vitamin A:
1665
IU
|
Vitamin C:
0.9
mg
|
Calcium:
287
mg
|
Iron:
0.2
mg