You'll love this creamy Italian Mac and Cheese with cheddar, Parmesan, a hint of garlic and fresh basil! A delicious, stovetop meal ready in 25 minutes!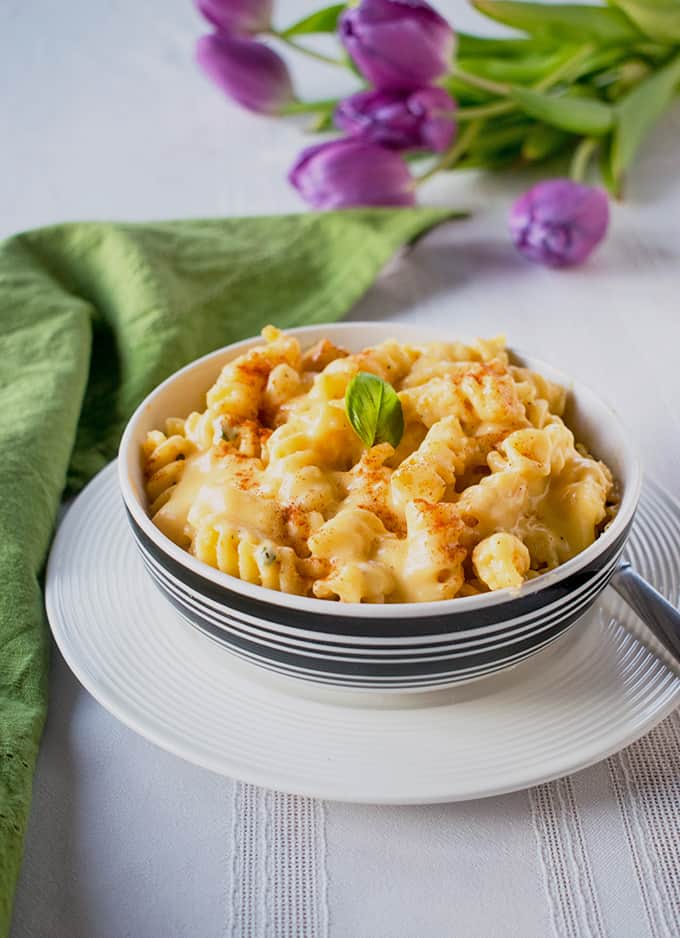 As of this week, I've been married to my hubby for exactly half of my life. That's 24 years of marriage, in case you're wondering.
And, if you're thinking I waltzed down the wedding aisle with all the cooking skills I possess today...hahaha!
No. Not even close.
I'm making up for it though. This Italian mac and cheese symbolizes how far I've come. Speaking of which, don't miss my other pasta recipes!
Speaking of which, it's time to tell you our "macaroni and cheese story." Also known as our "sewing class story." Yes, you read that right.
My hubby and I took a sewing class. Together. We were those newlyweds. I can't even.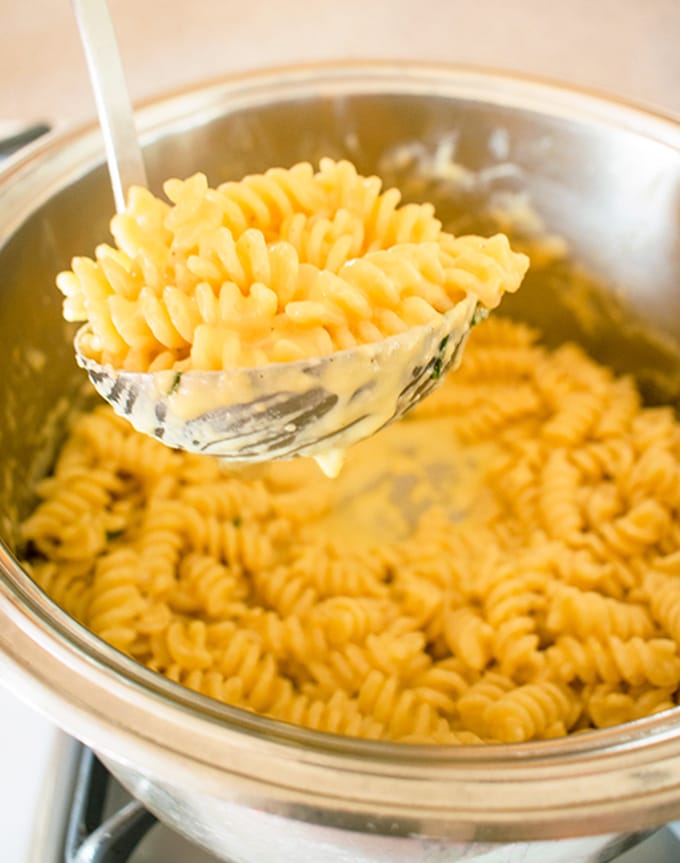 Every Thursday, my hubby would pick me up from work in his sleek, black Probe. We carpooled daily, of course.
We'd rush home to have a quick dinner before heading out to sewing class. I always made boxed macaroni and cheese on those nights. Except, I added paprika to the recipe. You could just tell I'd be a food blogger someday.
My mother-in-law used to be a seamstress, so my hubby knew his way around a sewing machine. Mom, on the other hand, used to read a book hidden on her lap during sewing class in Italy. I couldn't sew a button.
But, I had high hopes for this adventure! I'd bought royal blue (my favorite color!) fabric to make a lovely, sheath dress that was going to look fabulous on me in the warmer months. My hubby went with white cotton to make himself a long-sleeved, button-down shirt.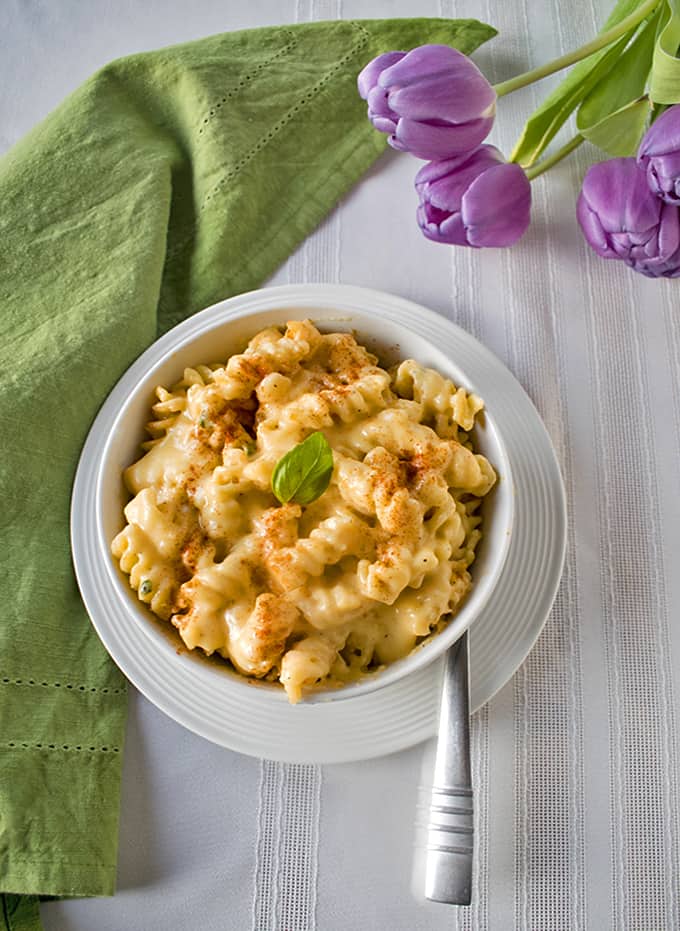 He was the only guy in the class. Of course, the female instructor and all the other ladies were so excited. They fawned over him at every opportunity.
"You're so lucky!" they told me. "He's so good at this!"
And he was. He was whipping out a perfectly tailored shirt like a pro.
Meanwhile, I was struggling with a pile of scraps dotted with the occasional wayward seam. Seriously, it was like a drunk had gotten hold of my sewing machine. I was mortified.
And, while we'd first stepped into that class all lovey dovey, I became annoyed as the weeks went by.
"Look at him, over there like Betsy Ross," I'd mutter under my breath, along with a few choice words. I began to dread going to class.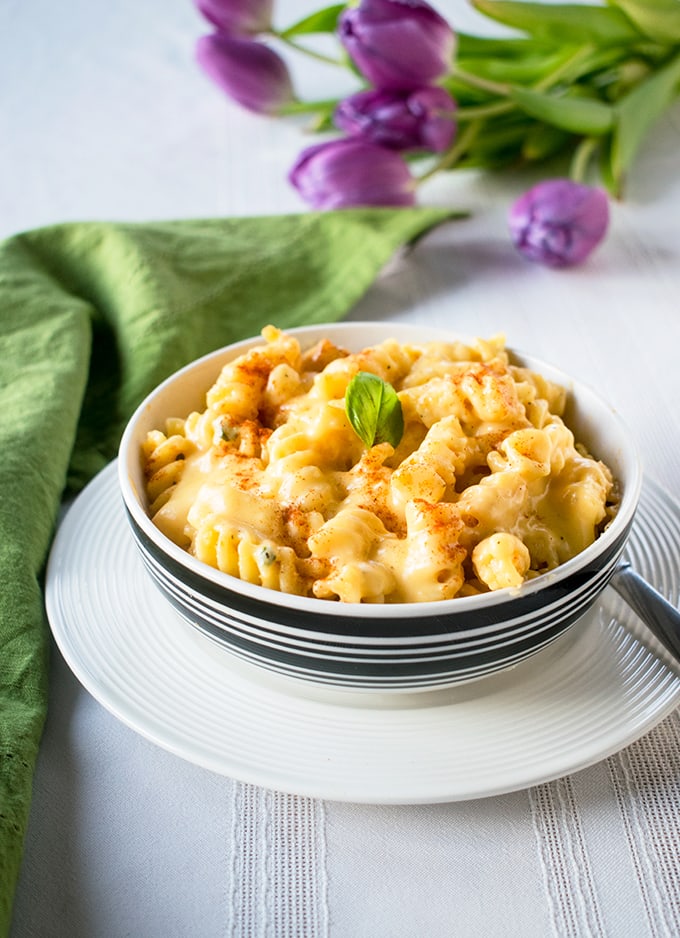 But then! I got the perfect excuse to cop out, I mean, stop working on my sewing project.
"I'm pregnant!" I announced to the class one evening. "And, since I'll be huge during the summer, there's no point in continuing to work on this dress."
I wanted to let my classmates down easily. After their initial congratulations, they stared at me in awkward silence.
But, I had every intention to finish that dress! At some point. I kept the royal blue material in a bag in our basement...for nine years.
I even brought that sack of my incompetence to our new house, where it mocked me from my closet each time I walked by. Meanwhile, my hubby kept his homemade shirt hanging front and center in his closet, so I couldn't help but notice it every day. Ugh!
Finally, my hubby exerted some tough love. He's good at that too.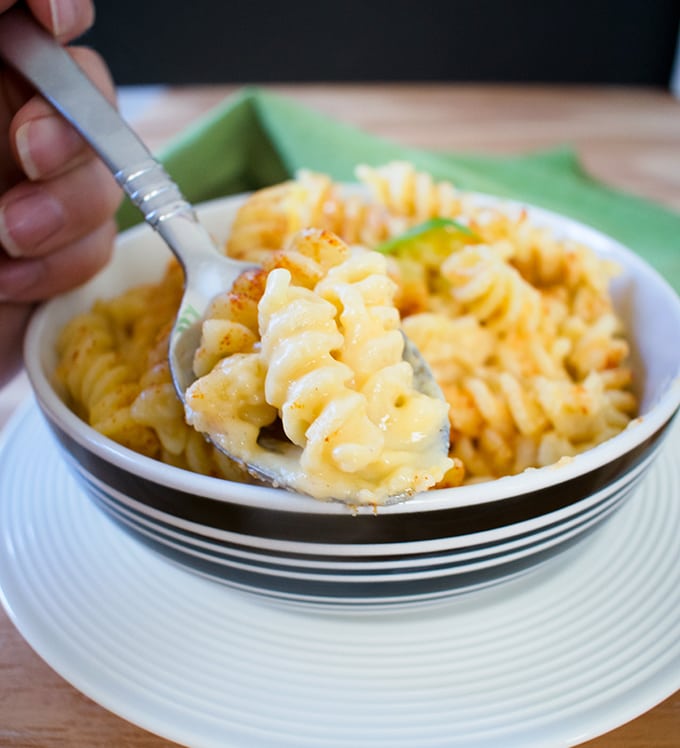 "Why don't you get rid of this bag?," he challenged me one day. "You know you're never going to do anything with it."
And, the once-proud competitor in me wanted to tell him he was wrong. But, the tired, working mom I'd become knew he was 100% right. I donated that material and felt such a weight lifted off me.
I'm good at some things. Sewing isn't one of them. (I still can't sew a button to save my life. And, I've been known to MacGyver a fallen hem with staples and masking tape.)
But, you guys, I can cook. Over the years, I graduated from boxed macaroni and cheese to this creamy Italian mac and cheese with cheddar, Parmesan, hints of garlic and basil. It's so delicious, and ready in 25 minutes.
And guess what? My hubby had to get rid of his obnoxiously perfect shirt.
It got tight on him.
Serve this mac and cheese with paprika sprinkled on top (trust me) and The Best Italian Green Salad with Homemade Dressing on the side for a great, meatless meal.
More pasta recipes to love
Enjoy!
(Recipe Source: Cooking with Mamma C)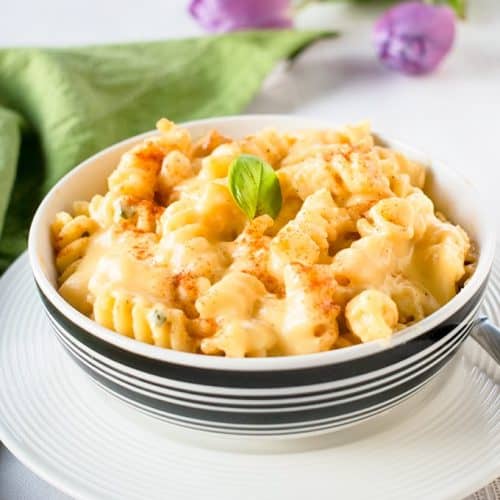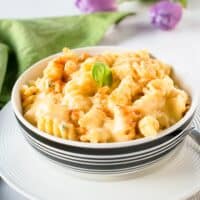 Italian Mac and Cheese (Stovetop)
A creamy Italian Mac and Cheese with cheddar, Parmesan, a hint of garlic and fresh basil! A delicious, stovetop meal ready in 25 minutes!
Print
Pin
Rate
Save
Go to Collections
Ingredients
1

pound

pasta

(rotini, elbows, or medium shells)

2

tablespoons

salted butter

2

tablespoons

all-purpose flour

1 ½

cups

2% or whole milk

6

ounces

sharp cheddar

½

cup

grated Parmesan

¼

teaspoon

salt

¼

teaspoon

black pepper

¼

teaspoon

garlic powder

4

large basil leaves

paprika for serving
Instructions
Fill a large pasta pot ⅔ full with hot water. Place your pot over high heat on your stove. Add a couple teaspoons of salt and cover the pot to let the water come to a boil.

While your pot is heating, shred the cheddar and grate your Parmesan, if needed, by placing a few chunks at a time in your blender. Set your cheese aside.

When your pot is boiling, add your pasta and give the pot a stir occasionally to prevent sticking. Cook your pasta until al dente (check it three minutes before the time listed on the package.)

When your pasta is cooked, drain it in a colander in the sink and leave it there while you make your cheese sauce.

In the same pot you used for the pasta, melt your butter over medium-high heat on your stove. Add in your flour and whisk to combine. Continue cooking and stirring the roux for about 90 seconds.

Add your milk to the roux, whisking constantly. Continue whisking until the milk thickens and becomes glossy. This should take 3-4 minutes.

Lower the heat and add in your cheeses gradually, stirring after each addition until combined.

Add your salt, pepper and garlic powder, stirring to combine. Cut up your basil leaves with kitchen scissors and add them to the cheese sauce. Turn off the heat.

Return your cooked pasta to your pot with the cheese sauce. Stir to combine.

Serve immediately for best results. Top with paprika, if desired. Store leftovers in the refrigerator for up to five days. Reheat leftovers in the microwave with a little milk added, so the mac and cheese isn't dry.
Notes
Sharp cheddar works well, as opposed to extra sharp, which is too strong for this dish.

Shredding/grating the cheeses yourself (instead of buying pre-shredded cheese or Parmesan in a can) ensures the cheeses will melt more smoothly and not make the cheese sauce grainy.

The sauce makes just enough to coat the pasta. If you like your mac and cheese extra cheesy, make 1.5 times the sauce. The cheese sauce is great on veggies and ham.
Nutrition
Calories:
503
kcal
|
Carbohydrates:
62
g
|
Protein:
22
g
|
Fat:
18
g
|
Saturated Fat:
11
g
|
Polyunsaturated Fat:
1
g
|
Monounsaturated Fat:
5
g
|
Trans Fat:
1
g
|
Cholesterol:
52
mg
|
Sodium:
466
mg
|
Potassium:
297
mg
|
Fiber:
3
g
|
Sugar:
5
g
|
Vitamin A:
547
IU
|
Vitamin C:
1
mg
|
Calcium:
386
mg
|
Iron:
1
mg