You'll love Pasta al Forno with Smoked Mozzarella! Make this baked rigatoni recipe when you want a special meal but don't have time for lasagna. This family favorite can be ready in 45 minutes!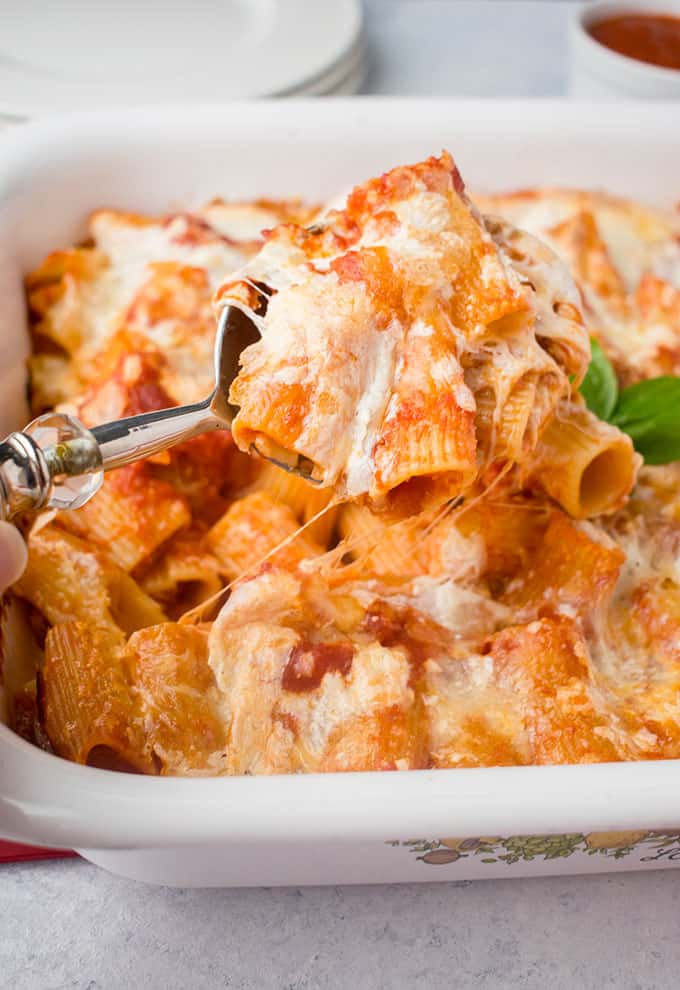 A quick Italian lesson: Forno is pronounced "forrno," and simply means "oven."
So, this is a cheesy, oven-baked pasta. But "pasta al forno" sounds more impressive, don't you think?
This is an easy, comforting and oh-so-delizioso dish I remember Nonna making when I was a kid. Mom taught me to make it several years ago, and my family absolutely loves it.
It perfect when there's not enough time to make lasagna with ricotta.
Of course, I had to put my own spin on it.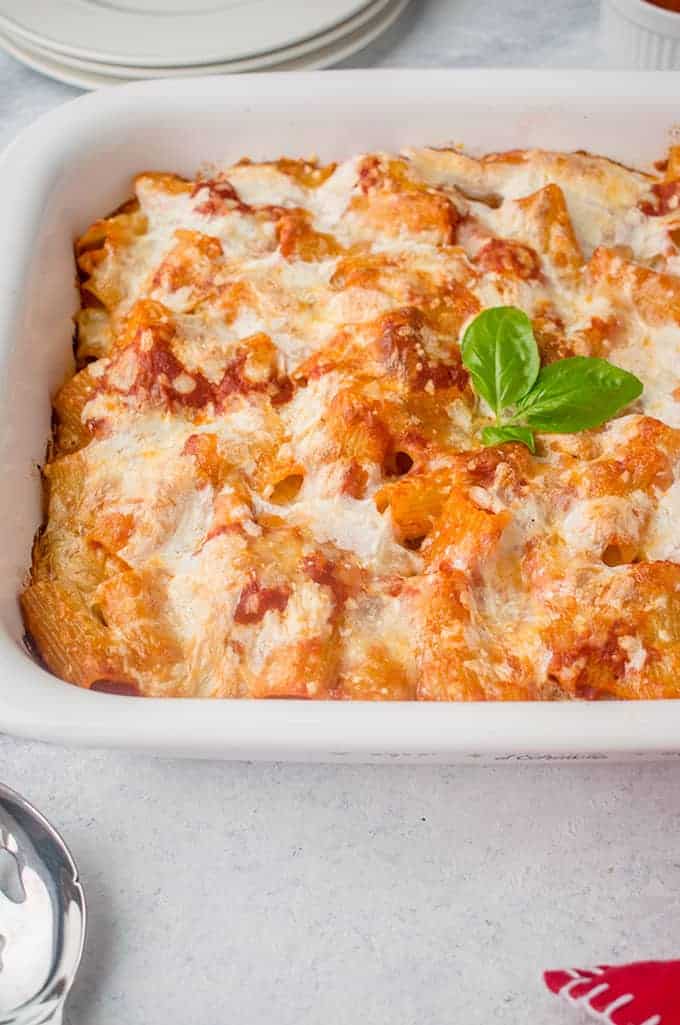 Think al dente pasta, smoked and regular mozzarella cheeses that get crusty on top but melty in the middle, fresh Parmesan (ditch the green canister!) and plenty of tomato sauce. What's not to love?
If your marinara is already made, you can crank out this dish in 45 minutes, with just 20 minutes of hands-on work.
It's perfect to serve to a group of teenagers before the dance, or to family and friends when you want a step up from pasta and sauce.
Heck, you can even make it on a weeknight forno reason at all. (I couldn't resist!)
And speaking of weeknight pasta dishes, don't miss this Stovetop Mac and Cheese with Parmesan!
How to make pasta al forno
Parboil the rigatoni for half of the al dente time on the package. Drain, and mix with some marinara.
Add a ladle of sauce to the bottom of a greased baking pan. Add half the pasta and top with half of the grated Parmesan.
Dot with sauce and top with half of the shredded mozzarella cheeses. Repeat the layers, then bake!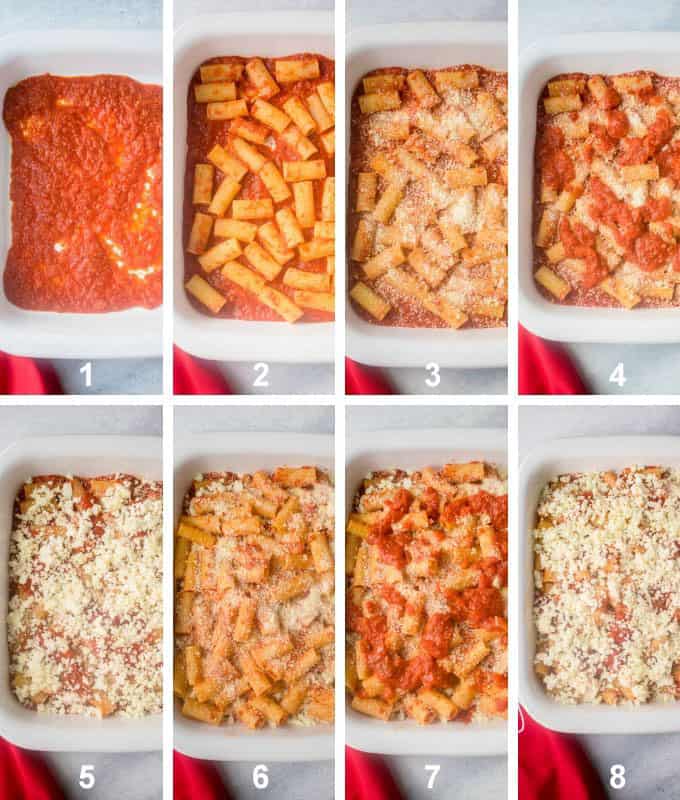 Tips for best results
To prevent mushy pasta, don't fully cook the pasta on the stove before it goes in the oven. A good rule of thumb is to boil the pasta for half the al dente time listed on the package.
You'll end up boiling it for 5-6 minutes, depending on the brand you use. Then, the oven will finish cooking it. This applies to all baked pasta dishes.
Use equal parts smoked and regular mozzarella. This provides the perfect amount of smoky flavor without being overpowering.
Fresh, smoked mozzarella is soft and has a tan color. I use the BelGioioso brand and find it in the section of the grocery store that carries Italian cheeses.
If you need a substitute for smoked mozzarella, use plain Buffalo mozzarella, which has the same texture, or smoked provolone, which will provide smoky flavor.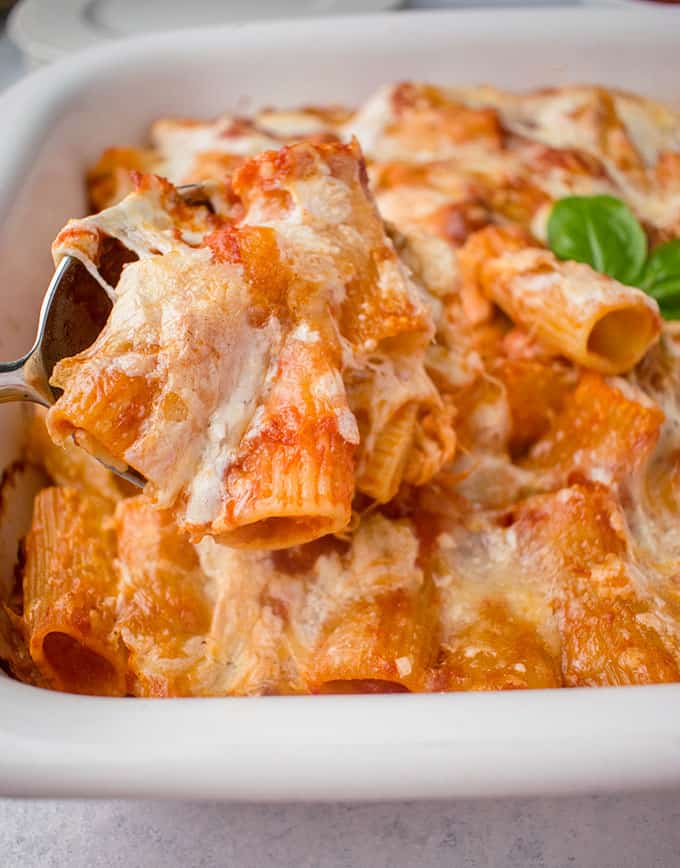 Do you have to use rigatoni?
I prefer wide rigatoni (affiliate link) for baked pasta recipes, because it's sturdy and won't be too soft when reheating leftovers. But, feel free to make baked ziti or penne instead.
What to serve with pasta al forno
I'm glad you asked! My go-to menu for dinner guests starts with tossed salad, then this Italian pasta bake, followed by roasted chicken and vegetables. For dessert, this chocolate cheesecake is always a hit!
For a simple weeknight meal, go with salad and Italian bread and call it good!
More recipes like this
Enjoy!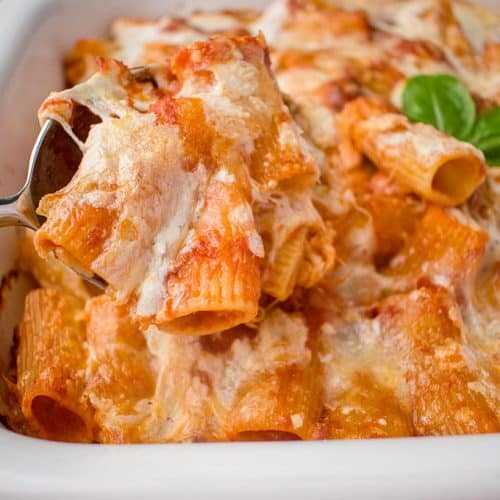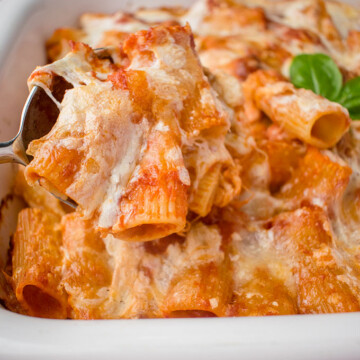 Pasta al Forno with Smoked Mozzarella
If you love cheesy baked pasta, you have to make this Pasta al Forno with Smoked Mozzarella!
Print
Pin
Rate
Save
Go to Collections
Instructions
Preheat the oven to 400 degrees F. Grease a 9x13 or casserole pan with cooking spray. Fill a large pasta pot more than halfway full with hot water. Add some salt and put the pot on the stove, covered, over high heat to let it come to a boil.

If you are starting with sauce from the refrigerator or freezer, warm it up or thaw it in the microwave. Grate your Parmesan cheese, if needed.

When the water is boiling, add the rigatoni to the pot and give it a stir. Keep the pot uncovered. Set a timer for half the al dente time listed on the package (you will end up boiling the pasta for 5-6 minutes). Have a colander ready in the sink, and stir your pasta occasionally so that it doesn't stick.

While the pasta is cooking, shred the mozzarella cheeses in a food processor, blender, or using a box grater.

After you have boiled the pasta for 5-6 minutes, drain it and add it back to your pot. Stir in two heaping ladles of sauce. (My ladle holds about ½ cup.)

Cover the bottom of your baking pan with a ladle of sauce. Add half of the pasta and even out the layer. Sprinkle on half of your Parmesan. Dot the layer with 1 ¼ ladles of sauce. Sprinkle on half of the smoked and regular mozzarella.

Make another layer with the rest of the pasta, the remaining Parmesan, 1 ¼ ladles of sauce, and the remaining mozzarella.

Bake, uncovered, for 25 minutes. Serve with extra sauce and Parmesan, if desired. Cover and refrigerate leftovers for up to five days.
Notes
The prep and cooking times listed assume you are starting with sauce already made. If you need to make marinara, it will take another 30 minutes. If you make two batches of Cooking with Mamma C's Homemade Marinara Sauce, you will have extra sauce left over.
You can substitute ziti or penne for the rigatoni.
Nutrition
Calories:
697
kcal
|
Carbohydrates:
78
g
|
Protein:
33
g
|
Fat:
39
g
|
Saturated Fat:
13
g
|
Cholesterol:
67
mg
|
Sodium:
1201
mg
|
Potassium:
1011
mg
|
Fiber:
7
g
|
Sugar:
14
g
|
Vitamin A:
1215
IU
|
Vitamin C:
25
mg
|
Calcium:
623
mg
|
Iron:
5
mg
(Recipe Source: Adapted from my Mom's version. Originally published on November 30, 2015 and updated now with new photos and additional text.)