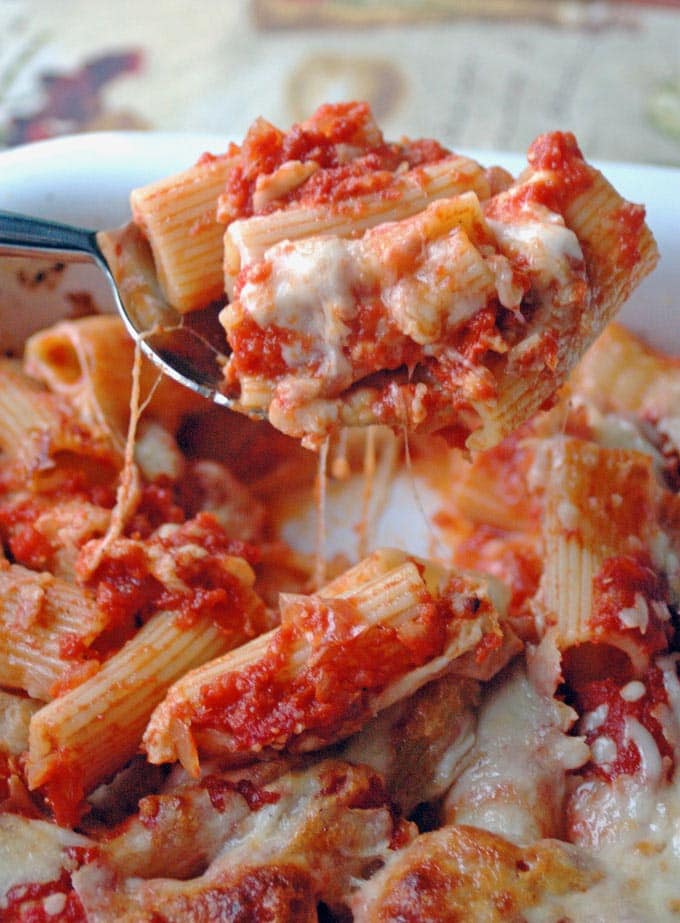 Is it safe to post about food again? Are we all recovered from overeating on Thanksgiving?
I think that was mostly a "yes," so I have to share this pasta al forno with smoked mozzarella. A quick Italian lesson: Forno is pronounced "forrno," and simply means "oven."
So, this is a cheesy baked pasta. But "pasta al forno" sounds more impressive, don't you think?
This is a wonderfully easy, comforting and oh-so-delizioso dish that I remember Nonna making sometimes when I was little. Mom taught me to make it a few years ago, and my family absolutely loves it. (We were rolling our eyes and swooning as we stole portions during the photo session.)
It's perfect to serve to a group of teenagers before the dance, or to birthday party guests when you want something a step up from pasta with sauce but don't have time to make lasagna.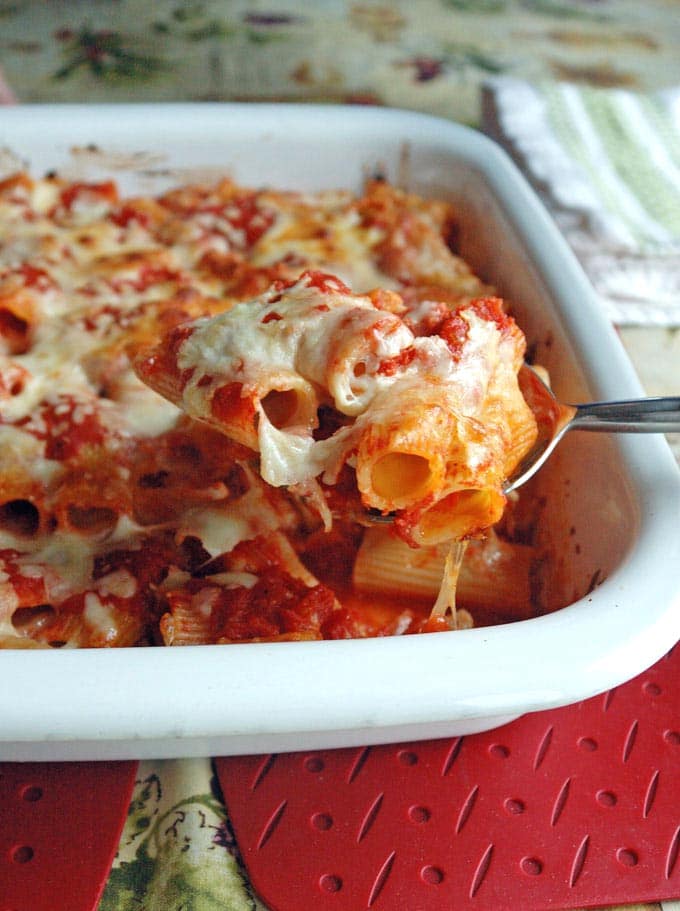 And really, it's ideal for weeknights too, especially if you have some of my homemade marinara sauce hanging out in your fridge or freezer. (I had gotten behind in stocking up on my sauce, and recently made a triple batch so that I could use some and freeze some. Best decision ever.)
With the al dente pasta (I used rigatoni here, but penne or ziti work too), melty smoked mozzarella that oozes a bit in the middle and gets crusty on the surface of the pasta and edges of the pan, fresh Parmesan (ditch the green canister!) and plenty of homemade tomato sauce, what's not to love?
Speaking of al dente, here's an important tip for whenever you're baking pasta, including macaroni and cheese.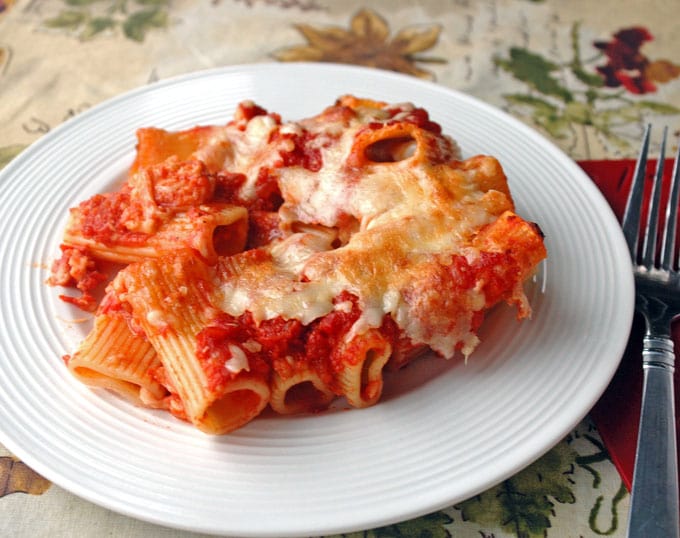 To prevent mushy baked pasta, don't fully cook the pasta on the stove before it goes in the oven. A good rule of thumb is to boil the pasta for half the al dente time listed on the package. You'll end up boiling it for 5-6 minutes, depending on the brand you use.
Then, the oven will finish cooking it. And then, you get to devour it.
Enjoy!
(Recipe Source: Adapted from my Mom's version)

Cooking with Mamma C
Serves 6
Pasta al Forno with Smoked Mozzarella
15 minPrep Time
25 minCook Time
40 minTotal Time
5 based on 1 review(s)
Ingredients
1 1/2 quarts marinara (2 batches of Cooking with Mamma C's Homemade Marinara Sauce)
1 pound rigatoni (or penne or ziti)
8 ounces smoked mozzarella, shredded
8 ounces regular mozzarella, shredded
2/3 cup freshly grated Parmesan
Directions
Preheat your oven to 400 degrees F. Grease a 9x13 or casserole pan with cooking spray. Fill a large pasta pot more than halfway full with hot water. Add some salt and put the pot on the stove, covered, over high heat to let it come to a boil.
If you are starting with sauce from the refrigerator or freezer, warm it up or thaw it in the microwave.
When the water is boiling, add your pasta to the pot and give it a stir. Keep the pot uncovered. Set a timer for half the al dente time listed on the package (you will end up boiling the pasta for 5-6 minutes). Have a colander ready in the sink, and stir your pasta occasionally so that it doesn't stick.
While the pasta is cooking, shred your cheeses in a food processor, blender, or using a box grater.
After you have boiled the pasta for 5-6 minutes, drain it and add it back to your pot. Stir in two heaping ladles of sauce. (My ladle holds about 1/2 cup.)
Cover the bottom of your baking pan with a ladle of sauce. Add half of the pasta and even out the layer. Sprinkle on half of your Parmesan. Dot the layer with 1 1/4 ladles of sauce. Sprinkle on half of the smoked and regular mozzarella.
Make another layer with the rest of the pasta, the remaining Parmesan, 1 1/4 ladles of sauce, and the remaining mozzarella.
Bake, uncovered, for 25 minutes. Serve with extra sauce and Parmesan, if desired.
Notes
The prep and cooking times listed assume you are starting with sauce already made. If you need to make marinara, it will take another 30 minutes. If you make two batches of Cooking with Mamma C's Homemade Marinara Sauce, you will have extra sauce left over.
7.8.1.2
223
https://cookingwithmammac.com/pasta-al-forno-with-smoked-mozzarella/