You'll love this Southwest Salad with Catalina-Lime Dressing! It's easy to make your Catalina dressing, and you can customize the salad ingredients!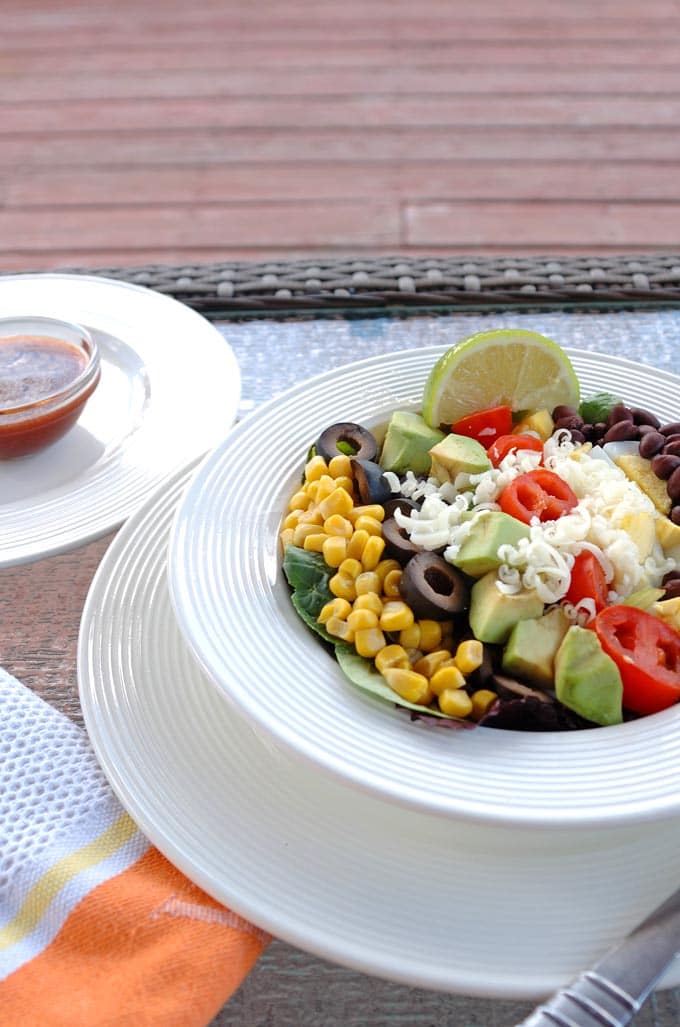 I have a strange relationship with salads. I love ordering them when I go out for lunch.
But at home, I usually don't want to bother with them. (Lazy!)
Well, apparently, my body decided it needs more salad, because I started craving one with hard-boiled eggs, avocado, corn, tomatoes, olives, black beans, cheese...so I made Southwest Salad with Catalina-Lime Dressing and can't get enough of it.
Let's start with the dressing. I've always loved Catalina French but stopped buying anything bottled a while ago.
Fortunately, it's so easy to make at home. I start with some Simply Heinz ketchup, which doesn't contain high-fructose corn syrup and tastes really good. (I have no affiliation with Heinz.)
From there, I add olive oil, a tablespoon each of balsamic vinegar and lime, a packet of Stevia (instead of a tablespoon of sugar) and then I season it with salt, pepper, paprika and garlic powder. That's it!
It's so good, I even lick the spoon. It gets the thumbs up from my family, too.
And don't miss this homemade Greek Yogurt Ranch Dressing!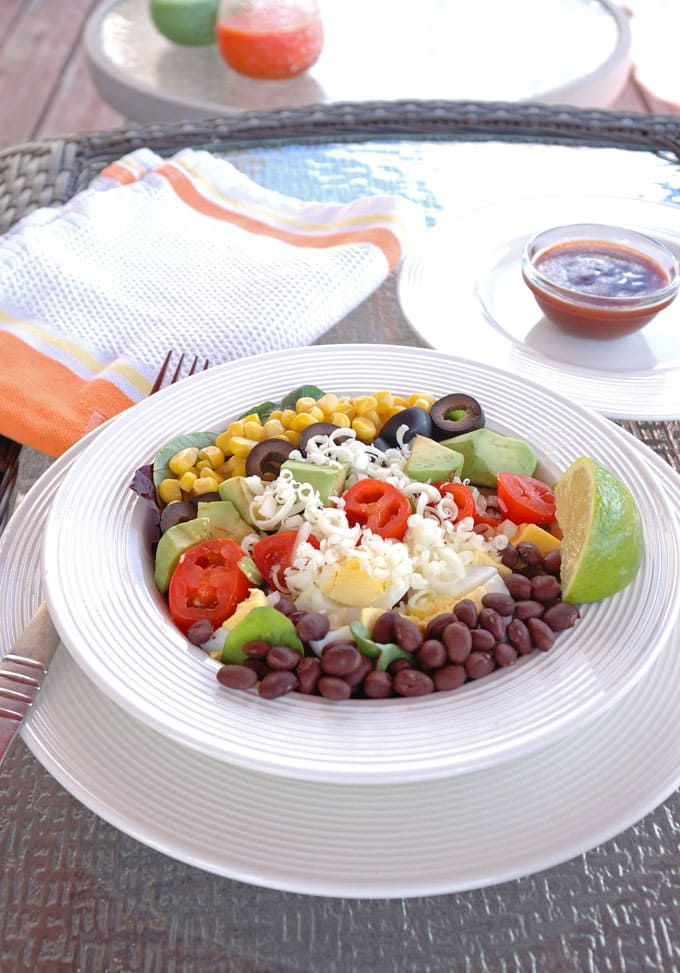 As for the toppings, you may have noticed there's no meat here. We didn't even miss it, with the eggs and beans supplying the protein.
But I bet this salad would rock with some crumbled bacon. (Oh, behave!)
It's really fun (and oddly soothing) to prep each ingredient by slicing, chopping, rinsing, or whatever is required, and then lining up small bowls of each topping, just like a salad bar. I set this up for dinner the other night, and we really got a kick out of it.
I kept the leftovers in the bowls, covered them with plastic wrap and placed them all on a tray to refrigerate for the next day. Then, all we had to do was grab the tray and dig in for lunch. (See, I told you it's fun.)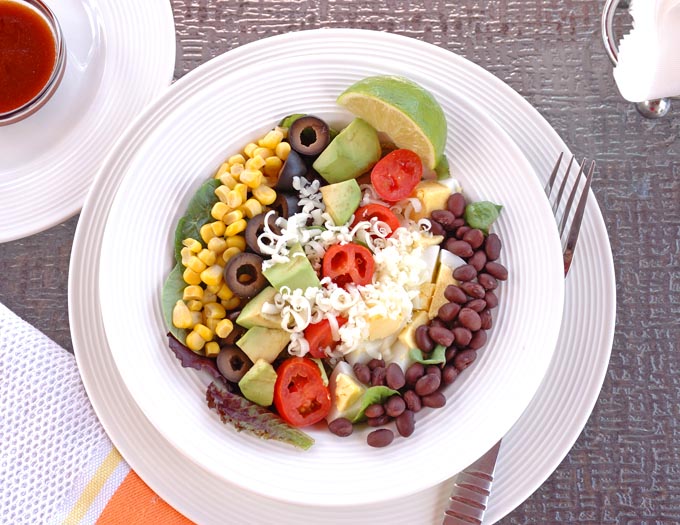 One last note on easily peeling hard-boiled eggs: It's best to start with eggs at least a week old. The really fresh ones will be difficult to peel.
Tap the bottom of the hard-boiled egg on the counter and peel away a bit of the shell where it's cracked. Then, take a teaspoon and gently slide the back of it under the egg's shell, trying to get under the thin skin. Use the spoon to peel off the shell as you rotate the egg.
Go forth and make salad, my friends!
More delicious salad recipes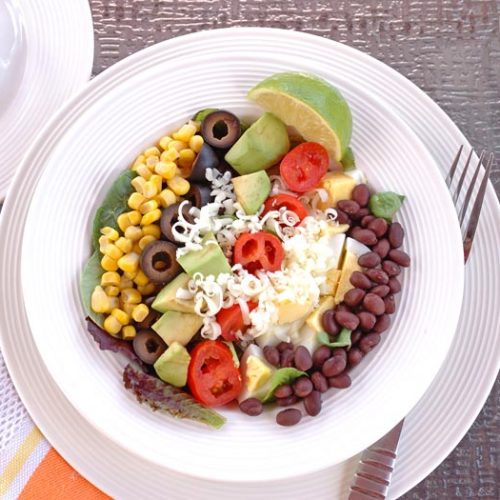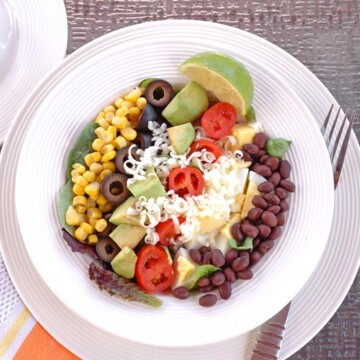 Ingredients
Catalina-Lime Dressing
¼

cup

ketchup

¼

cup

olive oil

1

tablespoon

balsamic vinegar

1

tablespoon

lime juice

1

tablespoon

sugar

(or 1 packet Stevia)

½

teaspoon

paprika

¼

teaspoon

salt

⅛

teaspoon

pepper

⅛

teaspoon

garlic powder
Salad
4

hard-boiled eggs

2

avocados

(peeled and cut into chunks)

1

15-ounce can black beans

(drained & rinsed)

1

11-ounce can corn

(drained & rinsed)

1

6-ounce can black olives

(drained, rinsed & sliced)

16

grape tomatoes

(rinsed & halved)

1

cup

shredded cheese

(such as Monterey Jack, cheddar or mozzarella)

2

tablespoons

chopped red onion

(optional)

4

cups

lettuce

(romaine or spring mix, rinsed and dried)

1

lime

(quartered, for serving)
Instructions
To make the hard-boiled eggs, place your eggs in the bottom of a pot and cover them with cold water so that the water is at least an inch above the eggs. (Consider making extra eggs to have on hand for the next few days.) Heat, uncovered, over medium-high heat, until it comes to a rolling boil. Turn off the heat, cover the pot, and let the eggs sit for 15 minutes.

Using a slotted spoon or fine-mesh strainer, remove the eggs and place them in a bowl of ice water. When they are cool enough to touch, peel them by tapping the bottom of each egg on the counter, peeling off some shell at the bottom, and sliding the back of a teaspoon underneath the shell/skin to remove the rest of the peel. Discard the shells and rinse the eggs to remove any shell pieces. Pat the eggs dry with a paper towel. Cut the eggs into fourths and set them aside.

While your eggs are cooking, make the dressing. Place all of the dressing ingredients in a jar or plastic container with a lid and shake to mix. (Or, whisk everything in a small bowl.)

Place all of your desired toppings into small bowls. To serve, place some lettuce in a plate or bowl, add your toppings, and spoon on the dressing. Serve with a lime wedge and squeeze on some lime juice.

Store dressing and any leftover toppings covered in the refrigerator. (I like to place all of my bowls on a tray and refrigerate the tray.) Leftover, cooked eggs without their shells should be eaten within three days. (If you made extra eggs, keep them with shells on for up to a week, covered in the refrigerator.)
Nutrition
Calories:
781
kcal
|
Carbohydrates:
68
g
|
Protein:
28
g
|
Fat:
48
g
|
Saturated Fat:
10
g
|
Cholesterol:
208
mg
|
Sodium:
1202
mg
|
Potassium:
1463
mg
|
Fiber:
21
g
|
Sugar:
15
g
|
Vitamin A:
2095
IU
|
Vitamin C:
32.7
mg
|
Calcium:
255
mg
|
Iron:
4.8
mg
(Recipe Source: Cooking with Mamma C)