Need an easy, 30-minute meal? Make these Cheesy Baked BBQ Chicken Breasts with Onions! If you love BBQ chicken pizza, but don't want all the carbs, this is for you! Gluten free.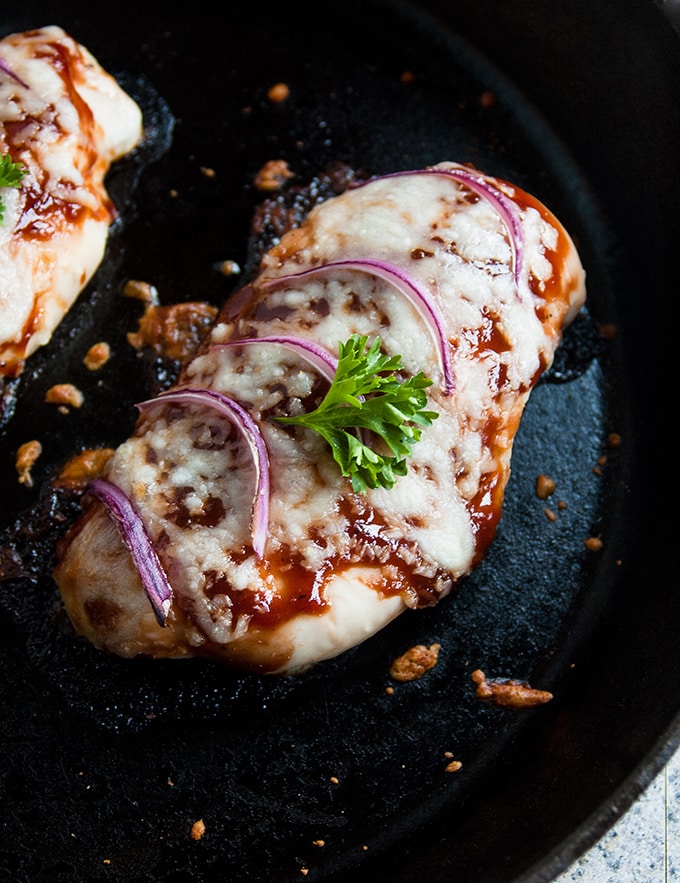 I feel guilty tempting you with meat on Friday during Lent. For the record, I'm not saying you should make these cheesy, baked BBQ chicken breasts with onions today.
You can certainly wait until tomorrow, or your next busy weeknight. Because you can crank out this dish in 30 minutes. It's so easy. It has just four ingredients, besides basic seasonings. And, it's delicious.
If you love BBQ chicken pizza, you've got to make this! Because that's what I was going for, minus the carbs. You know...tender chicken breasts, BBQ sauce, melted mozzarella and roasted red onions...yum!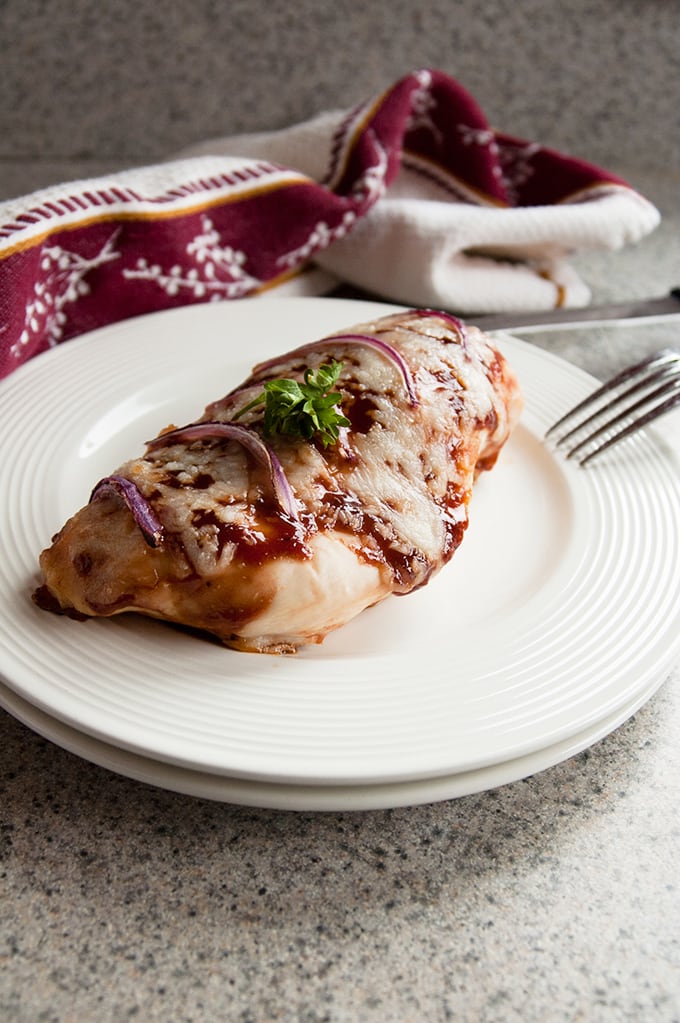 This is one of those no-brainer recipes. The kind that doesn't require measuring (don't worry, I provided amounts on the recipe card, but you can wing it too.) The kind that uses common household ingredients (if you don't keep mozzarella and onions in stock...deep breath...please consider doing so.) The kind that saves you from yet another expensive takeout or delivered meal.
Let me break it down for you.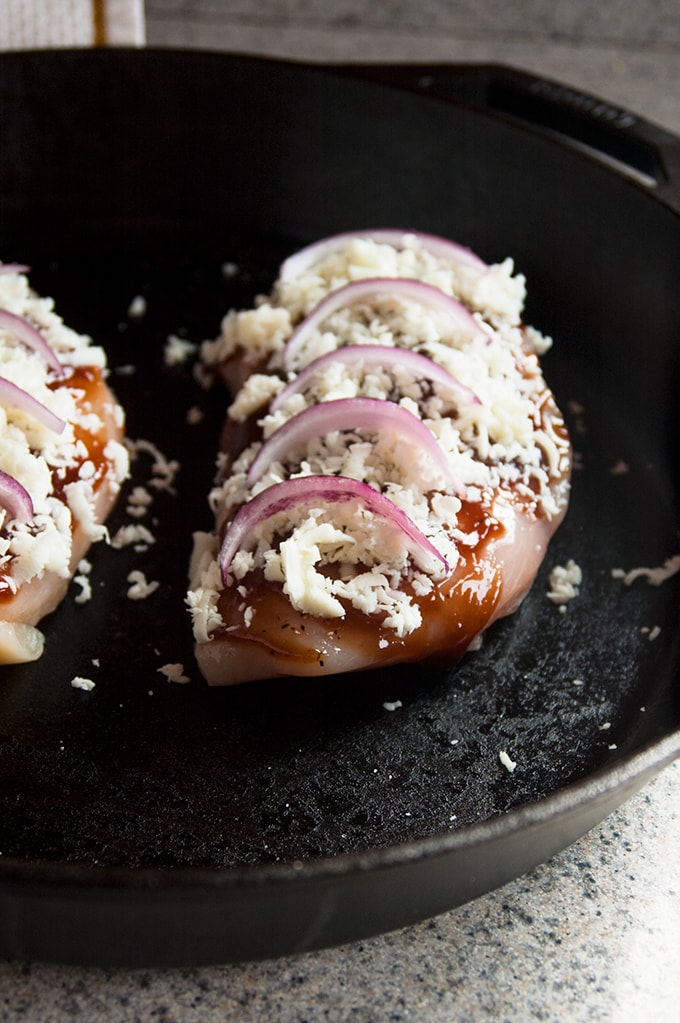 Season your boneless, skinless chicken breasts. Spread on your favorite BBQ sauce. (I still haven't perfected my homemade version, so I keep a store-bought bottle in the fridge.) Sprinkle on your shredded mozzarella. Top it with slices of red onion. Bake for 25 minutes.
Boom!
Wait, I never say, "Boom!" I think I'm too old to say "Boom!"
My kids would be cringing, if they read my blog.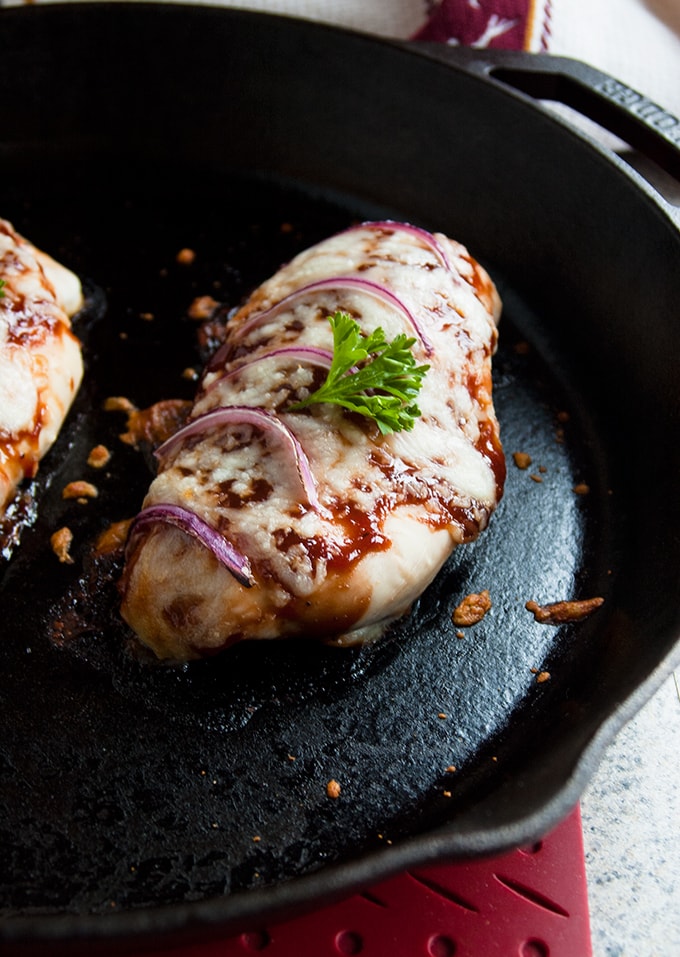 Done! Yes, that's better. That's what I say.
The baked BBQ chicken breasts turn out tender and juicy, the mozzarella oozes down the sides, and the red onions deliver that flavor punch that makes me weak in the knees. (Have I ever told you I absolutely love red onions?)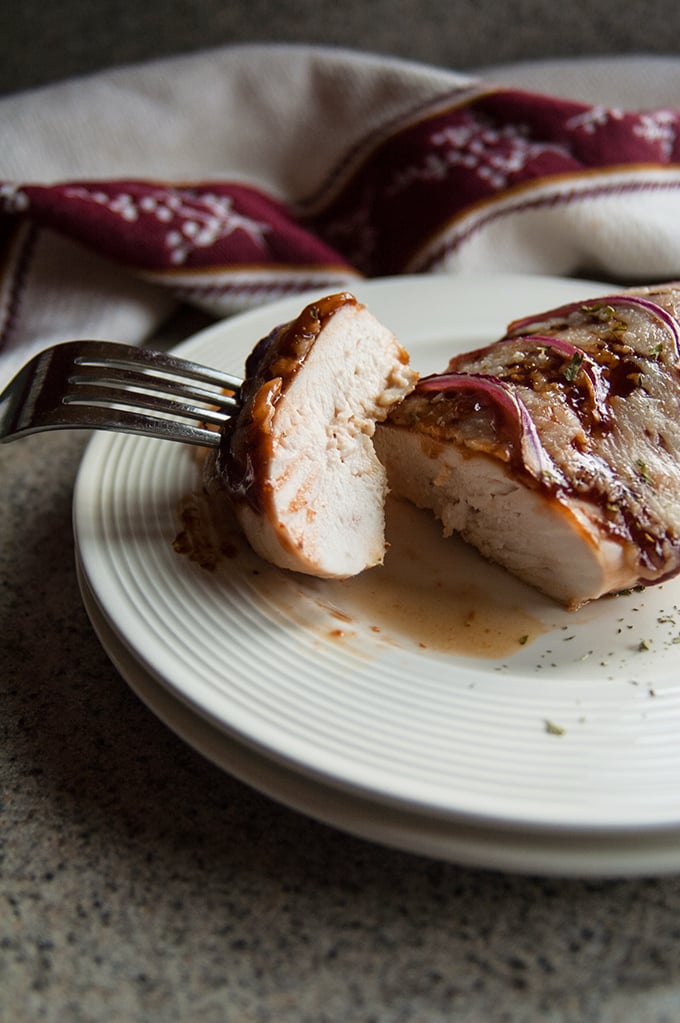 Serve the chicken with this five-minute Italian Bean Salad and Our Favorite Asparagus with Tarragon Butter for a complete, 30-minute meal. If you've got extra time, these Seasonello Roasted Potatoes bake at the same temperature and would work really well here.
And, if you're not worried about bread and extra calories, you can definitely serve these baked BBQ chicken breasts in a hot, toasty sandwich. Oooh, that sounds good. Leftovers anyone?
Enjoy!
(Recipe Source: Cooking with Mamma C)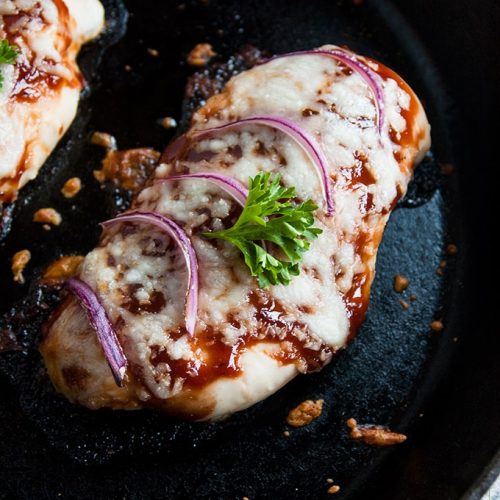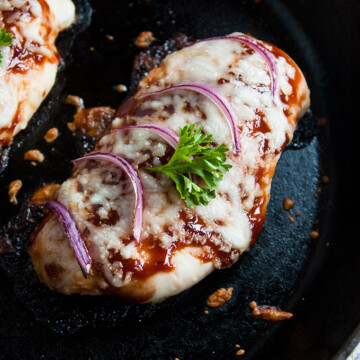 Ingredients
4

boneless skinless chicken breasts

(6-8 ounces each)

salt

pepper

garlic powder

½

cup

BBQ sauce

½

cup

plus 2 tablespoons shredded mozzarella

⅓

of a red onion

(peeled)
Instructions
Preheat your oven to 375 degrees F. Spray your baking pan lightly with oil and place the chicken in the pan.

Season your chicken with salt, pepper and garlic powder.

Place 2 tablespoons of BBQ sauce on each breast and spread the sauce over the chicken with the back of your spoon.

Shred your mozzarella if needed. Sprinkle 2 ½ tablespoons of shredded mozzarella on each breast.

If starting with a whole red onion, peel it and cut it in half. Start making thin slices and place 4-5 slices of onion on each chicken breast. (You'll probably use ⅓ of your whole onion.)

Bake the chicken for 25 minutes, uncovered. (Don't overbake, or the chicken will be dry.) Let the chicken rest on the stove, covered loosely with foil, for a few minutes before cutting into it. This will keep it juicy and allow it to finish cooking. The chicken should no longer be pink inside, but if it is, bake it a few minutes longer.

Store leftovers in the refrigerator for 3-4 days.
Nutrition
Calories:
246
kcal
|
Carbohydrates:
15
g
|
Protein:
28
g
|
Fat:
7
g
|
Saturated Fat:
2
g
|
Cholesterol:
86
mg
|
Sodium:
608
mg
|
Potassium:
527
mg
|
Sugar:
12
g
|
Vitamin A:
230
IU
|
Vitamin C:
2.2
mg
|
Calcium:
106
mg
|
Iron:
0.7
mg