These Baked Pesto Chicken Breasts will be ready in less than an hour! You'll love this easy recipe for lightly breaded, boneless chicken breasts topped with basil pesto and accented with Pecorino Romano. They turn out juicy and tender!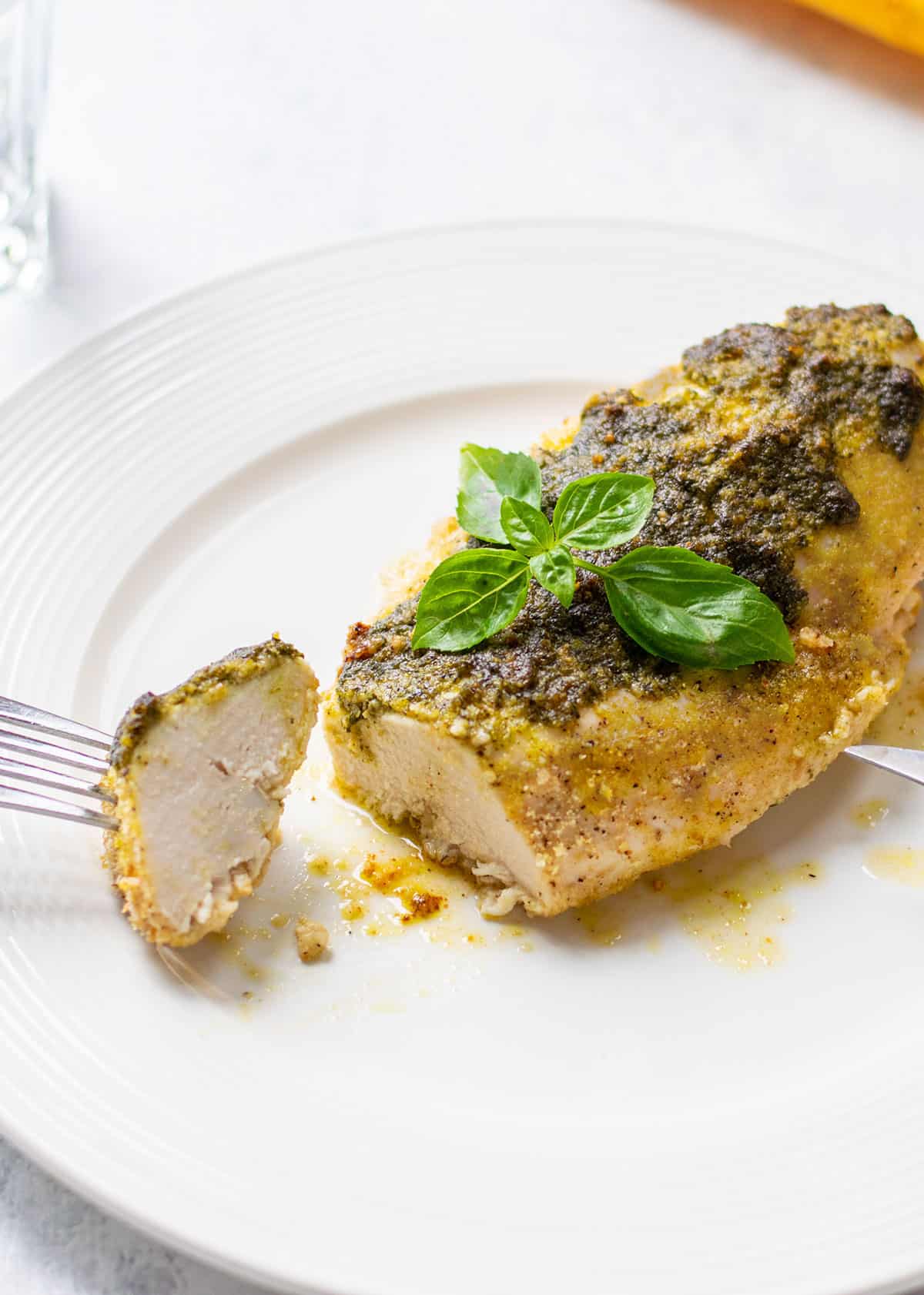 My family loves basil pesto, so it was only a matter of time before we married it with chicken. Using my pesto salmon as an inspiration, my son and I tested seven versions before deciding this baked pesto chicken recipe was THE ONE.
My son came up with the idea of adding a light coating of bread crumbs accented with Pecorino Romano and seasonings. It brought extra flavor and texture to these boneless chicken breasts and reminds us of our chicken cutlets.
But these are thicker pieces of breaded chicken topped with green pesto and baked in the oven until juicy, tender and oh-so-delizioso!
Recipe ingredients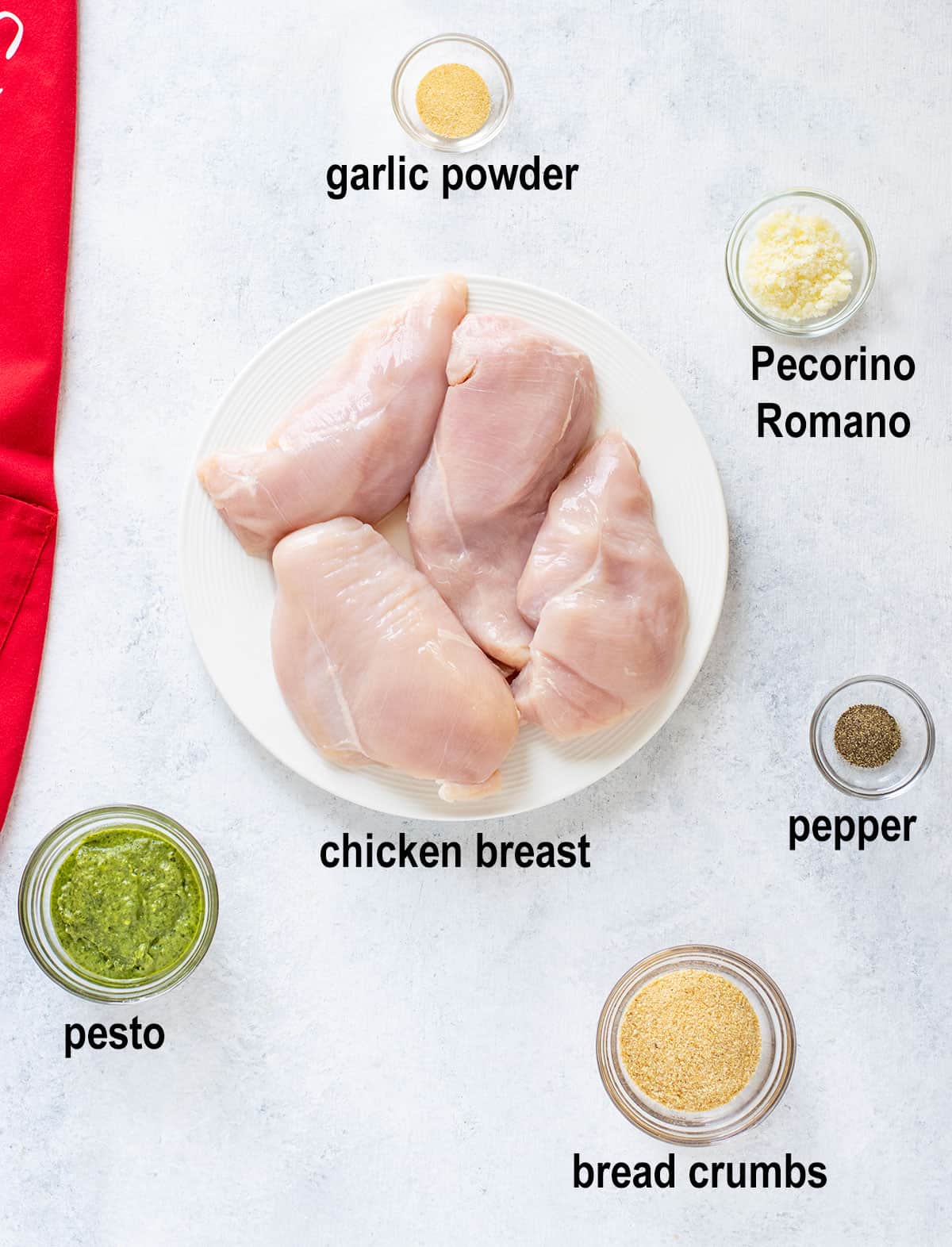 Chicken Breasts: We're using boneless, skinless chicken breasts. These are the thick ones that weigh 6-8 ounces each.
We tried using thin chicken breasts here, but they turned out too dry. If that's what you have, don't miss this collection of thin chicken breast recipes.
Pesto: This thick, herbal paste hails from Genoa and consists of basil, garlic, olive oil, pine nuts and hard Italian cheeses. Mom's basil pesto with Pecorino Romano is hands down, the best I've ever tried.
For convenience, you can use store-bought pesto, but try to find one that contains Pecorino. The better the pesto, the more delicious your chicken Genovese will be!
Bread Crumbs: We're starting with plain bread crumbs and adding seasoning and cheese. You can make bread crumbs yourself or buy them. If you're starting with seasoned Italian bread crumbs, you can reduce the garlic powder and pepper in this recipe.
Pecorino Romano: Pecorino is made from sheep's milk and provides a salty kick of flavor here. It works especially well in the bread crumbs, complementing the cheese in the pesto.
I buy Pecorino Romano at Costco, but you should be able to find it in the fancy cheese section of a good grocery store. You could try using Parmesan instead, but you'd probably have to add a little salt to the chicken to compensate.
How to make it
See the card at the end of this post for the full recipe, but here's an overview.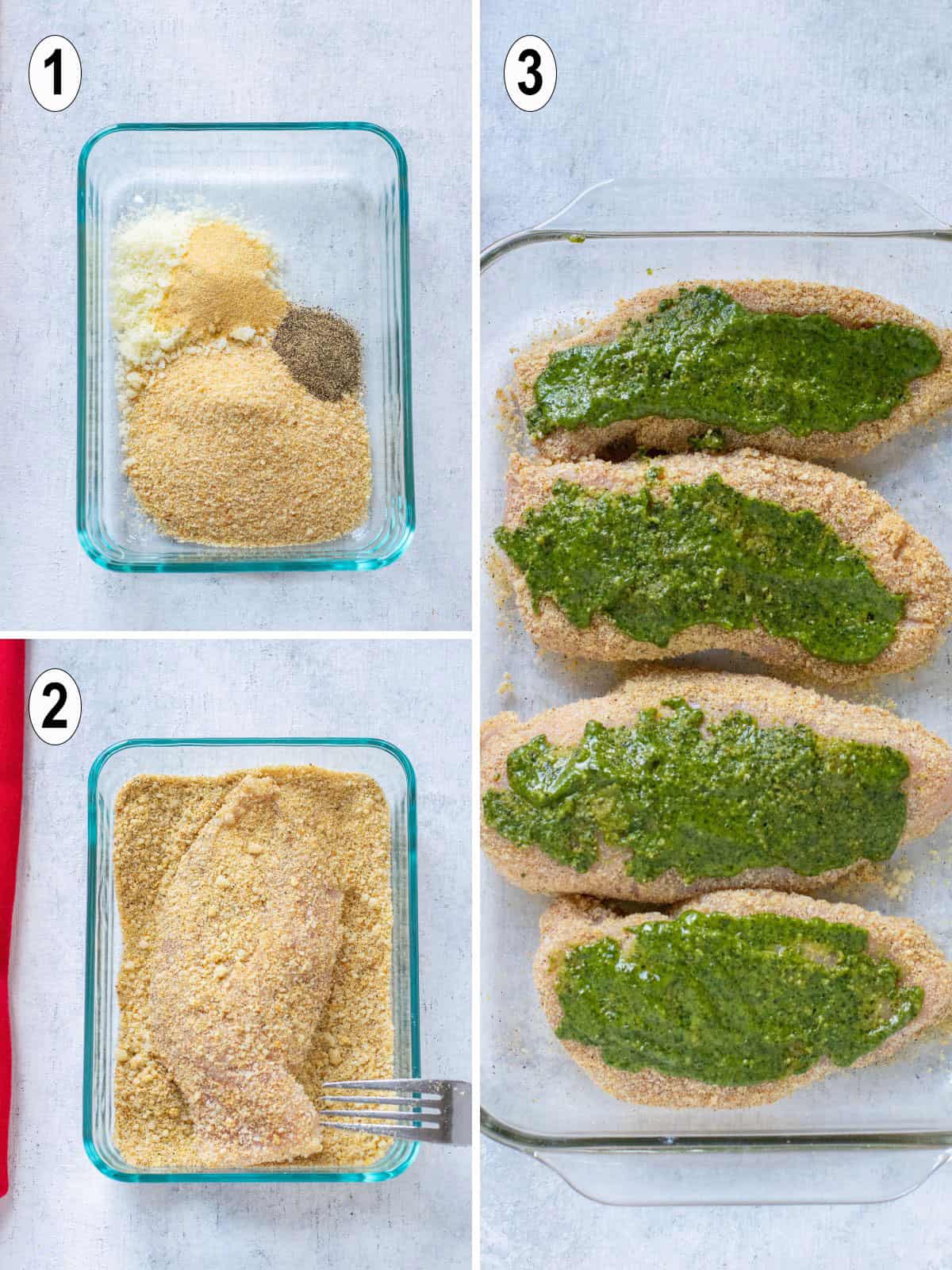 Combine the bread crumbs, Pecorino and seasonings in a small mixing bowl or dinner plate.
Bread each chicken breast in the mixture.
Top each piece of chicken with the pesto.
Bake for 30 minutes in a glass 9x13 pan (affiliate link) and let rest.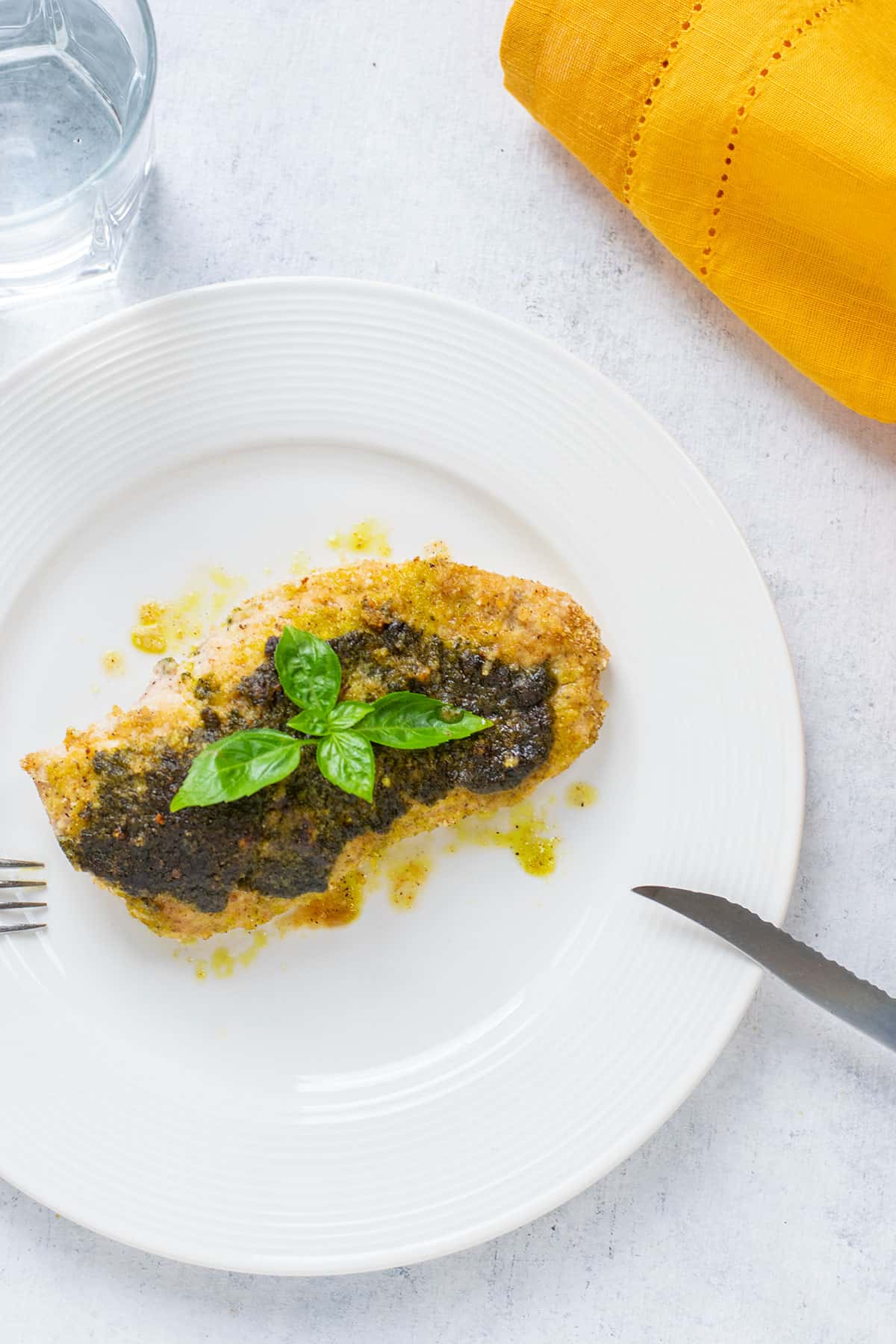 Recipe tips
Don't overbake the chicken breasts, or they'll be dry. Check them after 25 minutes using an instant meat thermometer (affiliate link) to see if they've reached 165 degrees F.
Letting the baked chicken breasts rest for 5-10 minutes under loose foil allows them to retain their juices. If you want juicy chicken breasts, don't rush this part!
What to serve with pesto chicken
I really enjoy this chicken with pesto sauce over long-grain rice. Try it with extra pesto stirred in! You also could serve it over white wine risotto, creamy Parmesan polenta or spaghetti with garlic and oil.
This baked breaded chicken also goes well with potatoes. Try it with Italian roasted potatoes, sliced potatoes and onions or green bean potato salad.
And don't forget vegetable sides like Italian Green Beans and Tomatoes or rapini. Check out these Italian side dishes (contorni) for more ideas!
Then, the following day, it's nice to slice the leftover chicken into strips and serve them over this simple Italian salad.
Frequently asked questions
What's the best pan to use for baked pesto chicken?
After testing this baked pesto chicken at 375 degrees F in a metal sheet pan and a 9x13 glass baking pan, it was obvious the glass pan worked better. The thick chicken breasts turned out more juicy and tender.

We suspect a porcelain baking pan also would work better than a metal sheet pan for this recipe, since we're not cooking the food at a high temperature. Glass and porcelain pans heat up more slowly than metal ones and produce juicier baked chicken at a lower temperature, according to Made In cookware.
How do you know when chicken breasts are done if you don't have a thermometer?
If you don't have a meat thermometer, you can cut into the chicken to see if the juices run clear. If the juice looks pink or red, bake the chicken longer. You also should bake the chicken breasts longer if the meat looks pinkish inside.
More recipes to try
And don't miss my collection of Chicken Dishes!
If you try this Baked Pesto Chicken recipe, please leave a comment and a rating!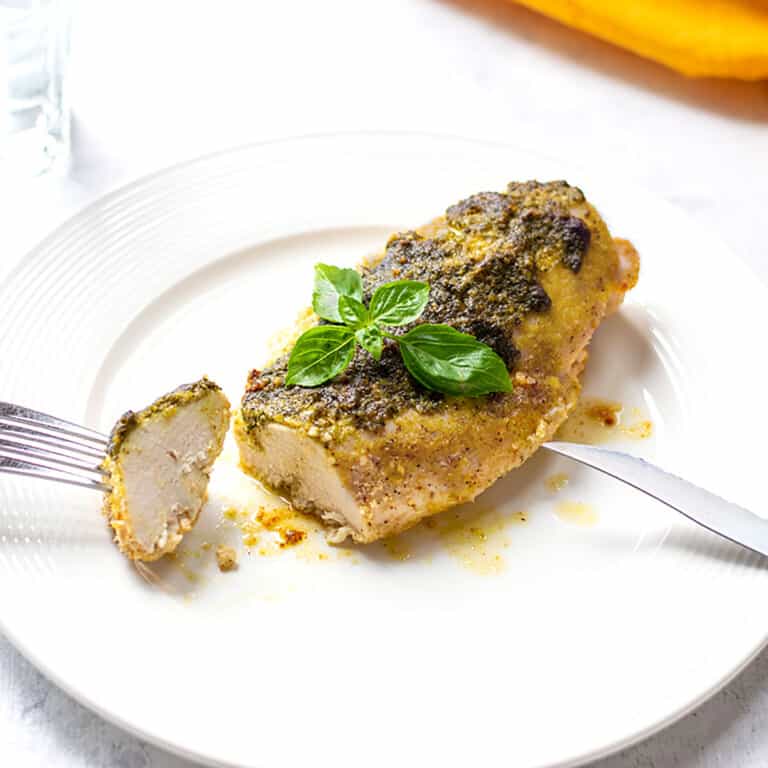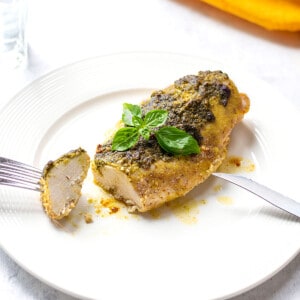 Ingredients
Bread Crumb Mixture
¼

cup

plain bread crumbs

(see notes)

2

Tablespoons

grated Pecorino Romano cheese

1

teaspoon

garlic powder

½

teaspoon

black pepper
Chicken and Pesto
4

boneless, skinless chicken breasts

(6 oz - 8 oz each, 1.5-2 pounds total)

½

cup

basil pesto
Instructions
Preheat the oven to 375 degrees F. Grease a glass 9x13 pan with cooking spray.

Add the bread crumbs, Romano cheese, garlic powder and pepper to a dinner plate or small mixing bowl. Toss with a fork to combine.

Use a fork to place one plain chicken breast at a time in the bread-crumb mixture. Bread both sides of the chicken, patting down the crumbs on the chicken with the back of the fork. Transfer the breaded chicken to the greased pan.

Place two tablespoons of pesto on each chicken breast, spooning it along the whole surface. Bake, uncovered, for 25-30 minutes or until the internal temperature reaches 165 degrees F. Remove the pan of chicken from the oven and loosely cover it with foil. Let the chicken rest for 5-10 minutes before serving it.

Refrigerate leftovers for up to four days. You also could freeze the pesto chicken in a zip-top freezer bag and use it within three months for best quality.
Notes
If you're starting with seasoned Italian bread crumbs, you can reduce the garlic powder and pepper in this recipe.
There is no salt called for because the pesto and Pecorino should be salty enough. However, you may need to add salt when serving if the pesto isn't salty enough or if you substituted Parmesan for the Pecorino.
I prefer using a glass pan for juicier chicken breasts, but a porcelain baking dish also should work well.
For a Single Serving: For one chicken breast, use 1 Tablespoon of plain bread crumbs, ½ Tablespoon of Pecorino Romano, ¼ teaspoon garlic powder, ⅛ teaspoon pepper and 2 Tablespoons of pesto.
Nutrition
Calories:
288
kcal
|
Carbohydrates:
8
g
|
Protein:
27
g
|
Fat:
15
g
|
Saturated Fat:
3
g
|
Polyunsaturated Fat:
1
g
|
Monounsaturated Fat:
1
g
|
Trans Fat:
0.01
g
|
Cholesterol:
77
mg
|
Sodium:
501
mg
|
Potassium:
446
mg
|
Fiber:
1
g
|
Sugar:
1
g
|
Vitamin A:
671
IU
|
Vitamin C:
1
mg
|
Calcium:
96
mg
|
Iron:
1
mg
(Recipe Source: Cooking with Mamma C. My son Frankie came up with the winning combination after we tested seven versions!)