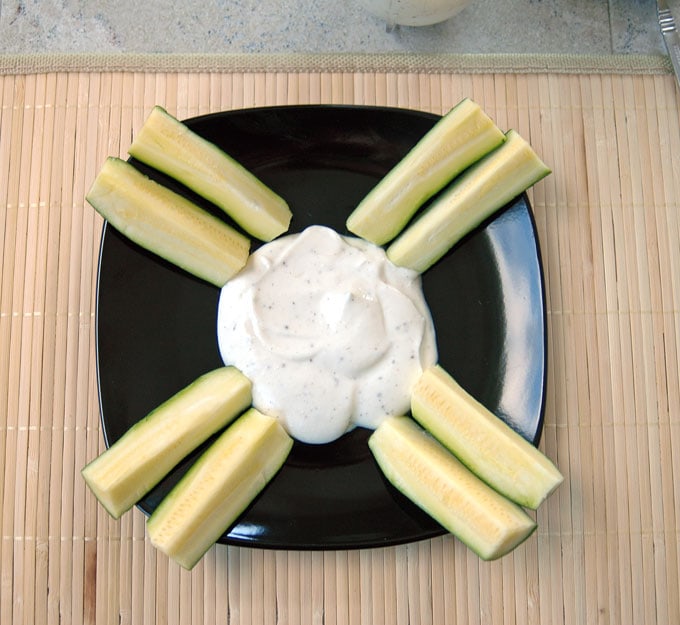 I never thought I'd be posting about Ranch dressing. (It's never been my favorite.) But I have to admit, my son's homemade Ranch dressing is really good. So good, that as soon as I tried it, I knew I had to share it with you.
I have to laugh, in a smug kind of way, because for all the teasing I get around here for reading labels and eating fewer processed foods, I've been noticing I'm not the only one in my household who's making more and more things from scratch. In the past month alone, my husband and son have made luncheon meat (turkey, roast beef and pork) twice and purchased a kit to make gourmet hot sauce. My husband already makes wine and liqueur, and now my son is making Ranch.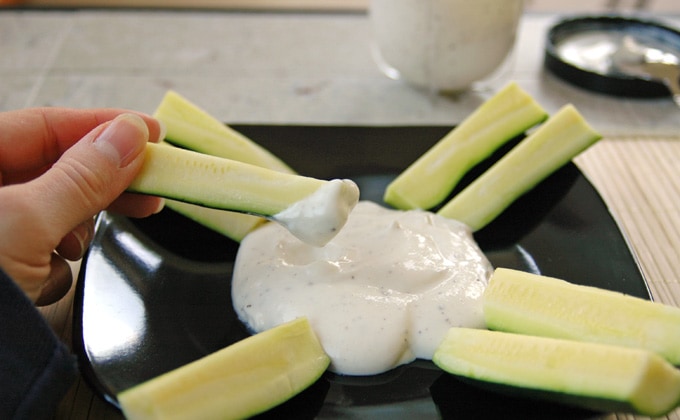 I'm pretty sure no one else in my house actually cares about what's on ingredient labels…yes, I'm very sure. So, why is it suddenly like Little House on the Prairie around here?
My son put it best: "I don't like bottled Ranch."
Aha! I think the key is he doesn't like it anymore. As I pointed out in 8 Ways to Get Your Teens to Eat Real Food, the more we consume real food, the less we like the taste of processed stuff. The best part is that making Ranch (and most dressings, really) is so simple, I'm wondering why I ever thought I needed to buy any. This recipe has a blend of nonfat Greek yogurt (that was my contribution), buttermilk, and low-fat mayo as the base, plus celery seed and other seasonings. Put it all in a jar and shake it up.
Done!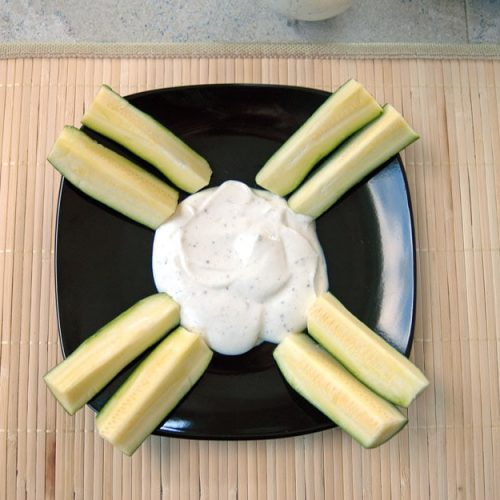 My Son's Homemade Ranch Dressing
Thick, creamy, low-fat and delicious! Very easy to make and gluten free.
Servings
:
24
(Makes 1 1/2 cups)
Ingredients
1/2

cup

nonfat Greek yogurt

1/2

cup

low-fat mayonnaise

1/2

cup

buttermilk

(low-fat is fine)

1/2

teaspoon

apple cider vinegar

1/2

teaspoon

Dijon mustard

1/4

teaspoon

salt

1/4

teaspoon

black pepper

1/4

teaspoon

garlic powder

1/4

teaspoon

onion powder

1/8

teaspoon

celery seed
Instructions
Place all ingredients in a mason jar, cover with a lid, and shake until blended. Store in the refrigerator for a week (check the expiration dates on your yogurt, mayo and buttermilk to make sure they'll stay fresh for that long.)
Nutrition Facts
My Son's Homemade Ranch Dressing
Amount Per Serving
Calories 17
Calories from Fat 9
% Daily Value*
Fat 1g2%
Cholesterol 1mg0%
Sodium 67mg3%
Potassium 13mg0%
Vitamin A 10IU0%
Calcium 11mg1%
* Percent Daily Values are based on a 2000 calorie diet.