If you're trying to eat healthier for your New Year's resolution, try this Apple-Mozzarella-Pecan Salad with Maple Vinaigrette. It's a great vegetarian lunch entrée or company-worthy side salad! Gluten free.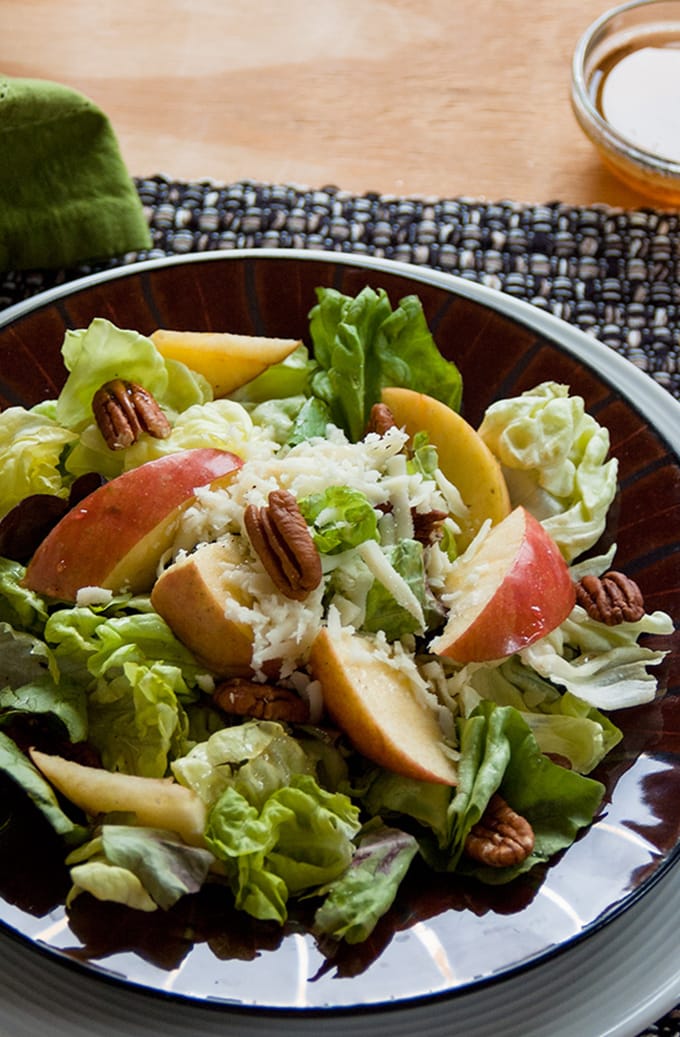 You know I'm recovering from a Christmas and New Year's food coma when I bust out a healthy salad entrée. But I've actually been enjoying this Apple-Mozzarella-Pecan Salad with Maple Vinaigrette over the last month, to make up for the season's gluttony.
I don't know about you, but my December and early-January diet has consisted of polar extremes — either rich, over-the-top fare or tasty, good-for-me choices. Cannoli or salad. Nothing in between.
It's largely because I've had so many holiday leftovers in the house. We let our daughter have a New Year's Eve party with her close friends, and, of course, I made way too much food.
Because...Hi, my name is Andrea, and I'm Italian. I can't help myself.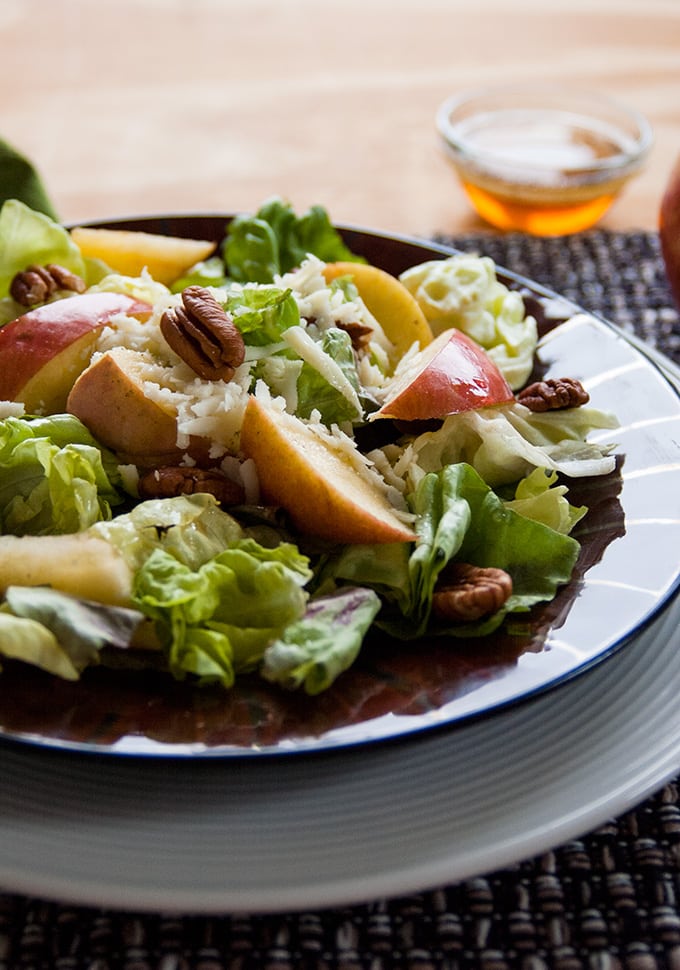 I'm so ready for some lighter, healthier, vegetarian and even low-carb meals. We'll see how that goes for this "pastatarian."
For now, I have to tell you how much I love this salad with maple vinaigrette. It's refreshing and slightly sweet, but contains no refined sugar. The soft mozzarella is the perfect, cheesy accent for the pecans and apple slices. (I know people think of cheddar with apples, but the mozzarella works far better here.)
Speaking of apples, you may recall from my post on The Best Apple Cake that I only eat Fujis. That's what I recommend for this salad, but I'll forgive you if you choose another variety. Just leave the skin on for extra fiber.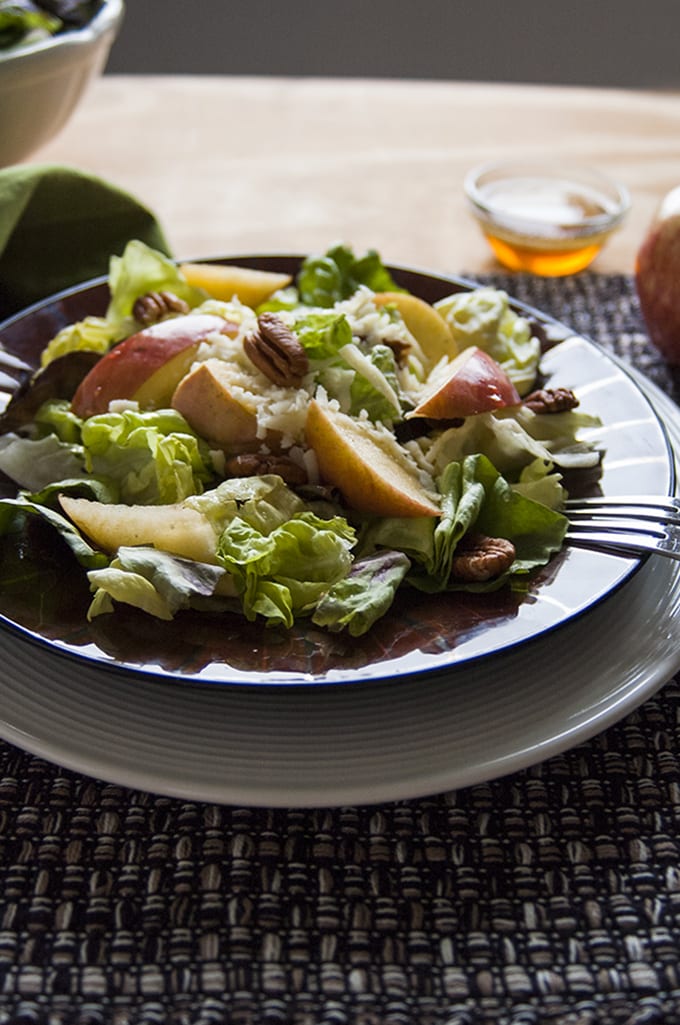 After tweaking the maple vinaigrette over the last month, I'm so happy with the official recipe! Even my kids really enjoyed it, when I finally made this salad for them yesterday. It was the perfect side for our much-loved Apple-Mushroom Pork Tenderloin and would be great for company.
But, I usually indulge in a meal-sized portion of this salad for lunch. I've included the directions for a single, large serving in the recipe notes. You'll end up with leftover salad dressing, but that's a beautiful thing in my book.
More salads and dressings
Enjoy!
(Recipe Source: Cooking with Mamma C)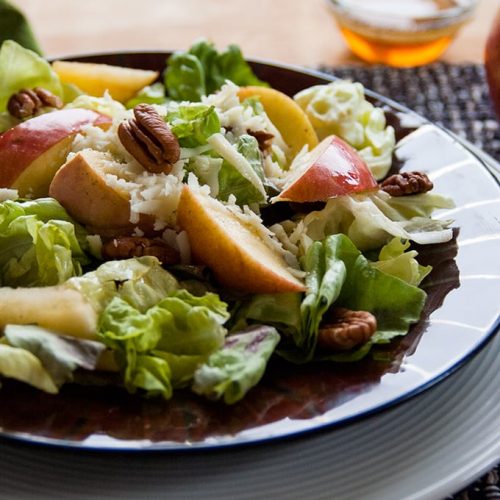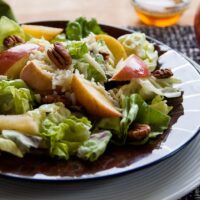 Ingredients
Salad for 2-4 (See notes for one large serving)
6

ounces

lettuce

1

apple

(Fuji preferred)

½

cup

pecan halves

¼

cup

plus 2 tablespoons shredded mozzarella
Maple Vinaigrette (makes just over ¾ cup)
¼

cup

plus 2 tablespoons apple cider vinegar

¼

cup

olive oil

(I use regular)

3

tablespoons

pure maple syrup

⅛

teaspoon

black pepper

⅛

teaspoon

garlic powder

2

sprinkles salt
Instructions
Place your clean lettuce in a bowl. Rinse and dry your apple and slice it up into the salad. (You can leave the skin on the apple.)

Add your pecans and shredded mozzarella to the salad.

To make the dressing, add all the maple vinaigrette ingredients to a small plastic container or bowl and whisk to combine.

Add some dressing to your salad to taste. Store leftover dressing in a sealed container at room temperature for a couple days, or in the refrigerator for longer storage. You will need to whisk it to re-combine when you use it again.
Notes
For a single, large serving: Use half a 6-ounce bag of lettuce, half an apple (I usually eat the other half with my meal), ¼ cup pecan halves, and 3 tablespoons shredded mozzarella. Make the full amount of maple vinaigrette and use what you need, saving the leftover salad dressing for next time.
Nutrition
Calories:
550
kcal
|
Carbohydrates:
38
g
|
Protein:
3
g
|
Fat:
45
g
|
Saturated Fat:
5
g
|
Sodium:
12
mg
|
Potassium:
386
mg
|
Fiber:
5
g
|
Sugar:
30
g
|
Vitamin A:
475
IU
|
Vitamin C:
6.6
mg
|
Calcium:
71
mg
|
Iron:
1.2
mg