Here's my go-to recipe for authentic, Italian, Homemade Marinara Sauce, with no added sugar! It's so quick and easy, you can forget jarred sauce! Vegan and gluten free.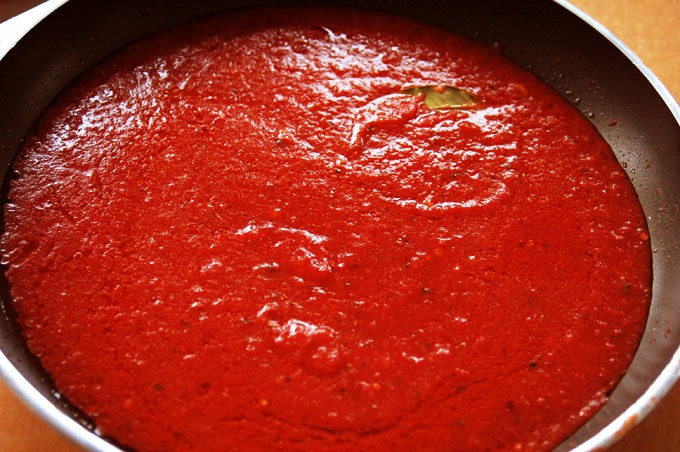 Did you know that jarred tomato sauce can contain more sugar per serving than a candy bar? A half-cup serving of Prego Traditional Pasta Sauce has 10 grams of sugar, while a fun size Snicker's Bar has 8 grams. And who only uses half a cup of sauce?
Fortunately, homemade marinara sauce happens to be one of the easiest (and most delicious) things to cook. My family calls it "quick sauce," and it has no added sugar. I've been making this for decades, often in big batches so that I can keep an extra quart or two in my freezer at all times. I serve it over pasta, on pizza, mixed with spaghetti squash, and ladled over eggplant or chicken Parmigiana.
And let me tell you, it is perfect for cast parties involving 50+ teenagers. Just make a huge pot of sauce, keep a big pan of boiling water on the stove, and cook three pounds of pasta at a time until everyone is fed. (We went through nine pounds of rigatoni the year my son was in Beauty & the Beast!)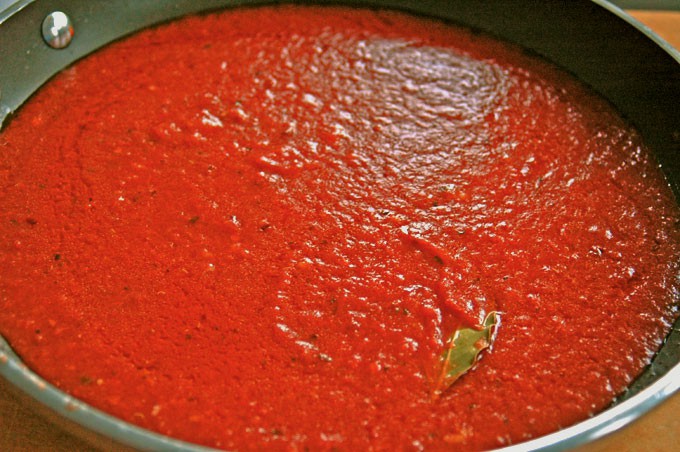 As quick and easy as this sauce is, my kids' friends always tell me it's the best they've ever had. Why is that? What could be so different?
I'm guessing it's because I not only skip the sugar; I also don't use oregano in my sauce. Neither does my family, my husband's family, nor any of our friends from Italy.
Oregano, especially dried, is just bitter. (My personal theory on why jarred tomato sauce contains so much sugar is that it needs to compensate for the oregano.) I also like to add a bay leaf for flavor.
So, try making your sauce without oregano and sugar. If you buy the right canned tomatoes, you can avoid bitterness altogether. I like Tuttorosso or Cento San Marzano.
If you still taste bitterness, try adding a little more olive oil (not extra-virgin — you need regular olive oil for this, since it has a more mild taste). If that doesn't work, my Mom's tip is to add a half teaspoon of baking soda to the sauce.
Buon appetito!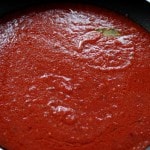 Homemade Marinara Sauce
It's so easy to make Homemade Marinara Sauce! Make a big batch and freeze the extras!

Keyword:
homemade tomato sauce, marinara from scratch
Ingredients
28

ounces

crushed tomatoes

1/4

cup

olive oil

regular, not extra virgin

2

cloves

garlic

peeled and chopped

1

small onion

chopped (optional)

1

bay leaf

1/4

teaspoon

salt

1/4

teaspoon

red pepper flakes

2

fresh basil leaves
Instructions
Heat olive oil in a large skillet (or large sauce pan if making more than one batch) on medium high.

Add onion, if using, and cook until soft, around four minutes, stirring occasionally.

Add garlic to pan and cook for a minute, stirring a couple of times.

Add crushed tomatoes, bay leaf, salt, and pepper flakes; stir.

When sauce starts to boil, lower the temperature and loosely cover the pan with a lid, using a wooden spoon resting on the rim of the pan to keep the lid propped open.

Cook on low, stirring occasionally, for 20-30 minutes.

Add basil leaves and stir in before serving.
Recipe Notes
I often skip the onion, and the sauce is still delicious. The onion will produce a sweeter taste, so try it both ways to see what you prefer.
If you are making a larger quantity of sauce, you will need to increase the cooking time. If doubling the quantity, a minimum of 30 minutes is needed for cooking. For triple and quadruple batches, cook the sauce for an hour. If making a huge batch for a party, cook it for 90 minutes. Also, you can just use one bay leaf for up to a triple batch. If you are making quadruple or more, use two bay leaves.
Nutrition Facts
Homemade Marinara Sauce
Amount Per Serving
Calories 148
Calories from Fat 99
% Daily Value*
Total Fat 11g 17%
Sodium 327mg 14%
Potassium 465mg 13%
Total Carbohydrates 12g 4%
Protein 2g 4%
* Percent Daily Values are based on a 2000 calorie diet.
Recipe source: Adapted from my Nonna's method