Spaghetti Squash Lasagna Boats are the answer to your low-carb dreams! With Italian sausage, ricotta, mozzarella and Parmesan. Make these for a delicious gluten-free meal. Feel free to omit the meat for a vegetarian dinner!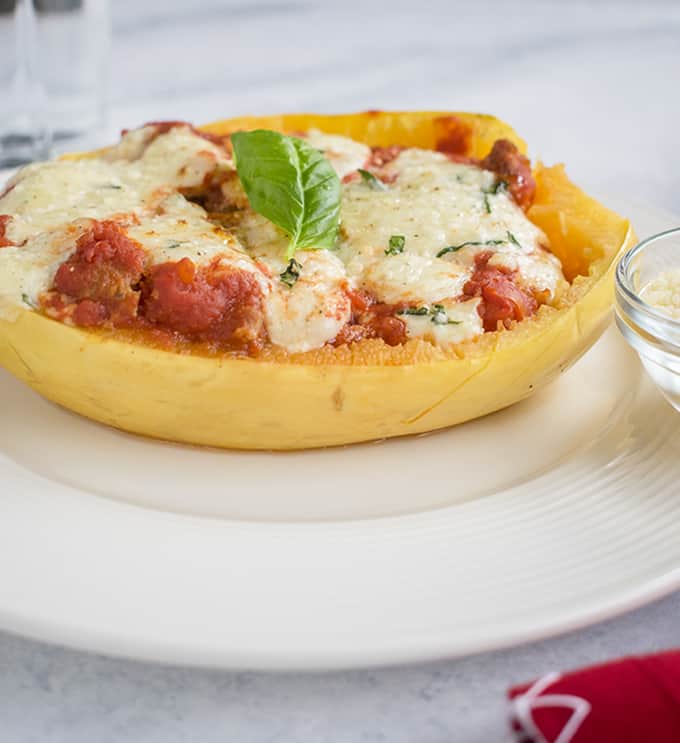 Behold, spaghetti squash lasagna boats, my family's favorite low-carb meal. They're ridiculously good!
You take roasted spaghetti squash and stuff each half with an Italian sausage tomato sauce and a mixture of ricotta, mozzarella and Parmesan cheeses. (For a vegetarian version, use marinara.)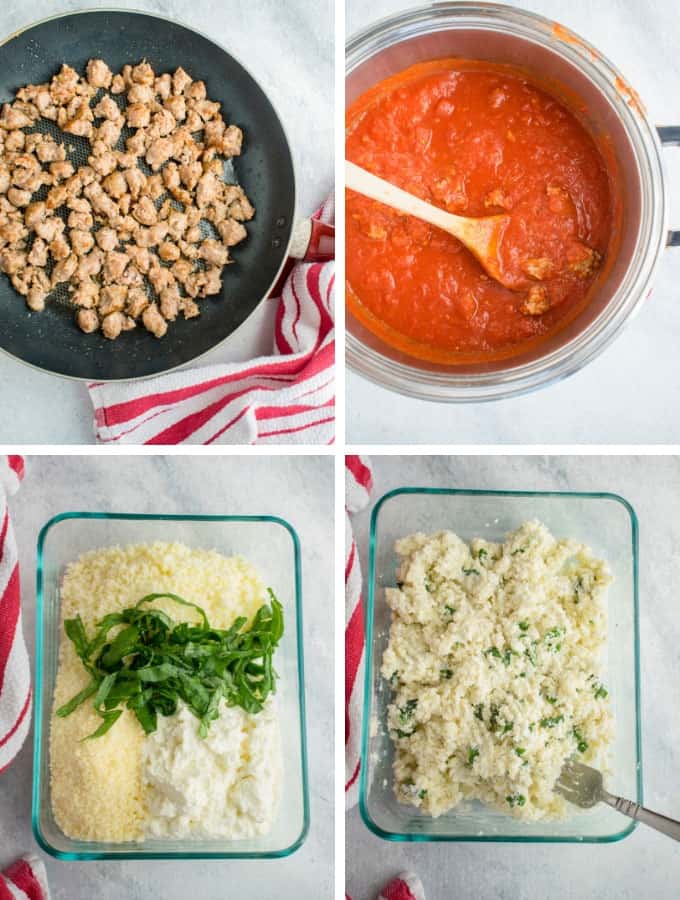 Then you broil the lasagna boats to make the cheese gooey and slightly browned.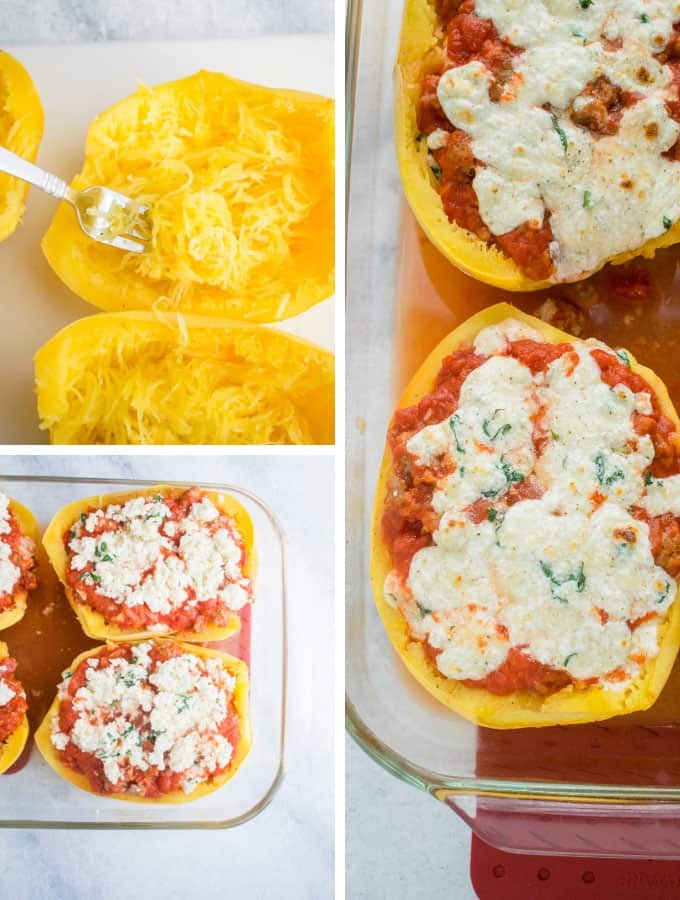 Then, you eat like a cafone.
The good news is, these spaghetti squash lasagna boats are gluten free, lower in carbs and probably healthier than traditional lasagna.
But, still. They're humongous.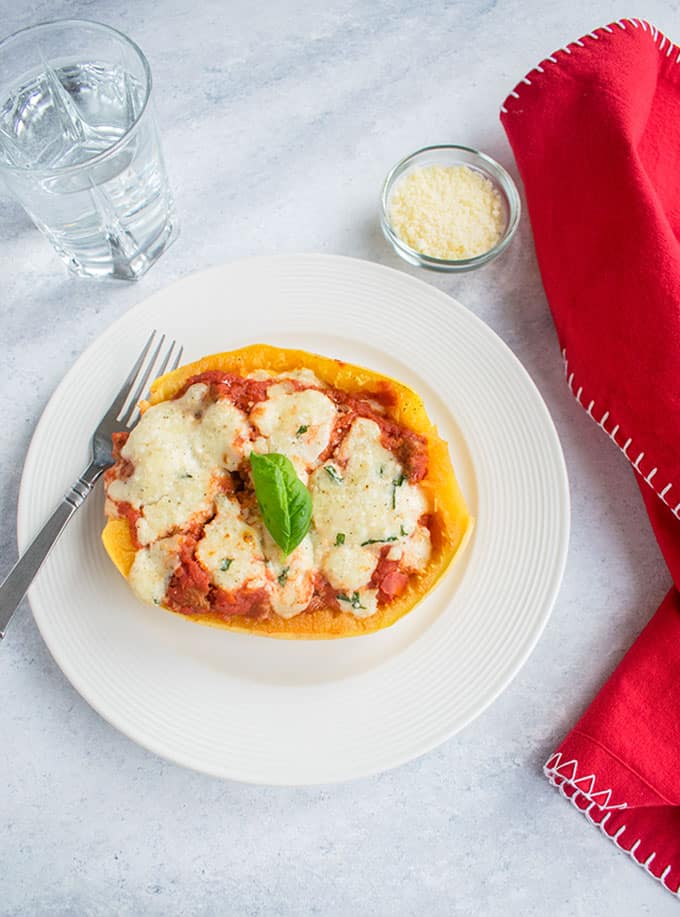 My hubby sometimes takes a fourth instead of half a squash. My son normally eats a full half.
Me? I usually take a fourth, but I've been known to eat an entire half if I'm really hungry.
Don't judge!
And don't miss my sausage and peppers sandwiches!
How to cut spaghetti squash
For years, cutting spaghetti squash was my most dreaded kitchen task. It turns out, I was using the wrong type of knife! Here's the best way to cut spaghetti squash.
1. Rinse the squash and pat dry. Heat the squash in the microwave for five minutes to soften it.
2. Wearing oven mitts, remove the spaghetti squash from the microwave and place it on a cutting board.
3. Use a small paring knife to slice off the ends of the squash and cut the squash in half the long way. The paring knife (affiliate link) works so much better than a long knife!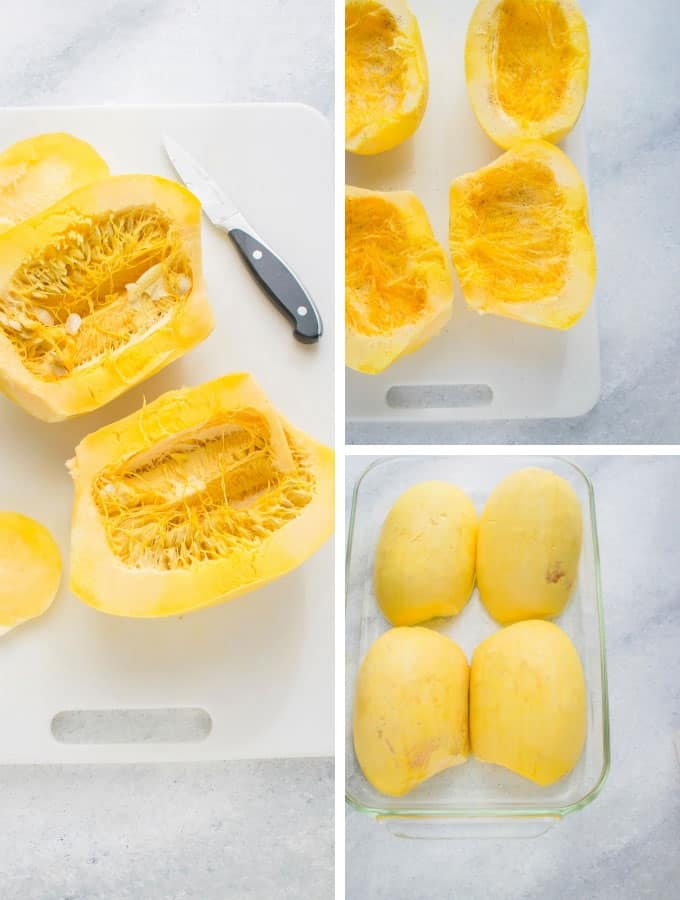 I have to tell you about the time years ago when I put a spaghetti squash in the microwave to cook for about 15 minutes. You're supposed to poke holes in the squash if you're going to cook it that long in the microwave (but there's no need to poke holes for just the five minutes called for in this recipe).
My son, who was about eight at the time, was home with me. We suddenly heard, "BOOM!"
Except we had no idea what caused the noise. We thought maybe there was an explosion outside.
So like an idiot, I was looking out the window. Then, I was peeking into the basement.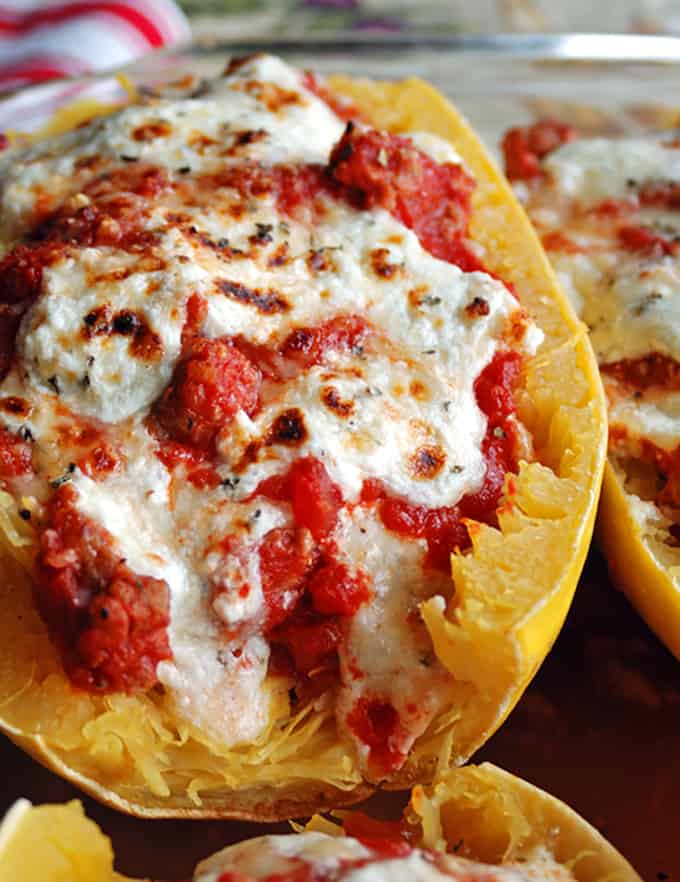 Suddenly, I caught a glimpse of the fogged up microwave with splattered gunk everywhere. I slowly opened the door and was greeted with hundreds of slimy strands of spaghetti squash hanging from the microwave ceiling like stalactites in a cave.
It was a huge mess, and one of my biggest kitchen fails. My son and I looked at each other and burst out laughing.
For years, he'd say to me, "Mom, remember that time you put spaghetti squash in the microwave and it exploded?"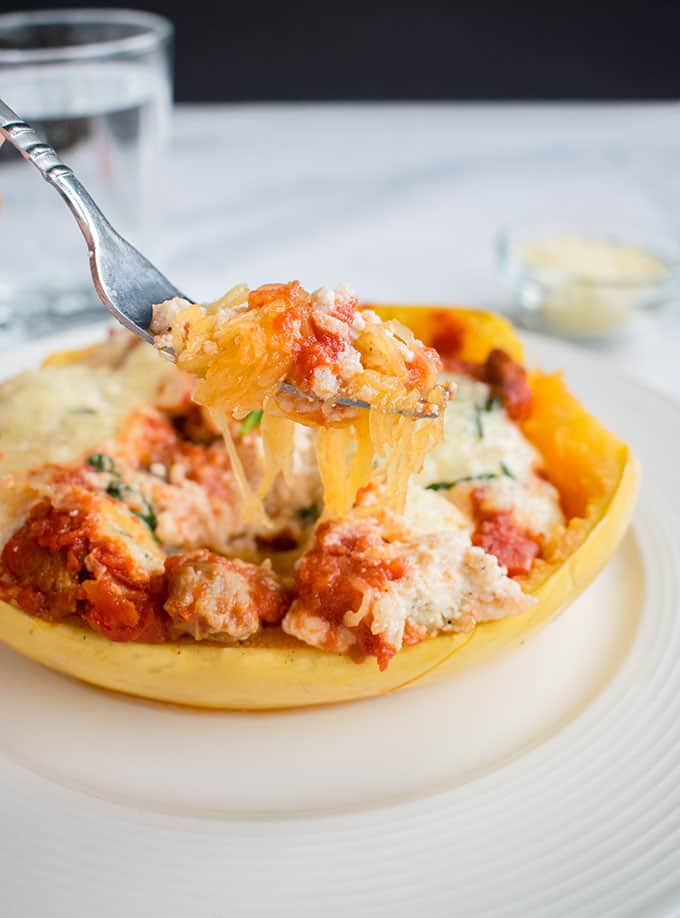 Ah, memories. For what it's worth, I did try making these spaghetti squash lasagna boats by cooking the squash completely in the microwave (I remembered to poke the holes), but I found that I really like the texture better when roasted in the oven.
This is a really fun and delicious meal. I hope you guys enjoy it!
More recipes like this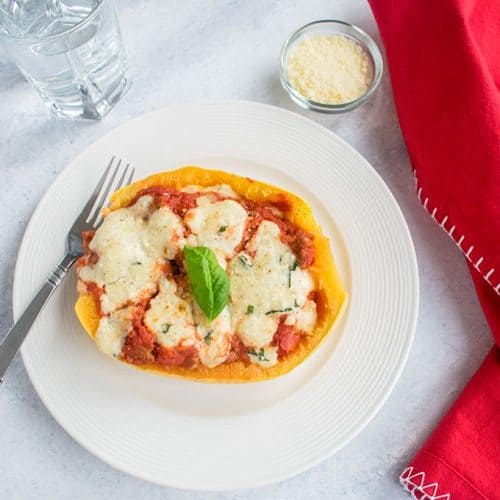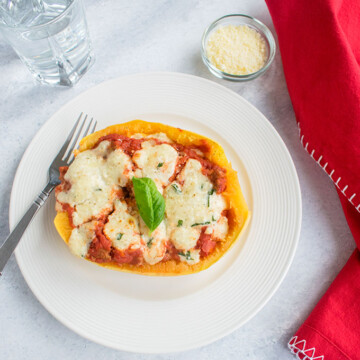 Spaghetti Squash Lasagna Boats
These Spaghetti Squash Lasagna Boats are ridiculously good! Roasted spaghetti squash get stuffed with a sausage-tomato sauce and lots of ricotta, mozzarella and Parmesan cheese. Gluten free and lower in carbs than lasagna.
Print
Pin
Rate
Save
Go to Collections
Ingredients
Roasted Squash
2

spaghetti squash

1

teaspoon

olive oil

(or spray)

salt to taste

pepper to taste

enough water to fill your baking pan ½ inch
Easy Sausage-Tomato Sauce
1

pound

ground sweet Italian sausage

(or break up the links)

2

28-ounce cans crushed tomatoes

1

bay leaf
Lasagna Boat Filling
1 ½

cups

ricotta

(part skim is fine)

1 ½

cups

shredded mozzarella

(6 ounces)

¾

cup

freshly grated Parmesan

(plus extra for serving)

4

tablespoons

basil ribbons

(or ¾ teaspoon dried basil)

½

teaspoon

pepper
Instructions
Preheat your oven to 400 degrees F. Rinse your spaghetti squash and place one in the microwave for 5 minutes. Use oven gloves or a kitchen towel to remove the squash, as it will be a bit hot. On a large cutting board, use a small paring knife to carefully slice off the stem and root ends. If you can't cut through it, put it back in the microwave for another minute. When you are able to cut through your squash, place your second squash in the microwave for five minutes while you finish cutting the first squash.

Cut your squash in half the long way, being careful to hold it steady with a kitchen towel, since it will be hot. Use a fork to scrape out the seeds and dark gold strands that are slimy. (You can save the seeds to roast if you wish, or discard them with the dark strands.) Prepare your second squash the same way.

In a 10x15 pan, (or a 9x13 pan if they'll fit) place about half an inch of water. Spray the flesh of the squash with olive oil (or brush it on). Sprinkle with salt and pepper to taste, and place the squash flesh-side down into the pan. Bake for 45 minutes.

When the squash is in the oven, make your sauce. Have a 12-inch skillet ready and a large pot. Break up your sausage if it's in links. You'll need a knife or kitchen scissors to cut through the casing and peel it off of the meat. Discard all of the casings. Break up the sausage with your hands and place it in your 12-inch skillet. Wash your hands well. Over high heat, break up the sausage some more with a wooden or plastic spoon. Cook the sausage until it's no longer pink.

While the sausage is cooking, place your crushed tomatoes in your large pot over medium heat. Add the bay leaf.

When the sausage is cooked, add it and most of its liquid to your tomato sauce. (Leave behind about a teaspoon of fat from the sausage.) Stir the sauce and let it come to a boil with your lid propped open by your spoon resting on the edge of the pot. When it's boiling, lower the heat to a simmer and keep the lid propped open as before. Stir periodically to prevent sticking.

While your sauce is cooking, prepare your cheese filling. Shred your mozzarella, if needed, and grate your Parmesan. (I use my blender for the Parmesan and a food processor for the mozzarella.) In a medium bowl, mix all of the cheese with a spoon or fork. If using fresh basil, stack your basil leaves, roll them up, and slice them into ribbons. Add your fresh or dried basil to the cheese, along with pepper, and stir until blended.

When the squash is cooked, remove the pan from the oven and set it on your stove. Using two forks, carefully remove a squash half from the pan and set it on your large cutting board, with the skin side down. Use your fork to try fluffing some strands of squash, to make sure it's tender. (It should be done at this point, but you can always put it back in the oven if needed.) Remove all of the squash halves to your cutting board and drain the water from your baking pan. Set your oven to broil.

Put the squash back into your baking pan and fluff all the squash with a fork to make the spaghetti strands. Turn the heat off your sauce. Fill each squash boat with a ladle of sausage sauce, some cheese filling, another ladle of sauce, and then more cheese. Use all of the cheese filling, but you will have some sauce left for serving. When all of the squash is filled, place your baking pan on the center rack of the oven and broil the lasagna boats for 3-4 minutes, watching carefully so they don't burn. This will melt the cheese and help brown it a bit.

Serve each person either a half squash or a fourth, depending on their appetite. Sprinkle extra Parmesan on top, ladle on more sauce, and dig in!

Store leftovers in the refrigerator for up to four days. These don't freeze well.
Notes
A small paring knife cuts through the squash much better than a long knife!
Since the sausage brings so much flavor and seasonings to the sauce, I don't add anything but a bay leaf to the crushed tomatoes. If you want to skip the sausage and go with a meatless sauce, you will need to add olive oil, garlic, seasonings, and perhaps some onion to your sauce.You can make a double batch of Cooking with Mamma C's Homemade Marinara Sauce.
Nutrition
Calories:
486
kcal
|
Carbohydrates:
33
g
|
Protein:
26
g
|
Fat:
33
g
|
Saturated Fat:
14
g
|
Cholesterol:
89
mg
|
Sodium:
1038
mg
|
Potassium:
1058
mg
|
Fiber:
7
g
|
Sugar:
15
g
|
Vitamin A:
1190
IU
|
Vitamin C:
24.7
mg
|
Calcium:
448
mg
|
Iron:
4.4
mg
(Recipe Source: Inspired by this stuffed spaghetti squash from Celiac in the City. Originally published on January 18, 2016 as Big-as-Your-Face Lasagna Boats and republished now with new photos and updated text.)