This Traditional Lasagna is my favorite family recipe! It's loaded with ricotta, mozzarella, Parmesan and Romano, plus the most flavorful meat filling! Top it with marinara or pork rib tomato sauce and prepare to swoon.
Without a doubt, traditional lasagna is among my top 10 favorite foods. I mean, it's what I would request for my last meal.
Of course, I'd also have to have lobster tails, prime rib, Nonna's Chicken Meatball Soup, Mom's Spinach Pie, artichokes and Blueberry Pie with Sugar Cookie Crust.
But who sits around thinking of such things? Oh, wait, I forgot to add Nonna's Batter-Fried Zucchini...
Anyway, I was happy to have the excuse to make my favorite dish over the weekend, thanks to my daughter. She requested that I serve it at the dinner we hosted for her and her friends before their dance.
This traditional lasagna is stacked high, with three full layers of pasta filled with sauce, ricotta, Romano-accented ground beef that's mixed as if for meatballs, then plenty of mozzarella and Parmesan. Finally, one last layer of pasta gets added, topped with a sprinkling of more cheese and some sauce.
It's decadent and delicious, and I'm thinking I'd better postpone my cholesterol blood work until next week, if you know what I mean.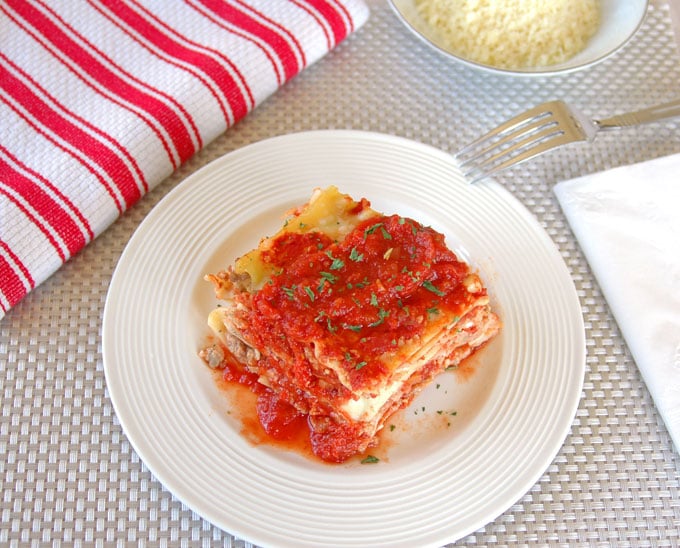 While no-boil lasagna is super convenient, I really prefer the thicker, sturdier texture of the traditional kind that you boil. Adding olive oil to the pot of water helps prevent sticking.
And the most important trick to keeping any baked pasta al dente is to boil it for just under half the cooking time listed on the package, because the oven will take care of the rest. (I used the Barilla brand, and I just needed to boil it for four minutes.)
Finally, it might be helpful for me to address the Question of the Day when making lasagna for company: How much should you make?
Well, if we start with the sauce, you'll need lots. Figure on using three, 28-ounce cans of tomatoes in your homemade sauce per pound of lasagna. You can go with a meat sauce or marinara.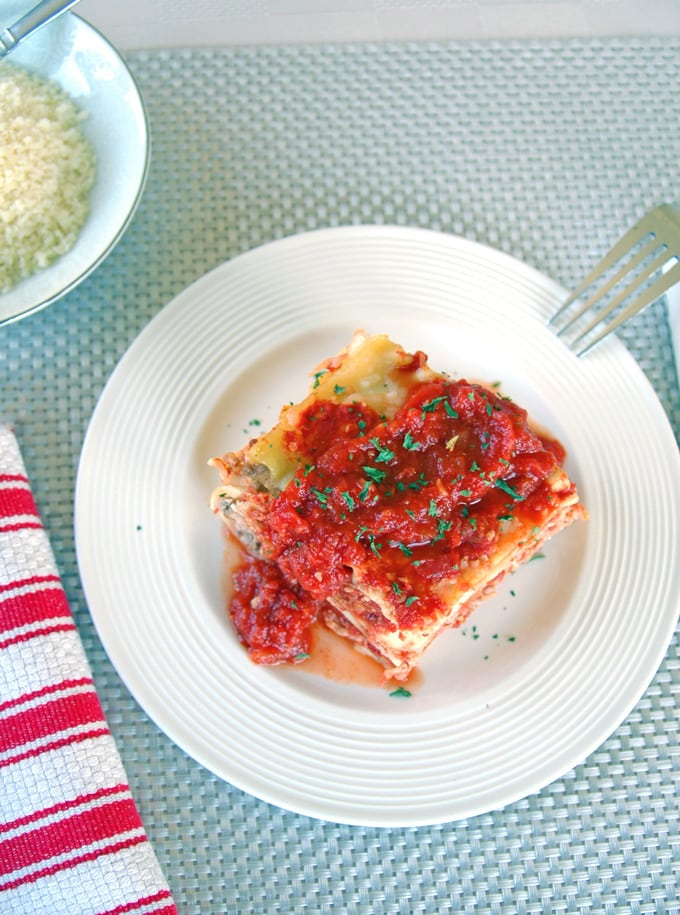 Then, I firmly believe that you never want to skimp on lasagna portions, regardless of what else you're serving. Some people (cough, cough) will have seconds of lasagna and forgo whatever else is on the menu.
To be prepared, it's good to estimate that a 9x13 pan (made with one pound of pasta sheets) will serve six people. I cut my servings into eight, roughly 3 x 2.5-inch pieces, and some people will start with just one, while others will ask for two up front.
Plus, leftover lasagna is never a bad thing and won't go to waste, especially around here.
Do you love lasagna like I do? What would you want for your last meal?
Other Pasta Dishes to Try
If you love pasta dishes as much as I do, don't miss Homemade Manicotti, Pasta alla Vodka or Spaghetti Bolognese. For tomato-free sauces to top your pasta, try pesto, Alfredo, or creamy walnut sauce.
Enjoy!
(Recipe Source: Adapted from my Mom's lasagna)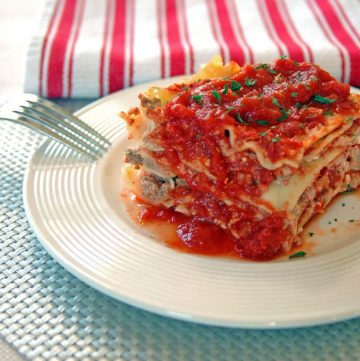 Traditional Lasagna
Traditional Lasagna - The best, authentic, Italian lasagna! A recipe for my favorite meal of all time!
Print
Pin
Rate
Ingredients
3

quarts

tomato sauce

(a triple batch of Cooking with Mamma C's Homemade Marinara or one batch of Cooking with Mamma C's Pork-Rib Tomato Sauce)

16

ounces

mozzarella

(shredded or grated)

8

ounces

fresh Parmesan

(grated)

16

ounces

ricotta

(seasoned with salt and pepper to taste)

16

ounces

lasagna noodles

4

tablespoons

olive oil

(divided use)
Meat Mixture
1/2

cup

grated Romano cheese

3/4

pound

lean ground beef

3/4

cup

Italian-seasoned bread crumbs

(or use oats and add garlic powder, salt, pepper, dried parsley)

2

eggs

1/3

cup

water
Instructions
Start by cooking your tomato sauce. While that's on the stove, you can grate your Parmesan, Romano and mozzarella. (I use my blender.) Set bowls of each cheese aside. Season your ricotta with salt and pepper to taste, and set that aside as well. (If your sauce needs a while to cook, you might want to refrigerate your cheeses in the meantime.)

If you are using lasagna noodles that need to be boiled, fill a tall pot 2/3 full with salted water and add 3 tablespoons of olive oil to the water. Set it on the stove, covered, over high heat. When the water comes to a rolling boil, add the lasagna noodles and stir them periodically as you cook them for just under half the time listed on the package directions. (It will take 4-6 minutes, depending on the brand you use. The Barilla brand will take 4 minutes.)

Drain the lasagna noodles in a colander in the sink and carefully (they will be hot) hang them over the edges of your pasta pot to dry and cool. (You may need to have some hanging on the colander too.)

Prepare your meat mixture in a medium bowl, adding all the meat ingredients and gently mixing with your hands until combined. Wash your hands well and heat a tablespoon of olive oil in a large skillet. Add the meat mixture to the skillet and brown it over medium-high heat, stirring as needed, until there is no pink remaining. Drain any liquid in a fine-mesh strainer in the sink.

Preheat the oven to 350 degrees F. To assemble the lasagna, set out your bowls of ricotta, mozzarella, and Parmesan near your meat, pasta, and sauce. Cover the bottom of a 9x13 pan with a couple ladles of sauce. Add a layer of lasagna noodles the long way, cutting any extra pieces needed to fill in gaps. (I use kitchen scissors.)

On each row, add a heaping tablespoon of ricotta, spreading it in a thin layer on each strip of pasta. Sprinkle on 1/3 of the meat over the ricotta, dispersing it as evenly as you can. Next, sprinkle on 1/3 of the mozzarella. Add a generous handful of Parmesan on top of the mozzarella. (Keep in mind that you will end up with extra Parmesan to serve at the table, so you don't need to put all of the Parmesan inside the lasagna.)

Add a couple more ladles of sauce. For the second layer, you will change the direction of the lasagna noodles, placing them the short way, cutting them in half as needed. Repeat with the ricotta, meat, mozzarella and Parmesan.

For the third layer, add the sauce and then place the noodles the long way. Continue building your layer as before.

For the top, add a layer of lasagna noodles the short way, sprinkle on some Parmesan, and ladle on some sauce. Cover the lasagna with foil that has been greased with non-stick spray. Bake for 1 hour and 10 minutes, and check to see if it is heated through. If so, let the lasagna rest for 10 minutes before cutting it.

Serve the lasagna with extra sauce ladled on top and extra Parmesan at the table. Store leftovers in the refrigerator for four days, or freeze.
Notes
You can prep and assemble the lasagna the day before, store it covered in the refrigerator, and bake it the following day. If so, you should leave the lasagna out at room temperature for at least 30 minutes before baking.
Another option is to make your sauce and grate your cheeses the day before, and then finish everything the following day.
Note that if you are making your own sauce, marinara is quicker than making a meat sauce. The prep time in the recipe includes making marinara.
Nutrition
Calories:
1070
kcal
|
Carbohydrates:
76
g
|
Protein:
54
g
|
Fat:
61
g
|
Saturated Fat:
22
g
|
Cholesterol:
166
mg
|
Sodium:
1743
mg
|
Potassium:
1320
mg
|
Fiber:
7
g
|
Sugar:
16
g
|
Vitamin A:
1660
IU
|
Vitamin C:
28.5
mg
|
Calcium:
953
mg
|
Iron:
7.3
mg