My Mom's Italian Cookies have a soft texture, thanks to a secret ingredient! These are my favorite cookies! Flavor them with vanilla or anise.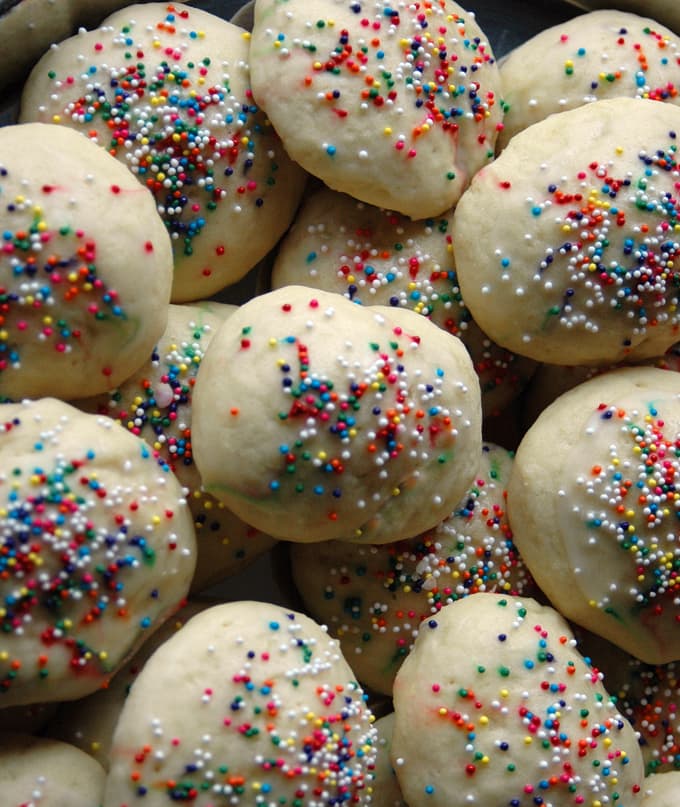 Today, I'm sharing these Italian Cookies as part of the Great Food Blogger Cookie Swap 2014, to benefit Cookies for Kids' Cancer. This is my first time participating in this annual event, which has raised more than $12,000 this year for such a good cause.
Cookies for Kids' Cancer supports grants for pediatric cancer research to find safer, more effective treatments for kids. Since its launch in 2008 by Gretchen and Larry Witt — whose son Liam was diagnosed at age 2 — the organization's funding has helped generate nine promising new treatments. These treatments are now in clinical trial and available to children fighting cancer today.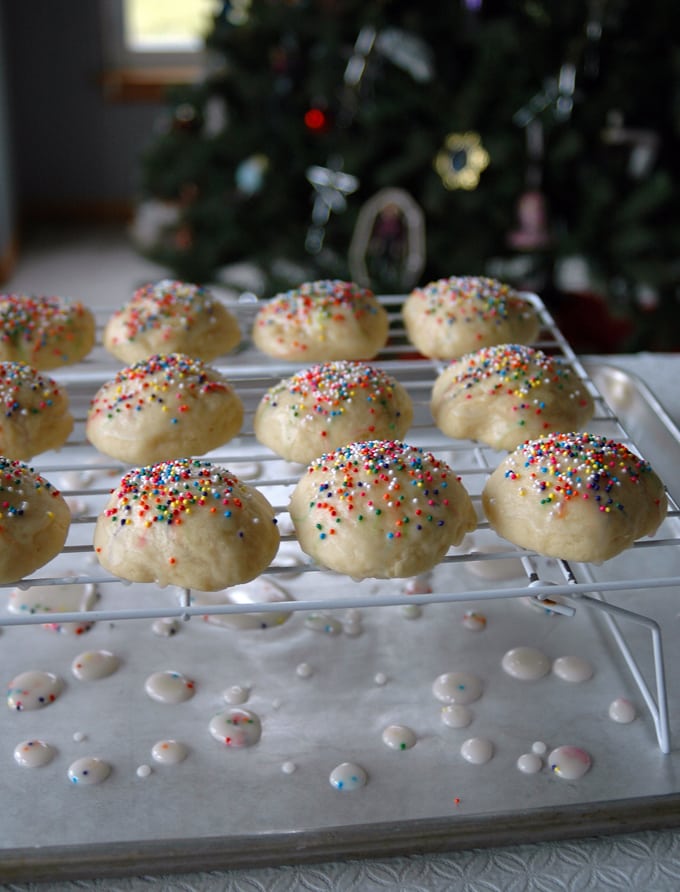 As someone whose own household has been affected by cancer, my heart goes out to all families facing this disease, especially those with children fighting this fight. I baked these cookies with love and prayers for these kids.
This recipe is so special to me. I've adapted Mom's Italian Cookies as I remember them from my childhood. Mom now makes a slightly different version, and just about every Italian family has its own way of making these.
But this way is my favorite, because it produces fluffy, tender cookies flavored with vanilla instead of anise. (I've never been a fan of anise, which tastes like black licorice.)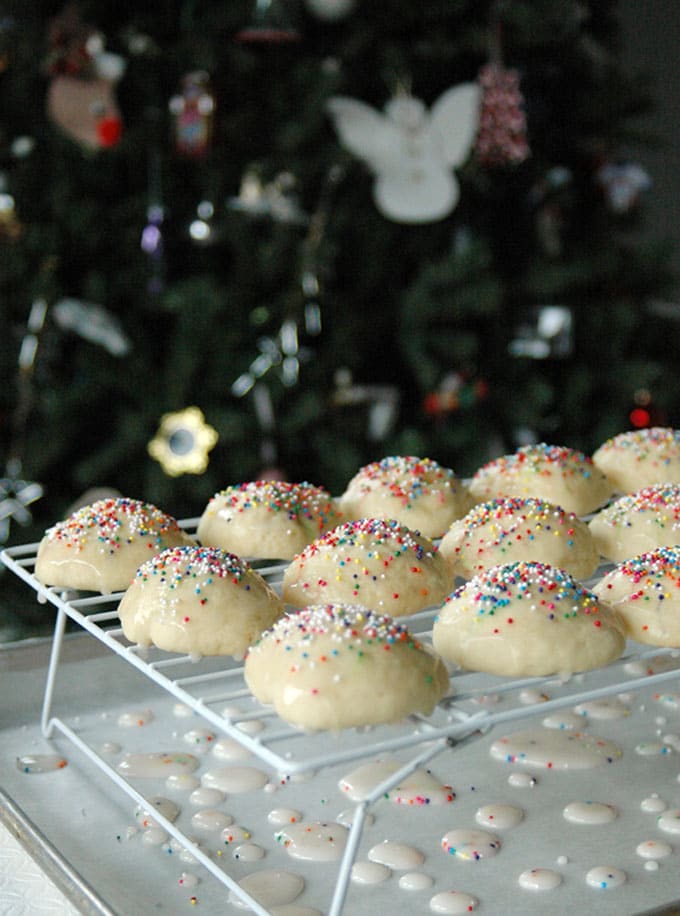 I think of these as Italian sugar cookies. They have a soft, almost cake-like texture, thanks to the addition of half and half to the dough.
I'd say the flavor is similar to Cookies by Design, if you've ever tried those. Yum!
And instead of using the typical glaze, Mom uses a cooked one made with light corn syrup, so the cookies have a glossy, smooth finish.
I was so excited the first time I made these. I hadn't tasted them in so long.
And it's really fun to dip the cookies in the glaze and top them with sprinkles! It's the perfect job for kids.
The grown-up kind, too!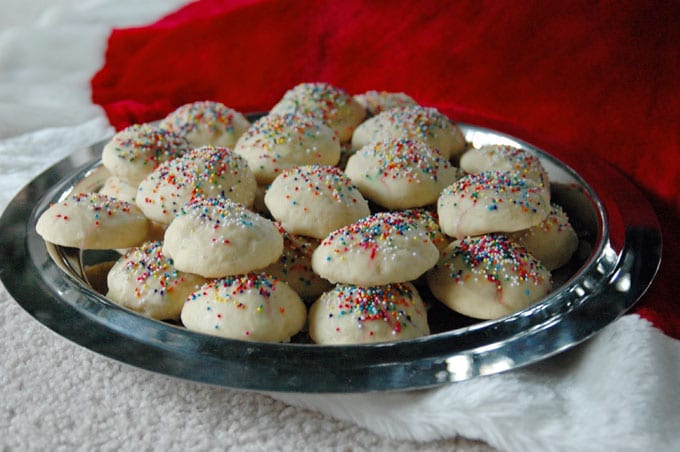 As part of the cookie swap, I sent my Italian cookies to Kathleen, Alison and Christy. And I received cookies in the mail (so fun!) from Ashley, Aimee and Caitlin.
If you'd like to support Cookies for Kids' Cancer by donating funds, buying cookies or holding a cookie swap or bake sale, click here to learn more.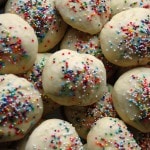 Italian Cookies
These Italian Cookies have a soft, cake-like texture and a glossy finish from the cooked glaze. Top them with sprinkles for a festive look. Flavor them with vanilla or anise and dip them in your coffee or hot chocolate!
Keyword:
italian cookies, sprinkles
Servings
:
55
(Makes 55 cookies)
Ingredients
Cookies
12

ounces

salted butter

(softened; 3 sticks)

1 1/4

cup

granulated sugar

5

eggs

1 1/2

tablespoons

vanilla extract

(or 1 tablespoon anise)

5

cups

all-purpose flour

5

teaspoons

baking powder

1/4

teaspoon

salt

3 1/2

ounces

half and half

(or whole milk)

extra flour to dust your hands while rolling
Glaze
1/2

cup

granulated sugar

2

tablespoons

light corn syrup

1/3

cup

water

2

cups

confectioners sugar

1/2

teaspoon

vanilla extract

(or anise)
Sprinkle topping
1

ounce

nonpareils in festive colors
Instructions
Set out 3 sticks of butter to soften at room temperature. In a large bowl, use a mixer to blend the softened butter with the 1 1/4 cups granulated sugar until creamy. Add eggs and vanilla; mix.

In a separate medium bowl, use a fork to toss together the flour, baking powder and salt. Add some of the flour mixture to the butter mixture, mixing well. Add the half and half and mix. Gradually add the rest of the flour mixture in, beating well after each addition. You will end up with a sticky dough.

Cover the bowl of dough with plastic wrap and refrigerate for 30 minutes. During that time, prepare the glaze. In a small saucepan (stainless steel if you have one), whisk the granulated sugar, water and corn syrup together. Cook over medium heat, stirring until the mixture just comes to a boil. Remove the pan from the heat and stir in the vanilla. Let the mixture cool for five minutes.

After five minutes, use a mixer on low speed to gradually blend in the confectioners sugar until smooth. (If you used a stainless steel pan, you can do this right in your pan. Otherwise, transfer the glaze to a mixing bowl first.)

Preheat the oven to 350 degrees F. Line two (four, if you have them) sheet pans with parchment paper (or lightly grease the pans with cooking spray).

Place a few tablespoons of flour in a small bowl (for dusting your hands). When the dough is chilled, use two teaspoons or a scoop to measure out some dough. With floured hands, roll the dough into a 2-inch ball and place it on the baking sheet. Continue scooping and rolling, dusting your hands each time. Place the cookies two inches apart on the pan. Refrigerate the dough whenever it gets too soft to work with.

Bake the cookies at 350 degrees F for 10-15 minutes, until the tops are set, and the bottoms are lightly browned. (Mine took 13 minutes.) Let the cookies rest for a couple of minutes before placing them on a cooling rack.

When the cookies are completely cooled, you can glaze them. One at a time, dip the cookie in the glaze and immediately sprinkle it with nonpareils. (Don't put on too many, or the colors will bleed.) Place the glazed cookies on a cooling rack and set it over a parchment-lined or wax-paper-lined pan to catch the drips. It will take about 4 hours for the glaze to fully dry, so wait to store or package the cookies.

Once the glaze has dried, store the cookies covered at room temperature for up to a week. Note that if you use a plastic container, the cookies will become very moist. I like to keep mine on a tray loosely covered with plastic wrap. Any leftover glaze can be kept at room temperature for three days, then refrigerated for a week. You also could freeze the glaze.
Recipe Notes
It will take four hours for the glaze to fully dry on the cookies, so plan ahead if you need to package up the cookies to take or send somewhere. (You'll want them dry before you attempt to stack them.)
The cookie dough is very soft and sticky. You will need to refrigerate it for 30 minutes first, then again for several minutes while some of the cookies are baking. Make sure your hands are floured when rolling.
If you need to reuse your baking pans as you go, make sure they are cool first, so the cookies don't spread. It helps to rinse the pans in cold water and line them with fresh parchment paper.
Nutrition Facts
Italian Cookies
Amount Per Serving
Calories 141
Calories from Fat 45
% Daily Value*
Fat 5g8%
Cholesterol 28mg9%
Sodium 62mg3%
Potassium 58mg2%
Carbohydrates 20g7%
Protein 1g2%
Vitamin A 185IU4%
Calcium 23mg2%
Iron 0.6mg3%
* Percent Daily Values are based on a 2000 calorie diet.
(Recipe Source: Adapted from my Mom)