You have to try this Homemade Pizza Dough with Beer! It's so easy, and makes the best pizza.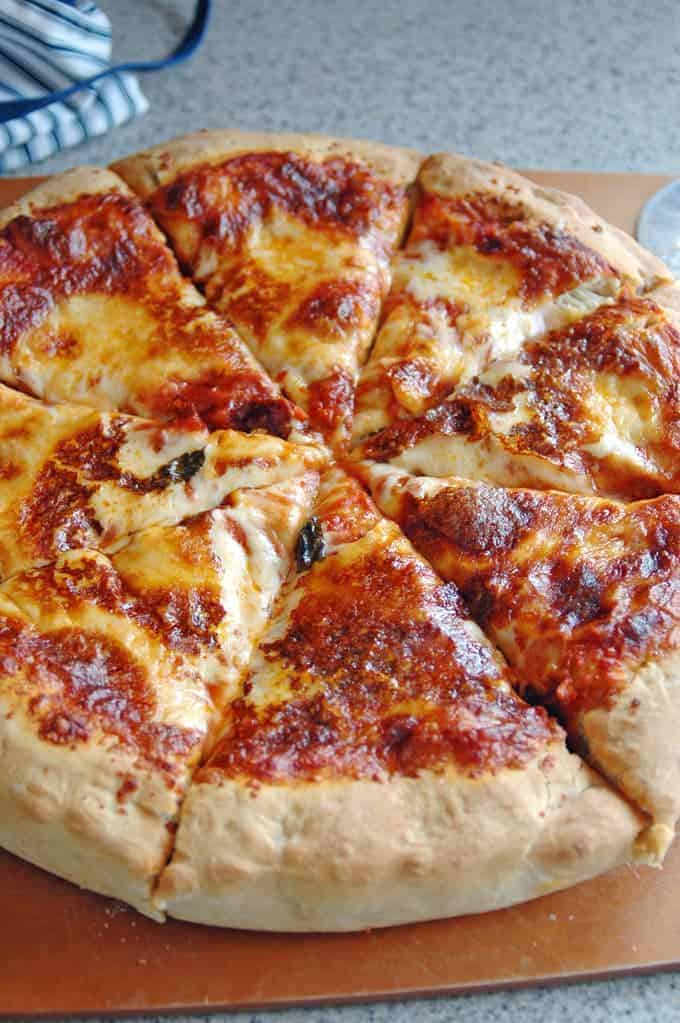 You knew it was only a matter of time before I posted a pizza dough recipe, right? Today, I'm sharing a delicious, homemade pizza dough with beer that my in-laws bake in their outdoor brick oven.
Don't worry, a regular oven works too. (It has to, because that's all I have.)
When we visit my in-laws in Connecticut, we really enjoy making pizza together. It's a family affair, with my mother-in-law and sister-in-law making the dough, all the kids and I joining in to shape the pizzas and add toppings, and my husband, brothers-in-law and father-in-law working the brick oven. (It's a guy thing, like grilling.)
This dough requires kneading, which takes five minutes in my stand mixer, but probably a few minutes longer by hand. Then the dough needs to rise, covered, until it doubles, which takes an hour. You can proceed to make the pizza then or let the dough have a second rise, if you wish.
It's a similar process to making Parmesan Focaccia with Rosemary.
I've made this pizza dough with all white flour and with a combination of white and whole wheat. The all-white version is easier to work with, but I love the taste of the wheat crust, which seems to have a more pronounced beer flavor.
They're both excellent, though, and you can make your pizza as thick or thin as you wish. (I've included some weight measurements in the recipe as a guide.)
Pizza from scratch is so much better (and cheaper!) than anything I can order for delivery. (Don't even get me started on how every local restaurant and all the chains put oregano, and probably sugar, in their sauce.)
Top your pizza with this Homemade Marinara Sauce and cheese or the toppings of your choice!
If you double the dough recipe, you can bake what you need and wrap up the rest in 10-14 ounce portions to freeze and thaw as you need them. Try making this Escarole-Stuffed Pizza (Pizza di Scarola) or this Sweet Banana Pizza with White Chocolate for dessert!
And yes, I do have enough dough for five large pizzas sitting in my freezer right now. It comes in handy if I want to bake it in sheet pans and cut it into squares for a delicious Italian appetizer!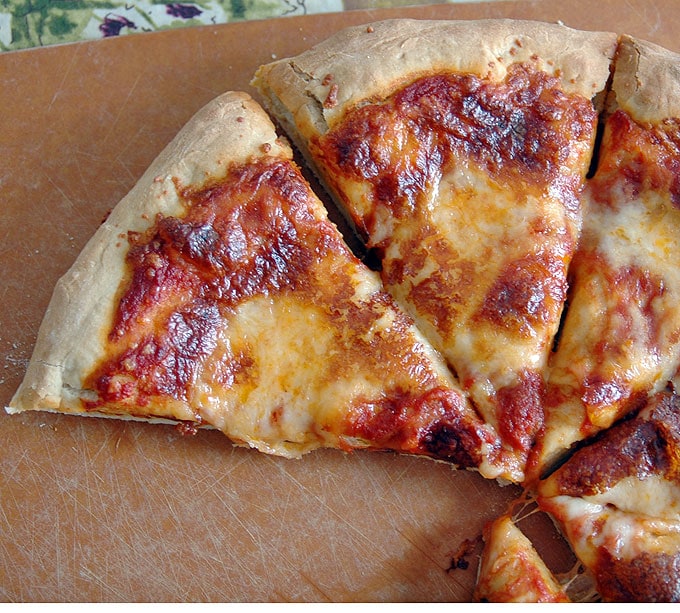 (Recipe Source: Inspired by a recipe from King Arthur Flour)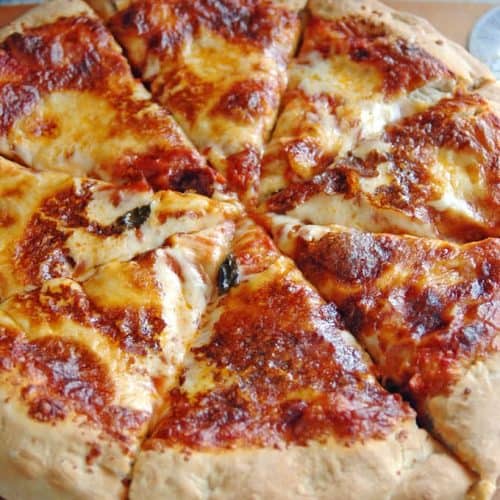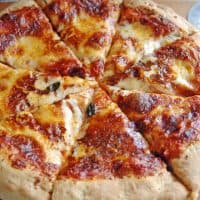 Homemade Pizza Dough with Beer
A delicious pizza dough that can be ready to work with in just an hour, but it's even better with a second rise.
Print
Pin
Rate
Save
Go to Collections
Servings:
12
; makes 3 rounds or 2 sheet pans
Ingredients
1 ¼

pounds

flour

(use all-purpose flour or equal parts white and white whole wheat flour)

1 ⅛

teaspoon

instant yeast

¾

teaspoon

sugar

1 ¼

cups

warm water

1 ½

ounces

beer

⅛

cup

cooking oil

1 ⅛

teaspoon

salt
Instructions
Weigh your flour if you have a kitchen scale. Add all the ingredients to a large mixing bowl or stand mixer bowl. If using a KitchenAid stand mixer, use the dough hook and mix for a minute on the lowest speed. Increase the speed to two, and knead for five minutes, or until the dough becomes a smooth ball that pulls away from the sides of the bowl.

If kneading by hand, stir the ingredients with a spoon and place the dough on a floured work surface. To knead, fold the dough in half toward you, then push the dough away from you while pressing down with the heels of your hands. Rotate the dough a few degrees, then repeat the folding and pushing. Continue doing this until the dough forms a smooth ball. It could take up to 10 minutes. (If your dough still feels sticky after a while, add a bit more flour. If your dough feels too dry, add a bit more warm water.)

Place the ball of dough in a large, greased bowl and cover it with a towel. Let it rise for 1-2 hours, until it has doubled in size.

Punch down the dough and transfer it to a floured work surface. You will have about 2 pounds of dough. Use a knife or dough cutter to cut the dough in half for two half sheet pans, or divide the dough into three equal parts for 3, 12-inch round pizzas. (If you have a kitchen scale, you might want to weigh the dough segments to see if they're even.) Use 10-12 ounces of dough for a 12-inch round pan, and 14-16 ounces for a rectangular sheet pan. (If you want a deep-dish round pizza as pictured, use a pound of dough for the 12-inch pan.) You can cover the balls of dough for a second rise of 1 or two hours, if you wish, or proceed to make the pizza. A second rise helps to make the dough more tender.

When the dough is done rising, preheat your oven to 450 degrees F and lightly grease your pizza pans (three rounds or two sheet pans). If using a stone, don't grease it. Put it in the oven while it preheats.

Shape the dough to fit your pan or stone. It helps to grasp the dough by the edges, hold it up, and let it stretch out. Rotate the dough a bit and continue, pressing the dough with your fingers in the thick spots to thin it out. (If using half whole wheat flour, you might find it easier to roll the dough into shape.) If using a stone, you can put your pizza on parchment paper until it's time to bake it, then transfer the pizza and paper onto the stone to bake.

Bake the dough for 5 minutes before adding any toppings. Then add your sauce, toppings and cheese and bake for another 10-15 minutes. Since ovens vary, and the thickness of your pizza is a factor, keep an eye on your pizza to make sure it doesn't burn. (If you prefer that your cheese is not well done, you can add half of your cheese when you add the other toppings, bake the pizza for five minutes, then add the rest of the cheese before continuing to bake.)

Let the pizza rest for a few minutes before slicing. Store leftovers in the refrigerator or freezer. Freeze any leftover dough in portions for later use. (See notes.)
Notes
This recipe works best if you weigh your flour. Also, I like to double the recipe and get four pounds of dough that I can portion out for immediate baking and for storing in the freezer. I weigh the dough so I can store 10-ounce portions for my round pan and 14-ounce ones for my rectangular pan. I coat the dough lightly with olive oil, wrap each portion in plastic, label it with the ounces, and then store the balls of dough in freezer bags. The dough can be thawed in the refrigerator overnight.
Recipe time does not include a second rise for the dough. If you do a second rise, you will need another one or two hours.
Nutrition
Calories:
198
kcal
|
Carbohydrates:
36
g
|
Protein:
5
g
|
Fat:
2
g
|
Sodium:
220
mg
|
Potassium:
61
mg
|
Fiber:
1
g
|
Calcium:
7
mg
|
Iron:
2.2
mg