You're going to love Dessert Pizza with Bananas and White Chocolate! All you need is pizza dough, plus three ingredients.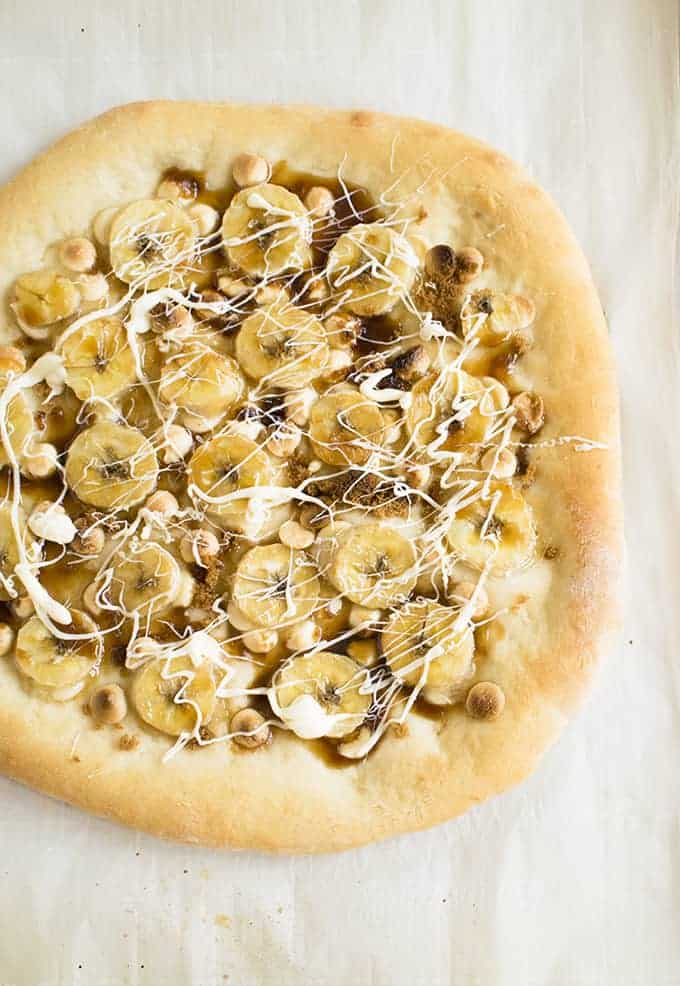 If you handed me a piece of white chocolate, I wouldn't want to eat it. I'm a dark chocolate lover through and through.
But something magical happens when white chocolate chips are layered on pizza dough, topped with banana slices, sprinkled with brown sugar and baked in the oven. The white chocolate almost takes on a toasty marshmallow flavor.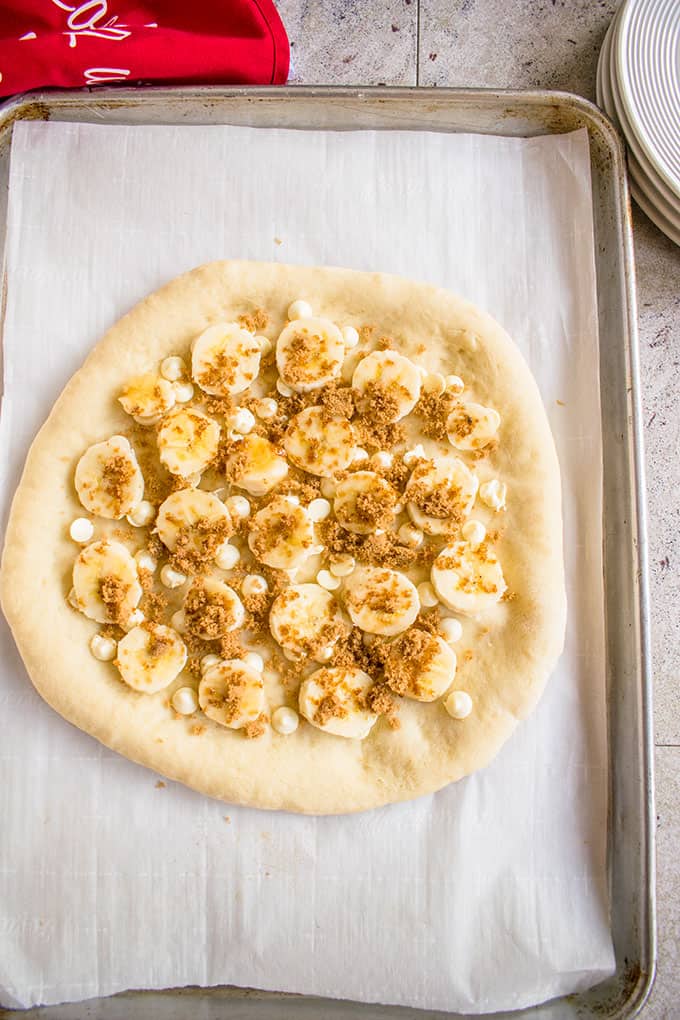 It's absolutely delicious. It's the same flavor profile used in this brown butter banana bread.
And, when melted white chocolate (affiliate link) is drizzled over the finished pizza, it's a culinary work of art. If I say so myself.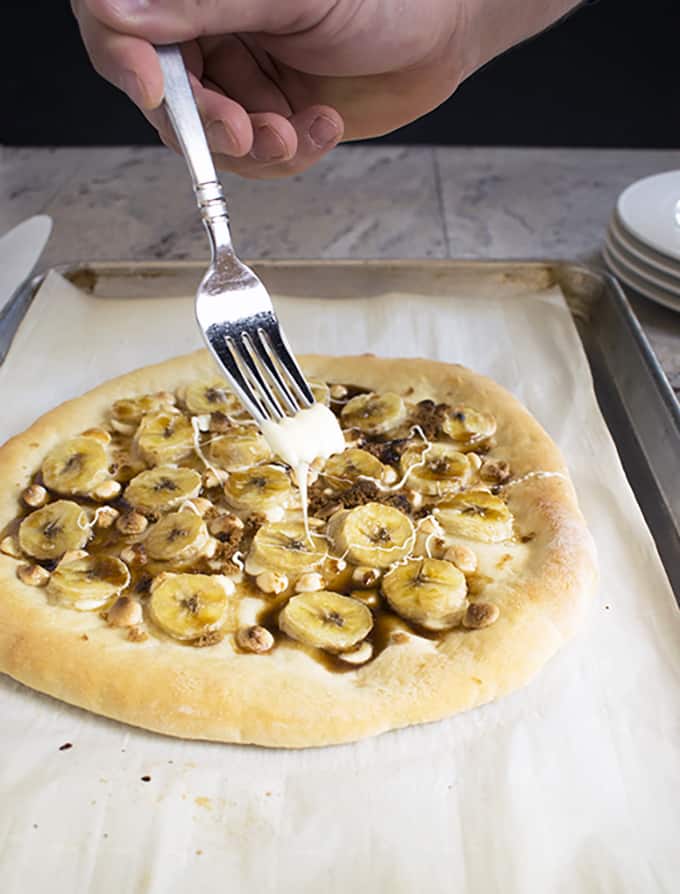 Behind the Recipe for Dessert Pizza with Bananas and White Chocolate
We make pizza from scratch on a regular basis, using this fabulous Homemade Pizza Dough with Beer. Savory variations are the main event, but every so often, we whip up dessert pizza to end the meal on a sweet note.
My hubby began experimenting with bananas as a topping last year. Of course, that got me trying to figure out a bananas foster pizza.
But, the melted butter kept running off the hot pizza, leaving it soggy and me sad. I lost patience and walked away from the idea.
Fast forward to a week ago, when my genius hubby (Hi, Honey!) decided to add white chocolate chips to the dessert pizza, along with bananas and brown sugar. He skipped the butter altogether...and it worked beautifully!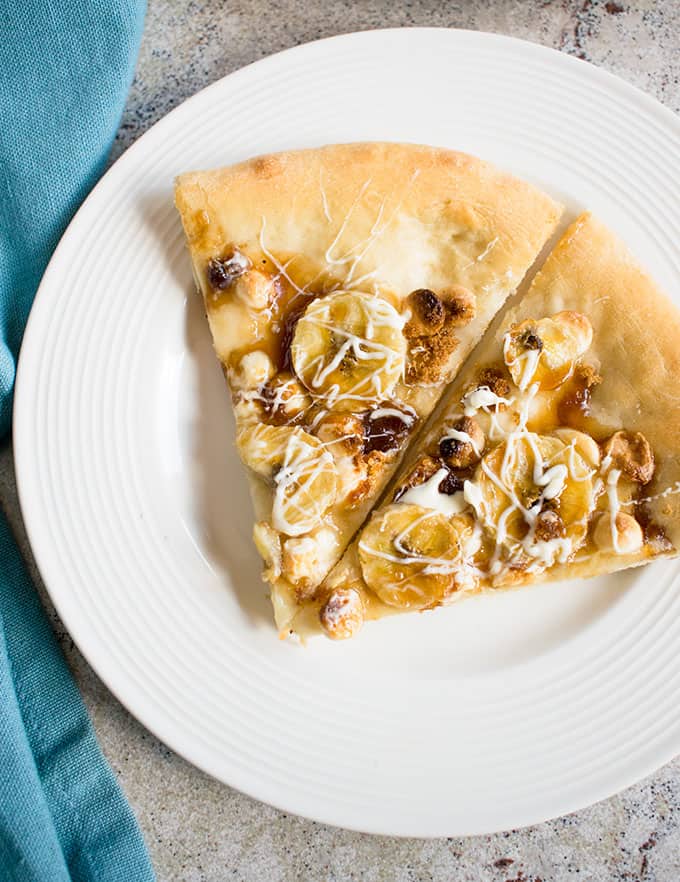 I decided to get in the kitchen and nail down an official recipe for dessert pizza with bananas and white chocolate. After several tries, my guys confirmed this pizza was indeed blog worthy.
In case you're wondering, I did try drizzling melted dark chocolate over the top instead of the white. I even tried a combination of white and dark chocolate, as in this addictive White and Dark Chocolate Drizzled Popcorn.
The verdict? This dark chocolate lover had to concede that white chocolate works best on this dessert pizza.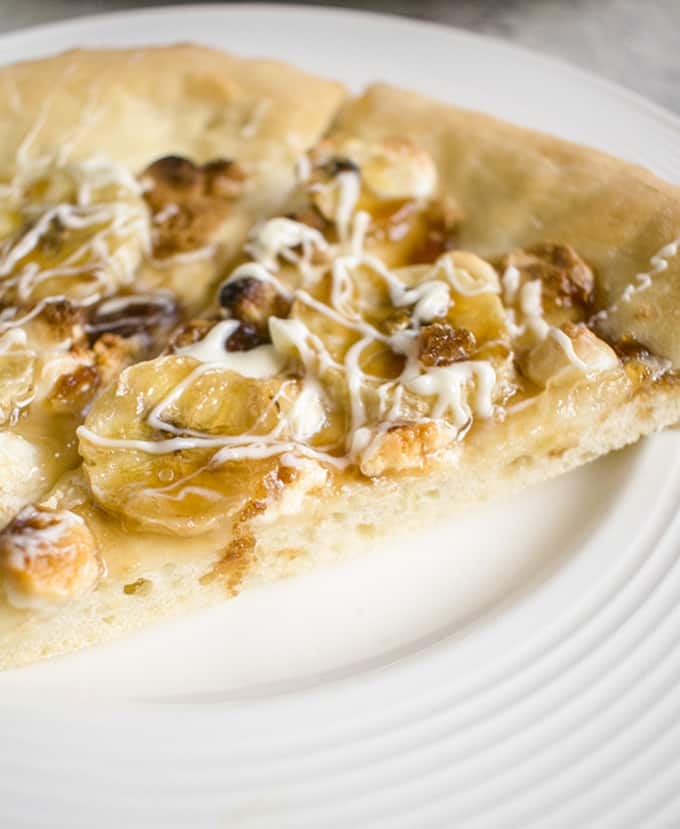 And, isn't it pretty?
Okay...our son decorated the pizza with the melted white chocolate because I stink in art. But I visualized it...
Enjoy!
(Recipe Source: Cooking with Mamma C - My hubby came up with the ingredients and I nailed down the amounts with taste testing by him, our son and me.)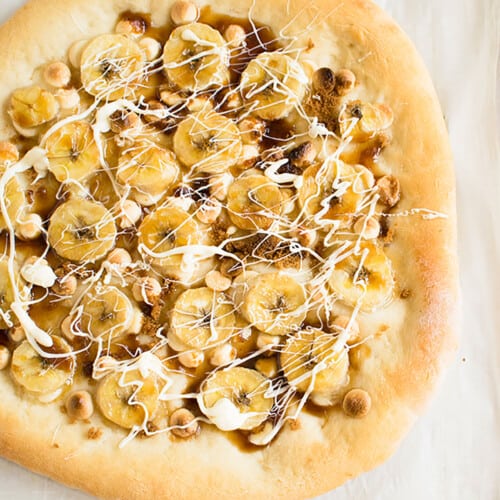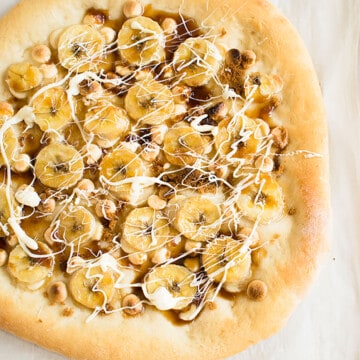 Dessert Pizza with Bananas and White Chocolate
You're going to love Dessert Pizza with Bananas and White Chocolate! All you need is pizza dough, plus three ingredients.
Print
Pin
Rate
Save
Go to Collections
Instructions
Preheat your oven to 450 degrees F. Grease a sheet pan with cooking spray (or line it with greased parchment paper).


On a floured surface, roll out your pizza dough into an 11-inch circle. Place the circle of dough on your prepared pan and shape it as needed.


Bake the dough for five minutes without any toppings.


Meanwhile, peel your banana and slice it into rounds ¼-inch thick.

When the dough has baked for five minutes, take it out of the oven and add your toppings. Start by distributing ¼ cup white chocolate chips all over the dough, except for the crust border.


Add your banana slices to the pizza, again leaving a border around the edges for the crust. Sprinkle on the brown sugar.


Bake the dessert pizza for 10-14 minutes more, until the crust is browned.


Melt ⅛ cup white chocolate chips in the microwave. (Use a microwave-safe bowl and cover it loosely with wax paper.) Heat the chips for 30 seconds, stir, then heat them for 15 seconds more and stir. If needed, continue heating the chips for 15 seconds at a time until melted. Stir with a fork until smooth.


Dip your fork into the melted white chocolate, and hold the fork over the pizza to drizzle on ribbons of white chocolate.


Let the pizza rest for a few minutes, then slice into servings. Store leftovers in a sealed container in the refrigerator for up to two days.

Notes
If you wish, you can melt ⅛ cup of dark chocolate chips to drizzle on the pizza in addition to the melted white chocolate. We found using all white chocolate tasted better though.
Nutrition
Calories:
160
kcal
|
Carbohydrates:
29
g
|
Protein:
3
g
|
Fat:
3
g
|
Saturated Fat:
1
g
|
Cholesterol:
1
mg
|
Sodium:
289
mg
|
Potassium:
74
mg
|
Sugar:
11
g
|
Vitamin A:
10
IU
|
Vitamin C:
1.3
mg
|
Calcium:
17
mg
|
Iron:
1.1
mg