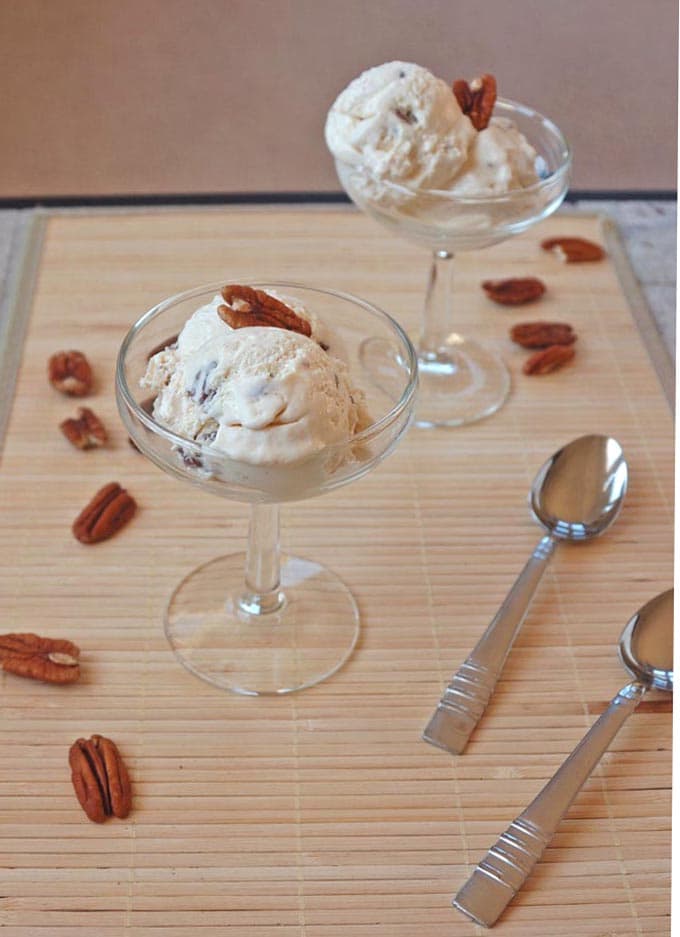 I'm baaaack. Did you miss me?
We took a vacation in North Myrtle Beach and then moved our baby girl into college. I'm handling it just fine.
But once a day, I may or may not lie on her bed and sniff her comforter. See? I told you I'm okay.
Speaking of comfort, I had to get back into the kitchen and make this no-churn salted butter pecan ice cream. It's just what we needed.
Because whether it's Fried Ice Cream, Ice Cream Cake or just a couple scoops, ice cream makes everything better. Right?
Anyway, are you familiar with no-churn ice cream? It's ridiculously easy and creamy (like frozen custard) and doesn't require any special equipment beyond a hand mixer.
My friend Annie at Ciao Chow Bambina has been tempting me with her no-churn recipes for a month, and my Pinterest feed has been screaming no-churn ice cream at me all summer, so I decided it was time to take the plunge. Holy cannoli, I'm hooked!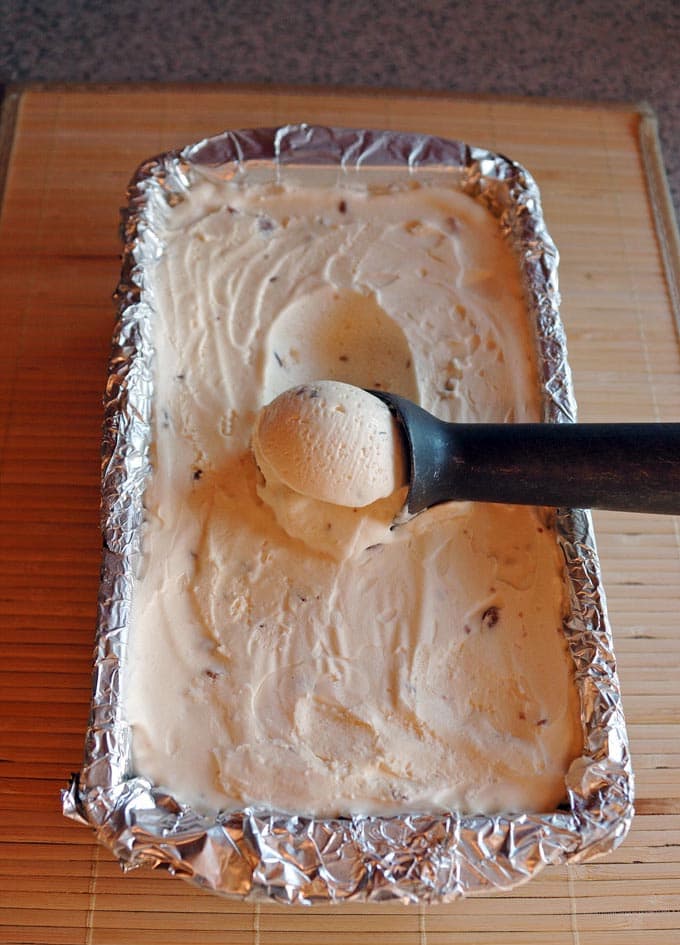 I think you will be too. In case you're not familiar with the concept, all it takes is a can of sweetened condensed milk, a pint of heavy whipping cream beaten into stiff peaks, plus any flavoring and mix-ins you desire.
It's decadent and dangerous, I tell you!
For this no-churn salted butter pecan ice cream, I chopped some pecans, toasted them in a pan with some melted butter, and let them cool a bit while I folded the whipped cream into the condensed milk. Then I stirred in the buttery pecans, a teaspoon of pure maple syrup and a bit of salt.
You can best believe I taste-tested along the way and licked my spatula clean afterward.
No shame here. It's so good!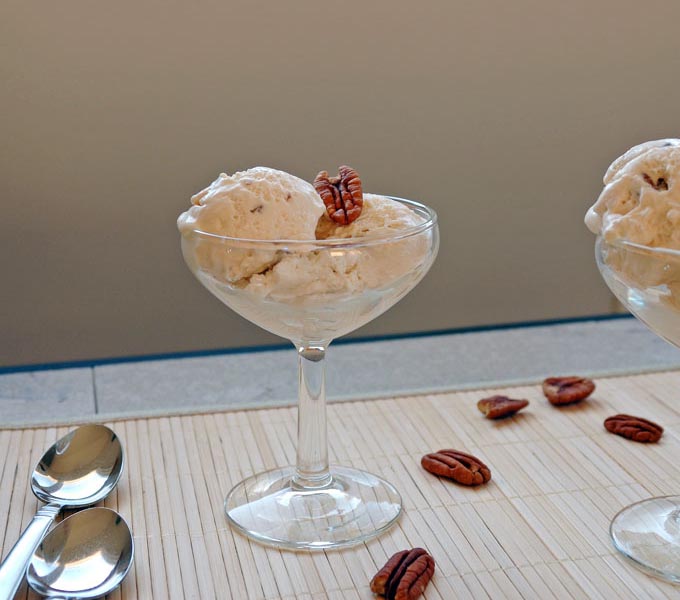 I don't know what's taken me this long to make my own ice cream. When I eliminated most processed foods from my diet, I really began to notice the chemical taste of store-bought versions. (Seriously, it's been like an assault on my taste buds.)
And while we're trying to watch our sugar intake, every once in awhile, we do like to indulge in some ice cream. Better to enjoy this homemade recipe than one with a mile-long list of unpronounceable ingredients, right?
I hope you give it a try!
(Recipe Source: Inspired by several no-churn recipes on the Internet)
P.S. Check out these Guilt-Free Summer Desserts!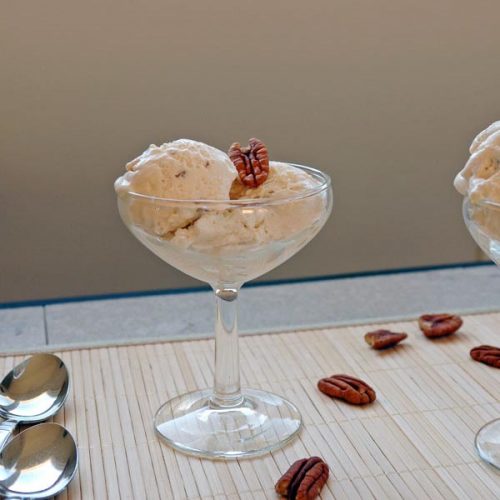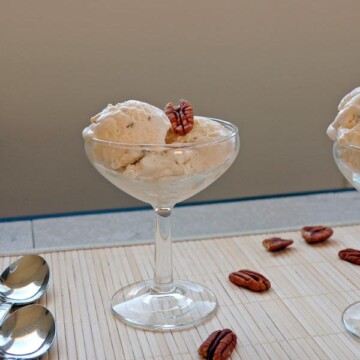 No-Churn Salted Butter Pecan Ice Cream
Requires just 10 minutes of prep before freezing for 10-12 hours. No ice cream maker needed!
Print
Pin
Rate
Save
Go to Collections
Ingredients
¾

cup

pecan halves

2

tablespoons

salted butter

2

cups

heavy whipping cream

1

14-ounce can sweetened condensed milk

1

teaspoon

pure maple syrup

⅛

teaspoon

salt
Instructions
Roughly chop your pecans. In a 10-inch pan, melt your butter over medium heat. Add the pecans to the pan and stir them around. Toast the pecans in the pan for 2-3 minutes, until they are fragrant. Do not let them burn. Turn off the heat and move the pan to a cool burner.

Place the whipping cream in a medium bowl, and beat it with a mixer, using the whisk attachment if there is one, until stiff peaks form and you have the consistency of whipped cream.

In a large bowl, add the sweetened condensed milk. Fold the whipped cream into the condensed milk in the large bowl (use an under-and-over motion with your spatula). When it is blended, stir in the buttery pecans, the maple syrup and salt.

Line a loaf pan with foil or parchment paper (or use an unlined, 2-quart, freezer-safe plastic container.) Transfer your ice cream mixture to the loaf pan and spread it evenly. Cover with plastic wrap and freeze for 10-12 hours for best results.
Nutrition
Calories:
339
kcal
|
Carbohydrates:
4
g
|
Protein:
2
g
|
Fat:
36
g
|
Saturated Fat:
18
g
|
Cholesterol:
101
mg
|
Sodium:
96
mg
|
Potassium:
94
mg
|
Fiber:
1
g
|
Sugar:
1
g
|
Vitamin A:
1100
IU
|
Vitamin C:
0.4
mg
|
Calcium:
52
mg
|
Iron:
0.3
mg