You'll love this White Chocolate Macadamia and Coconut Mug Cookie made in the microwave! Top it with ice cream for a yummy dessert.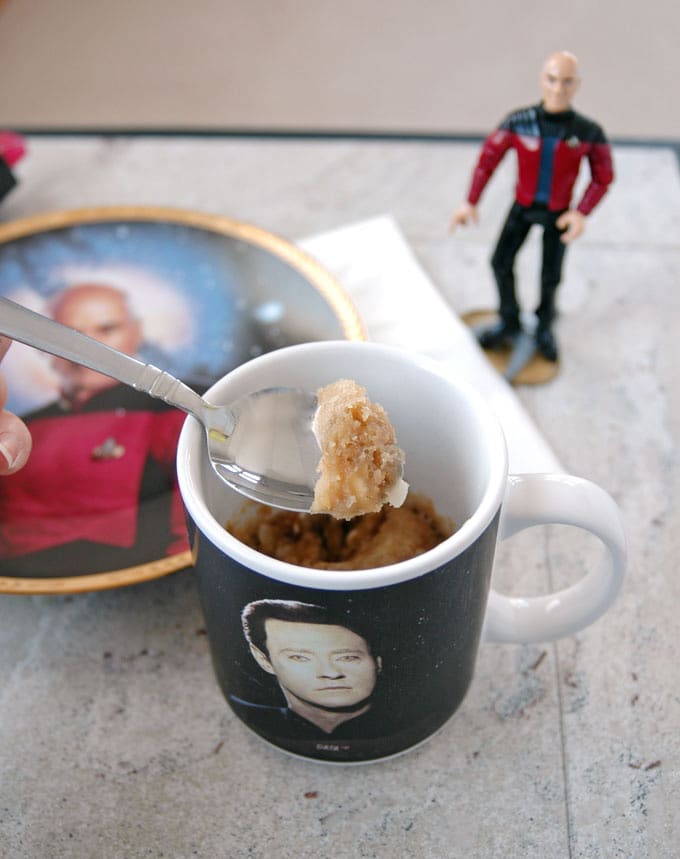 This one's for my husband, the Trekkie, who doesn't like chocolate.
I mean, every single time I bake something with dark or semi-sweet chocolate, he says, "Next time, can you make something with white chocolate?"
So here it is, along with a fraction of his Star Trek memorabilia.
But I have to admit, I'm head over heels for this White Chocolate Macadamia and Coconut Mug Cookie too. In about seven minutes, start to finish, you can have a single serving of a soft, warm, crave-worthy cookie that just begs for some coffee ice cream scooped on top.
If you love white chocolate as much as my hubby, don't miss this Sweet Banana Pizza with White Chocolate, this Brown Butter Banana Bread with White Chocolate Chips or this White and Dark Chocolate Drizzled Popcorn!
You want to know the secret to a great mug cookie? Skip the egg altogether.
Many mug recipes will include at least a yolk, but that contributes to a spongy texture, since there's such a small amount of batter. (I wish I knew where I read this, in order to give credit.)
And I have to thank my son for figuring out that adding a bit of almond milk instead of the egg does wonders. Regular milk probably would work well too, but you'd have to experiment.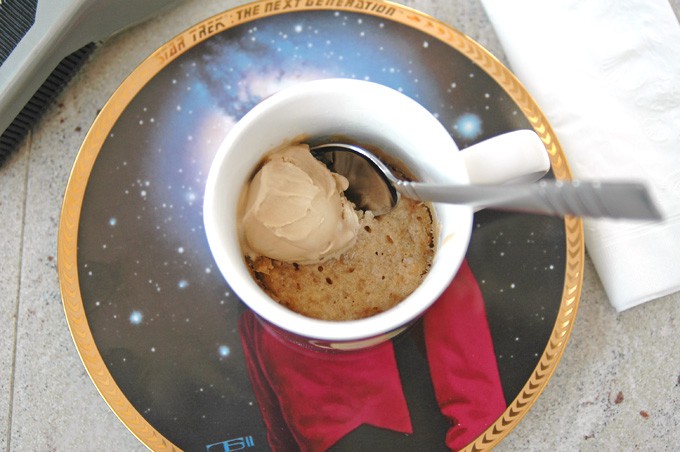 Now, back to Star Trek.
Do any of you watch Big Bang Theory? That show's on for hours in our house every night, because my husband has found his peeps. (The four main guy characters are Trekkies.)
And, the sad part is, I get every Star Trek joke on the show because I've spent more than half of my life in a relationship with a Trekkie.
So basically, I'm Penny. (Just humor me, OK?)
When I first started seeing my husband, he kept his Star Trek infatuation a secret. (I wonder why?)
But then, after we were engaged, he suddenly needed to be home every single night at 7 p.m. to watch The Next Generation. What?!
Being a doting fiancée, I forced myself to watch the show with him sometimes, to keep him company. And, I will say it was the best Trek series of all.
Wait, who am I?
But nothing could prepare me for the time he talked me into attending a Star Trek convention with him.
We drove Downtown, parked in the garage, and joined the throngs of people, mostly guys, heading toward the convention center. We were the only people wearing normal clothes.
Everyone, every single person, was in full Star Trek garb. I'm talking costumes, makeup, hair, masks, and carrying all kinds of Trekkie toys.
And speaking Klingon. (Ugh, why do I know that?)
If ever there was a moment when I wondered what I was getting myself into by marrying this guy...this was it.
But, true love is stronger than any nerd alert, so I married my imzadi. (Holy cow, where did that come from?)
Not long afterward, there was a Halloween party at work, and I needed to wear a costume.
So, even though I was almost anti-Trek, I shamelessly raided my husband's costume drawer (yeah, it was a thing) and grabbed a Star Trek uniform top to wear with black pants. I think I snatched a phaser too.
Well, apparently, people at work got the wrong idea. They assumed I was a Trekkie.
So, it was only natural that when my birthday came along, they threw me a Star Trek-themed party.
At first, I thought it was a joke. I said something sarcastic, like, "Maybe when it's my husband's birthday, people will throw him a party with a theme I like."
But as soon as I said it, I could tell by at least one reaction that it wasn't meant to be a prank.
My husband and Todd, my best guy friend from high school (who's also a Trekkie), think this is the funniest story ever. I'll never live it down.
I should have dug up some of the Star Trek napkins from my party to use in these photos.
More desserts to try
Enjoy!
(Recipe Source: Cooking with Mamma C)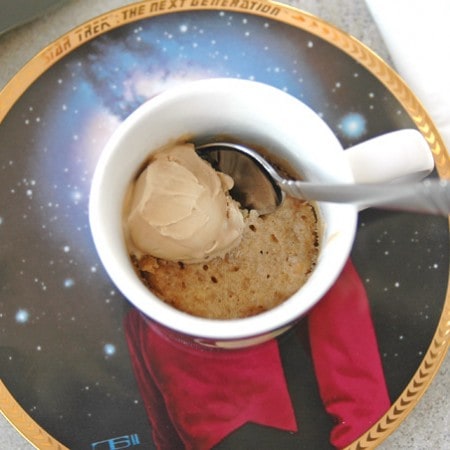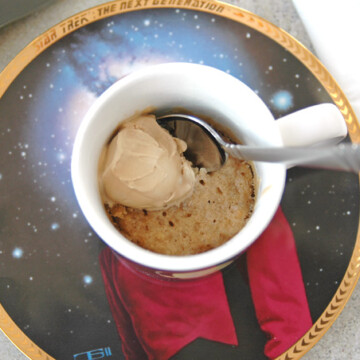 Ingredients
1

tablespoon

salted butter

1

tablespoon

granulated sugar

1

tablespoon

brown sugar

(I used dark)

3

dashes salt

1

tablespoon

almond milk

(or try regular)

½

teaspoon

vanilla extract

3

tablespoons

all-purpose flour

1

tablespoon

chopped macadamia nuts

1

tablespoon

white chocolate chips

1

teaspoon

coconut

(I used unsweetened)
Instructions
Place the butter in a microwave-safe mug and heat it for about 30 seconds in the microwave to melt it.

Add the white and brown sugar, salt, almond milk and vanilla to the mug. Stir to mix.

Add the flour and stir again until it is combined with the batter.

Add the nuts, white chocolate chips and coconut. Stir to blend.

Heat in the microwave for 40-60 seconds, until the top is just about set. (It takes one minute in my 1400-watt microwave.)

Serve warm with ice cream (coffee ice cream is fantastic) or whipped cream, if desired.
Nutrition
Calories:
438
kcal
|
Carbohydrates:
51
g
|
Protein:
4
g
|
Fat:
24
g
|
Saturated Fat:
11
g
|
Cholesterol:
33
mg
|
Sodium:
1300
mg
|
Potassium:
79
mg
|
Fiber:
1
g
|
Sugar:
33
g
|
Vitamin A:
350
IU
|
Calcium:
48
mg
|
Iron:
1.4
mg