This low-fat pound cake is a back-to-school tradition in my house! It's a light and delicious sour cream pound cake that's great served plain or with toppings like Italian Strawberries with Sugar and Lemon. A yummy dessert or breakfast!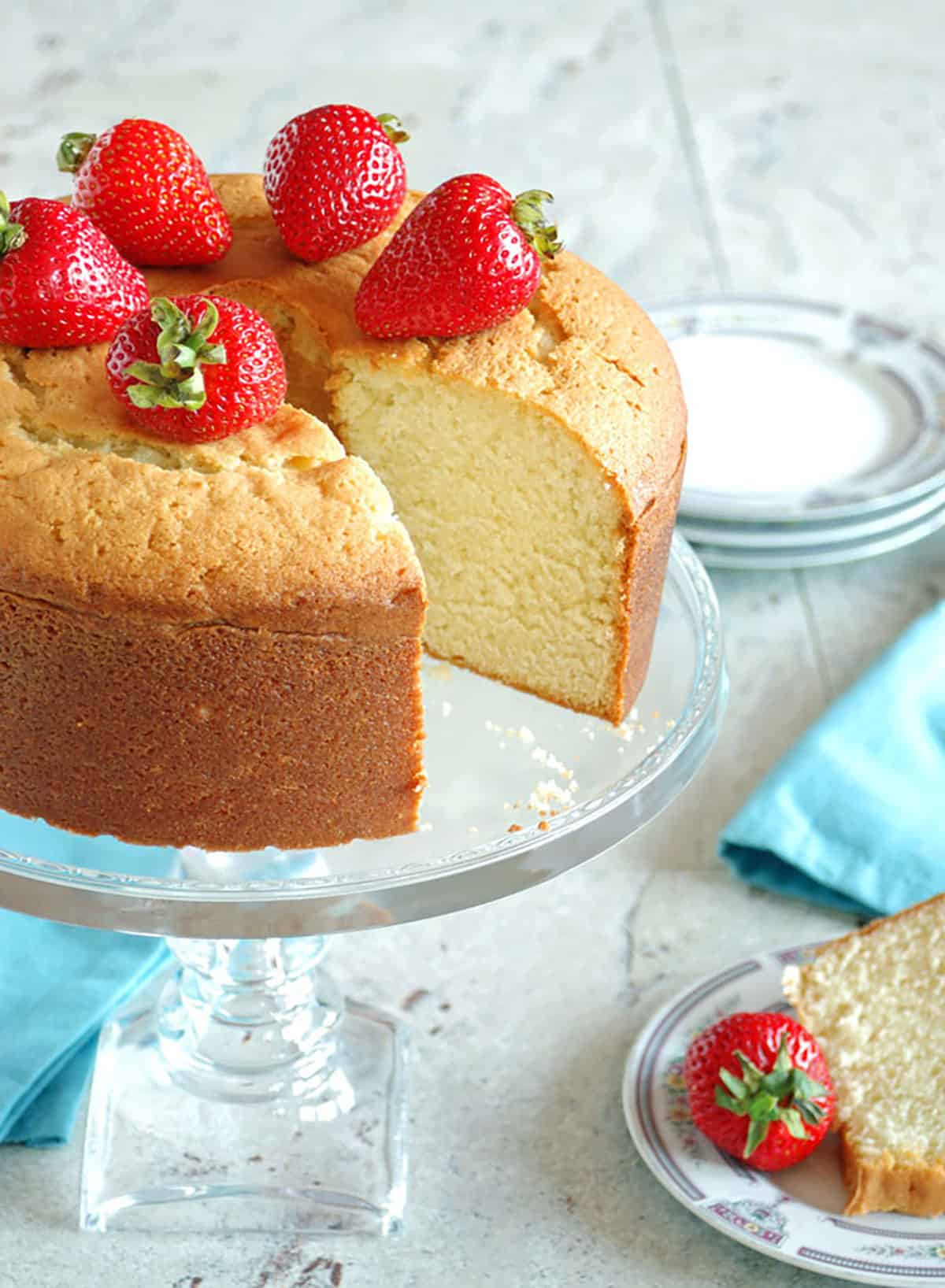 I've been making this sour cream pound cake for many years. It's one of our favorite cake recipes!
I originally came across the recipe (for sour cream pound cake) when I subscribed to Cooking Light magazine.
The dessert was such a hit with my kids, I decided it would be a nice treat to look forward to every year when school starts. You know...to ease the pain.
I don't necessarily make this on the first day of school, but always within the first two weeks, depending on my schedule. And I never announce which day I'll be making it, since it's more fun to surprise my family.
Of course, my daughter tries (sometimes successfully) to get me to make this more often. She won't eat any cakes with frosting, so this pound cake is her absolute favorite. It's an afternoon treat the first day, and then her breakfast for the next few mornings.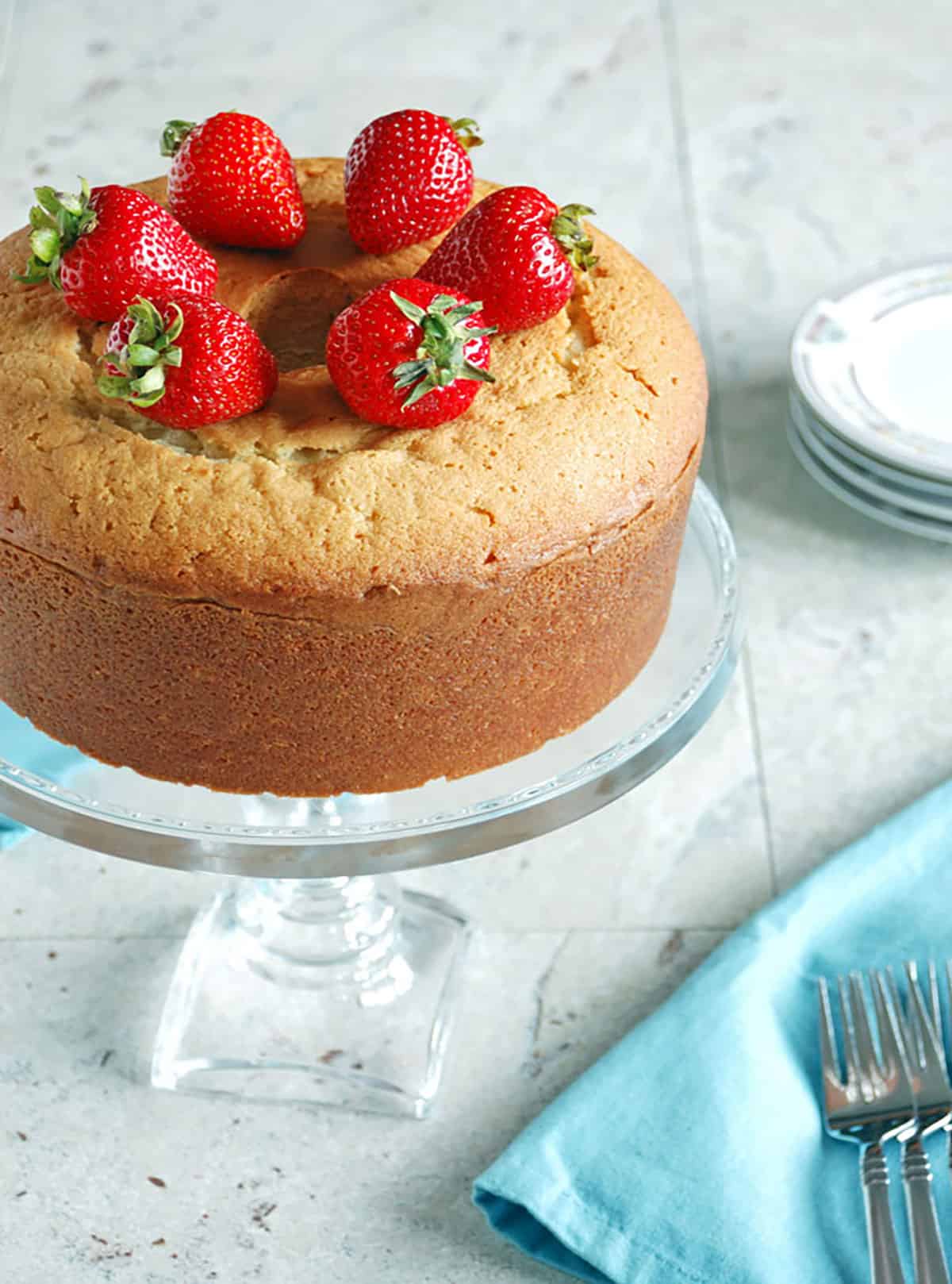 I'll never forget one morning when my daughter was eight years old, and school was back in session. She asked if I was making the pound cake that day.
I told her I couldn't because of project deadlines. (I had several clients and worked at home.)
She placed her hands on her hips and told me, in an assertive-yet-sweet way (and with her big brown eyes and little cutie-pie voice), "Well, just pretend that we're your clients, Mommy. Your project is to make the pound cake."
"And it's due when we get home from school."
My first thought was, "Someday, this girl will be the boss of many." My second thought was, "How can I resist?" After all, working at home is about having more time for my kids.
So, early that afternoon, I made the cake, deadlines and all. I ran from the kitchen to my home office whenever the business phone rang, and tried to remember where I'd left off with the recipe when I returned.
There was flour on my computer keyboard, papers, phone and clothes. It was chaos, but I got it all done — and with a big smile on my face.
I've made this cake many times since, trying various flavors — vanilla, almond, lemon and coconut.
If you've read this blog before, you probably can guess that almond is my favorite. But vanilla is definitely the runner up.
I've also experimented with flour. The original recipe calls for cake flour, which results in a finer crumb that's typical for pound cake.
But after trying it with all-purpose flour (I don't keep cake flour on hand), I realized that I much prefer the almost-bread-like texture it produces in this cake.
Plus, I reduced the baking time by 15 minutes to keep the cake moist and the top crust soft, which my family agrees is the best part. As you can see in the photos, the crust on the sides is darker (and crunchy), while the top is golden (and just a touch gooey).
If you prefer a firmer top crust, you can bake it longer.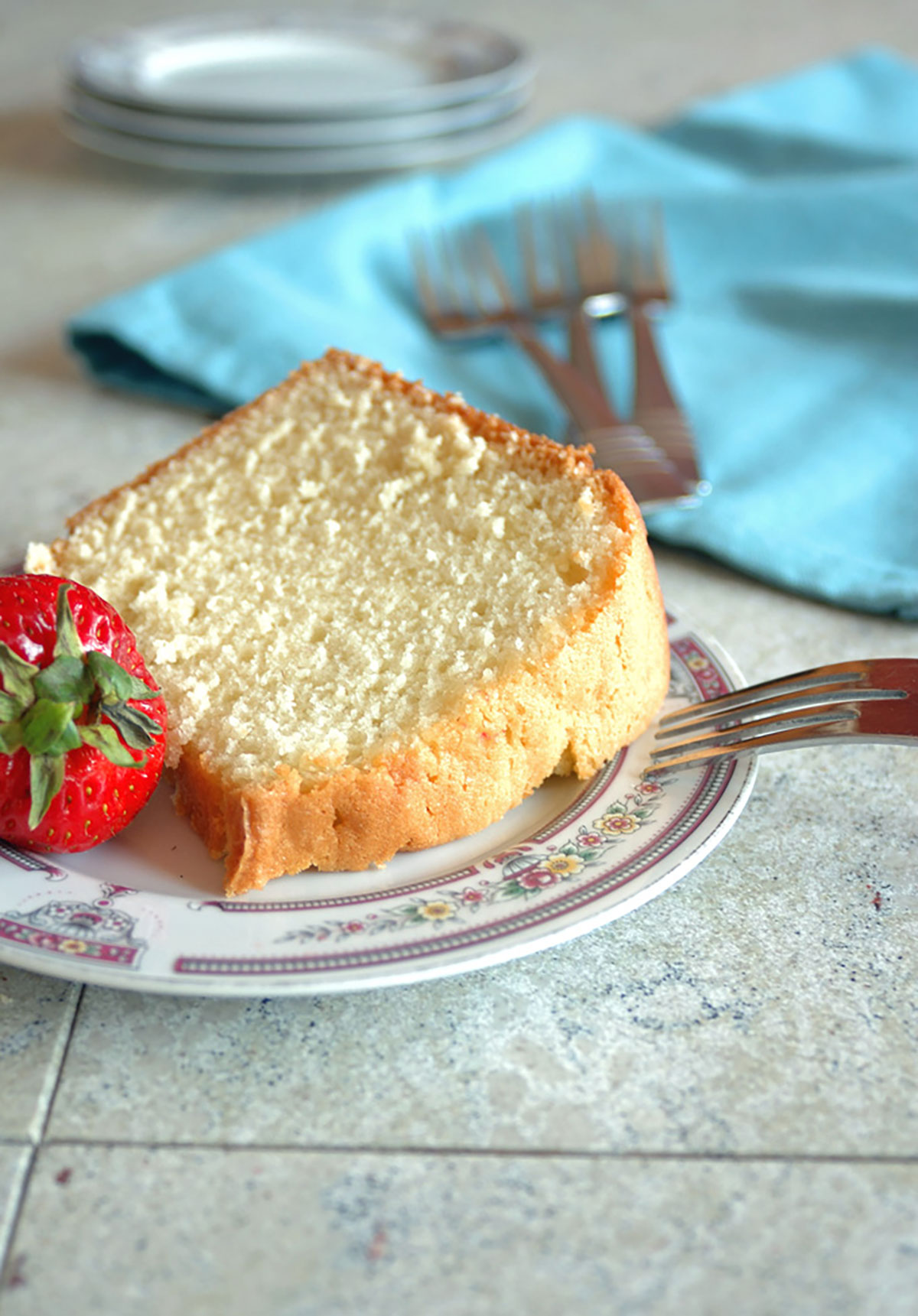 This year, I didn't use the egg substitute the recipe calls for, since I'm trying to eat fewer processed foods.
Instead, I used one whole egg for color, and then liquid egg whites (without color). It worked just fine.
Now, my son is nearly 20, and my daughter is almost 18. It won't be long before my husband and I have an empty nest.
My master's degree in change management taught me that it's easier to cope with big changes when at least one treasured thing remains the same.
My tradition of making Back-to-School Pound Cake fills that need at this time of year. I plan to keep it up (maybe one day for grandchildren)!
Besides, life is just better with pound cake.
P.S. I updated the photos in September 2016. This cake's still a huge family favorite! Try it with one of these delicious dessert toppings!
More cakes to love
(Recipe Source: Adapted from Cooking Light's Sour Cream Pound Cake, April 2002 issue, page 197)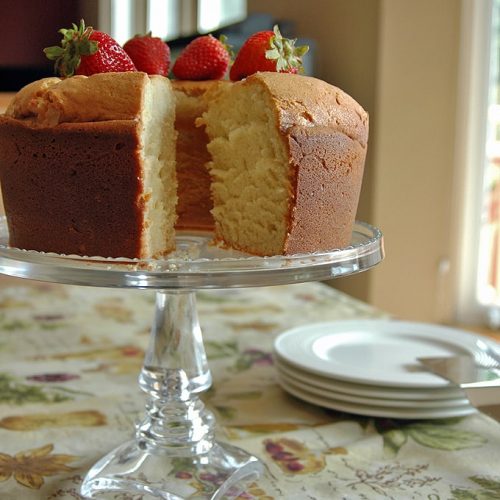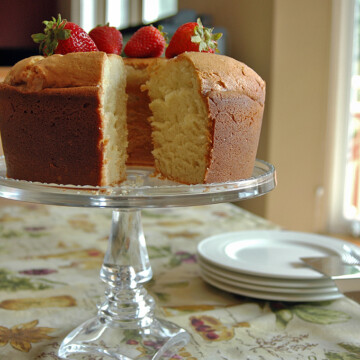 Back-to-School Pound Cake (Low Fat)
A light and delicious pound cake that's great served plain, or with options like berries, ice cream, toasted with jam, dipped in melted chocolate chips, or dunked in coffee. Also perfect for cutting into cubes to make trifle.
Print
Pin
Rate
Save
Go to Collections
Ingredients
12

tablespoons

salted butter

(softened, if you don't leave it out ahead of time, use the microwave on defrost for a few seconds at a time to soften it)

3

cups

sugar

1

egg

(beaten, plus enough egg whites to make 1 ⅓ cup (or just use whites from 7 eggs)- see notes)

1 ½

cups

low-fat sour cream

1

teaspoon

baking soda

4 ½

cups

all-purpose flour

(sifted, or use sifted cake flour for a finer crumb)

¼

teaspoon

salt

1

teaspoon

vanilla extract

1

teaspoon

almond extract

(or omit almond and use 2 teaspoons vanilla total)

Cooking or baking spray
Instructions
Preheat oven to 325 degrees. Coat a 9- or 10-inch tube pan with cooking or baking spray.

In a large mixing bowl, beat butter and sugar on medium until well blended, about five minutes. Gradually add egg whites/egg mixture, beating well. (If using 7 egg whites, add them one at a time, beating after each addition.)

In a small bowl, whisk sour cream and baking soda together. Measure the flour by lightly spooning it into dry measuring cups and leveling them off with a knife. Keep the flour in a bowl until you are ready to sift. Sift the flour by gradually adding it to a fine-mesh strainer placed over a medium bowl. Combine the sifted flour with salt.

Add some of the flour mixture to the butter/sugar mixture, beat, then add some of the sour cream mixture and beat. Continue alternating the flour and sour cream, beating until the batter is mixed, beginning and ending with the flour. Stir in the vanilla and almond extracts (or use all vanilla).

Pour the batter into the greased pan and sharply tap the pan on the counter once to remove air bubbles. Bake at 325 degrees for 1 hour and 20 minutes. Check for doneness by inserting a toothpick or cake tester into the center. If it comes out clean with a couple of crumbs, it is done just enough for a soft top crust. If you prefer a firmer top crust, bake for up to 15 minutes longer.

Cool the cake for 10 minutes in the pan on a wire rack. Then remove the cake from the pan by placing a dinner plate over the top and inverting the cake onto the plate. (The cake will be upside down at this point.) Place a wire rack over the cake and invert again, so that the cake is resting right side up on the wire rack. Cool completely before slicing. (Cake tastes best when completely cooled.)
Notes
Using store-bought egg whites without additives is a great time saver and prevents being stuck with leftover yolks. Look for them in cartons in the dairy aisle.
Nutrition
Calories:
311
kcal
|
Carbohydrates:
52
g
|
Protein:
4
g
|
Fat:
9
g
|
Saturated Fat:
5
g
|
Cholesterol:
32
mg
|
Sodium:
160
mg
|
Potassium:
71
mg
|
Sugar:
30
g
|
Vitamin A:
280
IU
|
Vitamin C:
0.2
mg
|
Calcium:
32
mg
|
Iron:
1.4
mg