Grape Dessert Salad is ready in 15 minutes and is so delicious! Red and green seedless grapes are nestled in a creamy, sweet, vanilla dressing and sprinkled with brown sugar and walnuts. It's addictive!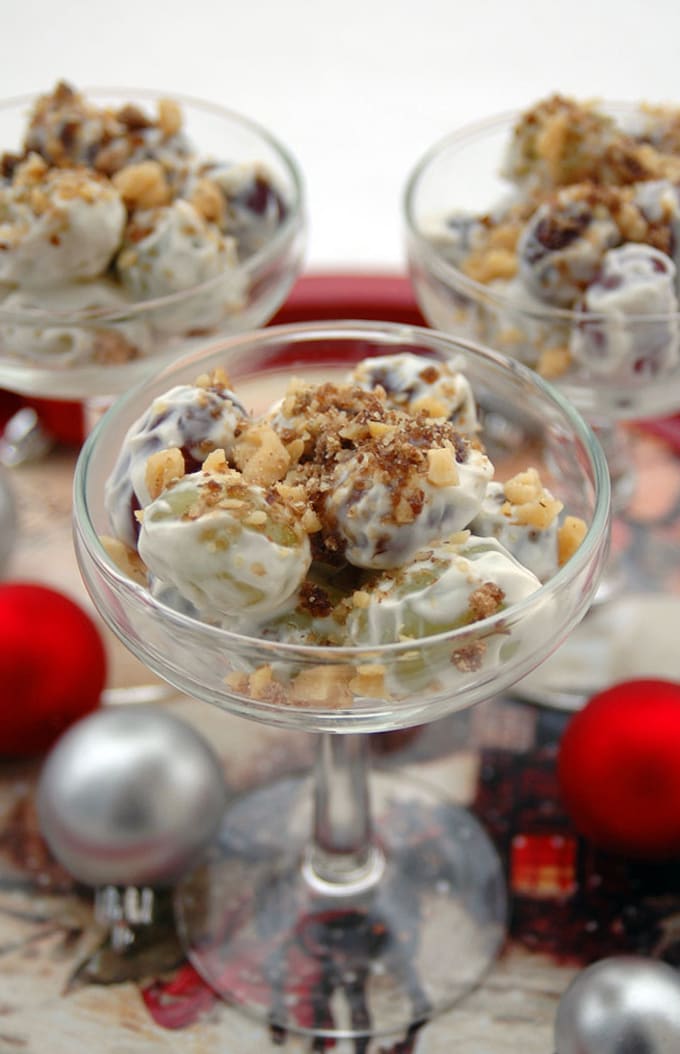 Have you ever gone to a party and found yourself addicted to one of the dishes on the buffet? So much so that you were calculating how frequently you could go back for more without people thinking you were a cafone? (That means a peasant with no manners.)
Well, that was me, with this grape dessert salad at a Christmas party once.
In this gluten-free fruit salad, the grapes are nestled in a creamy, sweet vanilla dressing and topped with brown sugar and walnuts. I cornered the hostess to ask for details.
She told me it had cream cheese and sour cream. I've carried this memory in my head for 10 years, and finally decided to figure out how to make this dessert. It's so easy.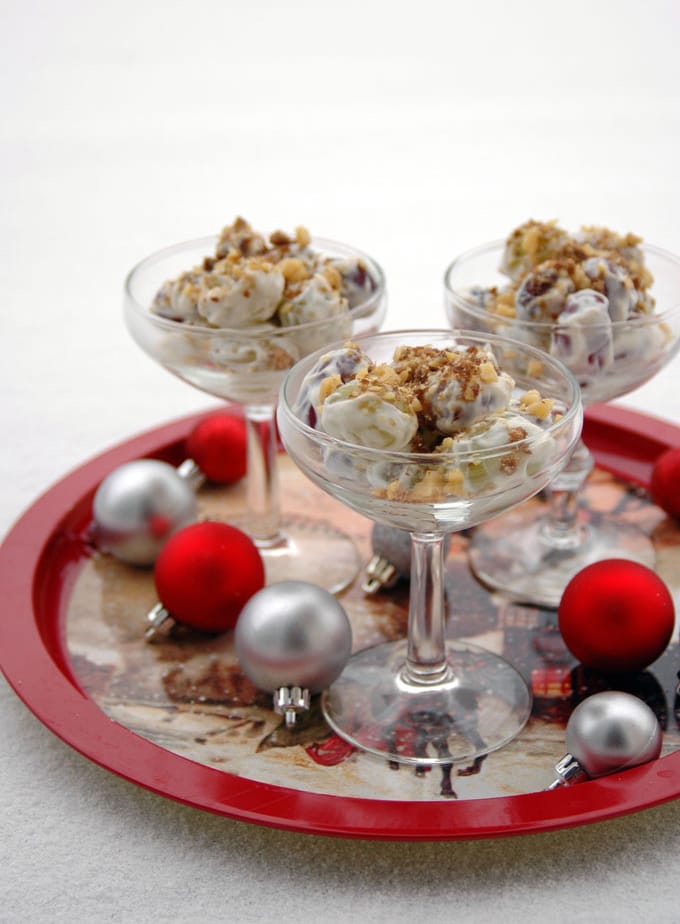 The dressing contains equal parts cream cheese and sour cream, and I used low-fat versions of both with good results. You dump those in a bowl, add some vanilla extract and sugar, and blend it with your mixer.
I experimented with using brown sugar in the dressing, but found that I preferred granulated sugar, both for flavor and color. But don't worry, there's still brown sugar in the yummy topping.
Here's how it comes together. Stir red and green seedless grapes into the dressing.
Just before serving, sprinkle on the topping, which is simply chopped walnuts, brown sugar, and a few sprinkles of salt. (You could use pecans instead of walnuts, and if anyone has a nut allergy, pretzels would be delicious too.)
I did try toasting the walnuts in a pan on the stove, but actually preferred them uncooked. No need to add another step.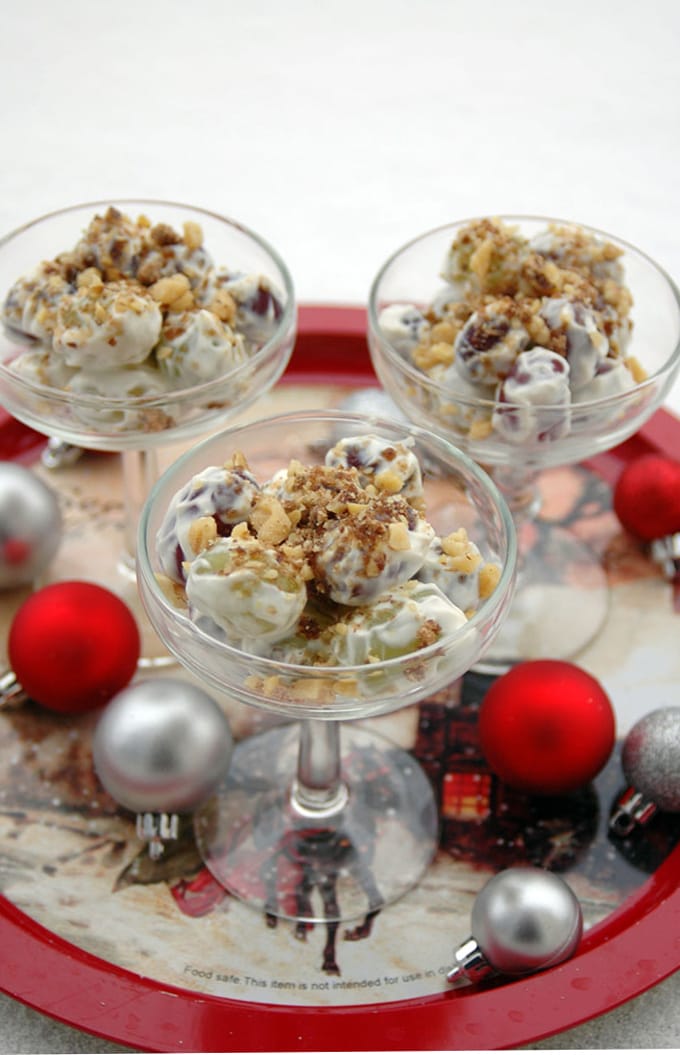 I should mention the presentation. This grape dessert salad can be an ugly duckling in a big bowl but transforms to a beautiful swan when scooped into stemmed glasses (even plastic ones would work.)
But if I were to take this to a potluck, I'd probably leave it in the bowl, sprinkle on some topping at the last minute (that makes it prettier for sure), and have extra topping in a small bowl on the side, so that people could use a fork to add some more to their servings. Otherwise, after the first few scoops, there wouldn't be much brown sugar and nuts left.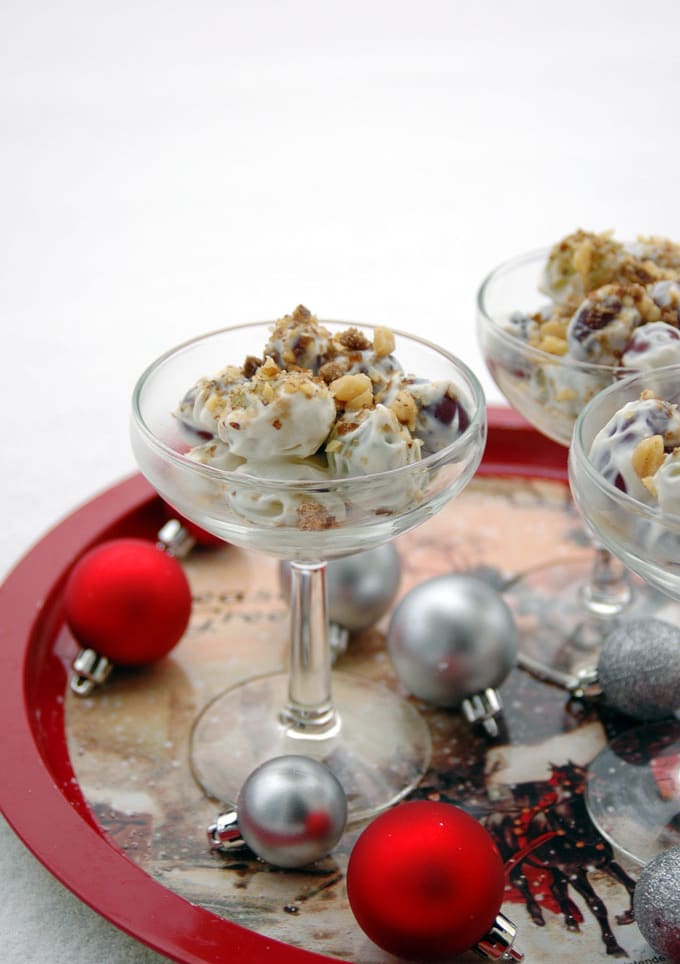 Also, this is very popular with kids, and if I knew there'd be more than a couple of small children, I'd probably cut the grapes in half, for safety purposes. (If there's only one or two little ones 5 and under, I'd let the parents do it.)
The salad would be a bit runny by the second day if the grapes are cut in half, but that's only if there are any leftovers. I made a half batch (10 servings) yesterday for my family of four, and with my kids going back for seconds and thirds, it'll easily be polished off today.
Enjoy!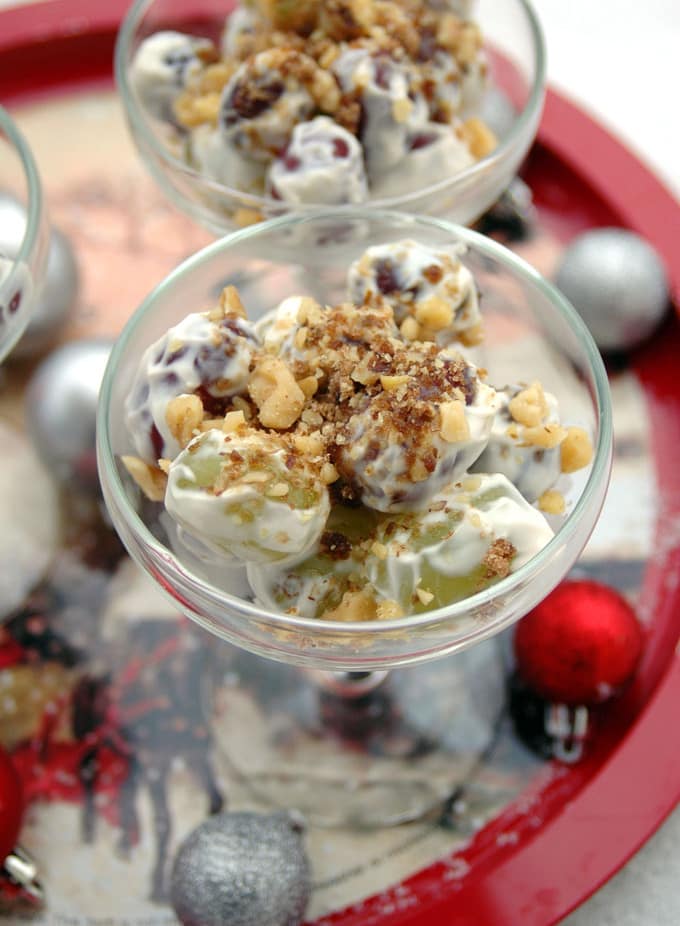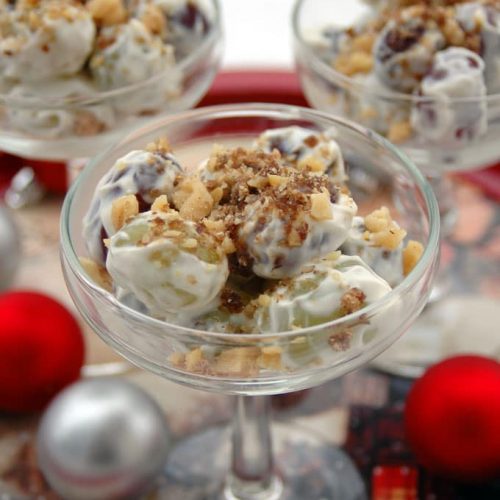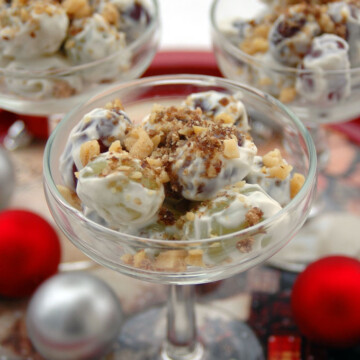 Grape Dessert Salad
Only 15 minutes of prep and so delicious! Red and green seedless grapes are nestled in a creamy, sweet, vanilla dressing and sprinkled with a yummy brown sugar and walnut topping. Gluten free.
Print
Pin
Rate
Save
Go to Collections
Ingredients
Fruit Salad
2

pounds

+ 2 ounces red seedless grapes

2

pounds

+ 2 ounces green seedless grapes

8

ounces

cream cheese

(low fat is fine)

8

ounces

sour cream

(low fat is fine)

⅓

cup

granulated sugar

1

tablespoon

vanilla extract
Topping
5

ounces

chopped walnuts

(½ cup + 2 tablespoons)

5

tablespoons

brown sugar

4

sprinkles of salt
Instructions
Remove stems from grapes and rinse the grapes in cold water. Set the grapes in a drainer in the sink.

In a large mixing bowl, beat the cream cheese, sour cream, granulated sugar and vanilla until smooth. Blot the grapes dry with paper towels (you don't want to make the dressing watery.) Stir the grapes into the dressing until combined. Cover and refrigerate until ready to serve.

For the topping, chop a heaping ⅔ cup of shelled walnuts. Measure out 5 ounces of the chopped nuts and add them to a small bowl. Add the brown sugar and salt, and toss with a fork.

To serve, spoon the grape salad into stemmed glasses, ramekins, or small dessert bowls. Us a fork to sprinkle on some topping for each serving. (Or, leave the grape salad in a large bowl with some topping sprinkled on, and have extra topping in a small bowl on the side for people to sprinkle on.) Eat with dessert forks, since the grapes can be large.

Store leftovers covered in the refrigerator for up to four days.
Notes
Since grapes are a choking hazard, plan on cutting them in half for any children 5 and under.
The topping amount is perfect if you are scooping out even portions in stemmed glasses or individual bowls. Consider making extra topping if you will be leaving it on the buffet table for people to serve themselves. Use a ratio of 2 parts chopped walnuts to one part brown sugar. Add salt to taste.
Plain 2% Greek yogurt is not bad in place of the sour cream, but it does have an extra tang. I'd use it for making this to snack on at home.
Nutrition
Calories:
199
kcal
|
Carbohydrates:
25
g
|
Protein:
2
g
|
Fat:
10
g
|
Saturated Fat:
3
g
|
Cholesterol:
18
mg
|
Sodium:
125
mg
|
Potassium:
250
mg
|
Fiber:
1
g
|
Sugar:
22
g
|
Vitamin A:
285
IU
|
Vitamin C:
3.3
mg
|
Calcium:
43
mg
|
Iron:
0.6
mg
(Recipe Source: Adapted from Taste of Home August/September 2006, p41)