This Oreo ice cream cake has been a family favorite for decades! It features a delicious Oreo crust, homemade whipped cream and caramel sauce.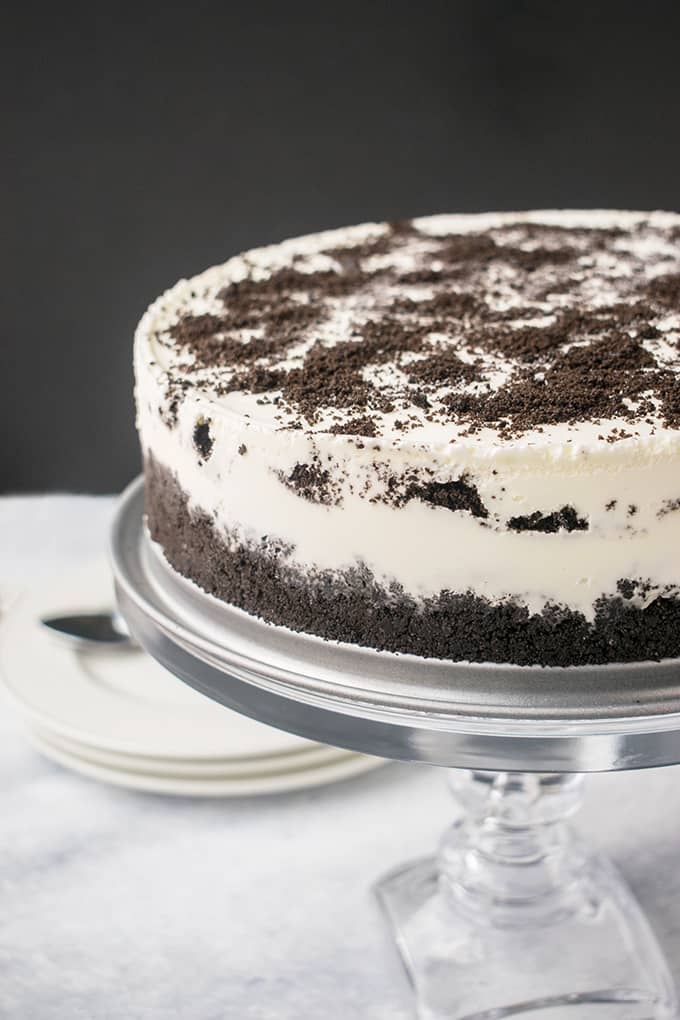 I'm breaking the rules here. I try not to use packaged cookies for anything, but always make an exception for my hubby's favorite birthday cake -- vanilla-caramel ice cream cake with Oreo crust.
My family has loved this ice cream dessert for more than two decades! I first started making it as a better, homemade alternative to a Dairy Queen ice cream cake.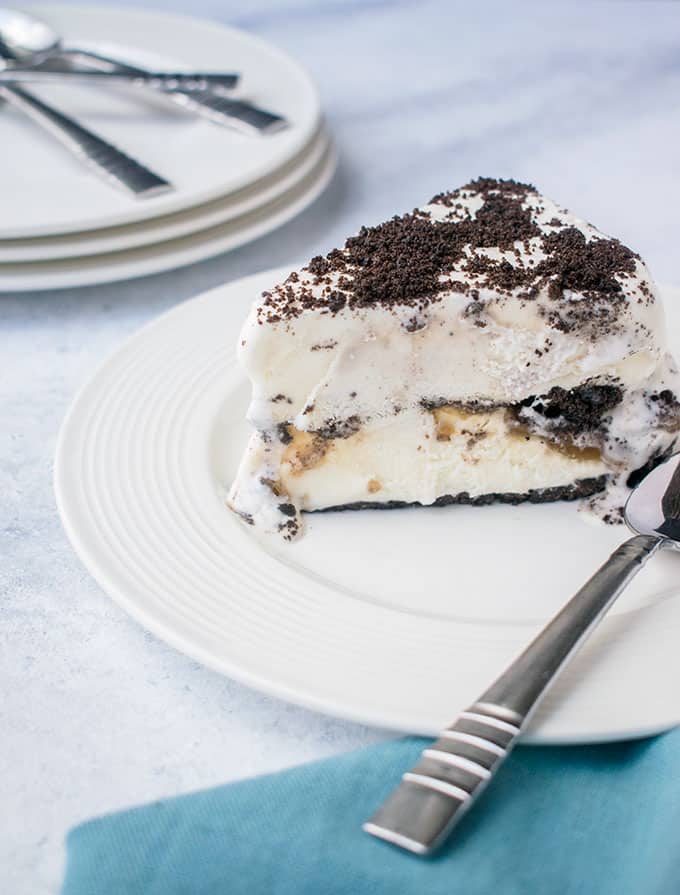 After revamping the original recipe to make the whipped cream and caramel from scratch, I shared it here a few years ago.
Since then, I've been thrilled to see this Oreo cookie ice cream cake catch on in other families too! (By the way, if you like this recipe, be sure to try my Easy Fried Ice Cream Dessert!)
How to make Oreo ice cream cake without any 'cake'

Despite the name, there's no actual "cake" or baking involved in this cookies and cream ice cream cake. Instead, it starts with a buttery Oreo crust, then a layer of softened ice cream mixed with whipped cream.
Next comes a layer of caramel sauce (make sure to spread it more thinly than I did in the photo, so it won't freeze in clumps.) Sprinkle on crushed Oreo cookies, add another layer of the ice cream mixture and top the cake with more Oreo crumbs.

How to make Oreo crust

To make an Oreo cookie crust, you'll simply crush Oreos or grind them in a food processor (affiliate link) until you have crumbs. You'll stir in melted butter and then pat the crust into the bottom of your springform pan. (affiliate link)
You'll freeze the crust for 15 minutes to allow it to set. That's it!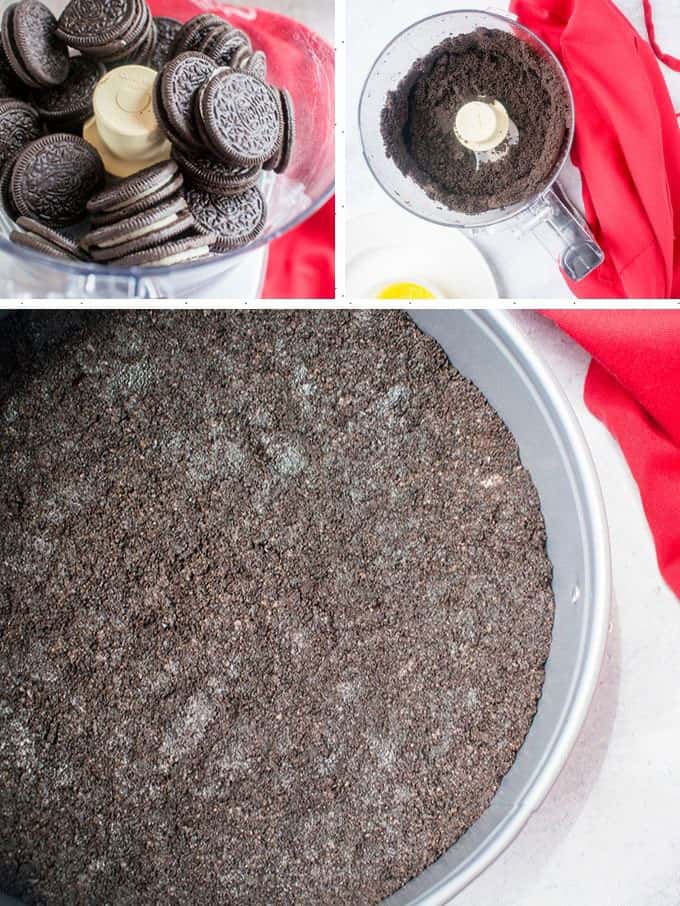 Next, you'll make the caramel sauce. The recipe takes 15 minutes, and it's easy to follow the instructions. (But you can cheat with store-bought if you prefer!)
What's in caramel sauce?

This caramel sauce recipe contains simple ingredients:
Cream
Butter
Brown sugar
Salt
Vanilla extract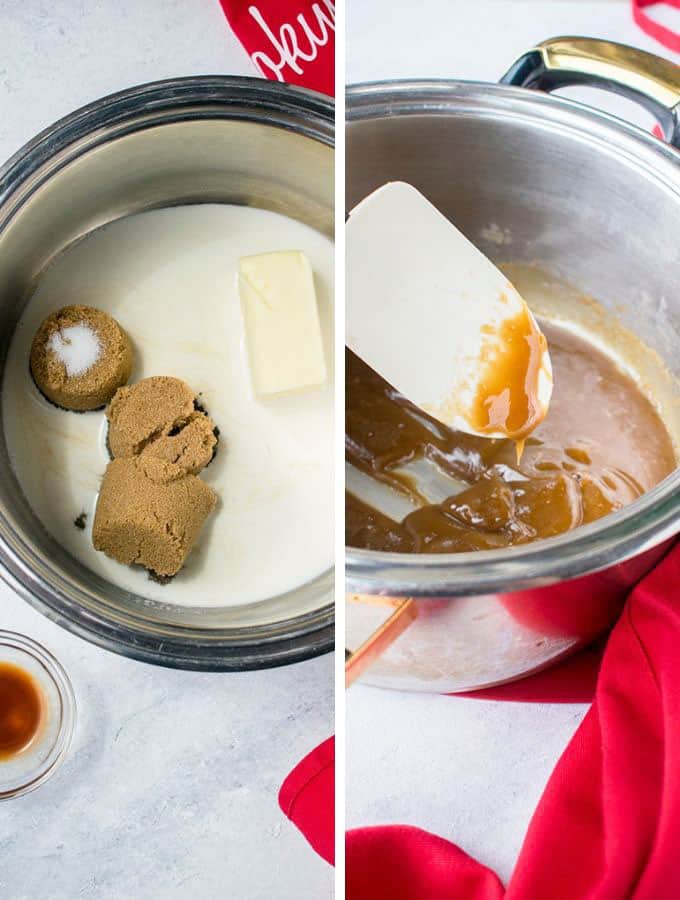 See the recipe card for all the details, but you'll stir the ingredients, melt them and stir a bit more. Then, you'll boil the mixture for seven minutes without touching it.
You'll add the vanilla, and voilà! Homemade caramel sauce.
Ice cream layers

You'll need softened vanilla ice cream (or the flavor of your choice!) for this recipe. You'll mix it with homemade whipped cream for your ice cream layers.
To soften your ice cream, let it sit out at room temperature while you make the Oreo crust, caramel sauce and whipped cream. Then, use a wooden spoon to stir the ice cream until it has the texture of soft serve.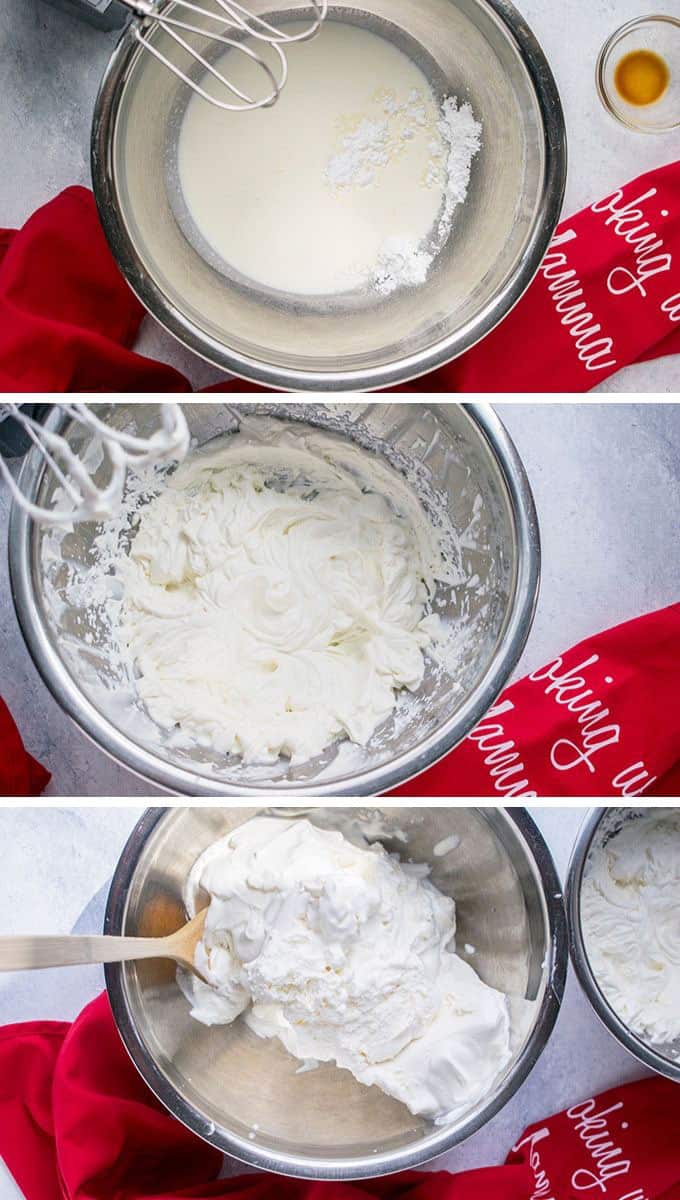 For the homemade whipped cream, simply beat heavy cream with powdered sugar and vanilla. The whipped cream takes five minutes to make and adds delicious flavor and an airy texture to the ice cream cake.
How to decorate an ice cream cake
I always decorate my Oreo ice cream cake with…wait for it…Oreo crumbs. I have zero cake-decorating skills, so this is the easiest option for me. I probably could handle placing an Oreo cookie in the center too.
But…if you're the artsy-you-know-whatsy type, you can skip the Oreos on top and instead, pipe on some writing or flowers with frosting, especially if you're making this for a birthday cake.
You'll have a blank canvas, so go to town. Just let the homemade ice cream cake chill for 15 minutes to allow it to set a bit before you start decorating.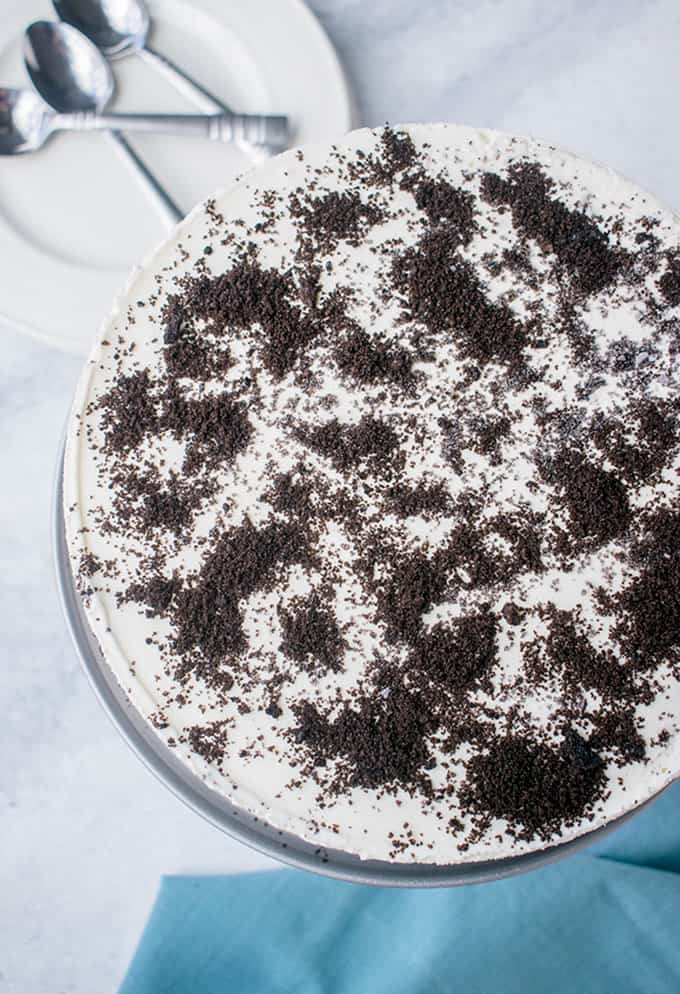 How long does it keep?
Cover the ice cream cake with plastic wrap and foil before freezing it. It will keep for up to seven days. (Ice crystals will develop after that, so the quality won't be as good.)
Variations
I've mostly stuck to the vanilla-caramel combo for this ice cream cake with Oreos, since it's my hubby's favorite. But I once made a coffee ice cream version with fudge sauce...and then died and went to heaven!
I bet chocolate-strawberry would be awesome too. And oooh, how about chocolate ice cream, chocolate sauce, and crushed Reese's stuffed peanut butter cookies?!!!
Simply choose an ice cream flavor, a sundae sauce (find inspiration from these cheesecake toppings) and add crumbled cookies, brownies or candy.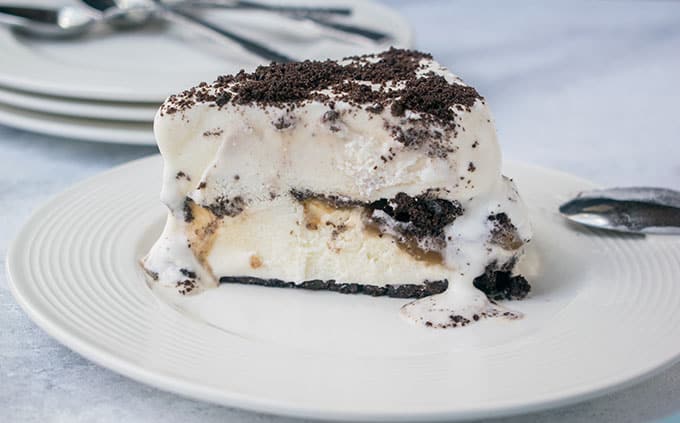 You really can't go wrong with this Oreo ice cream cake recipe. It's the kind of dessert that makes people happy, especially if eaten 1-2 days after it's made, when the crust has gone from stiff and crunchy to soft and yummy.
Enjoy!
P.S. You also might like this No-Churn Butter Pecan Ice Cream. And, if caramel sauce with pretzels and chocolate is your jam, don't miss these Take Five dessert bars.
(Recipe Source: Inspired by a recipe Mom found years ago. The caramel sauce is adapted from Mel's Kitchen Cafe. Originally published on February 17, 2016 as "Vanilla-Caramel Ice Cream Cake with Oreo Crust"and updated now with new photos and text.)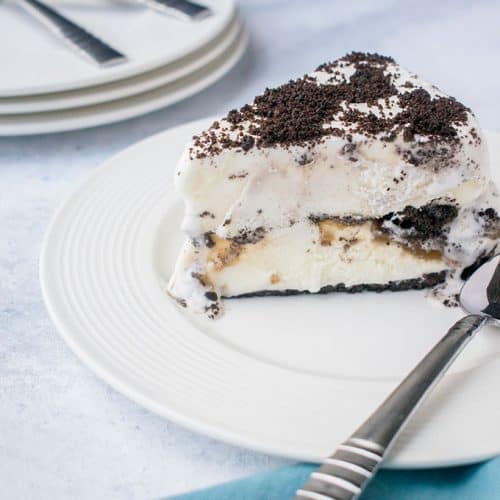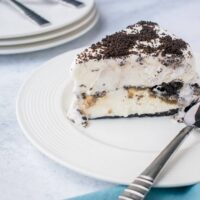 Amazing Oreo Ice Cream Cake Recipe with Caramel
You'll love this Oreo ice cream cake! Allow at least 8 hours for freezing, but for best results, make it 1-2 days before you serve it.
Print
Pin
Rate
Save
Go to Collections
Ingredients
Ice Cream
2

quarts

vanilla ice cream

(softened and stirred)
Oreo Crust
10

ounces

Oreos

(buy a 14.3 ounce package)

4

Tablespoons

salted butter

(melted)
Oreo Crumbs for Filling & Topping
Caramel Sauce (9 ounces)
4

Tablespoons

salted butter

¾

cup

packed brown sugar

½

cup

heavy cream

⅛

teaspoon

salt

1 ½

teaspoons

vanilla extract
Whipped Cream (yields two cups)
1

cup

heavy cream

2

Tablespoons

confectioners sugar

¼

teaspoon

vanilla extract
Instructions
Set out your ice cream to soften while you prepare the other ingredients. If at any point, it starts to melt too much, put the ice cream in the refrigerator. Crush 10 ounces of Oreos (two rows of cookies, plus another cookie or two) in a large ziplock bag, or use your food processor to make them into crumbs. Place the crumbs in a medium bowl to use them for the crust. (Save most of the remaining cookies to crush them later for the other parts of the cake.)

Melt four tablespoons of butter in a small pan on the stove or in the microwave using a microwave-safe bowl. Add the melted butter to your Oreo crumbs and stir to combine.

Press the crumbs into the bottom and slightly up the sides of an ungreased 9-or-10-inch springform pan. Freeze the crust while you prepare the rest of the cake. Crush or crumble most of the remaining Oreo cookies and set the crumbs aside.

To make the caramel, add the half stick of butter, sugar, salt and cream to a medium, heavy-bottomed sauce pan (I used my stainless steel pan.) Stir to combine. Over low heat, melt the ingredients while stirring slowly and gently. Don't rush this part.

When the ingredients are melted, increase the heat to medium-low, stirring, and let the mixture come to a low boil. Stop stirring and let the caramel simmer for seven minutes without touching it. Keep an eye on it, and if it smells like the mixture is burning, lower the heat a bit.

Off the heat, stand back and carefully and gently stir in the vanilla (it will splash) without scraping the sides (to avoid grainy caramel). Set the caramel aside to cool. It should look like thick liquid, rather than soft ball-stage caramel.

To make your whipped cream, beat the whipping cream and confectioners sugar in a clean, medium stainless steel bowl with a mixer until the cream is about half way to being stiff. Add in the vanilla extract and continue beating until stiff peaks form.

In a large bowl, stir your ice cream with a wooden spoon until it has a smooth, soft, consistency. Fold in your whipped cream and gently combine it with the ice cream. If the caramel is cooled off enough to not melt the ice cream, proceed to assemble the cake. Otherwise, chill your ice cream mixture until the caramel is ready.

When the caramel is cool enough, assemble your cake. Using a spatula, place half of your ice cream mixture on top of your crust in the springform pan. Drizzle or spoon the caramel sauce all over the ice cream layer, making sure it's evenly dispersed. Try not to have clumps of caramel, or they'll freeze into solid chunks. (Spread the caramel with a knife if needed.)

Sprinkle on enough Oreo crumbs to cover the caramel. Gently add the remaining ice cream mixture over the crumbs, being careful not to disturb the layer underneath. Gently spread the ice cream evenly.

Freeze the pan, uncovered, for 15 minutes, to allow the ice cream to set a bit. Sprinkle on additional Oreo crumbs for garnish. Then cover the pan with plastic wrap, plus a layer of foil. If you have a leaky springform, you might want to wrap the bottom of the pan with foil as well.

The cake will need at least 8 hours to set in the freezer, but it's even better the next day or two, when the crust is softer, and the flavors have melded. Thirty minutes before serving, let the ice cream cake thaw on the counter at room temperature so that you can slice it.

Freeze any leftover cake in the springform, covered with plastic and foil, for up to seven days.
Notes
The ice cream cake will have the best taste and texture 1-2 days after you make it, because the crust softens, and the flavors meld.
If buying ice cream in 1.5-quart containers, you will need one full one plus ⅓ of another.
If you are buying caramel sundae sauce, you will need about 9 ounces.
To substitute frozen whipped topping for the homemade whipped cream, use 2 cups of whipped topping.
To make this in a 9x13 pan, use 1.5 times the ingredients.
Try variations such as coffee ice cream with chocolate sauce, chocolate ice cream with strawberry sauce, or vanilla ice cream with hot fudge and chopped Reese's cups.
Nutrition
Calories:
699
kcal
|
Carbohydrates:
75
g
|
Protein:
8
g
|
Fat:
42
g
|
Saturated Fat:
24
g
|
Cholesterol:
130
mg
|
Sodium:
374
mg
|
Potassium:
421
mg
|
Fiber:
2
g
|
Sugar:
61
g
|
Vitamin A:
1335
IU
|
Vitamin C:
1
mg
|
Calcium:
242
mg
|
Iron:
3
mg