This Vanilla-Caramel Ice Cream Cake with Oreo Crust is a huge family favorite! I used homemade whipped cream and caramel sauce, but you can cheat if you want!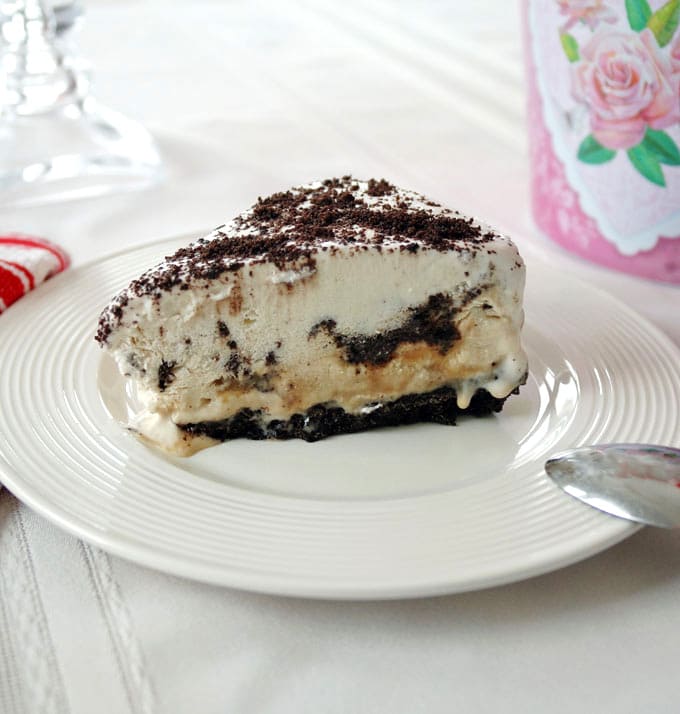 I'm breaking the rules here. I try not to use packaged cookies for anything, but I allowed an exception for my hubby's birthday. I made him his favorite vanilla-caramel ice cream cake with Oreo crust.
My family has loved this dessert for more than two decades, so I figured a few, or maybe a thousand, of you might enjoy it too. Plus, I've revamped the recipe to make some components from scratch.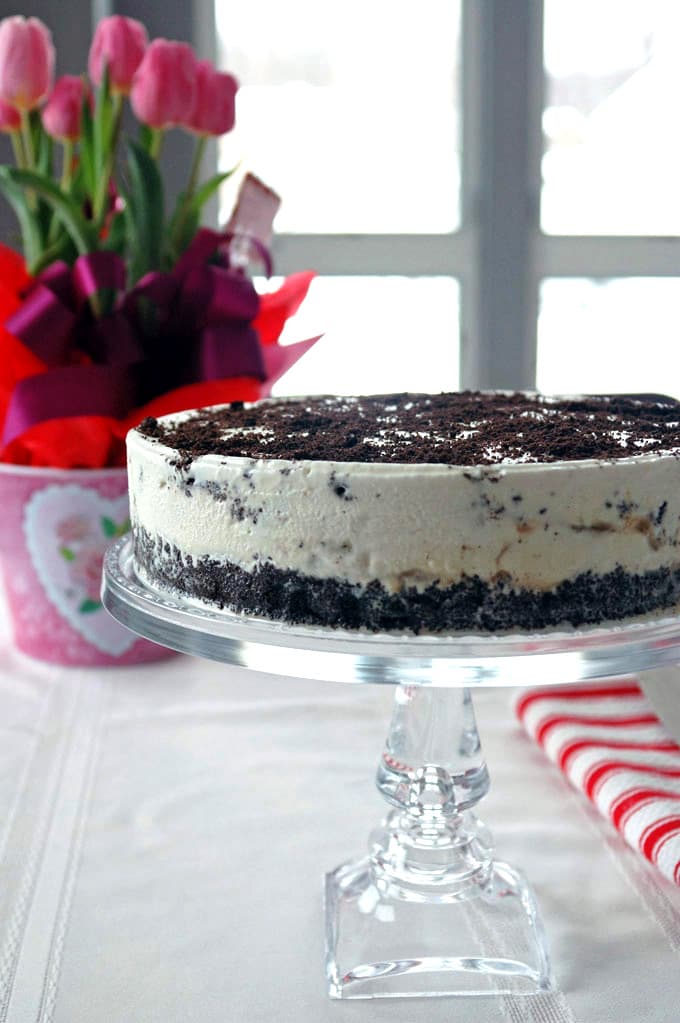 Ironically, there's no actual cake involved. Instead, a buttery Oreo crust gets filled with vanilla ice cream that's been mixed with fresh whipped cream. Then homemade caramel gets layered on, followed by Oreo crumbs.
Another layer of ice cream/whipped cream follows, and it all gets garnished with more Oreo crumbs. It's the kind of dessert that makes people happy, especially if eaten the next day, when the crust has gone from stiff and crunchy to soft and yummy.
I have to laugh when I think of how this whole tradition started. It's because my hubby requested a Dairy Queen ice cream cake for his birthday during the first year of our marriage.
And, while I enjoy a Dairy Queen cone or sundae as much as the next person, I can't handle a DQ cake. (Is it just me?)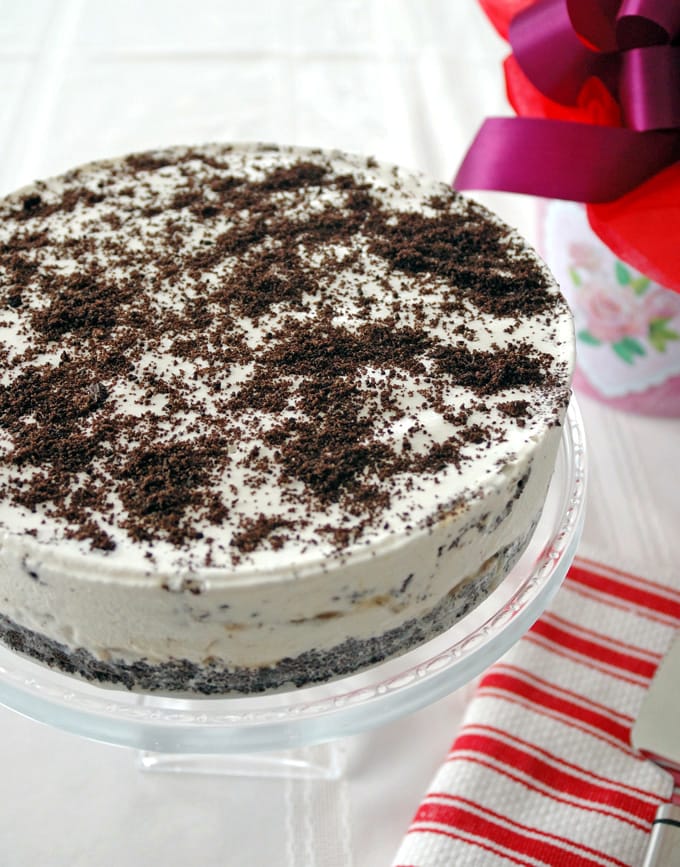 So, after that first celebration, I vowed to take matters into my own hands. After all, this guy I'd married was expecting an ice cream cake every year.
I called Mom and asked if she had any ideas. She found a version of this recipe and recited it to me over the phone.
And, the rest is history. It wasn't long before my son was requesting this cake for his birthday too, and my daughter would sometimes ask me to make it for parties with friends.
I've mostly stuck to the vanilla-caramel combo, but once I even made a coffee ice cream one with fudge sauce…and then died and went to heaven. I bet chocolate-strawberry would be awesome too.
But, there are too many picky eaters in my household, so vanilla-caramel gets the vote around here. It's delicious, I promise!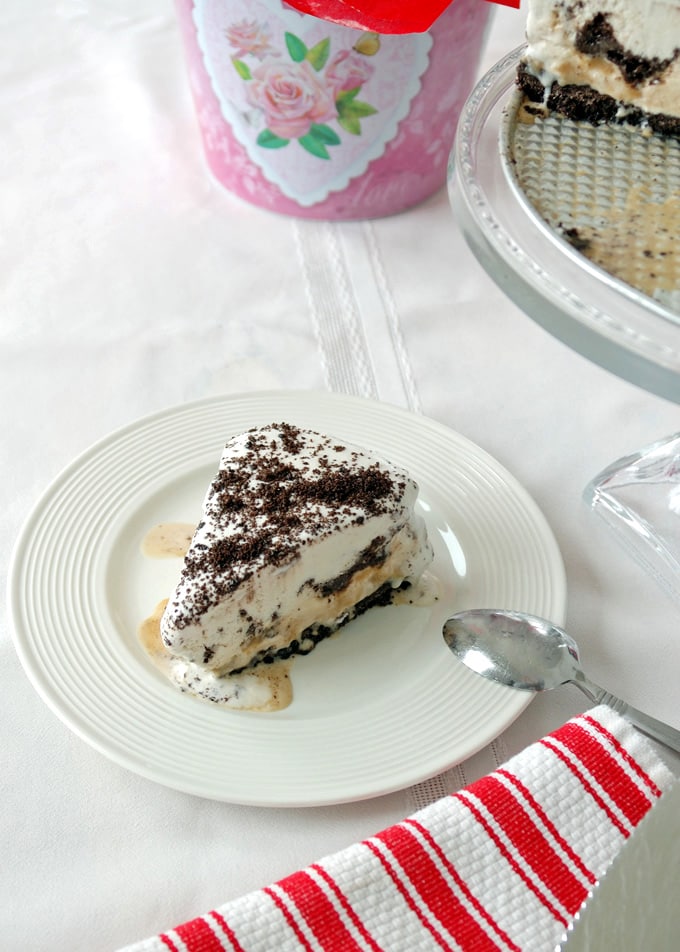 Enjoy!
P.S. I tweaked the caramel sauce recipe that I've used before, since I realized I was cooking it too long and with too high heat. It works beautifully now, and I've updated my Frozen Take 5 Delight Bars to reflect the changes.
(Recipe Source: Inspired by a recipe Mom found years ago. Caramel sauce adapted from Mel's Kitchen Cafe.)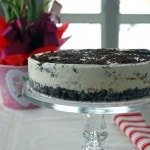 Vanilla-Caramel Ice Cream Cake with Oreo Crust
A family favorite! Allow 8 hours for freezing. Best if made the day before you want to serve it.
Keyword:
ice cream cake, oreo crust
Ingredients
Ice Cream
2

quarts

vanilla ice cream

(softened and stirred)
Oreo Crust
10

ounces

Oreos

(buy a 14.3 ounce package)

4

Tablespoons

salted butter

(melted)
Oreo Crumbs for Filling & Topping
Caramel Sauce (9 ounces)
4

Tablespoons

salted butter

3/4

cup

packed brown sugar

1/2

cup

heavy cream

1/8

teaspoon

salt

1 1/2

teaspoons

vanilla extract
Whipped Cream
1

cup

heavy cream

2

Tablespoons

confectioners sugar

1/4

teaspoon

vanilla extract
Instructions
Set out your ice cream to soften while you prepare the other ingredients. If at any point, it starts to melt too much, put the ice cream in the refrigerator. Crush 10 ounces of Oreos (two rows of cookies, plus another cookie or two) in a large ziplock bag, or use your food processor to make them into crumbs. Place the crumbs in a medium bowl to use them for the crust. (Save most of the remaining cookies to crush them later for the other parts of the cake.)

Melt four tablespoons of butter in a small pan on the stove or in the microwave using a microwave-safe bowl. Add the melted butter to your Oreo crumbs and stir to combine.

Press the crumbs into the bottom and slightly up the sides of an ungreased 9-or-10-inch springform pan. Freeze the crust while you prepare the rest of the cake. Crush or crumble most of the remaining Oreo cookies and set the crumbs aside.

To make the caramel, add the half stick of butter, sugar, salt and cream to a medium, heavy-bottomed sauce pan (I used my stainless steel pan.) Stir to combine. Over low heat, melt the ingredients while stirring slowly and gently. Don't rush this part.

When the ingredients are melted, increase the heat to medium-low, stirring, and let the mixture come to a low boil. Stop stirring and let the caramel simmer for seven minutes without touching it. Keep an eye on it, and if it smells like the mixture is burning, lower the heat a bit.

Off the heat, stand back and carefully and gently stir in the vanilla (it will splash) without scraping the sides (to avoid grainy caramel). Set the caramel aside to cool. It should look like thick liquid, rather than soft ball-stage caramel.

To make your whipped cream, beat the whipping cream and confectioners sugar in a clean, medium stainless steel bowl with a mixer until the cream is about half way to being stiff. Add in the vanilla extract and continue beating until stiff peaks form.

In a large bowl, stir your ice cream with a wooden spoon until it has a smooth, soft, consistency. Fold in your whipped cream and gently combine it with the ice cream. If the caramel is cooled off enough to not melt the ice cream, proceed to assemble the cake. Otherwise, chill your ice cream mixture and the caramel in the refrigerator a bit.

When the caramel is cool enough, assemble your cake. Using a spatula, place half of your ice cream mixture on top of your crust in the springform pan. Spoon all of the caramel sauce over the ice cream layer, making sure it's evenly dispersed. Sprinkle on enough Oreo crumbs to cover the caramel. Gently add the remaining ice cream mixture over the crumbs, being careful not to disturb the layer underneath. Gently spread the ice cream evenly.

Freeze the pan, uncovered, for 15 minutes, to allow the ice cream to set a bit. Sprinkle on additional Oreo crumbs for garnish. Then cover the pan with plastic wrap, plus a layer of foil. If you have a leaky springform, you might want to wrap the bottom of the pan with foil as well.

The cake will need at least 8 hours to set in the freezer, but it's even better the next day, when the crust is softer, and the flavors have melded. Thirty minutes before serving, let the ice cream cake thaw on the counter at room temperature so that you can slice it.

Freeze any leftover cake in the springform, covered with plastic and foil.
Recipe Notes
If buying ice cream in 1.5-quart containers, you will need one full one plus 1/3 of another. If you are buying caramel sundae sauce, you will need about 9 ounces. To make this in a 9x13 pan, use 1.5 times the ingredients.
Nutrition Facts
Vanilla-Caramel Ice Cream Cake with Oreo Crust
Amount Per Serving
Calories 839
Calories from Fat 450
% Daily Value*
Total Fat 50g 77%
Cholesterol 156mg 52%
Sodium 448mg 19%
Potassium 504mg 14%
Total Carbohydrates 89g 30%
Protein 9g 18%
* Percent Daily Values are based on a 2000 calorie diet.