Calling all peanut butter fans! You'll love these peanut butter cookie variations like crispy, soft, stuffed and with chips! They all start with this delicious base recipe for peanut butter cookies.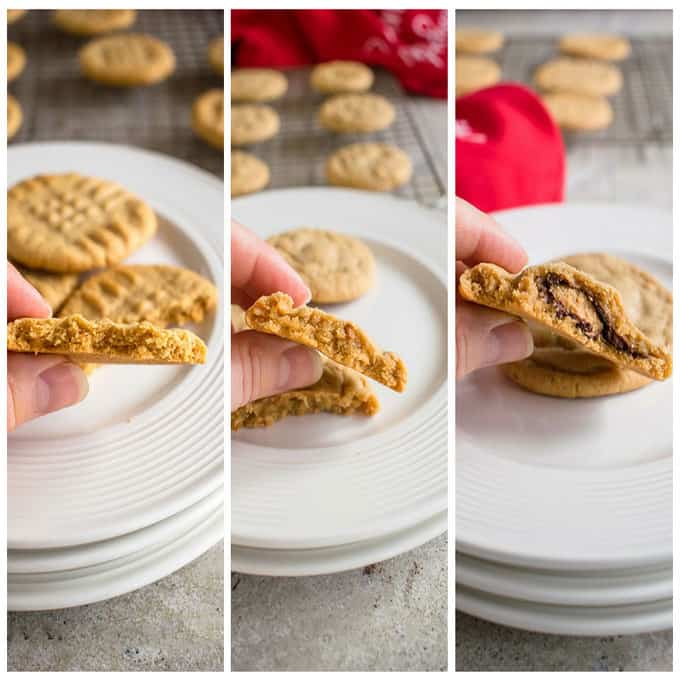 Have I ever confessed my love for peanut butter here?
Are you aware I'm obsessed with it? That I once had a "Ribbons of Peanut Butter" dream?
"Peeaanuttt Butter….ribbons of peeaanuttt butter…" a woman's voice (possibly mine?) chanted, as melted peanut butter slowly and luxuriously poured into a glass bowl.
I can't make this up.
And, I'm feeling a little self-conscious now. Why are we here again?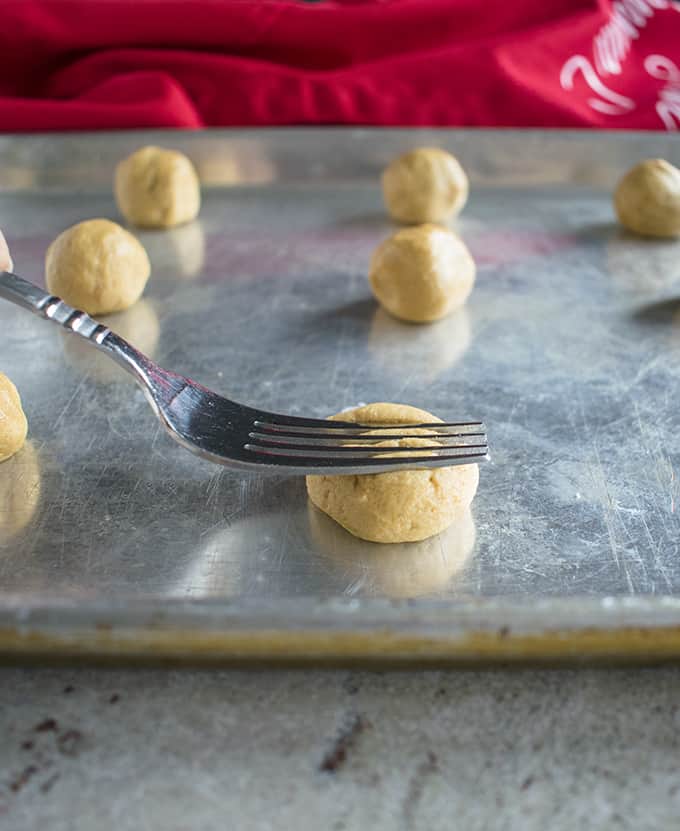 Oh, yeah —peanut butter cookies!! I'm talking crispy, chewy peanut butter cookies, soft peanut butter cookies, stuffed peanut butter cookies with mini Reese's cups inside (behave!) and double peanut butter cookies with peanut butter chips.
Yes!!!
I've been making these for years (usually the crispy, chewy kind with the crisscross pattern). But my cookbook page is covered in handwritten notes spelling out the peanut butter cookie variations I've tried.
I'm excited to share them with you! And if you love peanut butter as much as I do, don't miss this Buckeye Candy Recipe!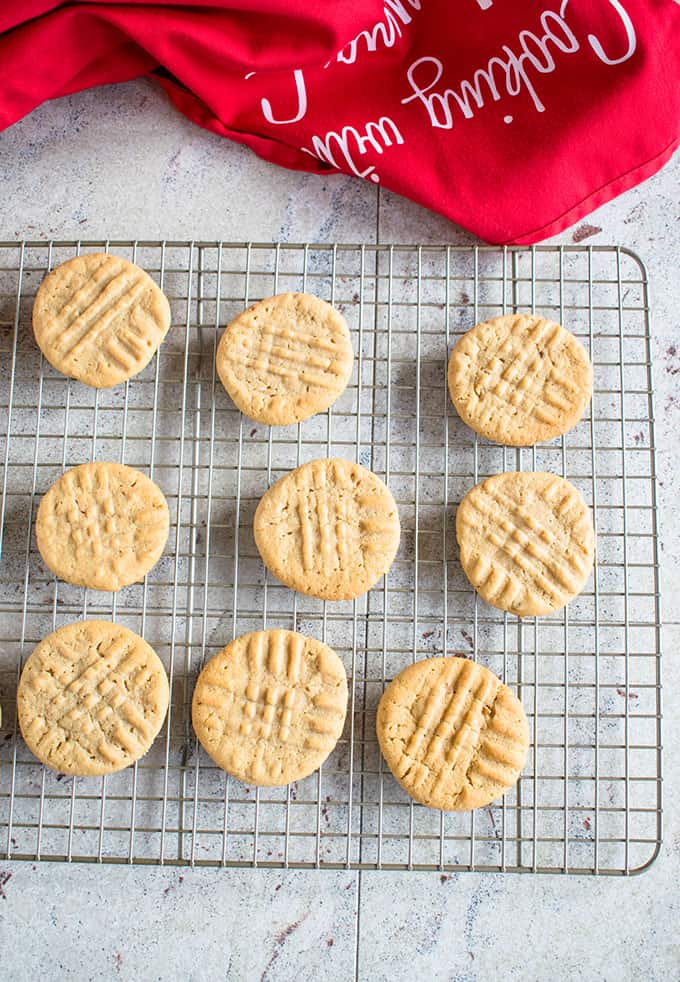 Here's where I get super specific with the details, in case you want your cookies to taste just like mine. Are you ready?
My tips for the best peanut butter cookies:
The brand matters. I have no affiliation with Skippy, but nothing else I've tried tastes as good in these cookies.
When using butter, as called for here, Skippy Natural works best, as opposed to regular Skippy or another brand of natural peanut butter with too much liquid. (In the old days, I'd use margarine sticks with regular Skippy Peanut Butter, and the cookies were nice and chewy. But when I ditched margarine for butter, the ones made with regular peanut butter came out tough.)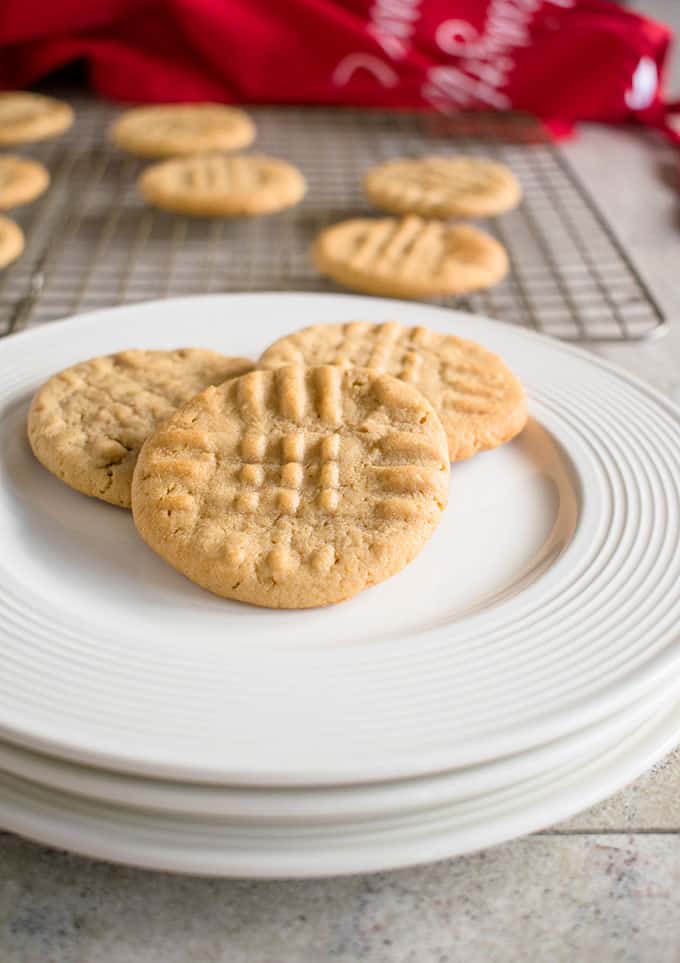 Add a little salt to the dough. This is one of the key adaptations I made to the original recipe, and it's the reason these peanut butter cookies aren't bland.
Use dark brown sugar instead of regular brown sugar. The molasses in dark brown sugar will make your cookies extra tender.
Chill the dough for 10 minutes before shaping it into balls. Otherwise, the dough will be too soft to work with, and you won't be able to get the tines of your fork to leave clean lines for the classic, crispy version.
Bake one pan of cookies at a time per oven, on the center rack. I have a regular oven, and when I try to bake two pans at a time, the bottom-rack cookies get overbaked. I have no idea if a convection oven would work better.
Now, for some fun variations! (I love them all, but the crispy, chewy ones above are my favorite.)
For Soft Peanut Butter Cookies - Don't flatten the balls of dough. Just bake them.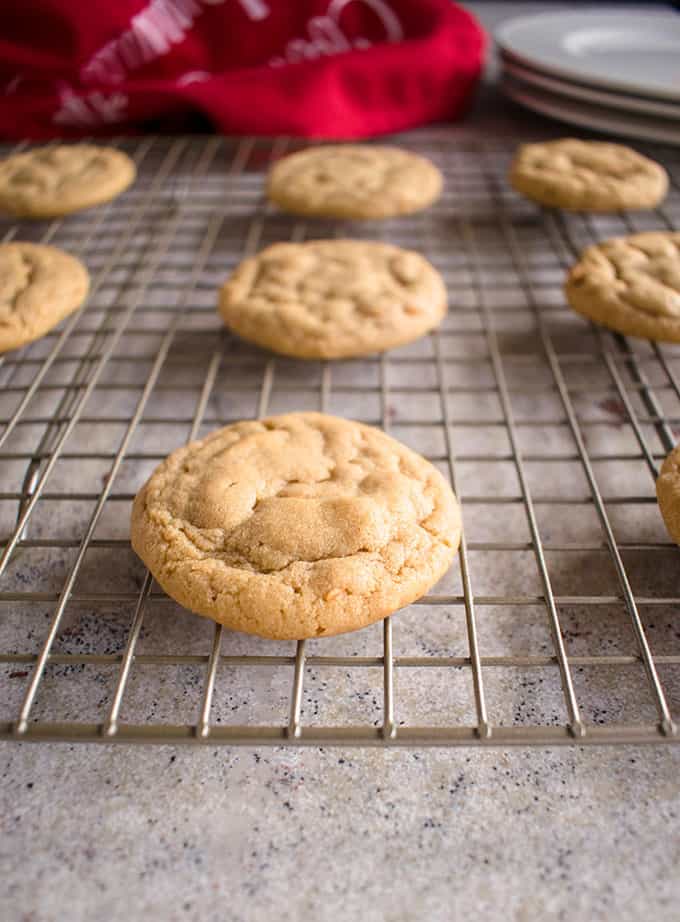 For Stuffed Peanut Butter Cookies - Enclose a mini Reese's Peanut Butter Cup between two balls of dough. I used dark chocolate cups this time. Yum!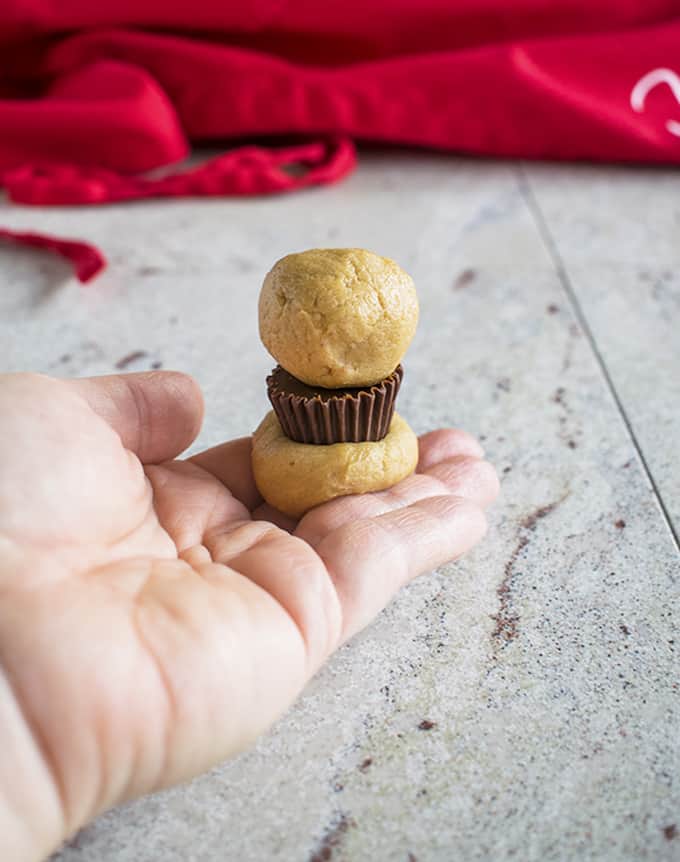 Press the dough around the candy and roll it between your palms. That's-a nice-a meat-a-ball. (Sorry.)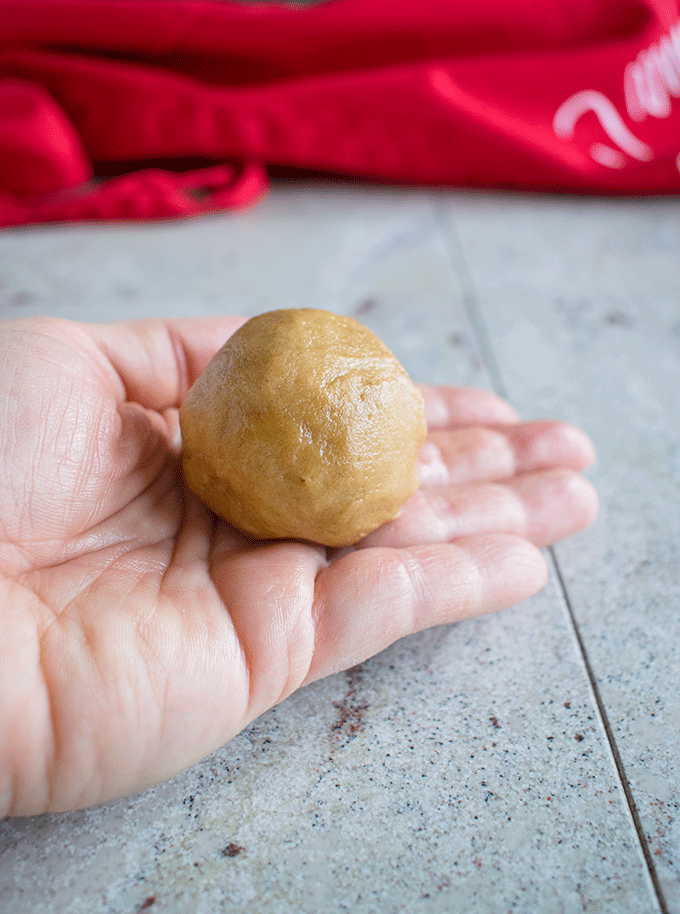 Be sure to read the recipe card notes for more details on how to make these stuffed cookies. The baking time and temperature are different than the other variations.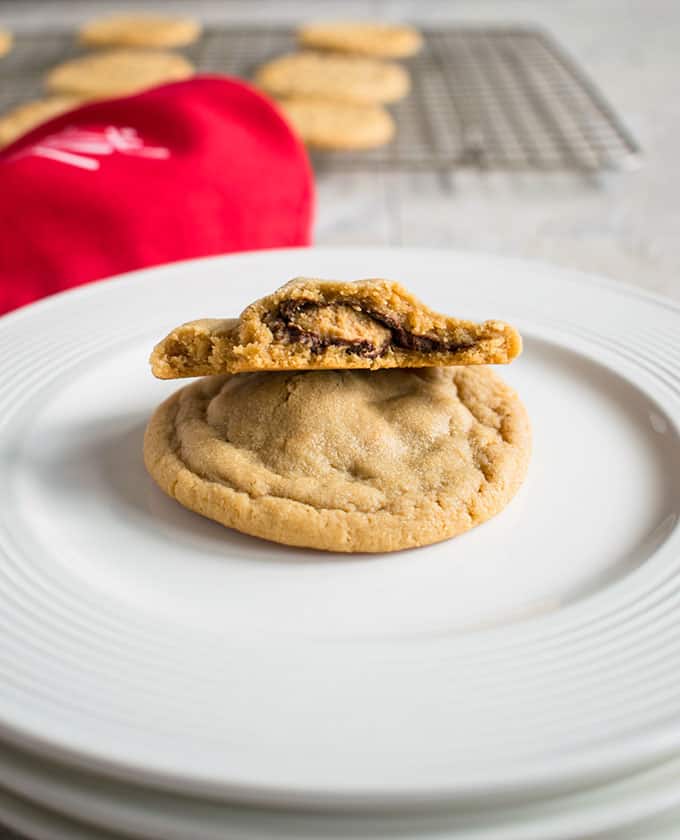 For double peanut butter cookies with peanut butter chips: Add some chips to the base recipe, but don't flatten the cookies. I didn't make any for the photos, but they're really good! And, feel free to use chocolate chips instead.
So many possibilities! I've never made peanut butter blossom cookies, but I'm sure this dough would be delicious with them too.
What other variations can you think of? Which is your favorite?
Enjoy!
P.S. (If you're wild about peanut butter and chocolate, you have to check out my Frozen Take 5 Delight Bars. And don't miss these chocolate meringue cookies, Italian cookies, rainbow cookies, Italian pizzelle cookies and my biscotti recipe!)
(Recipe Source: Adapted from Better Homes and Gardens New Cook Book [that's my affiliate link to the 16th edition, but I own the 10th edition.] I added salt, used Skippy Natural, used dark brown sugar and provided variations to the method and recipe.)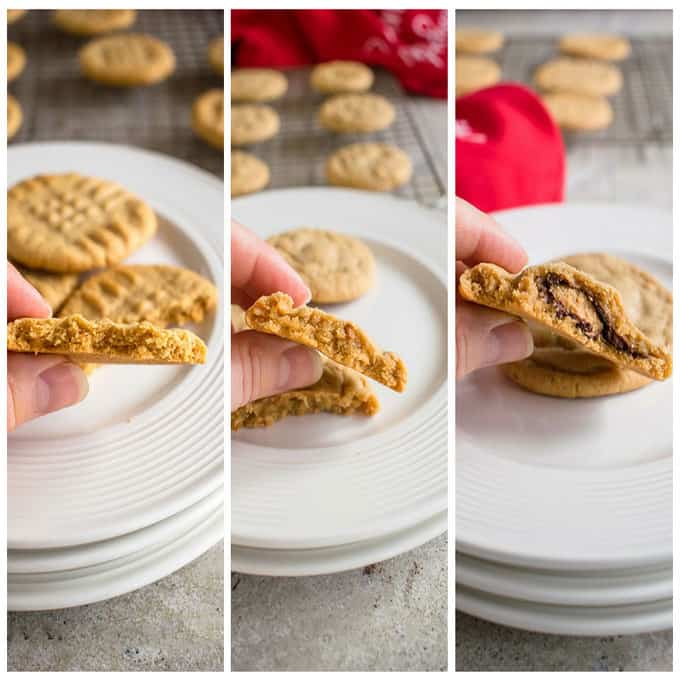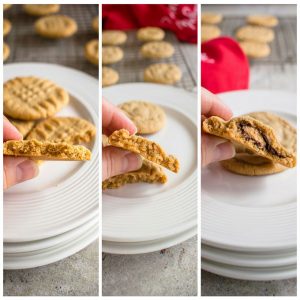 Peanut Butter Cookie Variations
The best peanut butter cookies with variations like crispy, soft, stuffed or with chips!
Print
Pin
Rate
Save
Go to Collections
Servings:
36
(Makes 3 dozen)
Ingredients
Crispy or Soft Peanut Butter Cookies (see Notes for stuffed or chip variations)
½

cup

salted butter

(softened; see Notes)

½

cup

Skippy Natural Peanut Butter Spread

(Super Chunk or Creamy)

1 ¼

cup

all-purpose flour

(divided use)

½

cup

granulated sugar

½

cup

packed

(dark brown sugar)

1

egg

(I use extra large)

½

teaspoon

baking soda

½

teaspoon

baking powder

¼

teaspoon

salt

½

teaspoon

vanilla extract
Instructions
To soften your butter, you can set it out for at least an hour or put it in the microwave on defrost for four seconds at a time, just until it's soft.

Add your butter and peanut butter to a large mixing bowl or stand mixer. Beat on high for 30 seconds, stopping to scrape the bowl as needed.

Add ½ cup of flour. Add the granulated sugar, brown sugar, egg, baking soda, baking powder, salt and vanilla. Beat until thoroughly combined.

Add in your remaining ¾ cup of flour and beat until combined.

Cover and chill the dough in the refrigerator for 10 minutes, during which you should preheat your oven to 375 degrees F. (See Notes if you're making stuffed cookies, which require a different temperature.)

Shape the dough into 1-inch balls. (I use my fingers to grab a little dough and quickly roll it between the palms of my hands.) Place the balls two inches apart on an ungreased baking sheet.

FOR CRISPY, CHEWY COOKIES: Use a fork to flatten the dough balls. Press down the tines of the fork vertically, then horizontally on the dough to form a crisscross pattern. (If your dough is too soft to make a clean pattern, chill it some more.)

FOR SOFT PEANUT BUTTER COOKIES: Do not flatten the dough balls. Bake them as is.

Bake the cookies on the center rack of your oven (one pan per oven) for 7-9 minutes, or until lightly browned on the bottom. (My oven takes 9 minutes.)

Take them out of the oven and let them rest in the pan for 3-4 minutes before transferring them to a cooling rack. (The cookies will be too soft to transfer if you don't wait first.)

After they've cooled, you can store the cookies in a plastic container with a lid at room temperature for several days.
Notes
For best results, when using butter, use Skippy Natural instead of regular peanut butter.
If you want to use regular peanut butter, you'll get better results using a stick of margarine (½ cup) instead of butter.
For Double Peanut Butter Cookies with Peanut Butter Chips: Stir in 5 ounces of peanut butter chips to the dough. Roll into balls, but do not press them down. Bake as directed above. (You could use chocolate chips instead, if you wish.)
For Peanut Butter Cookies Stuffed with Mini Reese's Cups: Preheat your oven to 350 degrees F. Place a mini Reese's cup (dark chocolate or regular) between two one-inch balls of dough. Press and roll the dough around the candy to enclose it. Place up to 8 of the stuffed dough balls on a half baking sheet (space them farther apart than regular peanut butter cookies). Bake them for 11 minutes. Remove them from the oven and let them rest in the pan for five minutes before transferring them to a wire rack to cool. The cookies taste best when fully cooled and set. Note, you will only get about 17-18 stuffed cookies from one batch of dough.
Feel free to make a variety of cookies using one batch of dough. For the photos, I made a dozen crispy cookies, a dozen soft, and five stuffed cookies.
*adapted from Better Homes and Gardens New Cook Book
Nutrition
Calories:
76
kcal
|
Carbohydrates:
6
g
|
Protein:
2
g
|
Fat:
4
g
|
Saturated Fat:
2
g
|
Cholesterol:
11
mg
|
Sodium:
79
mg
|
Potassium:
39
mg
|
Sugar:
3
g
|
Vitamin A:
85
IU
|
Calcium:
6
mg
|
Iron:
0.3
mg