You'll love these Dairy-Free Waffles with Almond Milk! They're crispy on the outside and fluffy on the inside. Almond extract makes them taste amazing!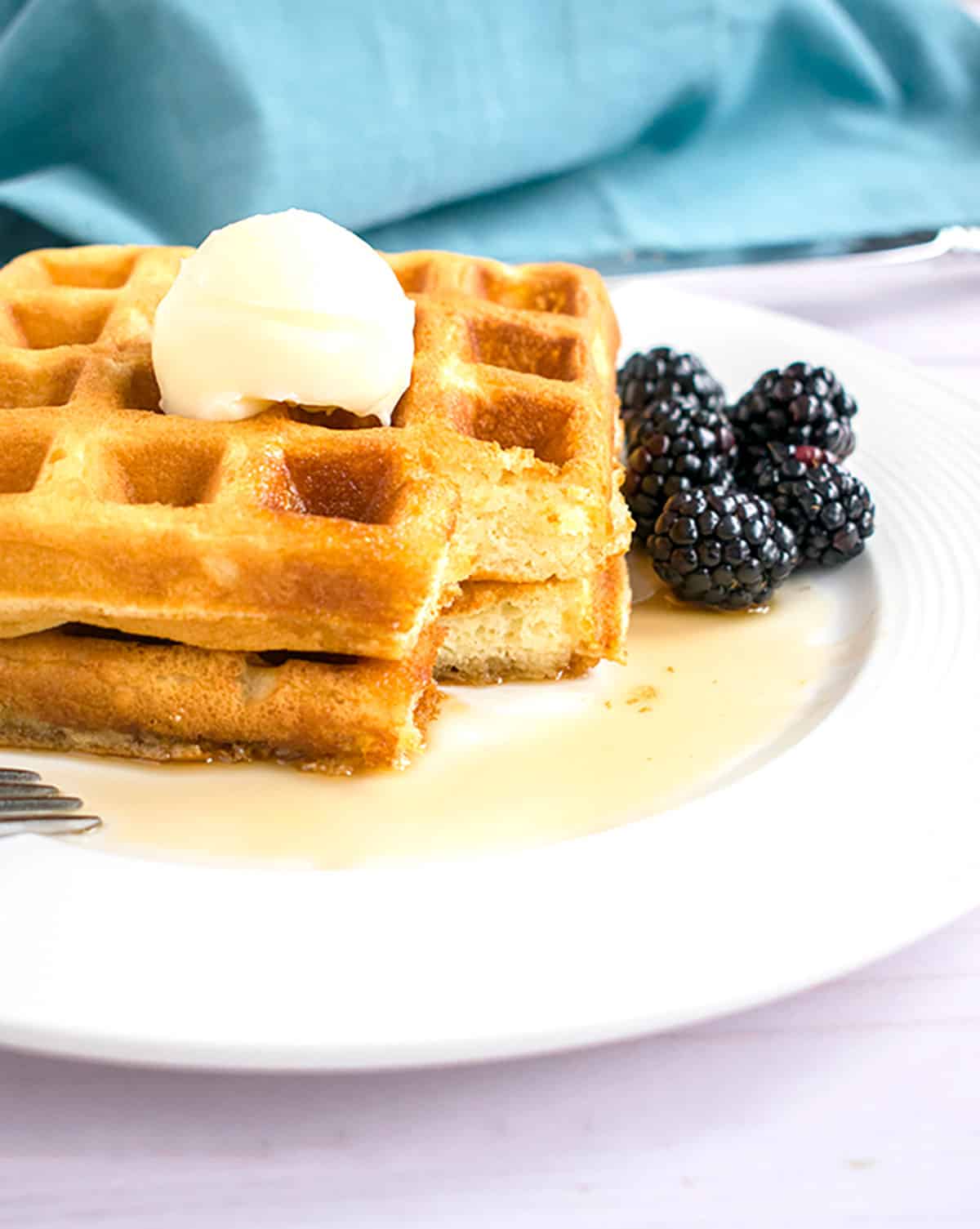 CONFESSION: My family can eat dairy but prefers these Dairy-Free Waffles with Almond Milk for their superb taste and texture!
This has been my go-to waffle recipe for years, ever since a Cooking with Mamma C reader requested a waffle version of my almond-flavored pancakes. Of course, I tweaked and tested it multiple times to get it just right!
These dairy-free waffles are for you if you want:
crispy waffles
fluffy waffles
thick waffles with bold, delicious flavor.
Are you sold yet? Don't worry, you can use dairy milk if you prefer!
Recipe ingredients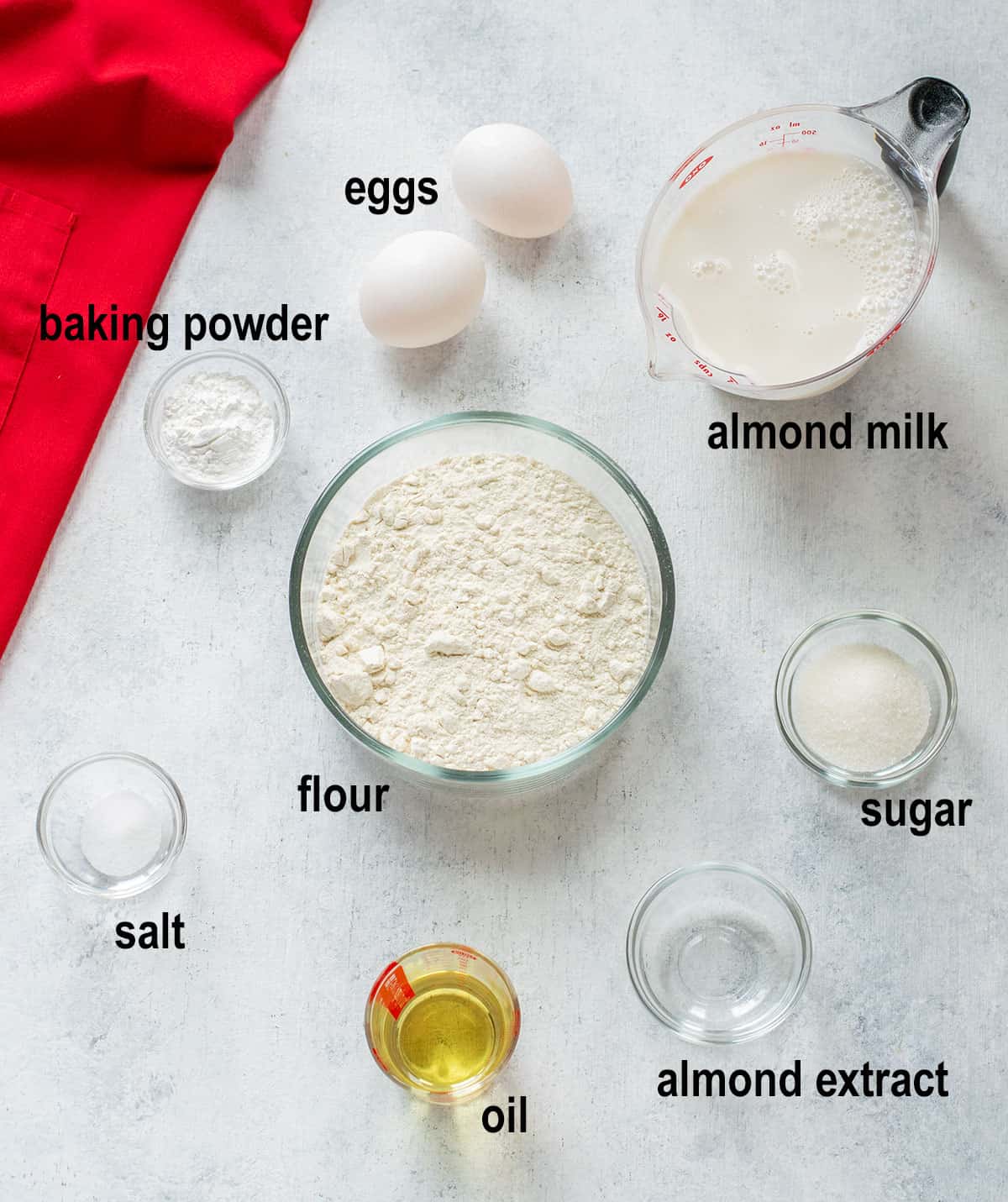 Almond Milk: I use plain, unsweetened almond milk for delicious, dairy-free waffles. You could substitute another non-dairy milk such as cashew milk, soy milk or oat milk.
If dairy isn't an issue, feel free to use 2% milk or whole milk.
Baking Powder: This homemade waffle recipe calls for a generous amount of baking powder ― four teaspoons. It acts as a leavening agent and gives these waffles a fluffy texture that mimics Belgian waffles.
Authentic Belgian waffles (I had them in Belgium!) contain yeast and sugar pearls. So, this is not an authentic Belgian waffle recipe, FYI.
I did try reducing the baking powder in several experiments, but the texture was more soggy than fluffy. Four teaspoons it is!
Salt: After retesting this recipe several times recently, I reduced the salt from one teaspoon down to ¾ teaspoon. It's enough to make the flavors pop. You don't want bland waffles!
Sugar: The recipe calls for two tablespoons of granulated sugar, but feel free to substitute three packets of Stevia (affiliate link) or another calorie-free sweetener.
Almond Extract: Almond-flavored waffles taste amazing! I find vanilla extract too bland for waffles, French toast and pancake recipes.
This is the almond extract (affiliate link) I use. Of course, you can use vanilla if necessary.
Oil: I use canola oil in waffles for its neutral flavor. You also could use vegetable oil. Extra-virgin olive oil is too strong-tasting to use in waffles, but regular olive oil should be fine.
How to make dairy-free waffles
See the card at the end of this post for the full recipe, but here's an overview.
Make the waffle batter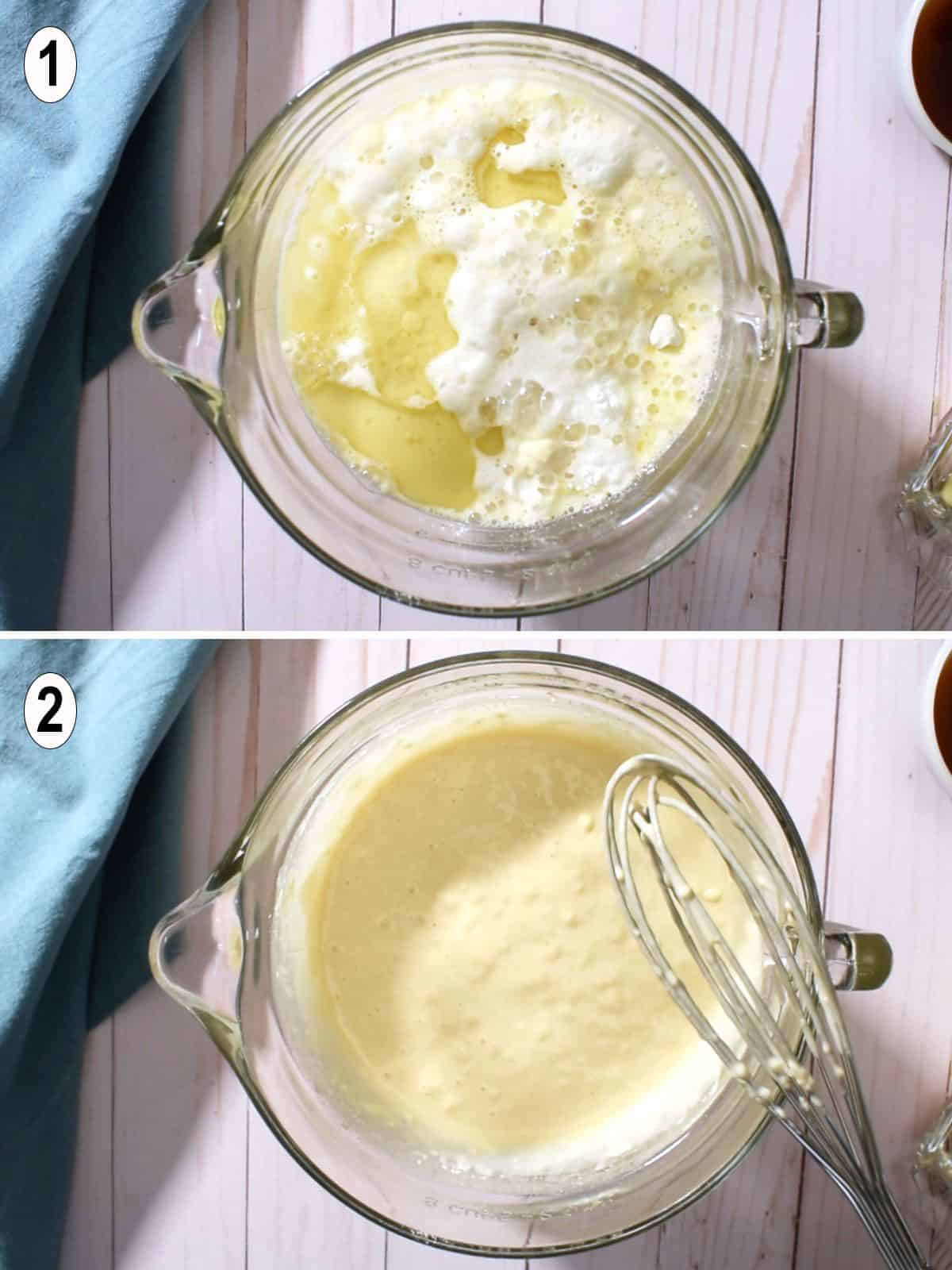 Whisk the dry ingredients in a large mixing bowl and add the liquid ingredients.
Whisk to combine. It's fine to have some small lumps.
Cook the waffles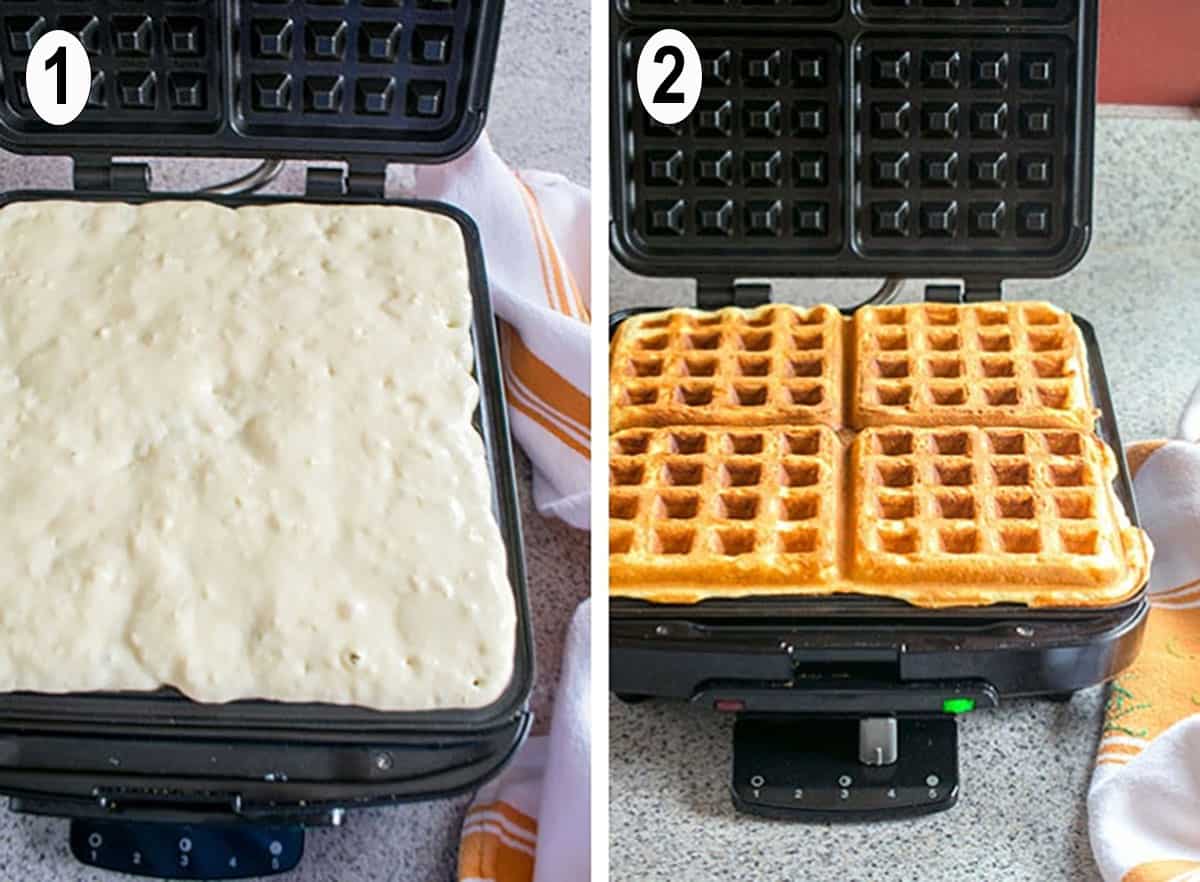 Pour some batter onto the center of a waffle iron preheated to medium-high. Use the back of a spoon to spread the batter into the corners.
Cook the waffles until they're a deep, golden brown.
Recipe tips
Follow the directions for your waffle maker regarding how much batter to scoop onto the iron.
Slide two forks under the waffles to easily lift them off of the waffle machine.
What to serve with them
I like to serve these waffles with butter (use dairy-free if needed), maple syrup and berries. They'd be fantastic with these Italian Strawberries or any of these cheesecake toppings.
But they'd probably be awesome with a burger in the middle. I tried that in a restaurant and loved it!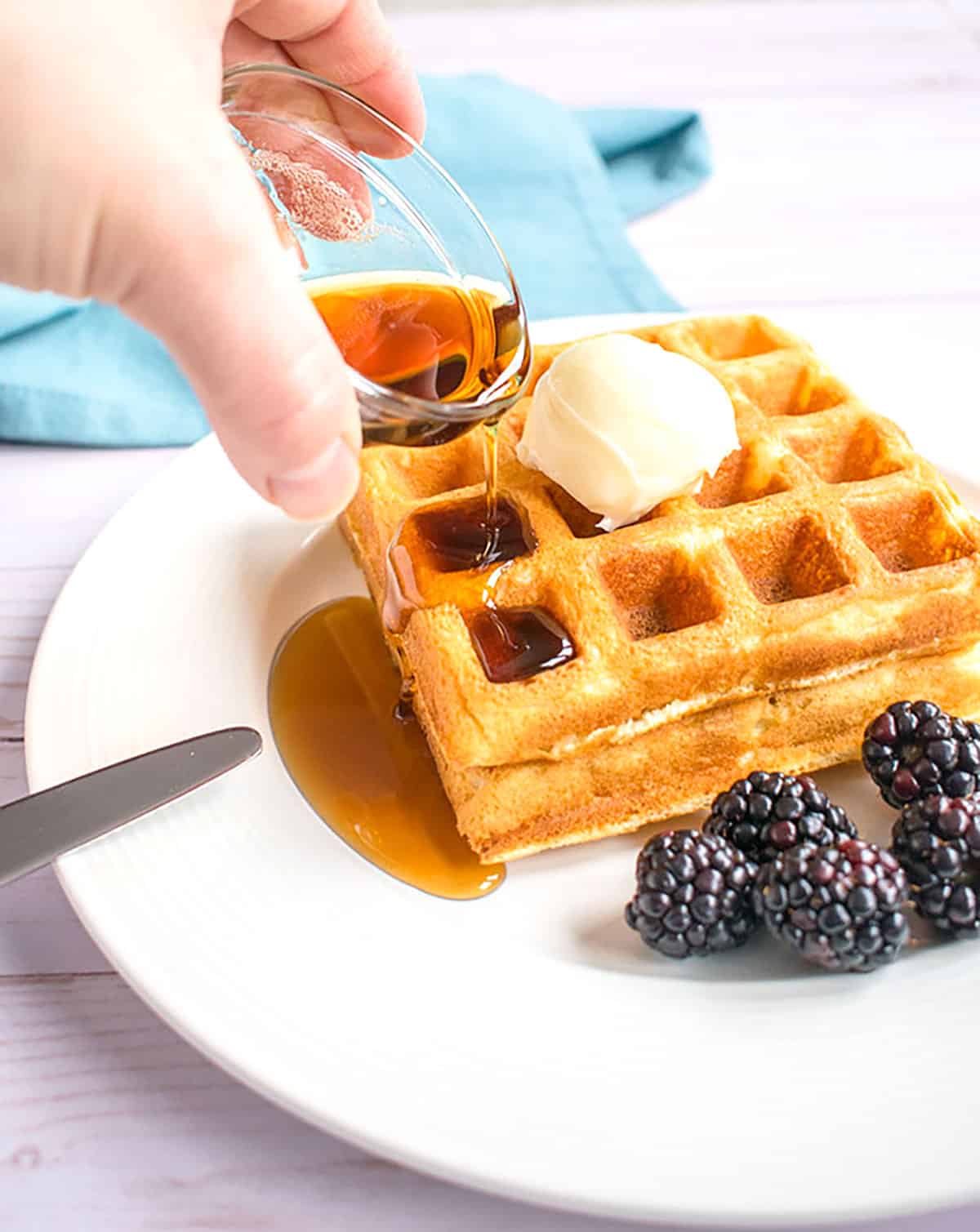 How many waffles does this recipe make?
This recipe yields a batch of eight waffles, and my waffle iron makes four at a time. I have an older version of this waffle iron (affiliate link).
You can easily halve the recipe to make waffles for two. (Each person would get two waffles.)
But I love having leftover waffles from scratch to reheat another day, so I always make a full batch.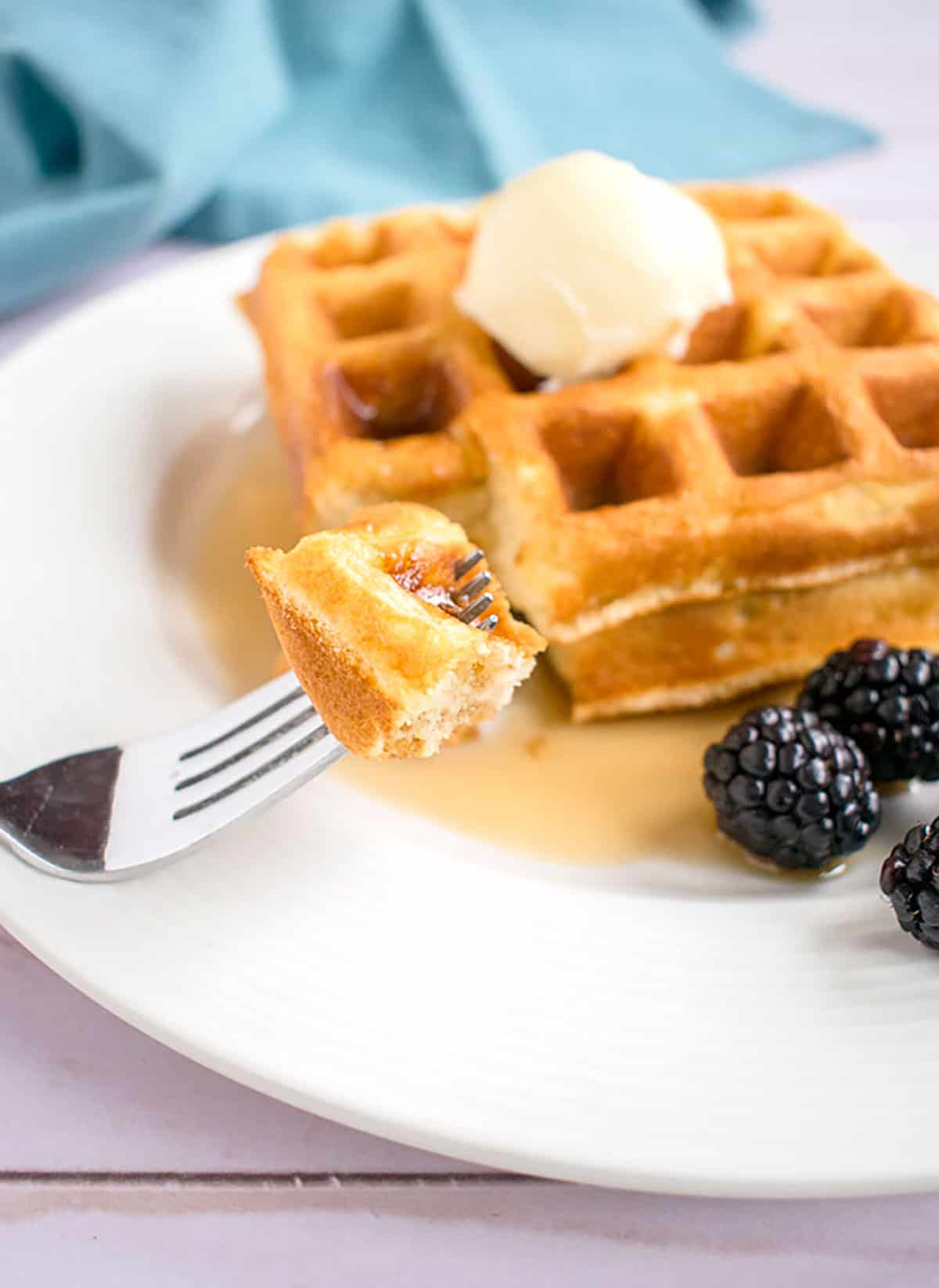 Frequently asked questions
Can you refrigerate waffle batter?
Yes, you can refrigerate waffle batter in a sealed container for up to two days. Stir it before using it.
Can you freeze waffle batter?
Technically, you can freeze waffle batter for up to two months. I don't recommend it though, because the waffles won't turn out as fluffy as they do with freshly made batter.
What's the best way to store leftover waffles?
It's best to store leftover waffles in the freezer so they stay fresh. I recommend freezing them as soon as they've cooled off completely. Place them in a zip-top freezer bag, stacking two at a time if needed.

The waffles will keep well for up to three months in the freezer.

If you'd rather not freeze the waffles, you can refrigerate them in a sealed container or zip-top bag for up to four days.
How do you reheat waffles?
For crispy results, use a toaster to reheat waffles, even straight from the freezer. Once toasted, you can heat them in the microwave for 10 seconds or so, if needed.
Enjoy!
If you try this Dairy-Free Waffle recipe, please leave a comment and a rating!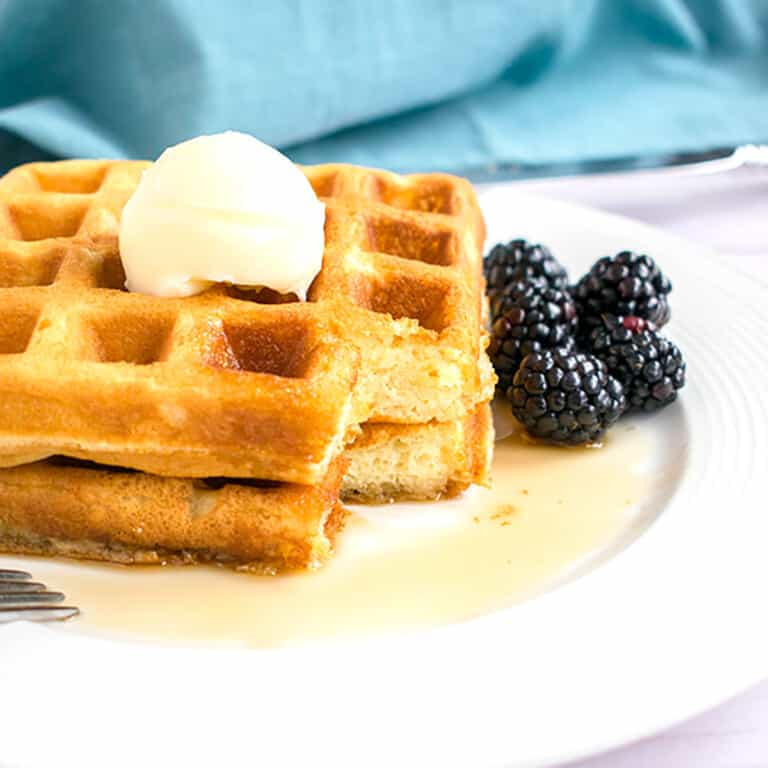 Dairy-Free Waffles with Almond Milk
Flavored with almond, these waffles are delicious! They're crispy on the outside, fluffy and tender on the inside! Use almond milk for dairy-free waffles.
Print
Pin
Rate
Save
Go to Collections
Servings:
4
(8 waffles per batch)
Ingredients
2

cups

all-purpose flour

2

tablespoons

sugar

(or 3 packets Stevia)

4

teaspoons

baking powder

(See notes.)

¾

teaspoon

salt

2

eggs

1 ¾

cups

unsweetened almond milk

(If dairy isn't an issue, you can use 2% or whole milk.)

¼

cup

cooking oil

(canola or vegetable oil)

1

tablespoon

almond extract
Instructions
Preheat your waffle iron on the medium-high setting or according to your preference.

Add the flour, sugar, baking powder and salt to a medium mixing bowl. Whisk to combine.

Crack the eggs into a liquid measuring cup and beat them with a whisk before adding them to your mixing bowl.

Use the liquid measuring cup for the almond milk and oil and add them to your mixing bowl. Add the almond extract to the bowl and whisk everything just until blended.

Follow the directions for your waffle iron regarding how much batter to scoop onto the iron. (My waffle iron takes two cups of batter at a time, which is half of the batter made in this recipe.) Scoop the appropriate amount of batter into the center of your waffle iron and spread the batter evenly with the back of a spoon, making sure to fill the corners. Close the iron and let the waffles cook until the waffle iron beeps, gives a green light, or whatever yours does to indicate the waffles are done.

Carefully remove the cooked waffles with two forks and set them on a dish or platter. Continue cooking the rest of the batter (according to your waffle iron's instructions).


Serve the waffles with butter (use dairy-free if needed), maple syrup and berries, if you wish.

Refrigerate leftover waffles for up to four days. Or, you can freeze waffles in freezer bags for up to three months. To reheat, toast them and then pop them into the microwave for another 10 seconds or so if needed. (Or, you can store extra batter in the refrigerator for two days.)
Notes
Four teaspoons of baking powder are needed to provide a fluffy texture that mimics Belgian waffles.
In September 2023, I retested this recipe and reduced the salt to ¾ teaspoon instead of 1 teaspoon.
Nutrition facts are just for the waffles without toppings.
Nutrition
Calories:
434
kcal
|
Carbohydrates:
57
g
|
Protein:
10
g
|
Fat:
18
g
|
Saturated Fat:
2
g
|
Polyunsaturated Fat:
5
g
|
Monounsaturated Fat:
10
g
|
Trans Fat:
0.1
g
|
Cholesterol:
82
mg
|
Sodium:
615
mg
|
Potassium:
506
mg
|
Fiber:
2
g
|
Sugar:
7
g
|
Vitamin A:
119
IU
|
Calcium:
327
mg
|
Iron:
4
mg
(Recipe Source: Cooking with Mamma C. Originally published on January 11, 2019 and updated now with additional photos, information and a slightly revised recipe with reduced salt.)