These are simply The Best Homemade Pancakes with delicious almond flavor! I've been making them for decades, and they're a huge family favorite! I love hearing from readers who adore them too.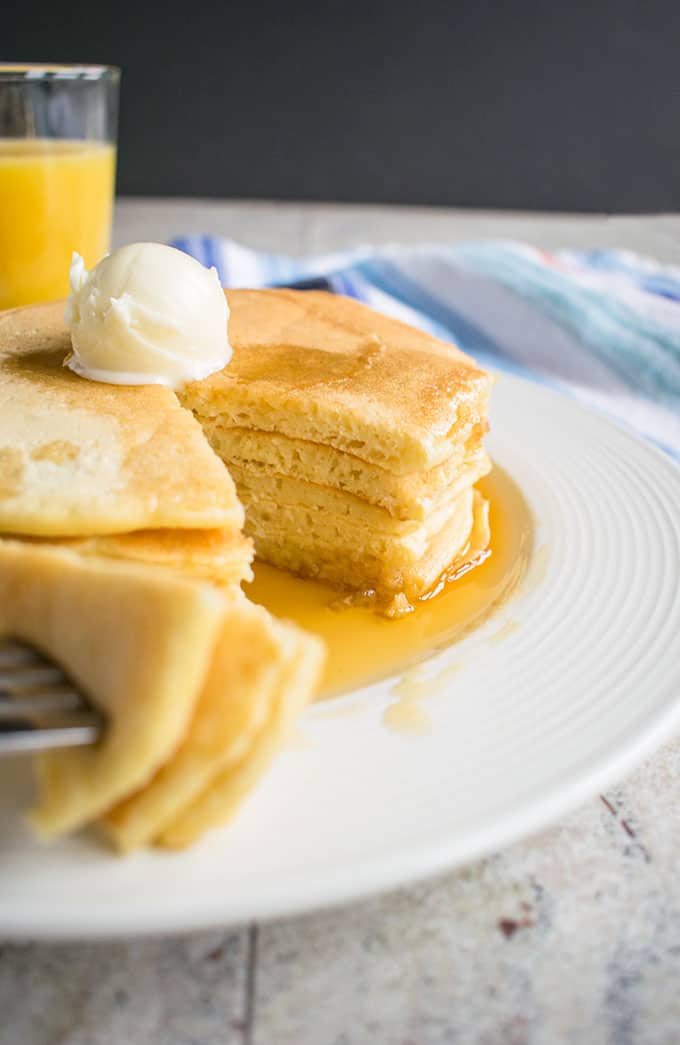 Two weeks into blogging (nearly four years ago), I posted this recipe for our favorite pancakes. That should tell you how how highly these rank in my household.
I couldn't wait to share these pancakes with anyone who was reading (basically Mom and a few friends). But the friends who made these loved 'em.
Some declared them the best homemade pancakes and began serving them regularly, for breakfast or even dinner. It made me so happy to hear someone else's family loves these almond-flavored pancakes as much as mine does.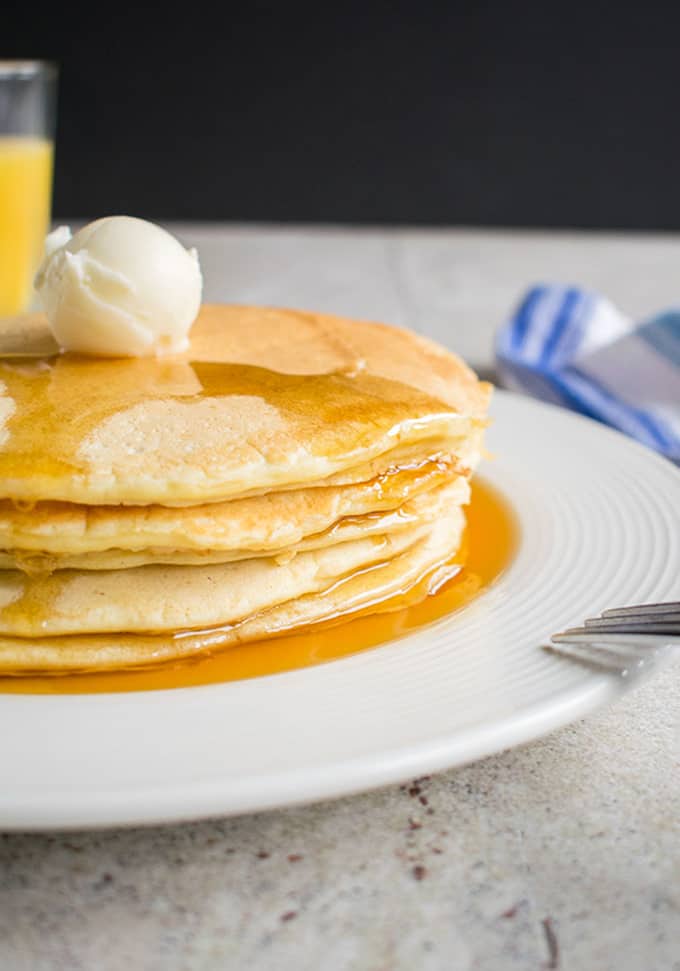 But the recipe got buried in the Cooking with Mamma C archives, with mediocre photos that made it hard to entice others to take a peek. I've felt badly about it for years.
Because, no exaggeration, after my homemade marinara sauce, this is the recipe I make most often from my blog. You know anything I've made hundreds of times has to be worth it, right?
So, today, I'm republishing these pancakes with a new title, updated photos, some added narrative and a few ingredient variations on the recipe card. Most importantly, I'm saying you can make these with unsweetened almond milk, if you prefer.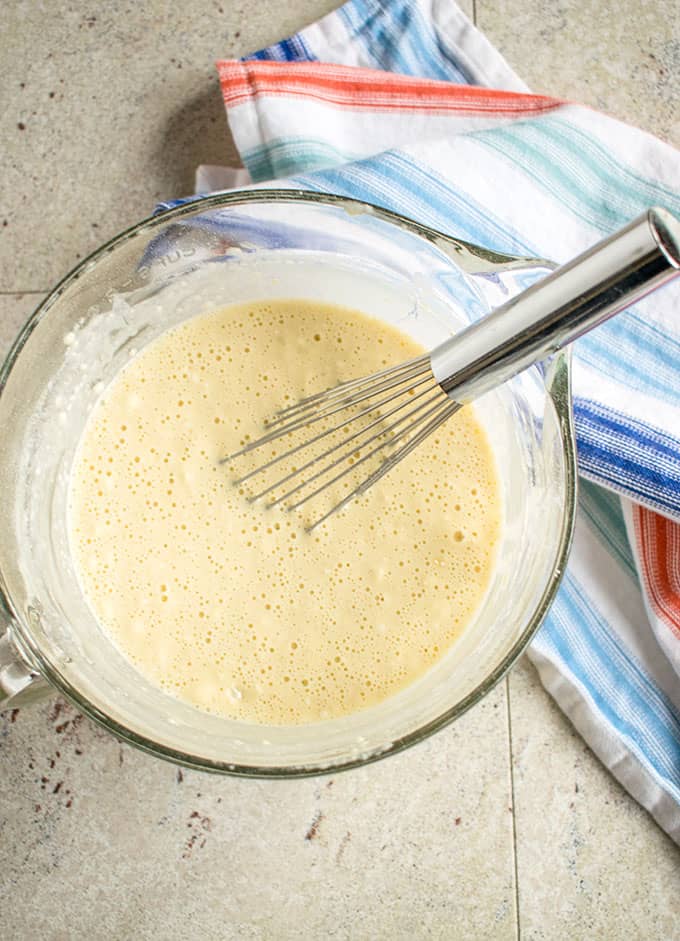 Nowadays, that's what I do. The almond milk makes the pancakes extra fluffy, plus intensifies the flavor. (Thanks to my son for discovering this!)
But, I couldn't bear to delete my original narrative, which almost serves as a journal entry from my life. So, let's go back to June 14, 2014, when it was almost Father's Day, and see what my younger self had to say.
Original Post from June 14, 2014:
I'm not cooking dinner for my husband on Father's Day. (Don't worry; Mom is preparing a feast for us.)
The least I can do is make my husband's favorite pancakes for breakfast on his special day. I'll even postpone my usual smoothie until lunchtime, since I love these pancakes too.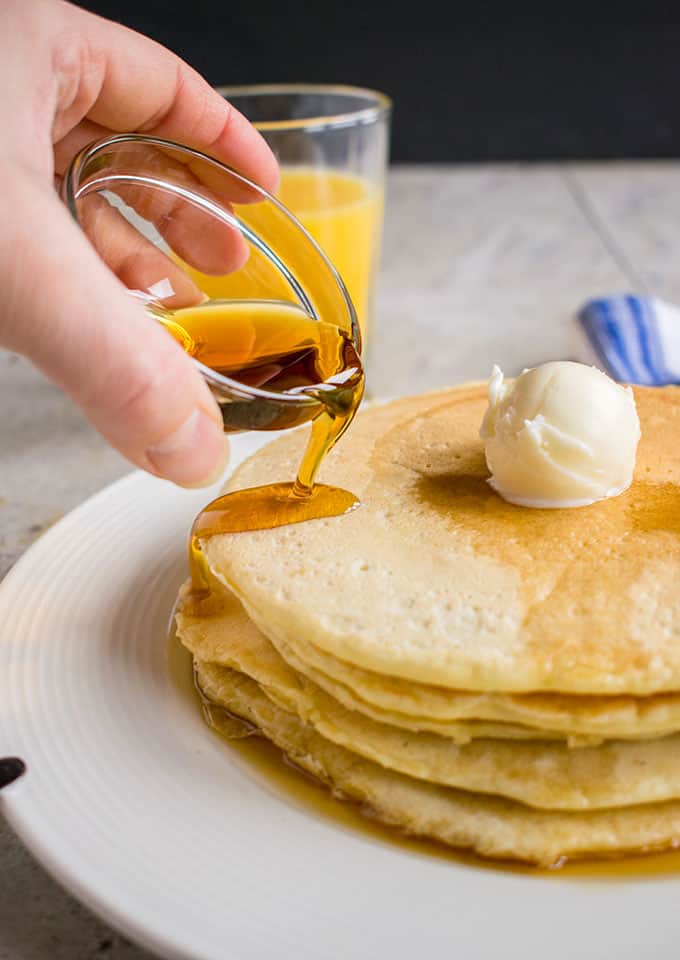 There's nothing fancy or complicated about these pancakes, unless you consider almond extract fancy. But they are tender, fluffy, light and have that delicious somethin' somethin' going on, thanks to the infusion of almond flavor.
I like to add a few dashes of cinnamon on top of my pancakes, but my guys like theirs with just butter and syrup. My daughter likes her pancakes with chocolate chips inside, so I'll throw some in hers when I'm cooking them.
This is just a really good, basic recipe we've enjoyed for years, after I made a couple of modifications to the version in my trusty Better Homes and Gardens cook book. I also make multigrain pancakes, but I'll share those with you another time.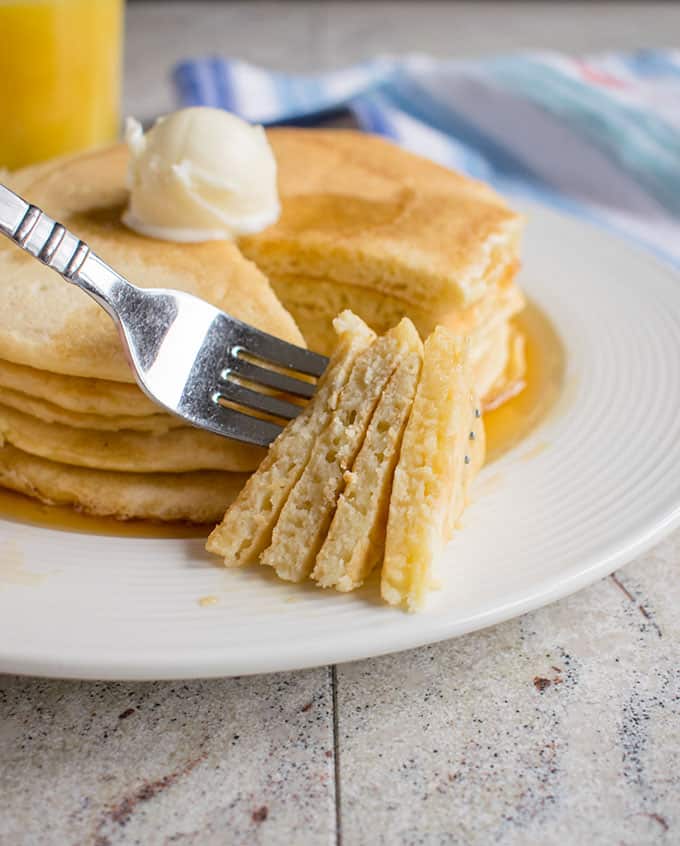 This weekend is about making the pancakes just the way my husband likes them.
Happy Father's Day tomorrow to all of the dads, stepdads, and grandfathers! We need you more than you know.
xo
Back to February 28, 2018
Friends (there's a lot more of you now), these really are the best homemade pancakes. I hope you give them a try!
And, by request, I've turned these pancakes into Homemade Waffles!
Be sure too check out my other pancake recipes too.
Enjoy!
(Recipe Source: Adapted from Better Homes and Gardens New Cook Book - That's an affiliate link.)
Watch the video to learn how to make The Best Homemade Pancakes!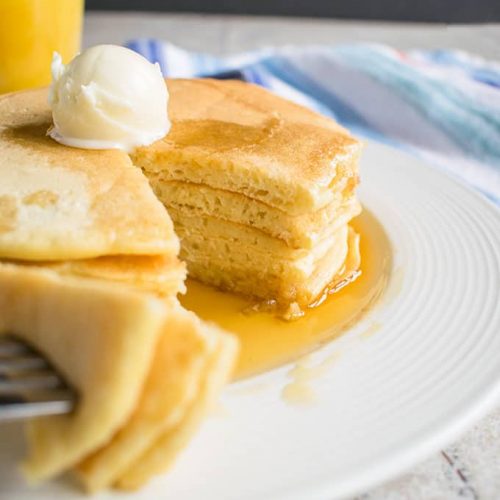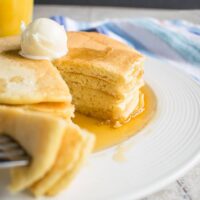 Ingredients
2

cups

all-purpose flour

2

tablespoons

sugar

(or 3 packets of Stevia)

4

teaspoons

baking powder

1

teaspoon

salt

2

eggs

(beaten)

2

cups

milk

(or unsweetened almond milk; see notes)

¼

cup

cooking oil

2

teaspoons

almond extract
Instructions
Add your flour, sugar, baking powder and salt to a medium mixing bowl. Crack your eggs into a liquid measuring cup and beat them with a whisk before adding them to your mixing bowl.

Add the milk, oil and almond extract to your bowl and whisk everything just until blended. The batter should still be lumpy.

Heat an 8-inch, non-stick skillet over a medium-high flame, until it is hot enough that a drop of water splashed on it will sizzle.

Use a large serving spoon to pour some batter into the center of the pan, using two full spoons for each pancake. The pancakes will be about 6 inches in diameter. Lower the heat to just a little higher than medium.

Flip each pancake when bubbles form on top, and the edges appear dry. Cook the second side until it is lightly browned. Remove cooked pancakes to a platter and cover with foil to keep warm.

Serve the pancakes with butter, syrup, and cinnamon, if you wish. Store any leftover batter in the refrigerator for up to two days. Cooked pancakes can be frozen.
Notes
For the milk, you can use whole or low fat. Almond milk produces a fluffier result than regular milk, and that's now what I use most often. If your almond milk is sweetened, you'll need to reduce the sugar/Stevia to compensate.
Sometimes, I make these with white whole wheat flour, and they're more dense, but still delicious.
Nutrition
Calories:
490
kcal
|
Carbohydrates:
61
g
|
Protein:
13
g
|
Fat:
20
g
|
Saturated Fat:
4
g
|
Cholesterol:
94
mg
|
Sodium:
670
mg
|
Potassium:
662
mg
|
Fiber:
1
g
|
Sugar:
12
g
|
Vitamin A:
315
IU
|
Calcium:
333
mg
|
Iron:
3.6
mg