If you love the chocolate-orange flavor combo, you need to try these Orange Pancakes with Chocolate Chips! A delicious breakfast made with your choice of white whole wheat or all-purpose flour.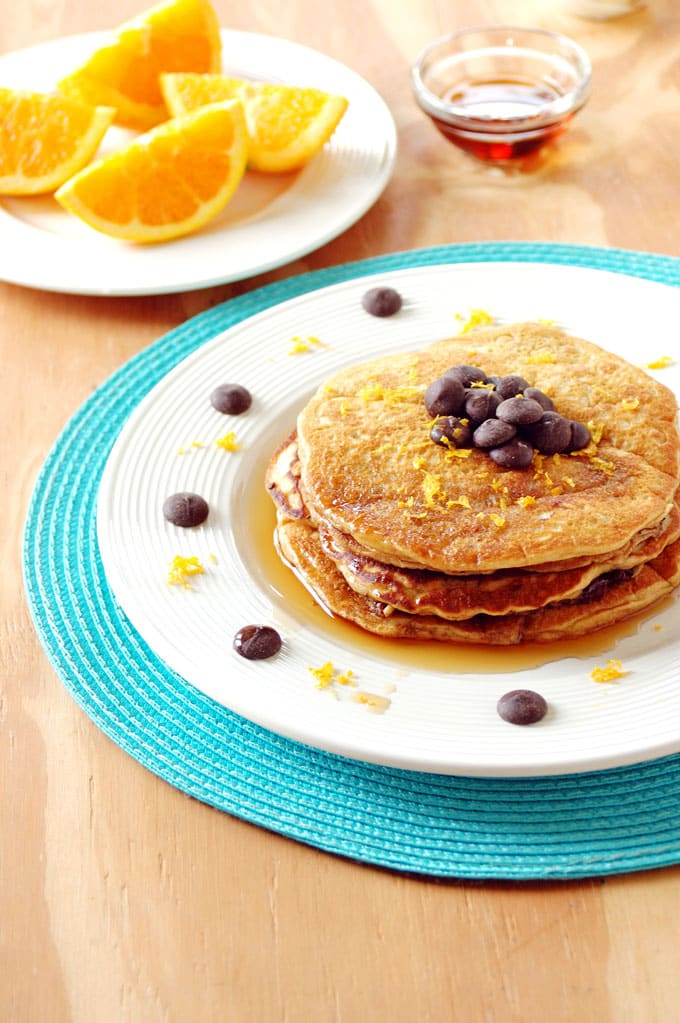 You know I love my smoothies six mornings a week. But on that seventh day, I really crave an indulgent breakfast. I deserve it, right? And, isn't there something special about homemade pancakes on the weekend? Especially when they're gourmet…even if I do say so myself.
These orange pancakes with chocolate chips have lived in my imagination for over a month. I guess they're inspired by similar cookies I bake, plus these Chocolate and Orange Pastry Bars and Mom's Orange French Toast. All I know is, this recipe idea popped in my head, and I could smell the fragrant, orange-zested flapjacks and taste their melty, bittersweet chocolate chips, made sweeter with pure maple syrup drizzled over the top. Are you hungry yet? I am!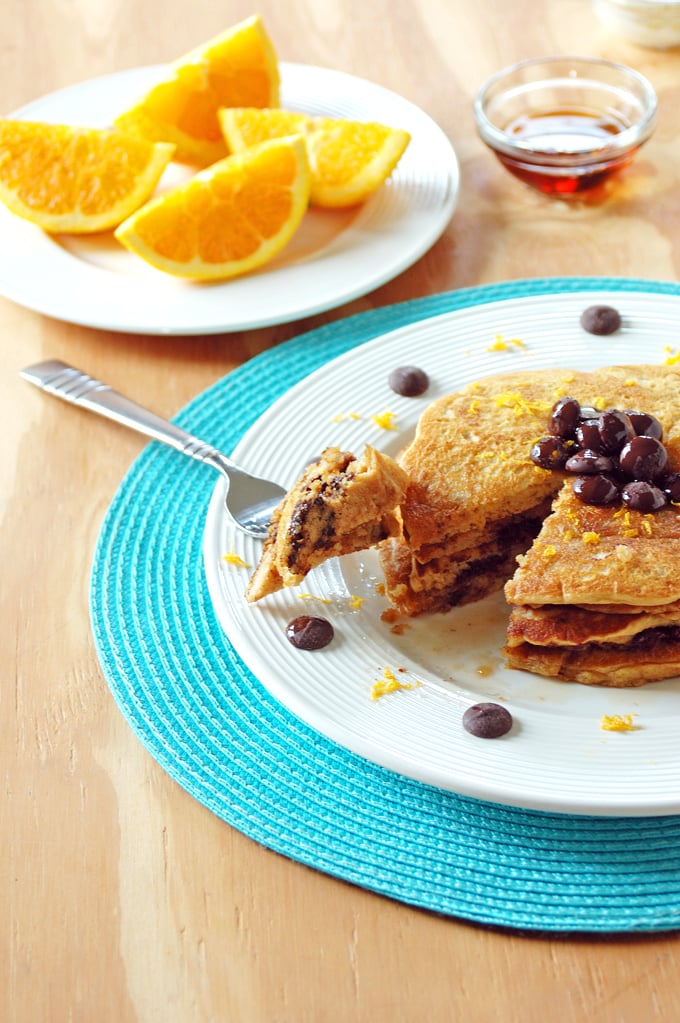 So, after fantasizing about these pancakes for weeks, I finally brought them to life. And, after a few tweaks, I created the decadent (yet healthy-ish) breakfast of my dreams. I've been making these orange pancakes with white whole wheat flour, but you can use all-purpose if you wish. They'll be a tad lighter if you do, but the whole grain version is still delicious and contains more fiber. (I can't remember if I've mentioned it before, but I store my whole wheat flour in the freezer to keep it fresh. So, if you're worried you wouldn't use it often enough to keep it from going stale, you can't use that excuse anymore. 😉 )

As for the chips, I tried the recipe with semi-sweet chocolate, but the bittersweet ones work so much better here as a rich contrast to the bright orange flavor from the zest and orange extract. (Forget vanilla extract in pancakes, French toast and waffles. It does nothing for them.) So, if you're a dark chocolate fan like me, there's no better option than bittersweet. But, I suppose you can use milk chocolate (gasp!), if you're so inclined.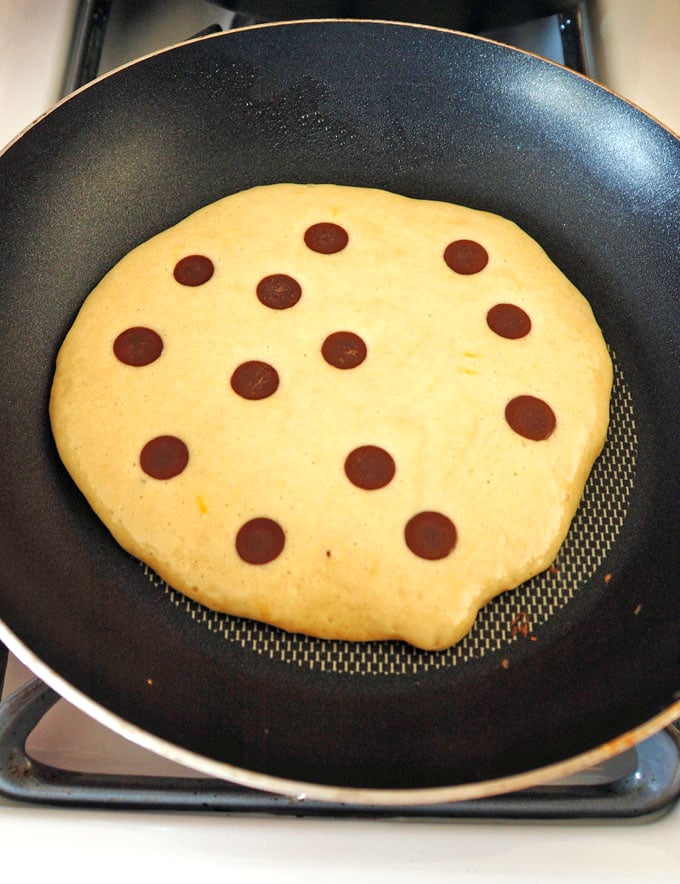 Just make sure to add the chips after you pour some batter into your pan, to prevent the chocolate from burning. Let your batter cook for about 30 seconds, then place the chips on top, pointy-side down. Then, wait until you see bubbles form and pop on the surface before you flip the pancake over.
Sundays are made for these orange pancakes with chocolate chips, don't you think? I hope you enjoy them as much as I do. Have a beautiful day, my friends!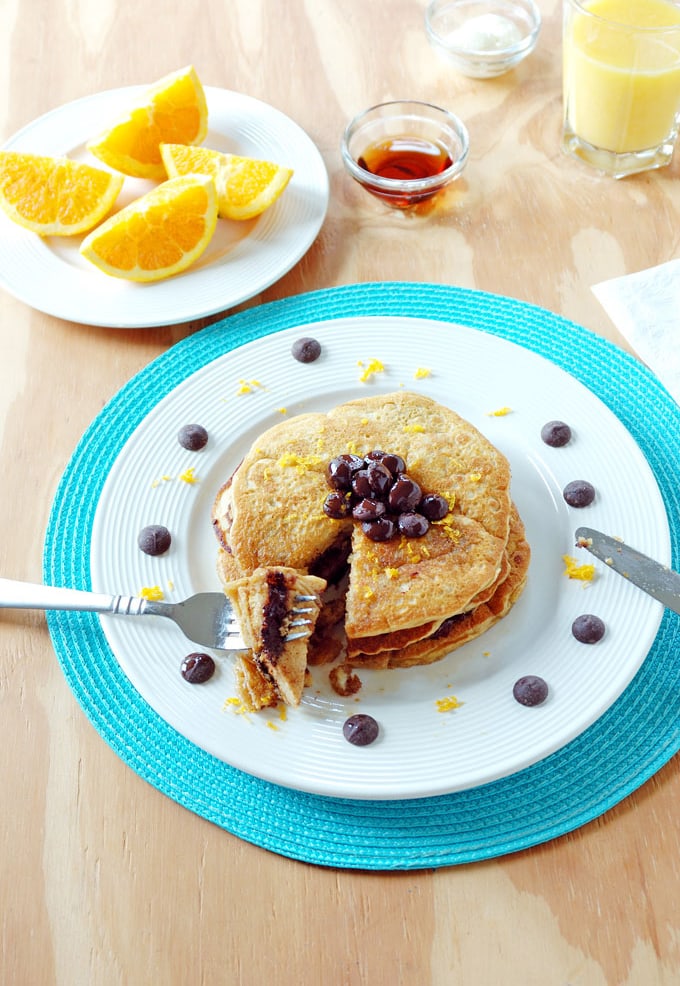 (Recipe Source: Cooking with Mamma C)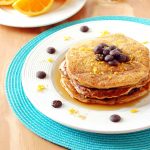 Orange Pancakes with Chocolate Chips
If you love the chocolate-orange flavor combination, you need to try these!
Keyword:
chocolate chip pancakes, chocolate orange, orange pancakes
Ingredients
2

teaspoons

orange zest

(from one orange)

2

cups

white whole wheat flour

(or all-purpose)

2

tablespoons

+ 2 teaspoons sugar

4

teaspoons

baking powder

1

teaspoon

baking soda

1

teaspoon

salt

2

eggs

(beaten)

2

cups

milk

(low-fat is fine)

1/4

cup

cooking oil

2

teaspoons

orange extract

2/3

cup

bittersweet chocolate chips

butter for serving

maple syrup for serving
Instructions
Zest your orange until you have two teaspoons. Set it aside.

Add all the ingredients except the chocolate chips to a medium mixing bowl and stir just until blended. The batter should still be lumpy.

Heat an 8-inch skillet over a medium-high flame, until it is hot enough that a drop of water splashed on it will sizzle. Spray the pan with cooking spray.

Use a large serving spoon to pour some batter into the center of the pan, using two full spoons for each pancake. The pancakes will be about 6 inches in diameter. After 30 seconds, place 9-12 chocolate chips, pointy-side down, onto the batter.

Flip each pancake when bubbles form and burst on top, and the edges appear dry. Cook the second side until it is lightly browned. Remove cooked pancakes to a platter and cover with foil to keep warm. Spray the pan with cooking spray each time before adding batter to the pan.

Serve the pancakes with butter and syrup. Store any leftover batter in the refrigerator for up to two days. Cooked pancakes can be frozen.
Nutrition Facts
Orange Pancakes with Chocolate Chips
Amount Per Serving
Calories 602
Calories from Fat 243
% Daily Value*
Total Fat 27g 42%
Cholesterol 88mg 29%
Sodium 973mg 41%
Potassium 867mg 25%
Total Carbohydrates 75g 25%
Protein 17g 34%
* Percent Daily Values are based on a 2000 calorie diet.