You've got to try these Nutella Rice Krispie Treats with Orange! They have the best chocolate-orange flavor. A quick and easy dessert!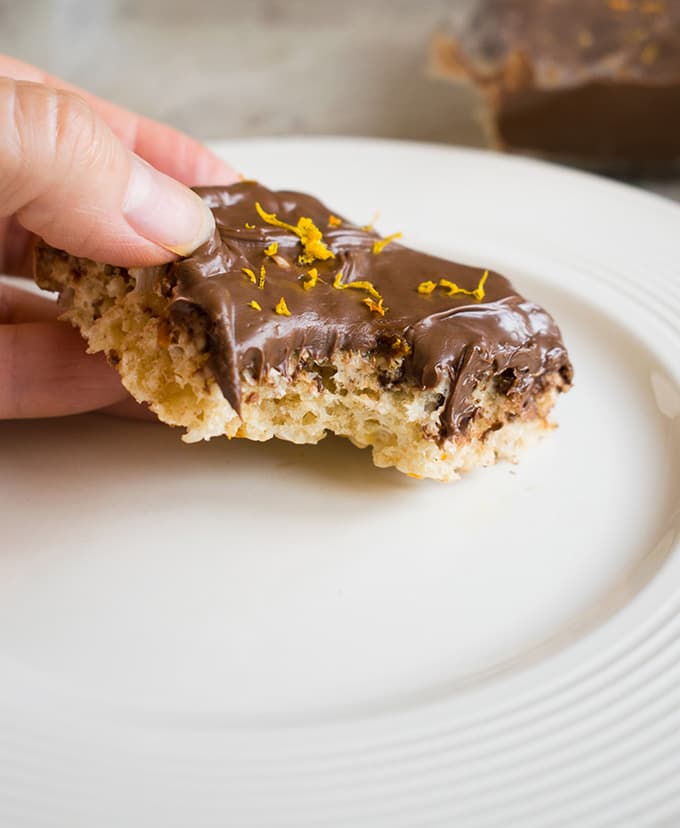 Apparently, I made up this recipe several years ago. I wasn't even a food blogger yet.
There were no pictures. Nothing was written down. Did it even happen?
My daughter's Timehop app said so. I got a random text from her a few months ago, before she left college to come home for the weekend.
"Can you make those Nutella Rice Krispie treats with orange?"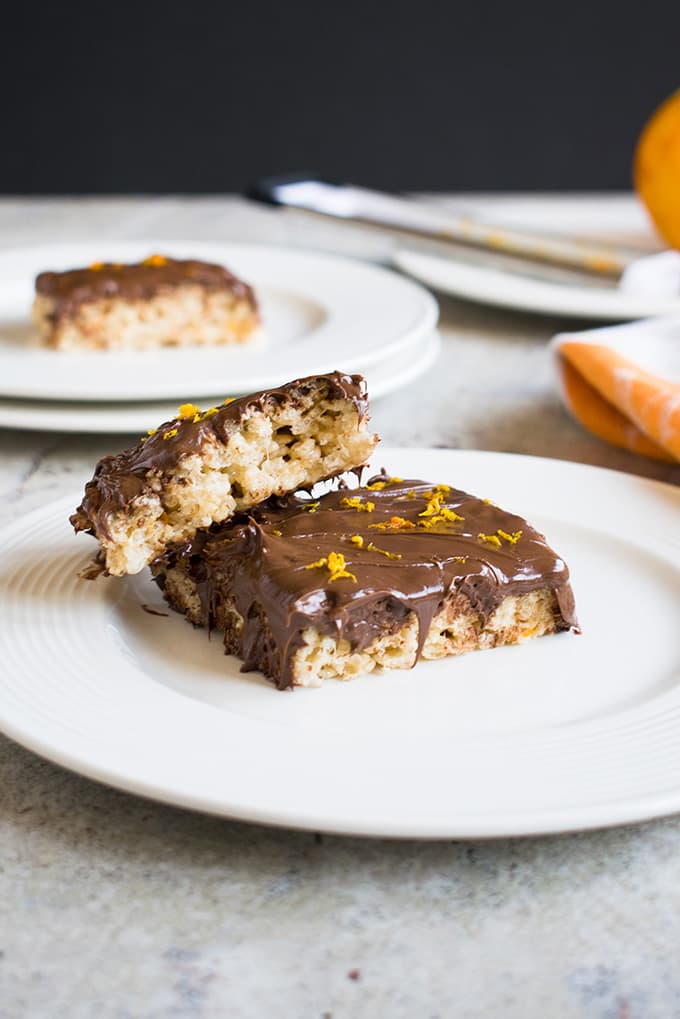 Um, what? I had no idea what she was talking about.
I knew I made Shortbread Bars with Chocolate and Orange but couldn't remember using that combo for Rice Krispie treats.
She informed me it was a thing. An awesome thing...from my kitchen.
She'd loved those treats so much, her young, teenager self had bragged on social media about her Mom making them.
Timehop said so.
Feeling like a stunad, I ransacked my files. Searched the internet. And found nothing.
But my daughter was coming home from college. And by golly, her Mom was going to have orange and Nutella Rice Krispie treats waiting for her. (Sometimes, I bend my clean-eating rules to honor special requests.)
I began by zesting an orange. There must have been zest, I thought. (Here's the zester I use; that's an affiliate link.)
I considered mixing Nutella throughout the Rice Krispie treats. But, a vague memory of Nutella frosting popped into my head.
YES. I must frost the treats with creamy Nutella.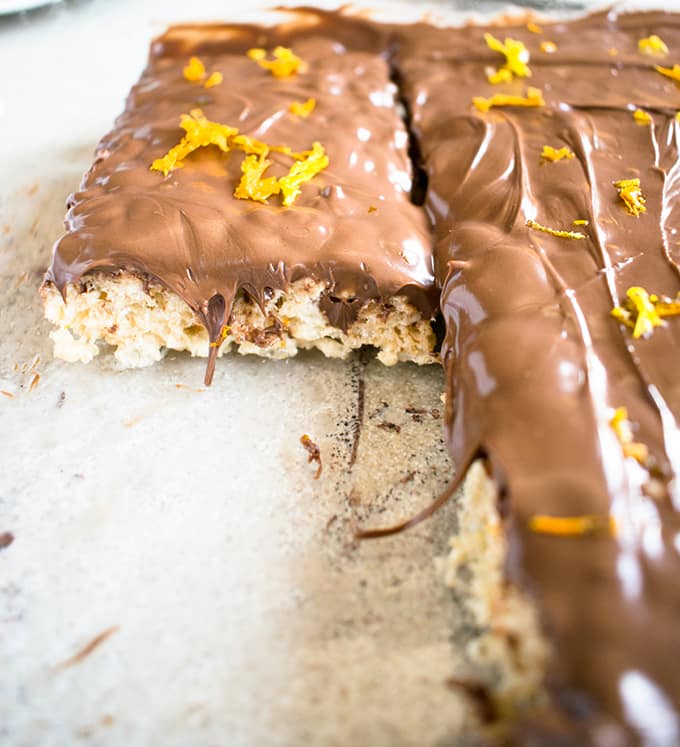 After one bite, I swooned. That chocolate-orange combo, with marshmallow and hazelnut accents…yum!
My family inhaled the Rice Krispie treats, and my daughter was thrilled. I need to blog about these, I thought.
The next time I made them, I added orange extract to bump up the flavor. I went with ½ teaspoon, which provides a nice, citrus hello. But you can take it down a notch, if you prefer.
My daughter was so excited, she wasn't willing to taste just one before I shot my photos.
"I want two!!"
"But I need to take photos!!"
Our eyes locked in a showdown as we stood over the pan. She never blinked. She has that capa tosta stubbornness from my hubby's Calabrese genes.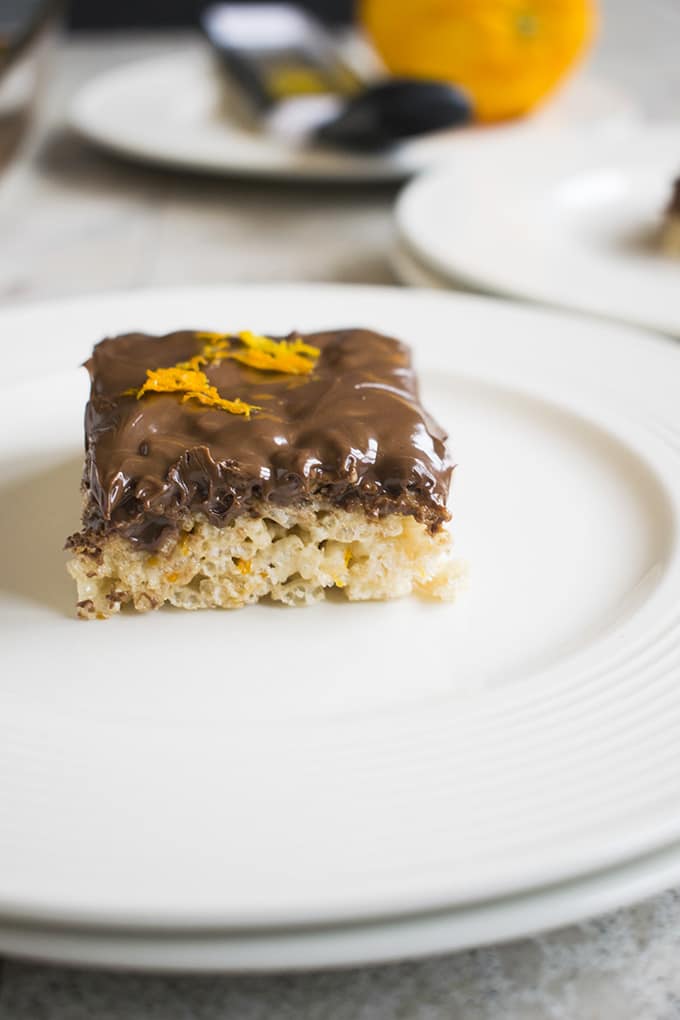 I silently cut another slice and added it to her plate, which she held expectantly under my chin. She smiled triumphantly and walked away to devour her loot.
Add this easy dessert to your repertoire, friends. It's a sophisticated Rice Krispie treat that definitely would be at home on a cocktail party buffet.
But save some for the kids too. Because…Nutella.
If you're a chocolate-and-orange fan like me, check out my Orange Pancakes with Chocolate Chips. So good!
If you just love orange anything, be sure to check out Mom's Orange French Toast and my Pumpkin-Orange French Toast.
Finally, if you have a thing for marshmallow treats, don't miss these Perfect Rice Krispie Treats. Or these salty and sweet Peanut Butter Rice Krispie Treats with pretzels!
Enjoy!
(Recipe Source: Cooking with Mamma C. Nutella Rice Krispie Treats with Orange originally published on Food Fanatic.)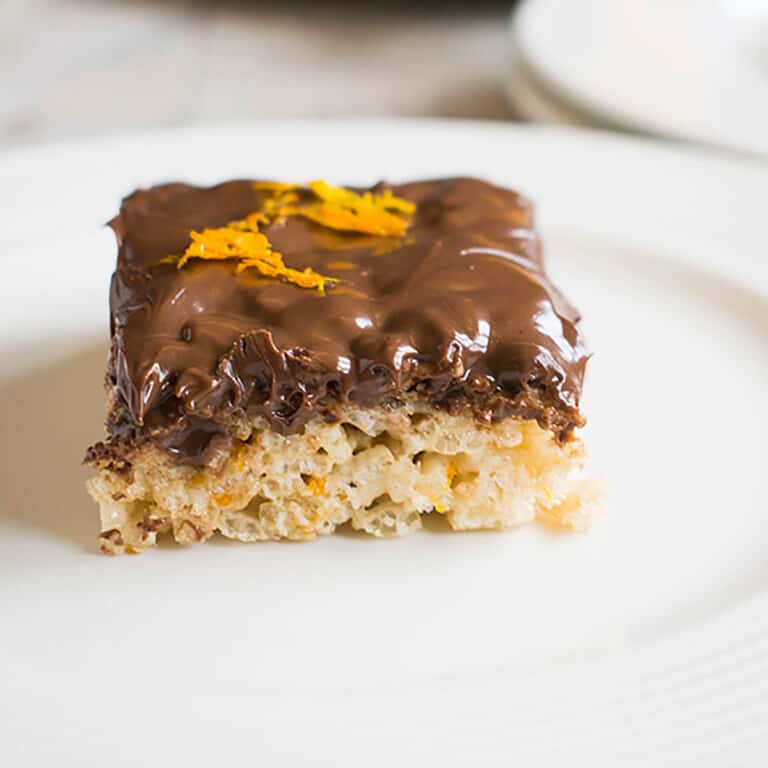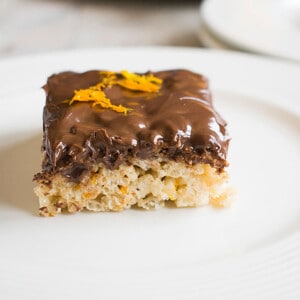 Nutella Rice Krispie Treats with Orange
These Nutella Rice Krispie Treats with Orange have the best chocolate-orange flavor. A quick and easy dessert!
Print
Pin
Rate
Save
Go to Collections
Ingredients
2

teaspoons

orange zest plus extra for garnish

(from 1 orange)

3

tablespoons

salted butter

10

ounces

marshmallows

½

teaspoon

orange extract

6

cups

Rice Krispies

13

ounces

Nutella

(or more; see notes)
Instructions
Rinse and dry the orange and zest it. Set the zest aside and save the orange for another use. Grease a 9x13-inch pan with cooking spray.

In a large pot, melt the butter on the stove over medium-low heat.

Add the marshmallows to the pot and stir constantly until they are fully melted. This could take at least five minutes. Turn off the heat and move the pot to a cool burner.

Stir in the zest and orange extract until combined. Add the Rice Krispies to the pot and stir until fully blended with the marshmallow mixture.

Carefully transfer the cereal mixture to your pan. It helps to grease a silicone spatula with cooking spray and use it to spread the mixture evenly. Use your hands to gently press the cereal into place.

When the cereal mixture is cooled off a bit, spread on the Nutella in an even layer. Garnish with extra orange zest, if desired.

Cut into squares and serve. Store leftovers covered at room temperature for up to five days.
Notes
The orange extract adds a nice pop of flavor. You can take it down to ¼ teaspoon, if you prefer it more subtle. And, if you don't have the extract, the Nutella Rice Krispie treats will still be delicious.
A 13-ounce jar of Nutella is just enough to thinly frost a 9x13 pan of these treats. I probably used 19 ounces when I made these for the photos. Use as much Nutella as you'd like, but they'll obviously be sweeter (and messier) with more.
Nutrition
Calories:
256
kcal
|
Carbohydrates:
40
g
|
Protein:
2
g
|
Fat:
10
g
|
Saturated Fat:
8
g
|
Polyunsaturated Fat:
1
g
|
Monounsaturated Fat:
1
g
|
Trans Fat:
1
g
|
Cholesterol:
6
mg
|
Sodium:
104
mg
|
Potassium:
116
mg
|
Fiber:
1
g
|
Sugar:
25
g
|
Vitamin A:
817
IU
|
Vitamin C:
7
mg
|
Calcium:
29
mg
|
Iron:
5
mg