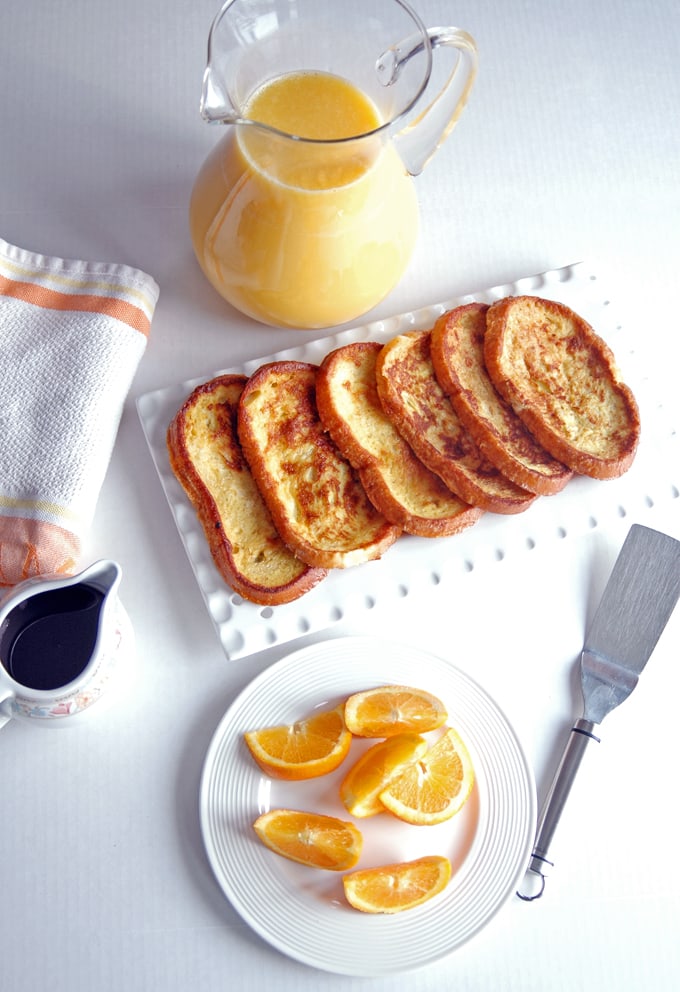 If I had to pick one recipe that's synonymous with my childhood, it's definitely Mom's Orange French Toast. It's one of my favorite foods of all time, and still reigns as my most beloved choice for breakfast. I treat myself to it once or twice a month in place of my smoothie. (And sometimes, I even share it with my family.)
Like our favorite pancakes, this is an easy recipe that relies on extract to elevate the standard to the sublime. Here, it's orange extract that provides this French toast with that "wow" factor that makes you go "Mmmmm."
Mom got the inspiration for the recipe from a meal she ate at Stouffer's. Yes, that Stouffer's. (The Stouffer family was from Cleveland and opened a few restaurants here, including one on Shaker Square, where customers began requesting meals to take home, spawning the idea for Stouffer's frozen foods.)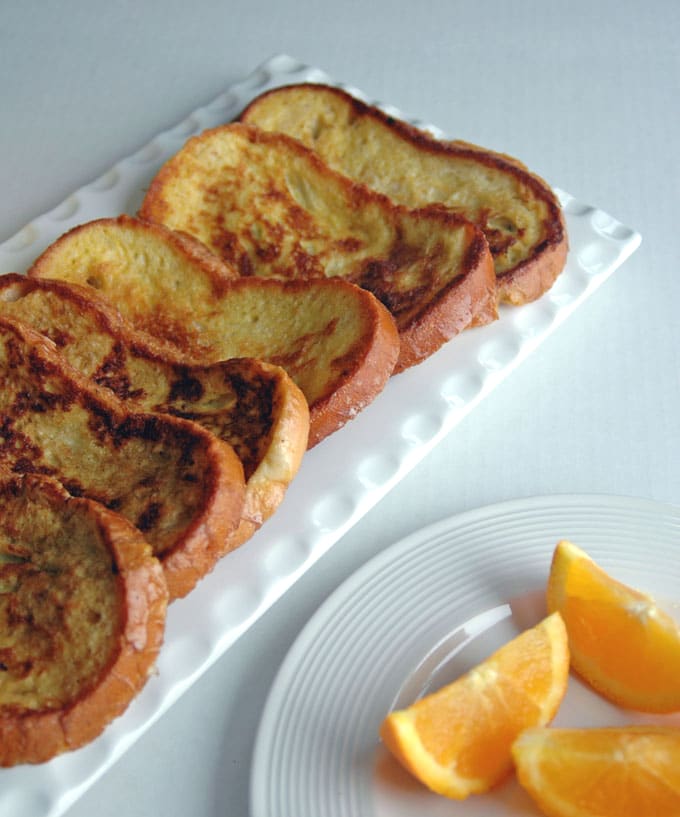 To give you an idea just how much I love this French toast, let's go back in time, all the way to the '70s. Unlike Saturday mornings, there were no cartoons beckoning kids to arise early on Sundays (just those boring news talk shows). So, my brother and I slept in until about 9:30 a.m.
When it was time for our favorite breakfast, Mom would stand on one side of the kitchen peninsula, cooking the French toast in her electric skillet. My brother and I would stand in our pajamas on the other side, eagerly observing and waiting for the food to be ready.
And then, it would begin. Our French Toast Selection Process, I mean. Like NFL coaches looking to make their draft picks, my brother and I would carefully appraise our choices. We took this very, very seriously. Each week, we alternated who would go first (just like my kids used to take turns getting the TV remote for a day).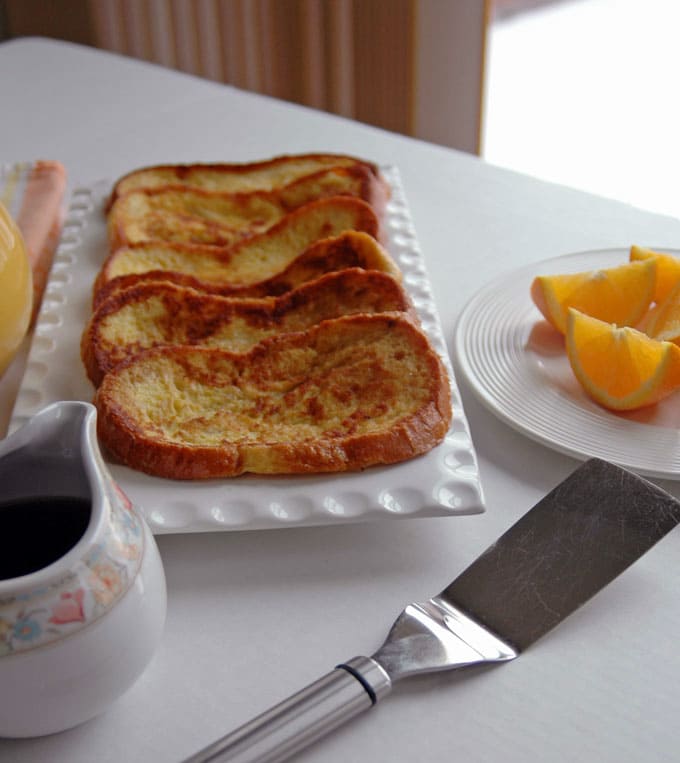 Whoever got the first pick made sure to select the best piece. It couldn't be puffy or eggy. It had to have nice orange saturation, which you could see by the way the French toast's tiny nooks and crannies glistened. And it had to have golden brown, crusty edges. We were French toast connoisseurs, I tell you.
After that first selection, it was the other sibling's turn. The second choice was usually obvious, so it went by quickly. By the third pick though, the process would start to get tricky and more intense. Like chess players, my brother or I would pause to assess the situation before making a move.
"Oh, come on, already, they're all the same!" Mom would chide. But I could tell by the gleam in her eyes —and the hint of a smile at the corners of her mouth — that she got a kick out of us.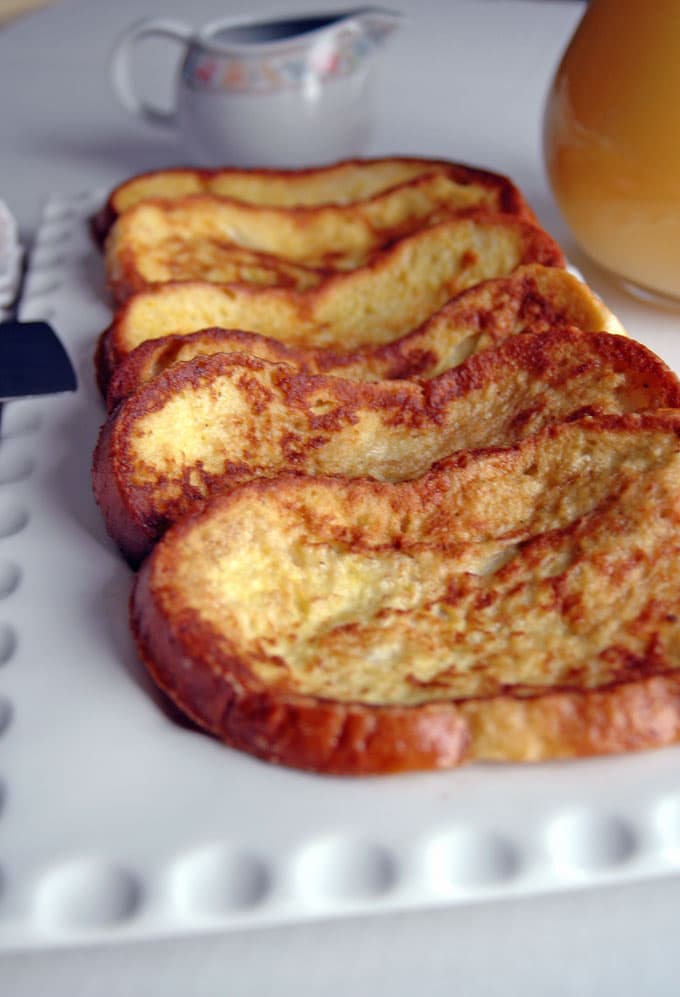 And once my brother had chosen his three pieces and I had my two, the next part of my French toast ritual began. You see, I couldn't just cut one morsel at a time. No, I had to stack my slices and make two vertical cuts and three horizontal ones, yielding little squares of Mom's Orange French Toast to scatter on my plate.
And then my final round of selections would begin. I'd examine my dish, figuring out which pieces to eat first, with an eye toward saving the best for last. I always started with the crustless pieces, working my way to the semi-crusted and finishing with the corners. I'd be swooning by the end.
These days, I mostly try to eat Mom's Orange French Toast like an adult, cutting one bite-sized piece at a time. But every so often, when no one's around…I save the best for last.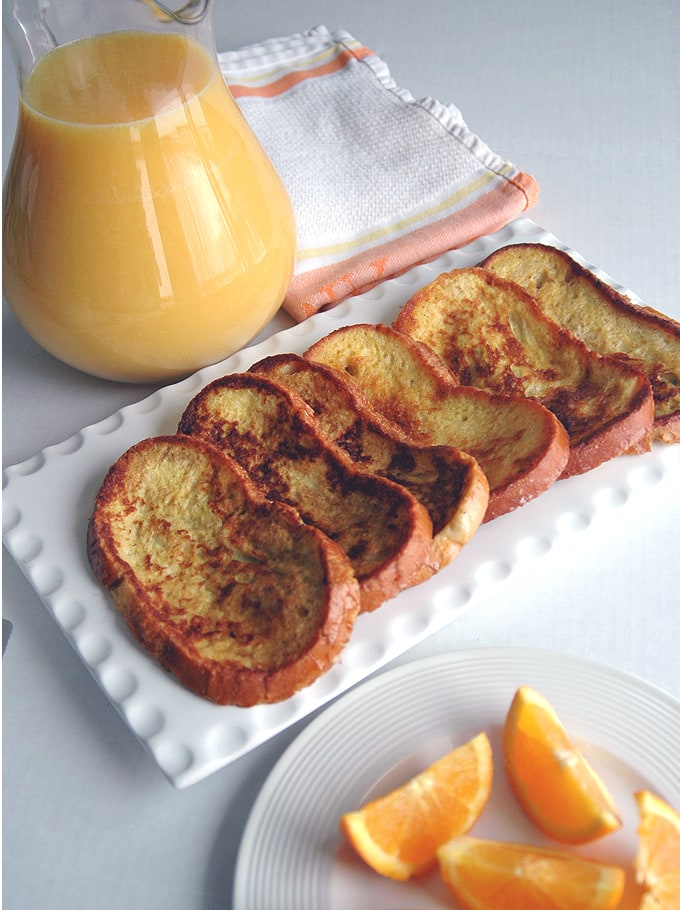 P.S. In case you're wondering, my clear choice for the first-round draft pick would be the fourth piece over, starting on the left.
(Recipe Source: Barely adapted from my Mom, inspired by a meal at Stouffer's on the Square)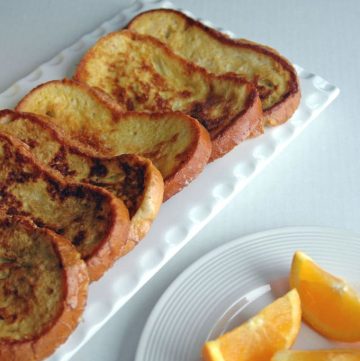 Mom's Orange French Toast
Orange extract is the key ingredient in Mom's Orange French Toast.
Print
Pin
Rate
Ingredients
4

eggs

1/2

cup

milk

(or half & half)

4

dashes

salt

1

tablespoon

orange extract

8

slices

bread

(about 1/2-inch thick)

3

tablespoons

salted butter

(divided use)

maple syrup

(for serving)
Instructions
In a small mixing bowl, add the eggs, milk, salt and orange extract. Beat well with a fork or whisk.

Stack your bread in the bowl. Coat both sides of each slice with the egg mixture, letting it soak in for a bit. (Using a spatula, you can take turns carefully transferring the bottom piece of bread to the top of the stack and keep going, then flip the bread and repeat.) If there is leftover egg mixture, pour some on each piece when you start cooking.

Heat a skillet or griddle to medium high. (If using an electric skillet, set it to 375 degrees F.) Melt a tablespoon of butter in the pan and spread it around with a spatula to coat the pan.Cook 3-4 slices of French toast at a time, depending on what will fit, adding more butter as needed to prevent the bread from sticking. Start checking each piece after 3-4 minutes on the first side.

Flip each slice when it is starting to brown. Add some more butter to the pan and use your spatula to disperse it so it flows underneath the bread. Continue cooking on the second side, until it is browned to your liking.

Serve the French toast with maple syrup.
Nutrition
Calories:
301
kcal
|
Carbohydrates:
29
g
|
Protein:
12
g
|
Fat:
14
g
|
Saturated Fat:
7
g
|
Cholesterol:
187
mg
|
Sodium:
828
mg
|
Potassium:
206
mg
|
Fiber:
2
g
|
Sugar:
5
g
|
Vitamin A:
560
IU
|
Calcium:
141
mg
|
Iron:
2.7
mg