These Easy Lemon-Blueberry Pancakes have the best flavor, thanks to lemon extract! Enjoy them for breakfast, or even dinner. Homemade and based off our favorite pancake recipe.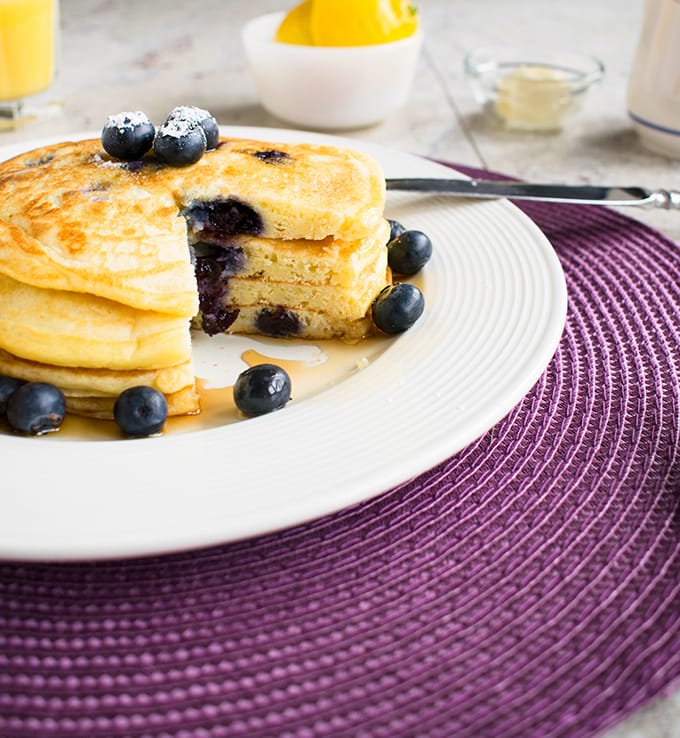 I'm on a breakfast kick, and I'm not sorry. Because really, these lemon-blueberry pancakes would make a great dinner too.
How do you feel about breakfast for dinner? Is your household okay with it?
Sadly, I'm the only one in my family who thinks it's perfectly acceptable to serve any type of pancakes or eggs for supper. My hubby is on the fence about it, but my kids are adamantly opposed to the idea.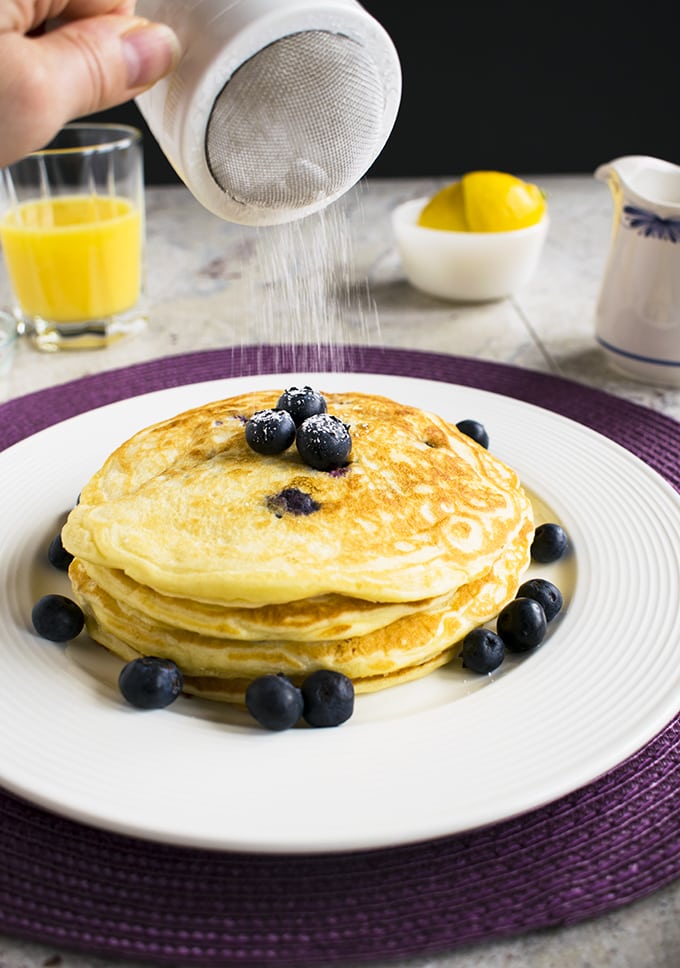 "Pancakes are for breakfast!"
Coincidentally, they're the same kids who announced one summer, "We don't eat sandwiches for lunch."
It's a tough crowd over here. The good news is, when one of my recipes garners praise in my house, I know I'm getting the unvarnished truth.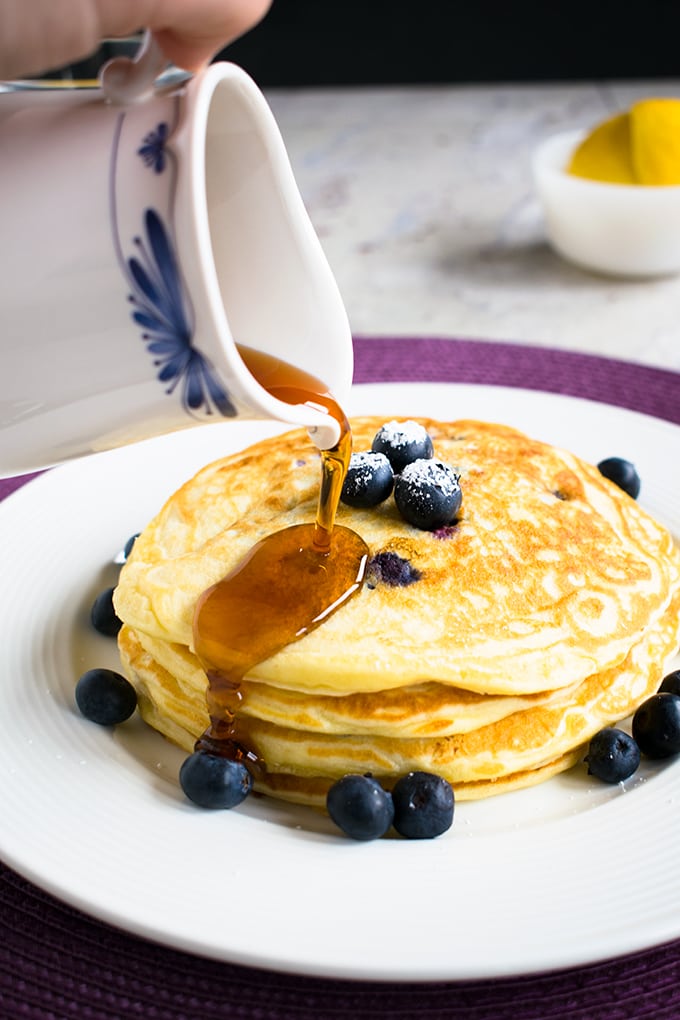 My guys really enjoy these lemon-blueberry pancakes. (My girl passed on trying them, opting for her usual continental breakfast of toast and coffee.) And me...I'm head over heels for anything lemon, anything blueberry...so hello, lemon-blueberry combo!
I simply took The Best Homemade Pancakes recipe, substituted lemon for the almond, then added blueberries and some powdered sugar to dust on top. Presto change-o! And so delicious.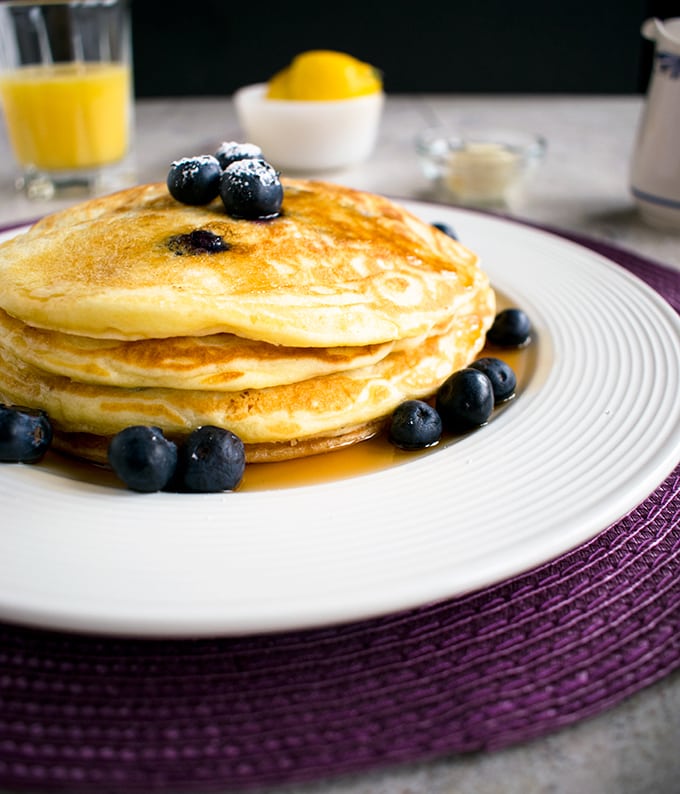 I'm calling these "easy" lemon-blueberry pancakes, because you don't have to worry about zesting a lemon, or even squeezing one, for that matter. Instead, this recipe relies on one of my favorite ingredients, lemon extract (affiliate link). I stock it in my pantry and use it to give the best kick to anything from Lemony Whole Wheat Zucchini Bread to cakes and cookies.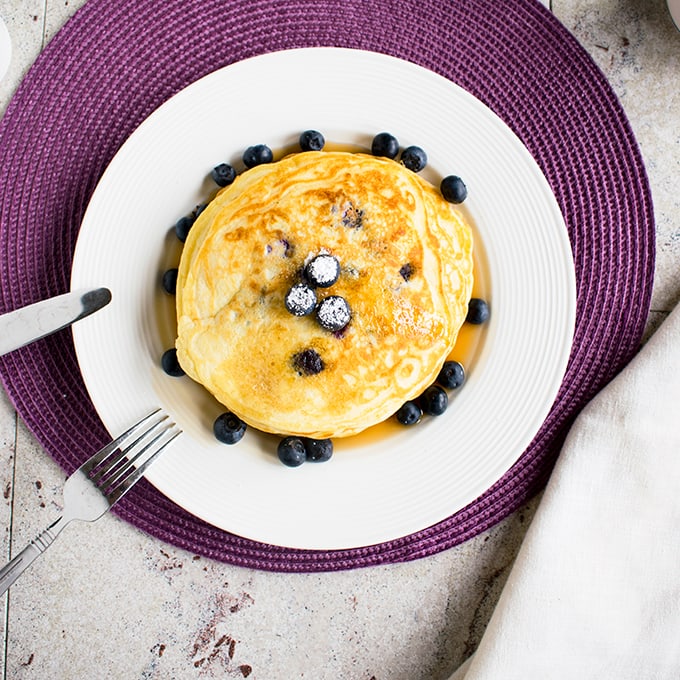 If you're a lemon lover (who isn't?), you've got to try these pancakes! And don't miss my lemon-ricotta pancakes, banana pancakes, chocolate chip pancakes and these cinnamon almond multigrain pancakes!
And, if blueberries are your jam, run, don't walk to this Blueberry Pie with Sugar Cookie Crust, this Fresh Blueberry Salsa and these Whole Wheat Blueberry Muffins with Olive Oil!
Enjoy!
(Recipe Source: Cooking with Mamma C)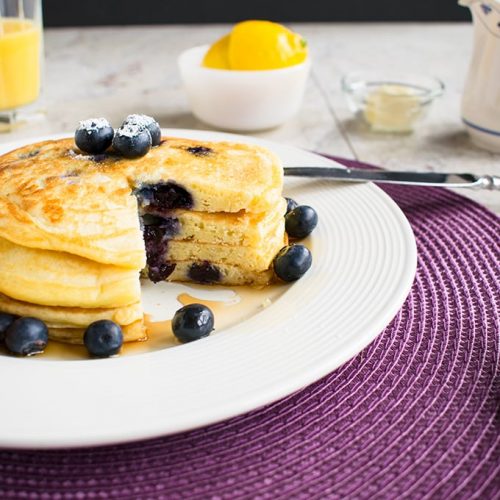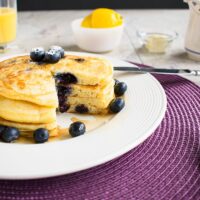 Ingredients
2

cups

all-purpose flour

2

tablespoons

sugar

4

teaspoons

baking powder

1

teaspoon

salt

2

eggs

(beaten)

2

cups

milk

(low-fat is fine)

¼

cup

cooking oil

2

teaspoons

lemon extract

1

cup

blueberries

(plus extra for serving, if desired)

cooking spray

confectioners sugar for serving

(if desired)

butter for serving

maple syrup for serving
Instructions
Add your flour, sugar, baking powder and salt to a medium mixing bowl and whisk to blend.

Add your eggs to a liquid measuring cup and whisk to beat them. Add the beaten eggs to your mixing bowl.

Add your milk and oil to the measuring cup and whisk to combine. Add that liquid to your mixing bowl. Whisk your batter just until combined. It should still be lumpy.

Rinse your blueberries and pat them dry with a paper towel. Gently stir in 1 cup of blueberries to your batter.

Heat an 8-inch skillet (or a pancake griddle) over a medium-high flame, until it is hot enough that a drop of water splashed on it will sizzle. Spray the pan with cooking spray.

Use a large serving spoon to pour some batter into the center of the pan, using two full spoons for each pancake. The pancakes will be about 6 inches in diameter.

Flip each pancake when bubbles form on top, and the edges appear dry. Cook the second side until it is lightly browned. Remove cooked pancakes to a platter and cover with foil to keep warm. Spray the pan with cooking spray each time before adding batter to the pan.

Serve the pancakes with butter, powdered sugar, maple syrup, and extra blueberries, if you wish. Store any leftover batter in the refrigerator for up to two days. Cooked pancakes can be frozen.
Nutrition
Calories:
489
kcal
|
Carbohydrates:
66
g
|
Protein:
13
g
|
Fat:
19
g
|
Saturated Fat:
3
g
|
Cholesterol:
91
mg
|
Sodium:
673
mg
|
Potassium:
694
mg
|
Fiber:
2
g
|
Sugar:
15
g
|
Vitamin A:
260
IU
|
Vitamin C:
3.8
mg
|
Calcium:
337
mg
|
Iron:
3.7
mg