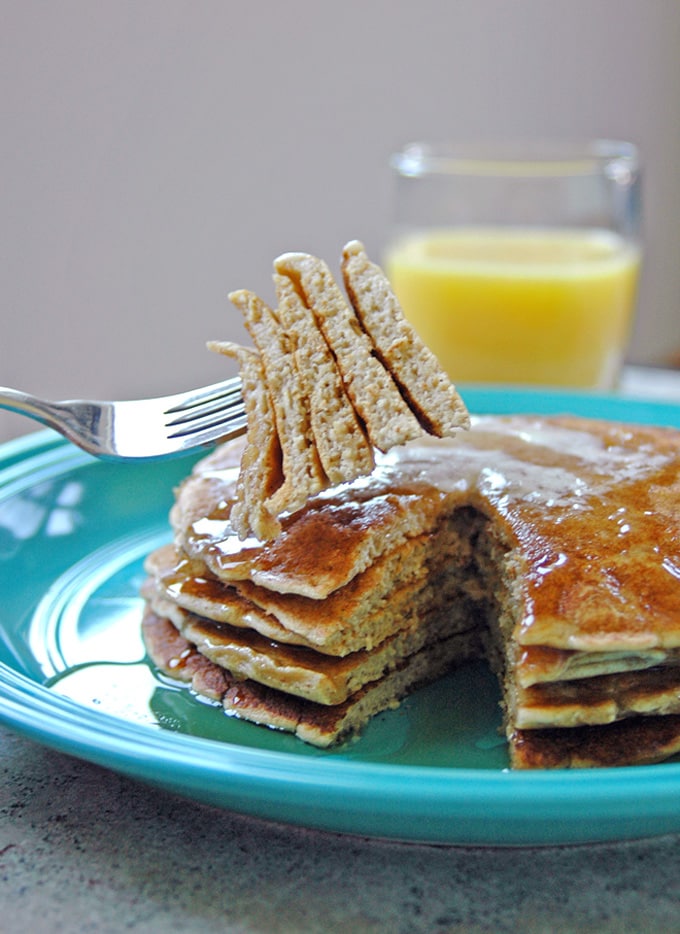 Almost a year ago, (time flies!), I mentioned that I had a whole wheat pancake recipe I'd share with you someday. Now, with Mother's Day right around the corner, (time flies!) I figured it's time to make good on my promise. These cinnamon almond multigrain pancakes are my just-slightly guilty pleasure, because they're made with whole wheat flour, rolled oats, light almond milk, and yummy brown sugar, in addition to the typical pancake ingredients. I heart these in a big way for a nice weekend breakfast, and I hope you will too.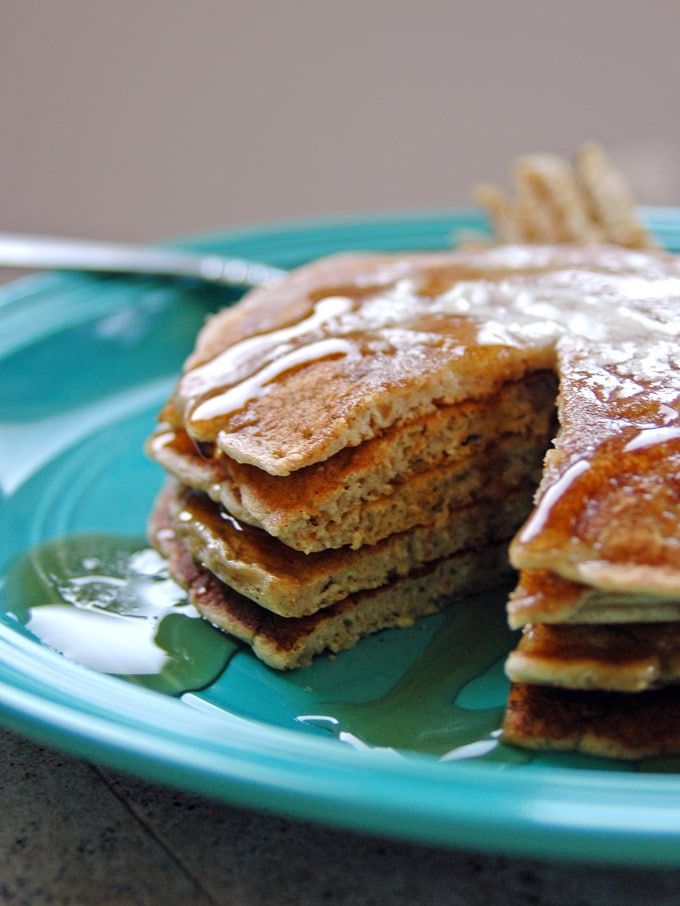 I based this recipe off of Our Favorite Pancakes, which are made with all-purpose flour and feature a delicious kick from almond extract. If you love those (and I know several of you do), you've got to try this multigrain version, which has a nice dose of cinnamon to go along with that fabulous almond flavor. My husband, who is a huge fan of the original recipe, finally tasted these, and was genuinely surprised at how much he enjoyed them. See, whole grains can be scrumptious!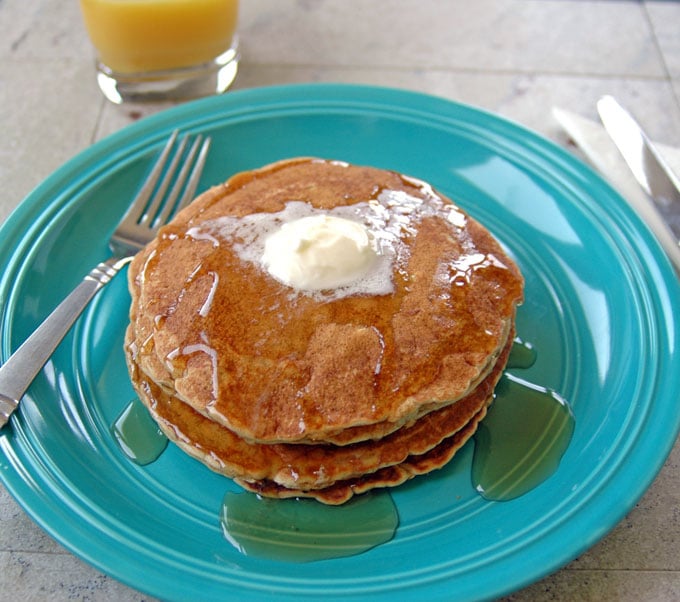 Here are a couple things to keep in mind. As I pointed out in Easy Beer Bread, I recommend using white whole wheat flour instead of red whole wheat flour. The white version (which is completely natural) is more mild tasting and produces a texture that's not heavy and dense, like the red variety. Also, if using rolled oats instead of quick ones, you have to whisk the batter really well so you don't end up with chunky pancakes (ewww). I stir vigorously with a wire whisk, and it works fine for me. But if you're the type of person who has to have completely smooth batter, go ahead and mix all of the ingredients in your blender.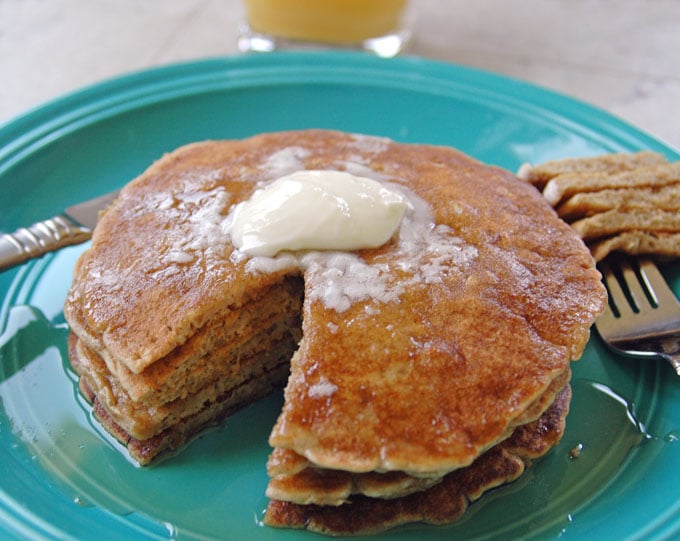 If you've been meaning to incorporate more whole grains (fiber!) in your diet, these cinnamon almond multigrain pancakes are a delicious start. I'd love for someone to make these for me on Mother's Day…
Enjoy!
(Recipe Source: Cooking with Mamma C)

Cooking with Mamma C
Serves 4
Cinnamon Almond Multigrain Pancakes
5 minPrep Time
20 minCook Time
25 minTotal Time
Ingredients
1 1/3 cups white whole wheat flour (like King Arthur)
2/3 cup rolled oats
2 tablespoons brown sugar
4 teaspoons baking powder
3/4 teaspoon salt
1 teaspoon ground cinnamon
2 cups light almond milk (or use low-fat milk)
2 eggs
4 tablespoons canola oil
2 teaspoons almond extract
cooking spray if needed to grease your pan
Directions
Place all ingredients in a medium mixing bowl and whisk vigorously with a wire whisk until blended well. (Or, if you prefer, you can place all ingredients in your blender and whirl until your batter is completely smooth.)
Heat a skillet or griddle on medium high and grease it if necessary to prevent sticking. When a drop of water sizzles in the pan, it is hot enough to start cooking your pancakes. Using a large serving spoon, scoop some batter into the center of your pan, until your pancake is the desired size.
When the top of the pancake forms bubbles and only has a little liquid on top, use a spatula to peek underneath to see if the bottom is browned. If so, flip the pancake and cook it until the other side is browned. Remove the pancake to a platter and loosely cover it with foil as you make the rest of the pancakes. If necessary, grease the pan before making each pancake.
Serve the pancakes with butter and maple syrup. Store any leftover batter in the refrigerator for up to three days. (Or you can make all the pancakes and freeze any leftover ones.)
7.8.1.2
258
https://cookingwithmammac.com/cinnamon-almond-multigrain-pancakes/